Campaigning for municipal elections in Yangon has revealed ambiguities around campaign finance that could open the door to corruption.
By YE MON and SU MYAT MON | FRONTIER
DISQUIET OVER the possible abuse of lax campaign spending regulations in the lead up to the historic municipal elections on March 31 is feeding scepticism over the fairness of the competition and concerns over potential corruption among those elected to the municipal body.
The elections to choose members of the Yangon City Development Committee executive committee and the municipal committees of the 33 townships under its administration are the first in which all citizens aged over 18 who have lived in Yangon for more than a year are eligible to vote, thanks to a new YCDC law that was enacted last year.
In the previous YCDC elections in December 2014, which were the first municipal elections in the city since 1958, voting was restricted to one member from each household, and prominent businesspeople won most of the elected seats on the executive committee.
The law synchronises the terms of the YCDC committees with that of the Yangon Region government, meaning that the positions filled in Yangon on March 31 – for six central executive committee members and three members of each township committee – will have to be re-contested in early 2021.
The elections are being administered by an ad hoc election commission that was appointed by the YCDC in January and is separate from the Union Election Commission.
'Sponsored money'
Spending has been limited to K20 million for each YCDC executive committee candidate and K10 million for each township committee candidate. The election bylaws require candidates or election agents nominated by them to file itemised campaign expenditure reports within 30 days of the results being announced.
Section 77 (b) of the bylaws state that expenditures that must be accounted for include funds, facilities or other services that are contributed either by the candidates themselves, their political parties, individual citizens and companies or conglomerates whose shares are not held by the government or by foreigners.
However, candidates with conspicuously well-resourced campaigns say they have received financial and material support from sponsors and well-wishers that they claim does not count towards the expenditure measured and capped by the election commission, despite what the bylaws seem to imply.
There are at least five big billboards overlooking major junctions in downtown Yangon promoting independent candidate U Myo Thaw, chairman of the Milky Way Group of Companies, a marketing conglomerate that rents out billboard space across Yangon. Some of his campaign billboards bear the Milky Way logo.
Myo Thaw told Frontier that a friend, whom he did not name, had sponsored his billboard campaign adverts, and that his company is not providing his campaign with free advertising space.
"Accepting sponsorship money is not illegal," he said.
Frontier telephoned the sales team of one company, King Maker, which rents billboards next to those currently occupied by Myo Thaw's campaign posters, and which are of the same size and prominence. The salesperson said that renting one billboard for one month – equivalent to the length of the campaign period – costs K4.2 million, and there were no discounts for election candidates.
A candidate renting out five of these billboards would therefore already be over the legal spending limit.
Myo Thaw drew accusations of racism for comments he made at a discussion programme hosted by the Myanmar Public Administration Network on March 18. During the discussion, which was broadcast live on Facebook, he appeared to single out "kalar" building contractors as being responsible for bribing YCDC officers to overlook shoddy construction work that endangers public safety, using a Burmese term that refers to people of South Asian or Muslim heritage.
"Kalar building contractors gave envelopes to [YCDC] staff who came to inspect the buildings, so the staff went back without inspecting them. Those kalar own YCDC. Actually, the downtown area is just kalar tan (Indiatown) and tayoke tan (Chinatown). If kalar tan continues like that, all buildings would collapse when the earthquake comes," he said during the programme.
After receiving criticsm online, Myo Thaw wrote a defence of his comments on his Facebook page on March 23, in which he said, "I honestly used the word featured on page nine of the Burmese dictionary. Everyone is also using [that word] like that. That term does not insult or devalue any religion but there have been some accusations driven by jealously. […] I don't mean to discriminate or insult."
Some independent candidates say the onus is on the YCDC election commission to issue clear guidance on appropriate campaign spending in the purported absence of legal certainty.
Independent candidate Ko Aung Khant, a relative of State Counsellor Daw Aung San Suu Kyi who has gained relatively large following on social media, is facing a close race in constituency 3, where the other independent candidates include a former YCDC executive member U Khin Hlaing and actress, model and TV host Ma Htet Htet Htun, who was crowned Miss Universe Myanmar in 2016.
Aung Khant told Frontier that he would not spend up to the K20-million limit on his campaign and also questioned whether it was appropriate for candidates to invest so heavily for positions that will be up for re-election in just two years.
"I don't think that a candidate [for YCDC executive] should spend K20 million," he said.
Accepting generous outside contributions also presented a corruption risk, he said.
"If a candidate took money from a person, then the candidate, if elected, would need to pay this person back somehow," he said.
Htet Htet Htun told Frontier that she did not personally intend to spend K20 million, and that fans and business associates had sponsored her billboard adverts, which rival Myo Thaw's in their size and prominence. She said the election commission had told her that contributions from "sponsors" were not subject to the limits on campaign spending.
Outspoken former Yangon regional MP, Daw Nyo Nyo Thin, who founded the monitoring group Yangon Watch, told Frontier that candidates should complain to the YCDC election commission if they believed there were anomalies and omissions in the financial statements of other candidates submitted after the elections.
"The commission needs to monitor how money is spent in the campaign," Nyo Nyo Thin said. "If a candidate uses money from a friend and then wins, he might later be expected to secure [lucrative] projects for that friend."
Comment was sought from election commission chairperson U Aung Khine but he declined to be interviewed.
After the elections, the six incoming members of the executive committee and its five existing, unelected members, including the mayor who chairs YCDC, will hold a secret ballot to choose a deputy mayor from among the newly elected members.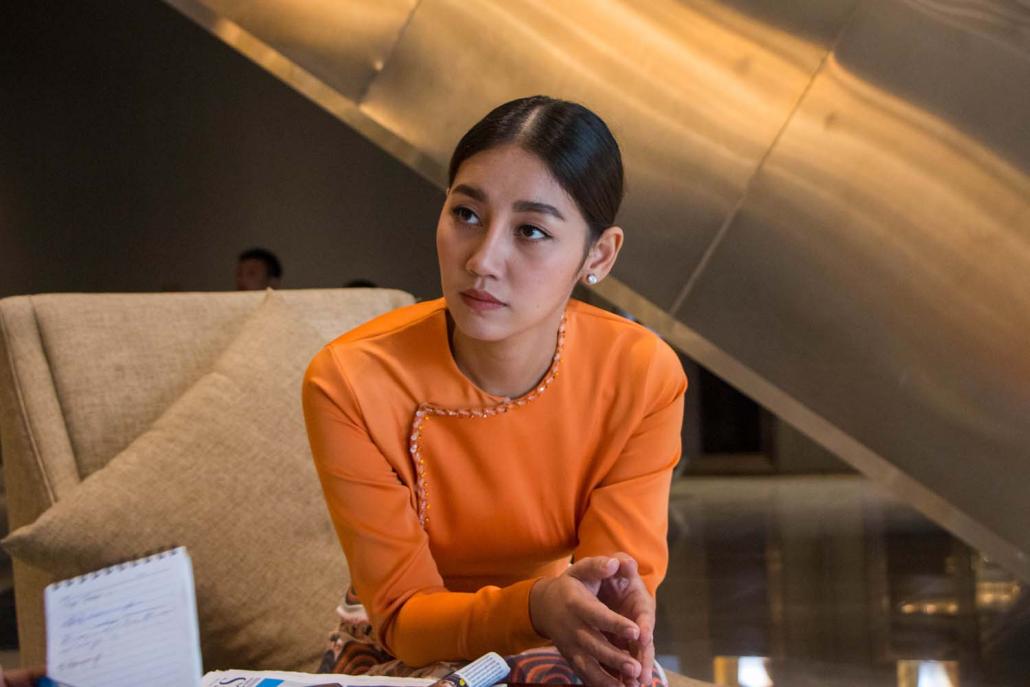 Peacocks and lions
Most of the 27 candidates competing for the six YCDC executive committee positions are independents, but there are also six from the National League for Democracy and one from the Union Solidarity and Development Party.
There are 246 candidates for the 33 township committees, of which 136 are independents, 86 are from the NLD and 24 are from the USDP.
The controversy over candidates using their own party logos – a fighting peacock against a red backdrop for the NLD, and a lion against a green backdrop for the USDP – has been blamed on a lack of clarity in the new YCDC law and the election bylaws. These are unclear about whether a party logo can or cannot be used in campaigning, leaving it to the discretion of the YCDC election commission.
Party logos were barred during the 2014 municipal elections. On January 21, the newly formed commission reiterated the ban on the logos before reversing the decision and permitting party logos later in the same week.
Aung Khant urged the commission, the Yangon chief minister and the regional government's chief legal officer, the advocate general, to rule on whether the use of logos was permitted under the election law.
The use of party logos by some candidates gave them an unfair advantage over independents, Aung Khant said. For instance, he said ballot papers would only show images of the independent candidates next to their names but those standing for a party would be identified by its logo.
"Most people know the party logos; only candidates' names should be printed on ballot papers," Aung Khant said. "The commission has failed to explain [it's choice]."
Nyo Nyo Thin said that the decision to allow the use of party logos reflected a weakness in the new YCDC law and election bylaws.
She said the previous law had banned party candidates and required party members to resign if they wanted to contest YCDC elections, which helped level the playing field for capable independent candidates who could not rely on party brand recognition.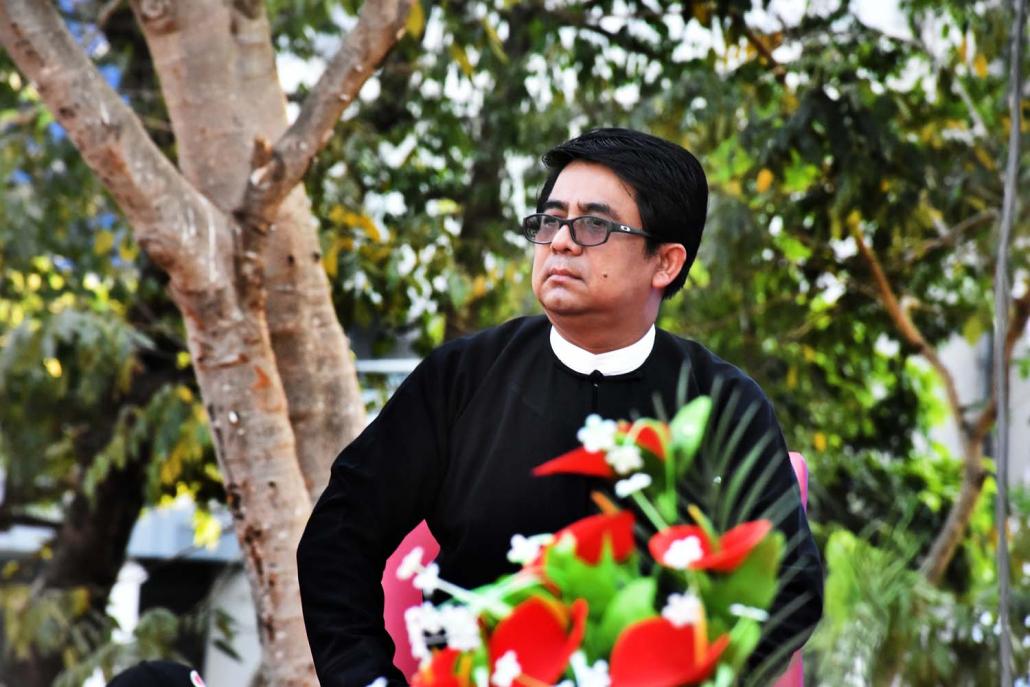 Little love for YCDC
Traffic management, rubbish collection, drainage and land tenure were topics of debate at a March 24 panel discussion held to promote the municipal elections. An enthusiasm for disparaging the municipal body was also revealed.
Hundreds of people attended the event organised by the Yangon School of Political Science and the New Myanmar Foundation in downtown Maha Bandoola Park. The panellists included three independent candidates vying for the YCDC executive committee in constituency 3, Aung Khant, Khin Hlaing and U Luck Thin.
Candidates drew applause from the audience when they criticised YCDC's performance, and Luck Thin was particularly vehement.
"Everybody in Yangon hates YCDC because they don't do enough," said Luck Thin. "The public despises YCDC more than they would a pile of excrement beside the road."
He said working for the YCDC in the past, including as an electrical engineer and newspaper editor, had given him inside knowledge about its weaknesses.
"I want to work to improve the YCDC and that's why I'm standing in the election," he told Frontier after the event.
TOP PHOTO:  Independent candidate U Myo Thaw is the chair of a marketing conglomerate that rents out billboard space across Yangon. (Steve Tickner | Frontier)