Shooting animals is a mark of manliness in Chin State, but with wildlife populations dangerously depleted, attitudes are changing.
By JOSHUA CARROLL | FRONTIER
Photos CHARLOTTE ENGLAND
Pa Con Sang's eyes are not what they used to be. Decades ago, when the near-blind old man was a sharp-sighted young hunter, he stalked through the dense mountain forests of Chin State with a homemade rifle. His prey were the wild boar, deer and goats that roamed the region in large numbers. Making a kill was easy, if you knew what you were doing, and there was plenty of meat to share with his family and other villagers.
"I've killed over 600 animals," Con Sang said proudly, wiry grey hairs hanging from his chin, as the evening light faded in his village of Suang Do. "And that doesn't include monkeys. I used to hunt monkeys using dogs to scare them out of the trees. One time I killed seven monkeys at once."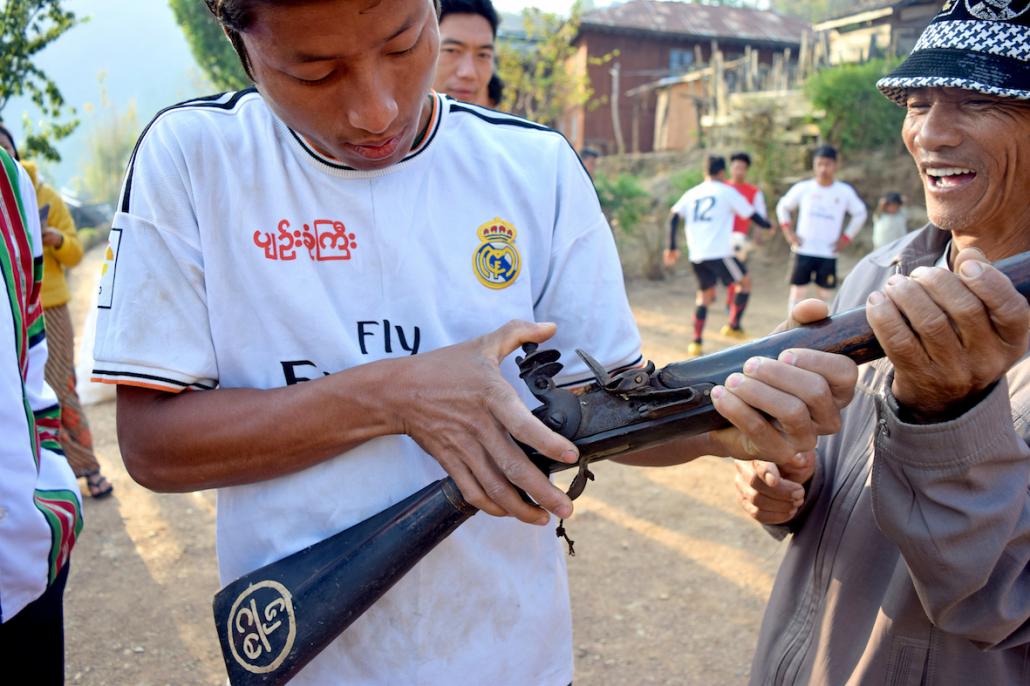 Sitting with Con Sang, 88, was Salai Mang Cung Nung, 34, a mild-mannered pastor who had been explaining why he decided to surrender his own gun, along with its licence, to the authorities. The game population in the region has been decimated, the pastor said, and hunting has contributed to deforestation because villagers set forests alight to drive out animals.
The pastor's friend, the village headman, was also returning his gun and licence to focus attention on the impact of hunting. As far as they know, they are the only people in the state to ever voluntarily surrender their rifles.
Most people in Myanmar are forbidden to own guns, but the former military regime made an exception for Chin, where periods of food scarcity remain a common threat and hunting has offered a safety net.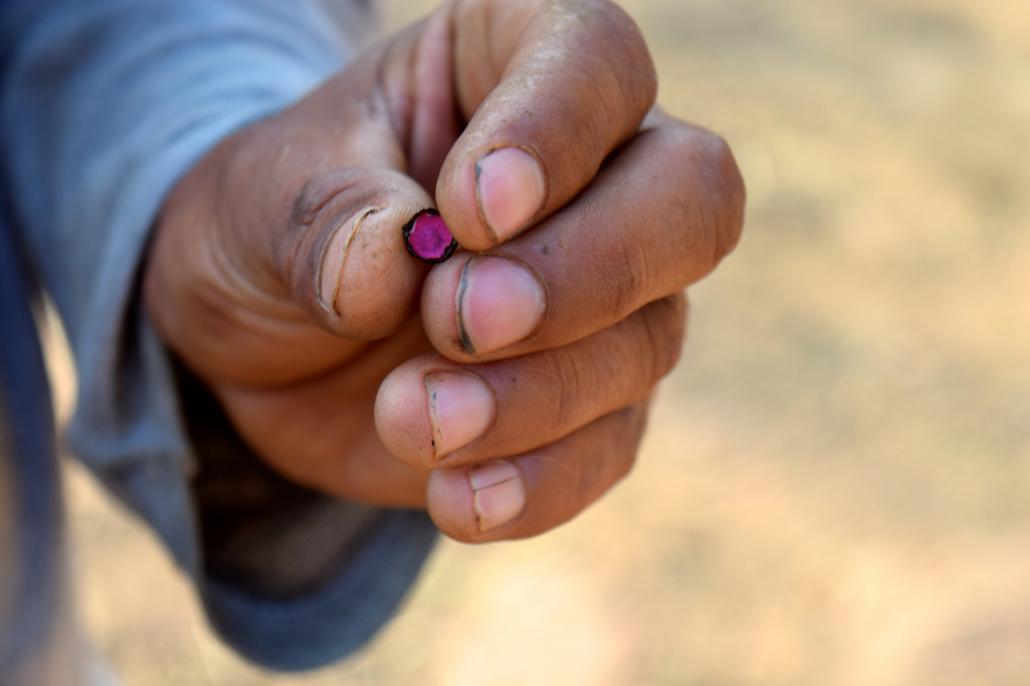 But guns have become increasingly useless for those trying to feed their families. Outside of the state's protected areas, wild game was a rare sight, said U Ngwe Lwin, a conservationist with environmental group Fauna and Flora International.
"Hunters' lives are becoming very difficult," said Mang Cung Nung. "A gun is really only useful for protecting corn plantations from monkeys."
Con Sang, unable to see the pastor in the twilight, interrupted Frontier's interview to harangue the holy man. "He's not a man, he's a girl; he's never fired his rifle," the octogenarian said, eliciting a burst of laugher from the other men sitting on the pastor's veranda.
"In our Chin community, if you have not killed at least three animals, you are not a grown man," he added.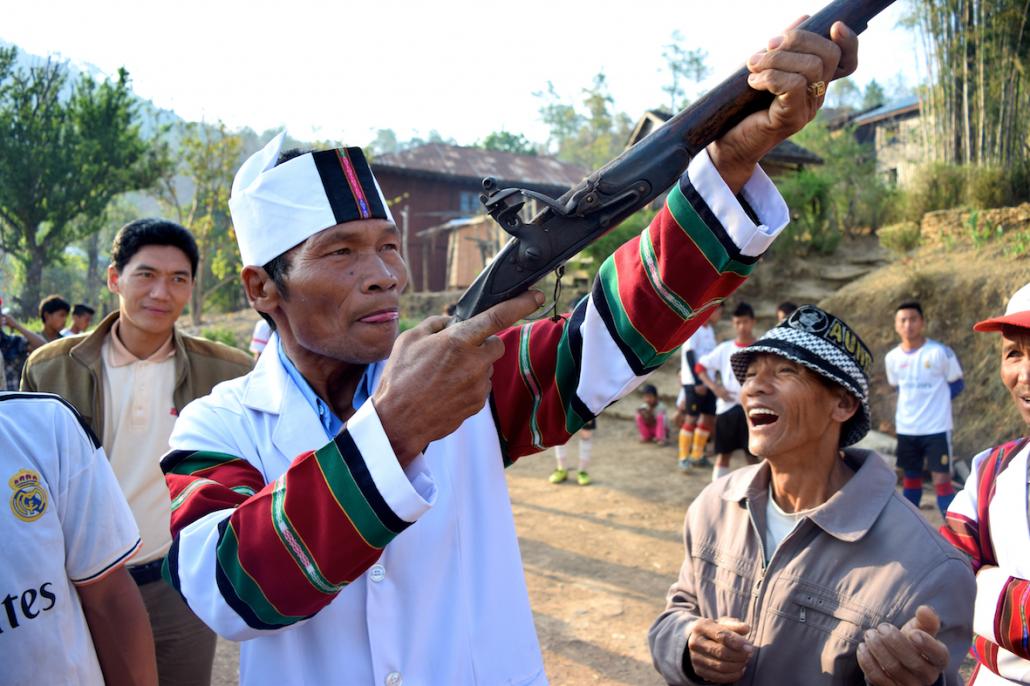 Mang Cung Nung and the headman, Salai Zing Tin Sai, are defying a macho gun culture that dominates the remote, impoverished state. A Chin man, so an old saying goes, values three things most: his wife, his house, and his gun. On the winding, precipitous road that leads to this mountaintop village, men on motorbikes speed along cliff edges with rifles slung over their backs.
Along the roadside, engraved stone memorials to the dead list animal kills among a man's life achievements, like a scoreboard on a video game. They say things like: "He had 14 girlfriends and killed 92 boar, 52 deer and six monkeys."
In Suang Do, a village of about 350 people that is inaccessible by car, the culture of celebrating animal kills is changing. Before 2000, when the game population began dying out, many people displayed hunting trophies outside their homes.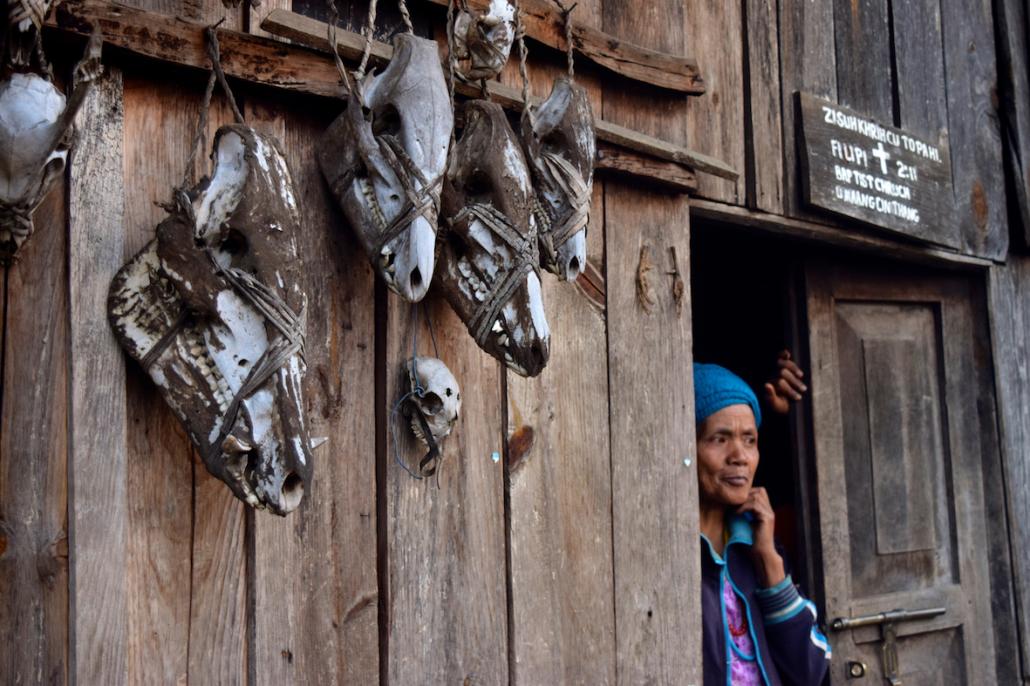 Today it is far more common to hang university graduation photos inside, said Salai Nhgepi Thian Uk Thang, a newspaper editor from the nearby town of Falam, as we walked past a house decorated with animal skulls.
Nghepi travelled by motorbike along a steep, rocky path to the village to collect the guns and licences from the pastor and the chieftain. None of the authorities in Falam wanted to attend the handover ceremony, so he decided to return the weapons to the district police station himself. 
The journalist is well known and liked in Suang Do after campaigning there last year as a candidate for the Chin National Democracy Party. He lost overall to the National League for Democracy candidate but won the vote in Suang Do.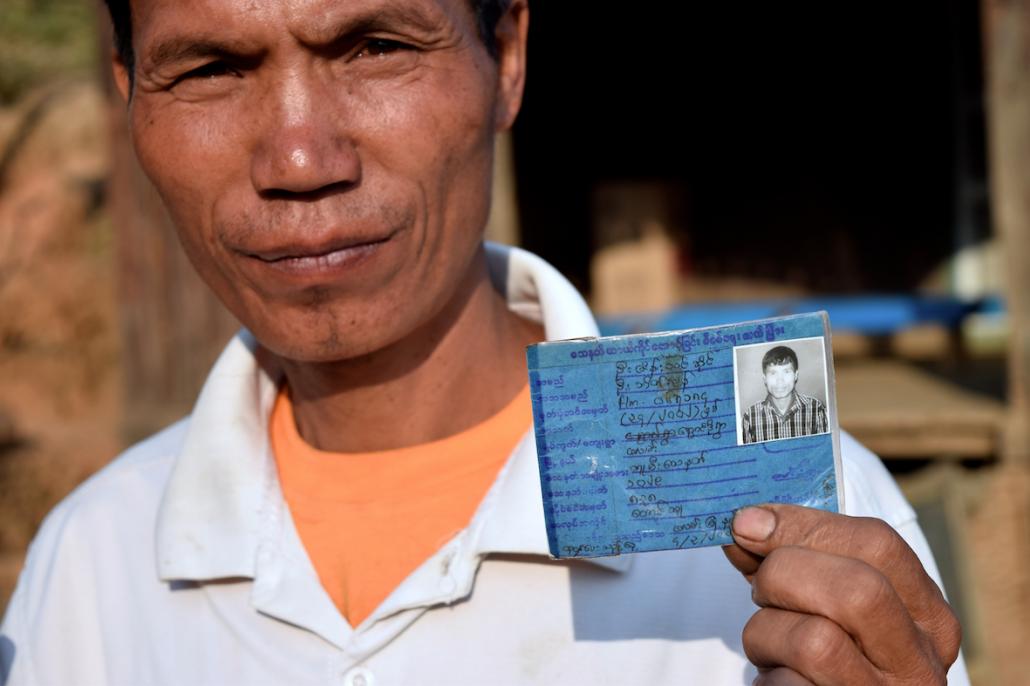 After sundown, Nhgepi took to a stage with Mang Cung Nung and Zing Tin Sai for the handover ceremony. Hundreds had gathered in the village for the annual youth conference of the Ngawn, one of many clans who live in the Chin Hills. Earlier that day, young Ngawn women competed in a football tournament. The pitch was marked out on a plateau overlooked by distant blue peaks, and the stage was erected on the sidelines.
Before the handover there was a speech. Pa Kap Thaung, Con Sang's son and the head of the Chin branch of a popular television network, urged the crowd to consider Biblical arguments for protecting wildlife. "All animals are God's creatures," he said. Every now and then he would encourage shouts of "Hallelujah" from the crowd.
He invited the pastor and the headman to centre stage. Nhgepi shook hands with them, collected their weapons and set them down on a table beside an open Bible.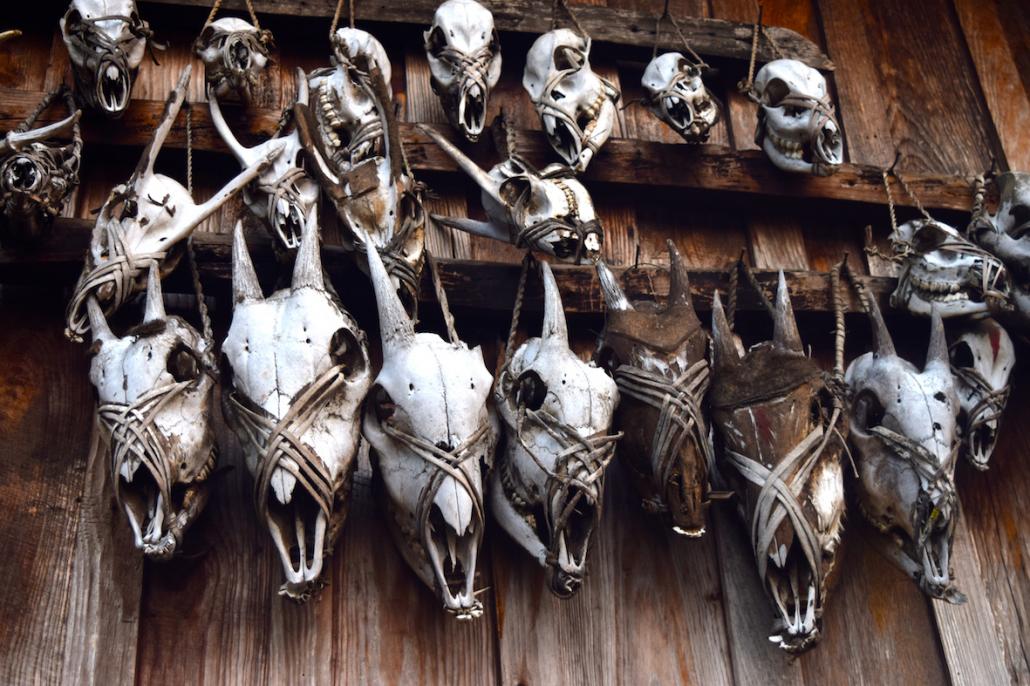 Then it was Mang Cung Nung's turn to give a speech.
"Earlier," he told the crowd in the same manner he might deliver a sermon, "the old man said I was a girl because I've never shot my gun. But it's okay, my idea of what it means to be a man or a woman has nothing to do with guns. He places value on the number of animals you can kill, I place more value on the number of lives you can save."
Did Con Sang, with more than 600 kills, feel he shared the blame for bringing boars, deer and goats to near annihilation in the area? No. He blames bad management by the government. It was better under the British – who ruled the country when he was a young boy – when there were strictly enforced hunting seasons, he said.
Myanmar still has laws aimed at protecting wildlife but few people follow them, said Ngwe Lwin, of Fauna and Flora International. "There should be law enforcement units at the village level to control illegal hunting," he said.
The morning after the handover ceremony in Suang Do, young men in football kits laced their boots amid the sound of cockerels and grunting pigs. As the sun crept over a nearby hill, Mang Cung Nung and Zing Tin Sai met in front of one of the village's churches. Nhgepi had temporarily returned their guns so they could pose for Frontier's photographer.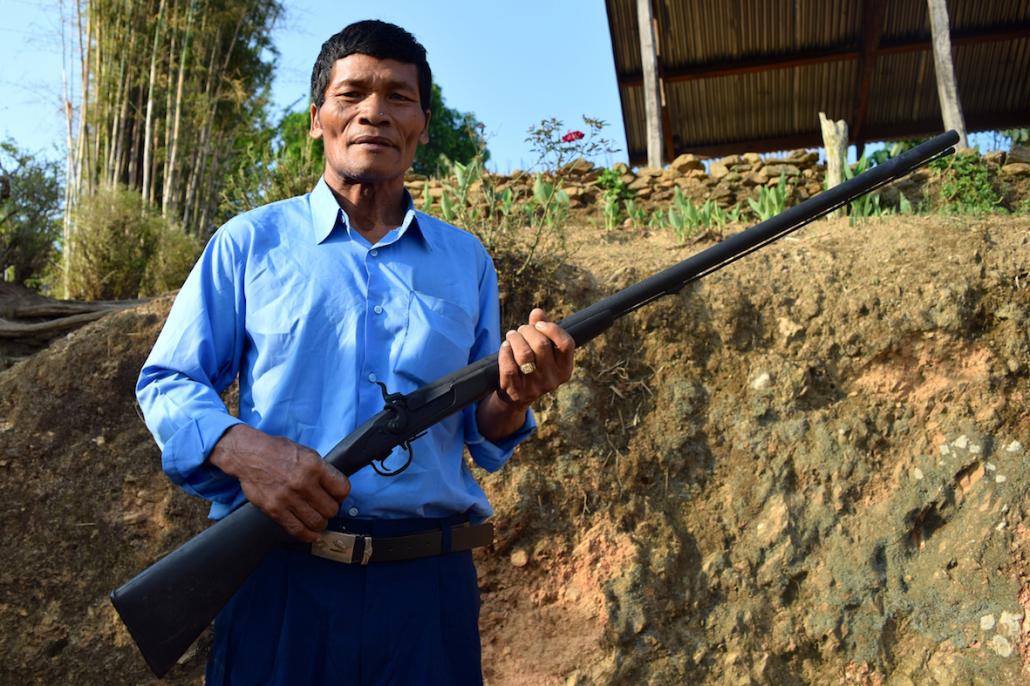 Someone brought out another gun, a muzzleloader primed with gunpowder and a homemade bullet, for a demonstration. There was a flash of fire and an almighty boom as he fired a round into the hillside. A puff of smoke drifted above the crowd.
The footballers preparing for the tournament came to inspect the weapons and were given tips on how to handle them by the older men. "I want to return my gun licence too," said Pa Khua Za Vel, an elderly, eccentric villager. "But I sold it for K5,000."
The gesture by the headman and the pastor, though undoubtedly sincere, might have had more impact years ago, when game were still common in the region. Mang Cung Nong agreed, but believes that a change in attitudes can still help to preserve Chin's wilderness.
"We might be late, but we are also the first," he said.