By BEN DUNANT | FRONTIER
YANGON — A celebrated filmmaker on trial for allegedly defaming the Tatmadaw has insisted "no criticism" should be directed at State Counsellor Daw Aung San Suu Kyi for his case, which he said is instead proof of Tatmadaw "meddling" in the courts.
U Min Htin Ko Ko Gyi was arrested on April 12 in Yangon and is facing two charges that each carries a maximum of two years in prison, in relation to a series of outspoken Facebook posts including satirical passages that criticise the military and its prominent role in politics.
In a "personal statement by Min Htin Ko Ko Gyi to the international community" released a day before he appeared in Insein Township Court on Thursday, he said, "I will not accept any measures or actions that aim to criticise or pressure Daw Aung San Suu Kyi."
Despite Aung San Suu Kyi being the de facto head of the civilian government, which has formal authority over the prosecution of criminal cases via the Office of the Attorney General, Min Htin Ko Ko Gyi said in the statement that "she is doing things that are far more important than this one. And I am not expecting Daw Aung San Suu Kyi to intervene on my case."
Lieutenant-Colonel Lin Htun of Yangon Command filed the original complaint in March under section 66d of the Telecommunications Law, which concerns online defamation. The officer filed a second complaint several days later under section 505a of the Penal Code, which criminalises the making, publication or sharing of "any statement, rumour or report" that might induce any military service member "to mutiny or otherwise disregard or fail in his duty". The Penal Code provision is a "non-bailable" offence, meaning a judge must grant a decision on bail.  
Min Htin Ko Ko Gyi has been remanded to Insein Prison and denied bail requests made on account of his frail health. His statement said he had undergone surgery to treat liver cancer about five months ago.
Sitting handcuffed in a stiflingly hot courtroom, Min Htin Ko Ko Gyi did not appear faint, as reported in previous hearings. He listened attentively to the proceedings and spoke occasionally to his lawyer and the judge. But later, as police were leading him out of the courtroom, he told Frontier that he was "not feeling very well".
Addressing reporters while leaving the court, Min Htin Ko Ko Gyi said his detention is "making my physical and mental health suffer and has also been at the cost of my work, my family, my social status, everything. Those who did this to me will have to take responsibility for it one day."
Min Htin Ko Ko Gyi's written statement repeated an argument his lawyer U Robert Sann Aung had made in a previous court session, that it is unlawful for someone to be charged with two different offences for the same act. The judge has not yet made a determination on this.
In the Myanmar courts, judges only decide whether or not to accept charges sought by law officers, as government prosecutors are called, after the law officer has concluded the arguments and presented the witnesses for the prosecution. Robert Sann Aung confirmed to Frontier after Thursday's hearing that two more prosecution witnesses remain, and that they will both testify at the next hearing on June 6.
Min Htin Ko Ko Gyi's statement also said, "Since the Attorney General is from the military, it is clear that the military is meddling in the legal matters of the country in an unlawful manner."
Attorney General U Tun Tun Oo was appointed by former National League for Democracy-appointed President U Htin Kyaw when the NLD assumed government in early 2016. Tun Tun Oo served as deputy attorney general under the previous Union Solidary and Development Party government, which was led by former Tatmadaw officers, and prior to that was a major general in the Tatmadaw, according to a profile of "the NLD's military-linked leaders" published by Myanmar Now.
Thursday's session, which was attended by Western diplomats, featured the testimony of two Tatmadaw officers from Yangon Command, captains Nyan Min and Hein Htut Oo, who reported the Facebook posts to their seniors.
During cross-examination, Robert Sann Aung argued that Min Htin Ko Ko Gyi's posts referred to news events that had already been reported by the media. He also said that the posts, some of which took the form of imaginative satire, were part of a Myanmar tradition of poetry and speech-making criticising the powerful by figures including Thakin Kodaw Hmaing and Bogyoke Aung San. He told Frontier afterwards that he was "satisfied" with how the session had gone.
Min Htin Ko Ko Gyi founded the Human Rights Human Dignity film festival, which was held annually between 2013 and 2017 in Yangon with Aung San Suu Kyi as patron. His 2010 film "The Floating Tomatoes", about tomato cultivation on Inle Lake in Shan State, won second place in the documentary category in the Documentary Film ASEAN festival held in Hanoi that year.
He has been working on a documentary about Aung San Suu Kyi since 2012 and wrote a script for a film about her father, Aung San. This production, now being overseen by a government-led committee, was conceived in 2012 with Aung San Suu Kyi at the helm.
Min Htin Ko Ko Gyi has also trained and mentored young Myanmar filmmakers, including through an institute he established. Several of his former students were present at the courthouse. Along with other youth activists, they wore blue t-shirts featuring the words in Burmese, "withdraw the Tatmadaw lawsuits".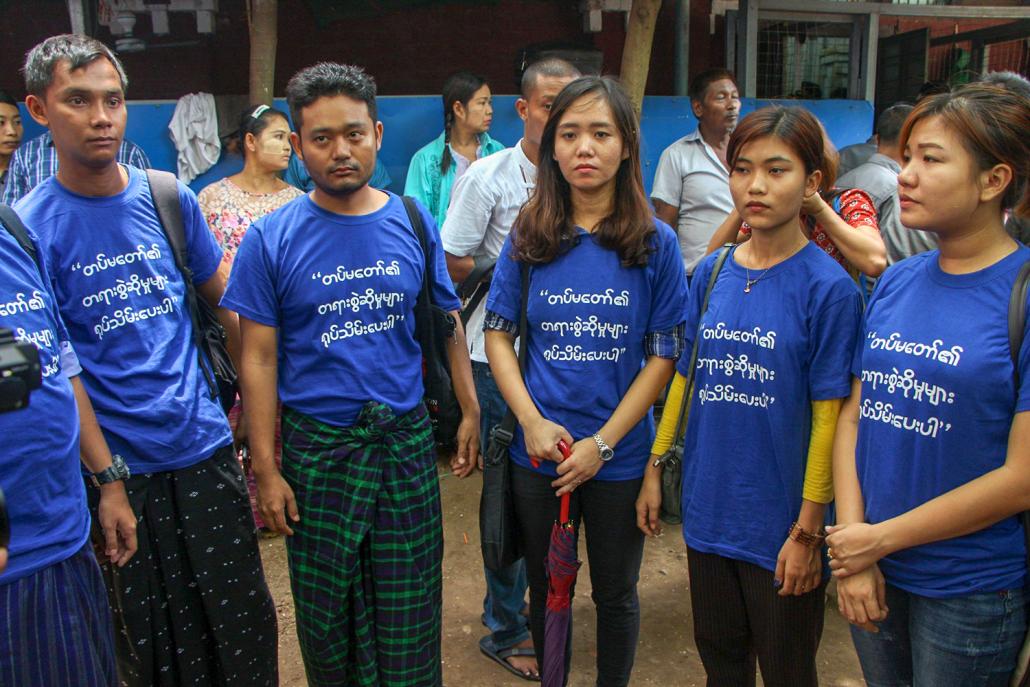 These t-shirts reference the blue prison shirt that veteran journalist and NLD member U Win Tin wore from his release from prison in 2008 until his death six years later in solidarity with other political prisoners that remained behind bars. They are being worn by activists while attending the trials of a growing number of activists and artists accused of defaming the Tatmadaw.
These trials, which include cases brought against members of a youth troupe performing traditional comedy, are multiplying in an apparent crackdown on public criticism of the military that began around the Thingyan festival in mid April.
Ko Maung Saungkha, founder of free speech advocacy group Athan, handed Min Htin Ko Ko Gyi a blue shirt on his arrival, which he carried with him into the courtroom.
Blue t-shirt-wearing activists at the court told Frontier they believed that the NLD's move in parliament to form a committee, approved in February, that will recommend changes to the Tatmadaw-drafted constitution had prompted the recent spate of criminal complaints.
"It is related to the NLD's activities to amend the constitution," said Maung Saungkha, adding that the activists' chief demand was for the Tatmadaw to "immediately withdraw the lawsuits that are violating freedom of expression".
Ma Phyoe Phyoe Aung, who was herself jailed in 2015 for taking part in protests against a newly drafted education law, and was released in a presidential amnesty the following year while still under trial, said the constitutional reform effort had prompted a "crisis within the government". She added that in initiating defamation trials, the Tatmadaw "wants to show its power, its authority within the country."
The Tatmadaw's actions, she said, should be seen as part of a "power struggle between two authorities, the military and the NLD government. I'm not sure how the NLD can manage it."
But she said the NLD should use its parliamentary majority to repeal laws that are currently being used against dissenters and "should reform the judicial system to establish the rule of law".