Graffiti flourished in Yangon a decade ago, but the number of artists has since slumped by more than half, and some say the scene never developed its own style.
By MIN PYAE SONE | FRONTIER
GRAFFITI is synonymous with delinquency in most countries, and Myanmar is no exception. Many Myanmar parents would regard a young person going out at night to deface walls and buildings as no more than a deviant. However, for the past decade, the graffiti scene in Yangon has allowed a small group of young people to defy conservative norms and stake a claim on the city's streets.
With the international art world's embrace of artists like Keith Haring, Taki 183 and Blek le Rat, graffiti has come to be recognised as something much more than a crime or gesture of defiance. That is, art that reaches beyond the walls of a gallery. 
We easily disregard the lurid doodles and scarcely legible text sprayed in alleys and on fences around abandoned construction sites in Yangon, but those who care to delve into the scene will find a small but diverse group of professional and amateur artists, most of whom are still drawn to the raw, vandalistic approaches of the New York graffiti movement.
However, since the city's graffiti scene began to blossom a decade ago, it has yet to develop a discernable style of its own. For most practitioners, graffiti has been a way to plug into a cool, foreign culture, and this has created a tendency towards imitation rather than innovation – similar to pop music, where cover songs rule, and a large portion of the films produced in Myanmar.
Like Yangon's hip hop scene, many of Yangon's graffiti artists are from fairly well-off families. Some picked up an appreciation for graffiti while studying abroad, and this has given it an added "elite" allure for aspirational young people. The graffiti scene's connection to politics, and any genuinely dissident sub-culture, has been oblique at best, and few graffiti artists describe themselves as "political".
But to dismiss Yangon graffiti for these reasons is to forget that it came of age at a time when embracing an item of foreign culture such as graffiti was to defy state policy.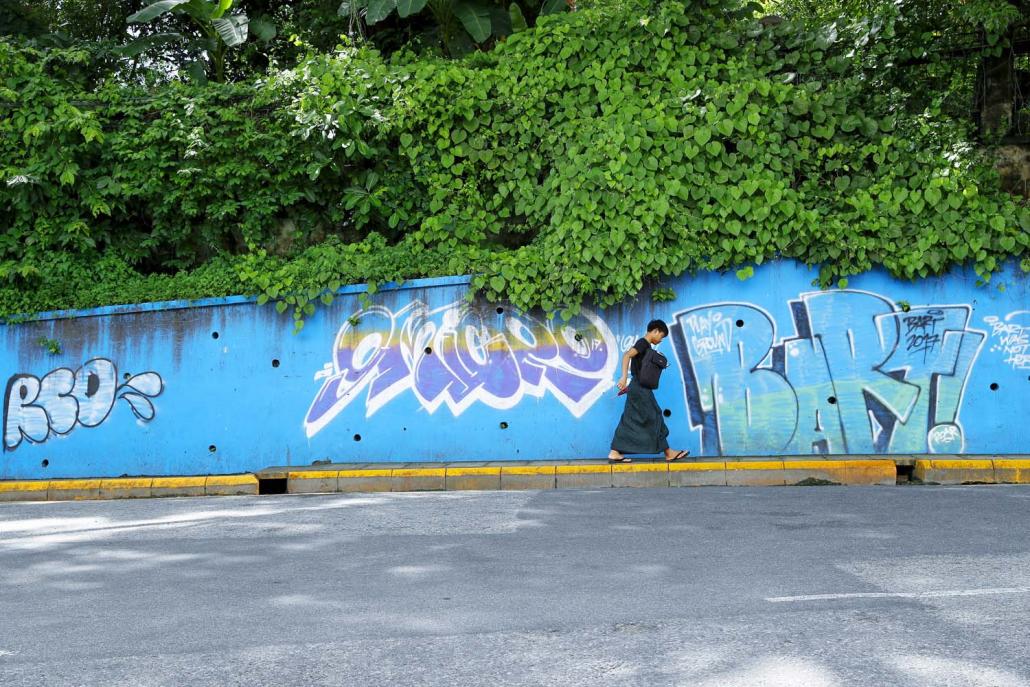 Hip hop's twin
In the late 2000s, many young people were intrigued by the sight of barely decipherable scrawls that popped out of stale walls or columns left mouldy by years of neglect. Graffiti culture emerged in Yangon at a time of isolation, when limited access to the internet and an official censorship regime concerned with protecting traditional Myanmar morals kept "deviant" Western cultural influences at bay.
Before that time, ACID, one of Myanmar's first "underground" hip hop groups, who performed in small, unofficial venues and sold most of their recordings illegally, introduced elements of predominantly American hip hop culture to a young and impressionable fan base in the early 2000s. It was only natural that graffiti, together with baggy jean shorts and oversized T-shirts, appeared along with ACID's raunchy music videos and live shows.
After ACID's demise in 2008, when two of their members were arrested for assisting the pro-democracy movement – an unusual fate for Myanmar rappers – graffiti culture in Yangon mostly thrived underground, though it received some assistance from the French and German cultural institutes.
Ko Thu Myat, 33 who has been doing graffiti since 2008 and now works mainly on canvas, believes the scene's development has suffered from not being moored in a broader and more radical sub-culture, which makes it feel a bit like a cultural transplant.
"There's nothing special about Yangon graffiti, except the fact that it suddenly appeared. It's almost like there's a gap in our development," he said. "Like technology; for example, we didn't have any internet until recently. Now, we're on our way to 5G. It's the same with graffiti and street art in general."
Thu Myat was among the fans captivated by late-90s American rap albums and decided to imitate the stylised lettering on album covers. He started with marker pens on A4 paper; it was a while before he was using spray cans. He learnt spray control and other techniques at an Alliance Française (now the Institut Français de Birmanie) workshop on graffiti in 2008. Thu Myat also tried his luck in the music industry, which he said "invoked his passion" for graffiti even more.
"Nobody really understood why they were tagging; it just all looked cool to us," he added in an interview at his family home in Yangon. "It took us [the graffiti writers] a while to figure the fundamentals, the history of what we were doing. Then I was properly obsessed!"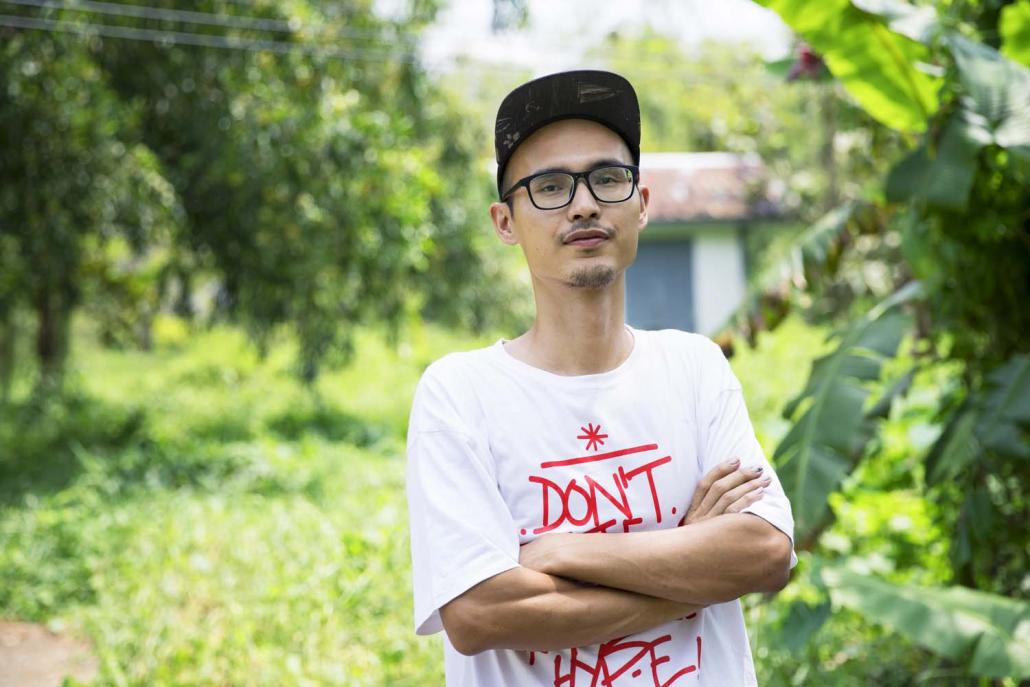 Drinking, fighting and spray-painting
The first official graffiti event in Yangon was held at the New Zero Art Space in Dagon Township in 2009. It enabled graffiti artists who were comfortable about revealing their identities to share their knowledge with curious young people. Many who attended that event are still doing graffiti today.
In 2012, weeks after graffiti artist Ko Arkar Kyaw made headlines for a mural welcoming the visit by United States President Barack Obama, the Yangon municipal government issued a warning against graffiti that threatened criminal penalties. Among those who ran foul of the law was a small, rowdy gang that called itself Western Crew because its members came from Sanchaung Township in western Yangon.
"It was originally a group for the members to meet up and get drunk, get into fights, you know… the usual," said Western Crew's Ko Toe Wai, 28, better known by his alias, Satan.
Initially, Toe Wai was strongly inspired by American bubble fonts. He began experimenting and worked odd jobs to support himself. His efforts have enabled him to become one of the most successful commissioned graffiti artists in Yangon.
In 2012, when the municipal government cracked down, Western Crew was busted. "It was kind of late," Toe Wai recalled. "Me and a group of friends decided to go wild, you know, picking up boxes of ATM spray cans and going around tagging up alleyways."
"After the deed was done, we noticed two men tailing us. We weren't sure what to do and disregarded it. One by one, they picked us up at our houses. By the time they showed up at mine, a lot of people had already been caught. It was a pretty big thing; a lot of squad cars, motorcycles. It was chaos. When we finally got to the station, all the other [detainees] were cracking up because of us. They thought us being caught for drawing stuff on walls was hilarious!"
At this time, plainclothes intelligence officers on the lookout for political dissidents would tail graffiti artists. However, most police officers regarded graffiti as a petty offence that generally didn't warrant charges. This didn't preclude mistreatment, though. Officers would stake out locations preferred by graffiti artists and detain and beat them.
One favoured spot was on Lower Kyeemyindaing Road, provocatively close to Ahlone Township Police Station. With graffiti even appearing on the walls outside the police station, police action was never thorough, but officers would sometimes take graffiti artists into custody for short periods as a pre-emptive measure.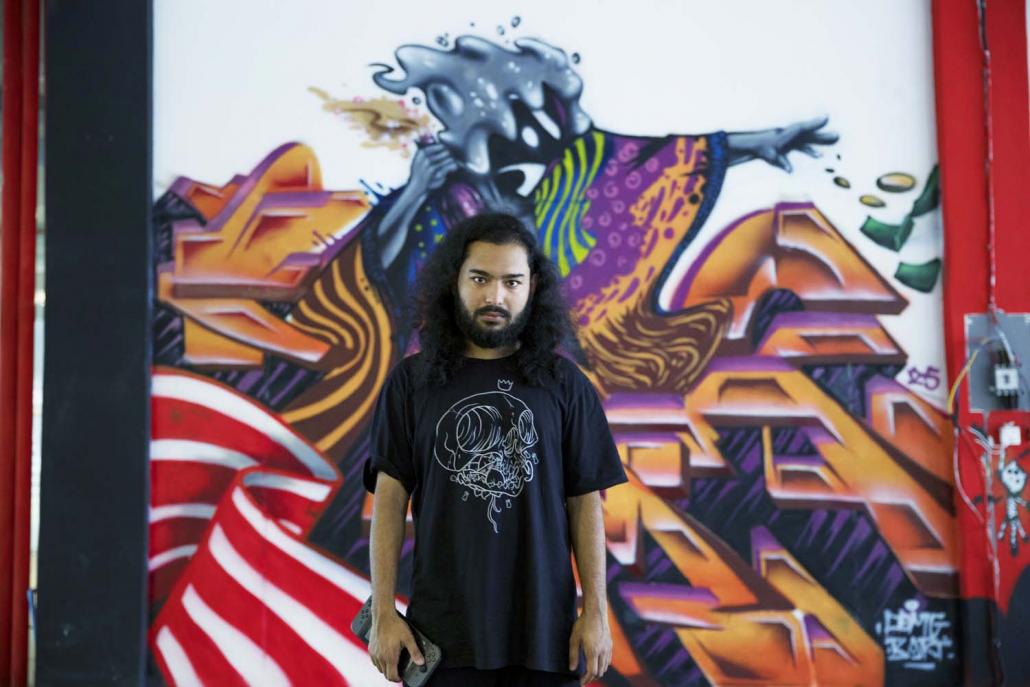 Into the gallery
Today, only a small group of artists are continuing the tradition. From the original community of 50, only about 20 remain, said Toe Wai, who believes a failure to innovate a distinctive style meant that the scene lacked staying power.
Toe Wai said improved internet access is a mixed blessing in this respect, because it allowed artists to more easily copy internationally renowned styles rather than develop their own. Although the Yangon municipal government tried to block a proposal for a public graffiti zone made in 2013, the idea went nowhere for other reasons, including differences among artists.
Some graffiti artists now exhibit in gallery spaces, and bring graffiti elements to canvasses and installations. They include Ko Kyaw Moe Khine, 23, aka Bart Was Not Here. Growing up in Yangon in the early 2000s, he regarded hip hop and graffiti as synonymous; but after getting a diploma from Singapore's Lasalle College of the Arts in 2018, he developed a deeper appreciation for graffiti from the perspective of global art history.
"I thought if you like hip hop, you'd like graffiti," Kyaw Moe Khine said, describing his initial attitude. "As I grew older, I started to see it as more of an art movement than just an element of hip hop. In my opinion, hip hop is more commercialised … there's an industry for that. But when it comes to graffiti, you don't make money off it."
Many of Kyaw Moe Khine's paintings include graffiti-style lettering but he tries to introduce not only graffiti's motifs but also its spontaneity into his work. "I do the same thing I do on the walls, but on a canvas," he said.
But he said a commitment to spontaneity shouldn't preclude an appreciation of where graffiti came from and how it has influenced the rest of the art world. "Most graffiti writers don't research art history," he said, describing this as a mistake. "When you're an artist, you need to acknowledge all the history behind the techniques we use today."
TOP PHOTO: Growing up in Yangon in the 2000s, Ko Thu Myat was captivated by late-90s American rap albums, and decided to imitate the stylised lettering on album covers. (Nyein Su Wai Kyaw Soe | Frontier)