Eighteen months into her mandate, UN special envoy Ms Christine Schraner Burgener faces criticism that she's done little but sweet-talk the authorities – but keeping the world in the dark about her activities is all part of her "quiet diplomacy" strategy.
By KONRAD STAEHELIN | FRONTIER
WHEN Ms Christine Schraner Burgener visited Myanmar last month, she met State Counsellor Daw Aung San Suu Kyi, diplomats, ministers, senior Tatmadaw officers and members of think tanks and United Nations agencies. It was a packed agenda, but the media – and by extension, the public – was to be told nothing about what was discussed. The visit, from November 12 to 21, was her ninth to Myanmar since her appointment. On all these trips, she has declined to grant a single interview to a Myanmar media organisation.
When Schraner Burgener took up her position as the UN secretary general's special envoy to Myanmar in April 2018, her mandate spanned from the Rohingya crisis to the peace process. From the beginning, she opted for a strategy of almost no communication with the media, so as to enjoy closer ties to the government and the Tatmadaw.
To the Myanmar public, she is the latest in a series of special envoys imposed on the country by a little-loved UN. For foreigners in Myanmar and elsewhere, she is hard to fathom. On some of the few occasions that she has given public statements, she has caused controversy.
For this article, Frontier spoke to observers of Schraner Burgener's role in Myanmar and tried unsuccessfully to interview her. Asked in an email to arrange a meeting, one of the special envoy's aides, who had previously worked at Switzerland's embassy in Yangon, declined, saying Schraner Burgener did not want to risk her mandate by giving an interview to local media.
However, Schraner Burgener, 56, speaks to the media in her native Switzerland, including about the media organisations with whom she chooses not to speak. "Publications are queuing up. I have even turned down an interview request from the New York Times," she said in a radio interview last May, which was conducted by a famous Swiss comedian, Mr Viktor Giacobbo. "That carries the risk of the media writing that there is no progress, or that I am not working. That's the price I have to pay," she told him.
As a result, there has been little reporting in Myanmar about her visits other than that based on the statements issued when they end, or when she speaks at the UN.
"The special envoy needs to be accountable to the people on whose behalf she works, the international community and in particular the people of Myanmar," said Ms Laura Haigh, a Myanmar specialist at human rights advocacy group Amnesty International. "This lack of communication, including on where the government is and isn't making progress, can contribute to mistrust and frustration," Haigh told Frontier.
"If she communicates the wrong way, she risks derailing the whole process. But she could still hold a press conference after each visit to the country without revealing any details," said a high-ranking member of Yangon's diplomatic community who did not want to be named.
"Ms Schraner Burgener's mandate touches on emotive issues [in Myanmar] and it wouldn't be appropriate to just issue written statements," the diplomat said. "She needs to [also] convey the human aspect through body language and personality. Otherwise people are led to think that the different crises in Myanmar are just bureaucratic processes."
Ghosts of envoys past
It's a thin line between being too close to the government and being so openly critical of it that it does not grant the necessary access anymore. "Each of Schraner Burgener's predecessors has fallen off one or the other side at some point," said a political analyst who asked not to be identified, referring to the challenges that have confronted every special envoy to Myanmar. These have been Mr Alvaro de Soto (1995-1999), Mr Razali Ismail (2000-2005), Mr Ibrahim Gambari (2006-2009) and Mr Vijay Nambiar (2012-2016).
A report by New York-based think tank the International Peace Institute titled "A Good Office? Twenty Years of UN Mediation in Myanmar", published soon after Nambiar had taken up the position in 2012, concluded that the media strategies of previous UN special envoys were overly loose. "Keeping the press at a greater distance, and more strongly insisting on the need to keep the good-offices efforts confidential, could have significantly improved the envoys' chances of effectively negotiating with the Myanmar government," the authors wrote.
Schraner Burgener seems to have taken this lesson to heart. She has never publicly criticised the Tatmadaw or the government, which guarantees her access to remote parts of the country, camps for the internally displaced, and pretty much any decision-maker she wants to meet.
"Behind closed doors, I tell them everything, and I do criticise them," Schraner Burgener told Swiss daily newspaper Aargauer Zeitung a year ago. Having grown up in Japan, where her father worked for Switzerland's now-defunct national airline, Swissair, she claims to have a rhetorical advantage over other Westerners: "I know how to do this the Asian way without insulting them."
This "way" of hers proved effective when she was deployed as the Swiss ambassador to Thailand between 2009 and 2015. There, she acted as a behind-the-scenes mediator between the rival "red shirt" and "yellow shirt" movements.
She did not publicly acknowledge her role until after she had left it. "Had the public known about my actions in Thailand, their success would have been endangered," she said in the Swiss radio interview. "Even today, I don't speak about the exact content of the mediation." This caution might explain why she has been careful to be interviewed only by Swiss media on her new position as special envoy. She may believe that the media in Myanmar is unlikely to report on what she says on the record in Switzerland (which has held true, till now).
So far, however, she has little to show for her approach. Schraner Burgener has said her two main achievements so far have been establishing good channels of communication with all stakeholders and opening an office in Nay Pyi Taw with three staff to support her mission. This is not enough for some non-government groups, which have fiercely criticised her for failing to achieve meaningful results through her diplomacy while still refusing to speak out on human rights issues.
"If she hopes that these baby steps lead anywhere, then she lives in fantasy land," said Mr Mark Farmaner, director of Burma Campaign UK, in a telephone interview. "You can call that process, sure. But for the last 20 years there was always process in Myanmar; that's the government's delaying tactic," said Farmaner, who was denied a visa to Myanmar for three years but has revealed on Twitter that he was able to visit last month.
"We need real results soon," he said. "The special envoy needs to set clear, strong goals. They do not need to be public. But if she goes public, she must not constantly endorse the government."
Although Schraner Burgener has neglected to emphasise it in her English-language statements, there is an agenda that includes deadlines for meeting particular goals, the Swiss edition of the German weekly newspaper Die Zeit revealed in November 2018. Because her agenda remains confidential, there may have been achievements that are simply not known about. However, present conditions suggest that Schraner Burgener has not achieved breakthroughs on any key issues in Myanmar.
Reacting to criticism directed at Myanmar by countries including the United States, Bangladesh and Saudi Arabia at the UN General Assembly in July, Schraner Burgener promised the assembly that she would "ring the alarm bell" if the government stalled in improving conditions for the Rohingya.
"I don't see it as a problem that Ms Schraner Burgener doesn't criticise the government publicly," said Mr Christopher Sidoti, an Australian human rights specialist and one of the three members of the UN Independent International Fact-Finding Mission on Myanmar. "There are enough people in the UN like us or the special rapporteur Yanghee Lee that have been very vocal. She has a different task," Sidoti told Frontier.
Though he considered it too early to judge the success of her mission, "It will be very difficult to achieve changes this year before the elections, since playing on conflicts is an easy win for all parties. We won't see positive change in the next year, but rather deterioration."
Though a date for next year's general election has not been set, it is widely expected to be held in November.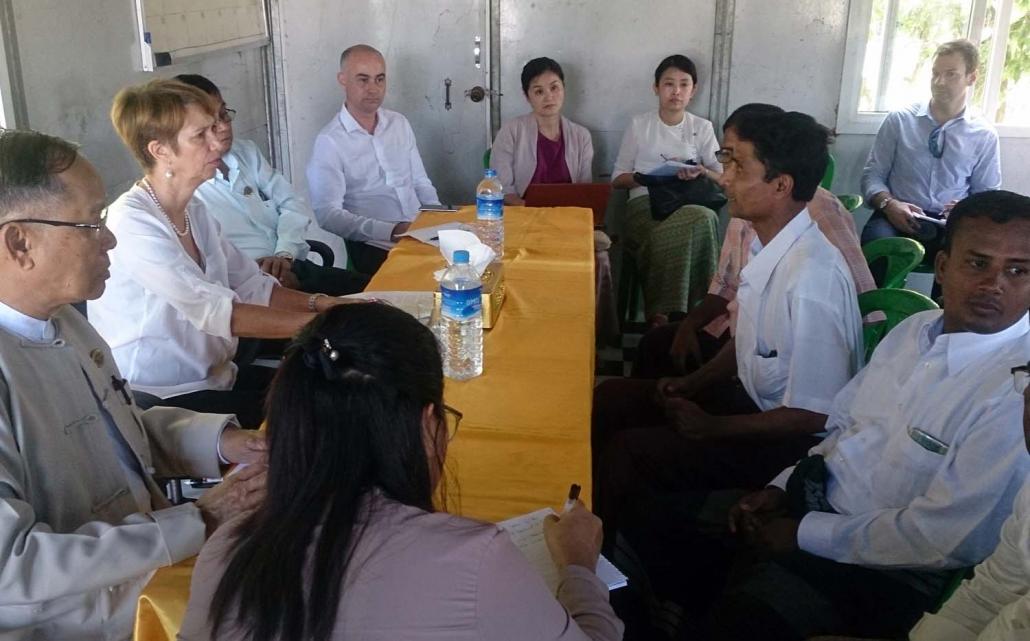 A non-United Nations
Beyond Schraner Burgener's lack of visible achievements, one of her public statements has spurred great consternation. After her visit in January this year, she expressed support for the National Verification Card process, which the government claims provides a first step towards citizenship for the Rohingya.
Because they are not considered a native ethnic group under the 1982 Citizenship Law, most Rohingya are denied citizenship, and this exclusion is at the root of the crisis in Rakhine. However, few Rohingya have applied for an NVC, because the process prevents them from identifying formally as Rohingya, and because they see it as the latest in a long line of government schemes for them that have stopped deliberately short of citizenship.
Despite these concerns, the January statement said the special envoy had "encouraged the internally displaced people she met to consider applying for [NVC] registration".
Human rights groups were sharply critical of Schraner Burgener for not using "Rohingya" in the statement and for mimicking government rhetoric by calling them "internally displaced people".
"Some of the other UN agencies in the country were furious when the special envoy supported the government in its plan to give NVCs to the Rohingya instead of pressing harder for a change of the citizenship law," one observer, who did want to be named, told Frontier.
The observer said that Schraner Burgener later tried to explain to NGOs and other UN agencies that she did not endorse the NVC process per se, but was motivated by a desire to improve the Rohingya's situation in the short term, knowing that any change to the 1982 Citizenship Law was very unlikely, at least before the 2020 election.
Frontier unsuccessfully sought comment from the UN's resident coordinator in Myanmar, Mr Ola Almgren, and its special rapporteur on human rights in Myanmar, Ms Yanghee Lee.
"It is deeply problematic that the UN cannot speak with a common voice when it comes to the NVC process – which is at its heart about fundamental issues around self-identification and non-discrimination," said Amnesty's Haigh. "With UN special rapporteur Yanghee Lee banned from the country for years and so few top-level inroads to the government for the UN, it is important the institution presents a clear and consistent message on human rights."
On the other hand, some argue that in light of Myanmar's rejection of fundamental elements of the UN's work in the country, such as its decision in late 2017 to deny entry to Lee, Schraner Burgener's aloofness from the rest of the UN gives her an advantage in engaging the government. This is augmented by the fact that she lacks a UN background.
This might have also smoothed her appointment as special envoy. Multiple sources say that Schraner Burgener was not among the top picks on UN secretary-general Mr Antonio Guterres' short list of candidates after the General Assembly voted 122 to 10 in December 2017 to appoint a special envoy. Myanmar, China and Russia were among the countries that voted against the favourites.
At the time Schraner Burgener was Switzerland's ambassador to Germany, and when asked the following April if she had wanted the job, she said she had almost forgotten applying for it.
Although the job is 75 percent of a full-time job, Schraner Burgener has told Swiss media that she works much harder as special envoy than she would in a full-time position. Her salary is only a third of what she earned as an ambassador, reported Die Zeit. The average Swiss ambassador is paid about US$14,000 a month, but Schraner Burgener would probably have earned more than that in Berlin due to her seniority and the importance of the post. It's reasonable to assume that she earns considerably less than $10,000 a month as special envoy, which is a relatively small sum compared to the responsibility of the position.
No one interviewed for this report doubted that Schraner Burgener has the qualities needed for the position; the interviewees characterised her as being likeable and convincing, and her diplomatic experience is extensive. But some might ask whether the relatively modest salary paid to a special envoy had discouraged the best candidates from applying.
Guterres is said to have approached several prospective candidates, but they either declined or were rejected by Myanmar, before Schraner Burgener was appointed.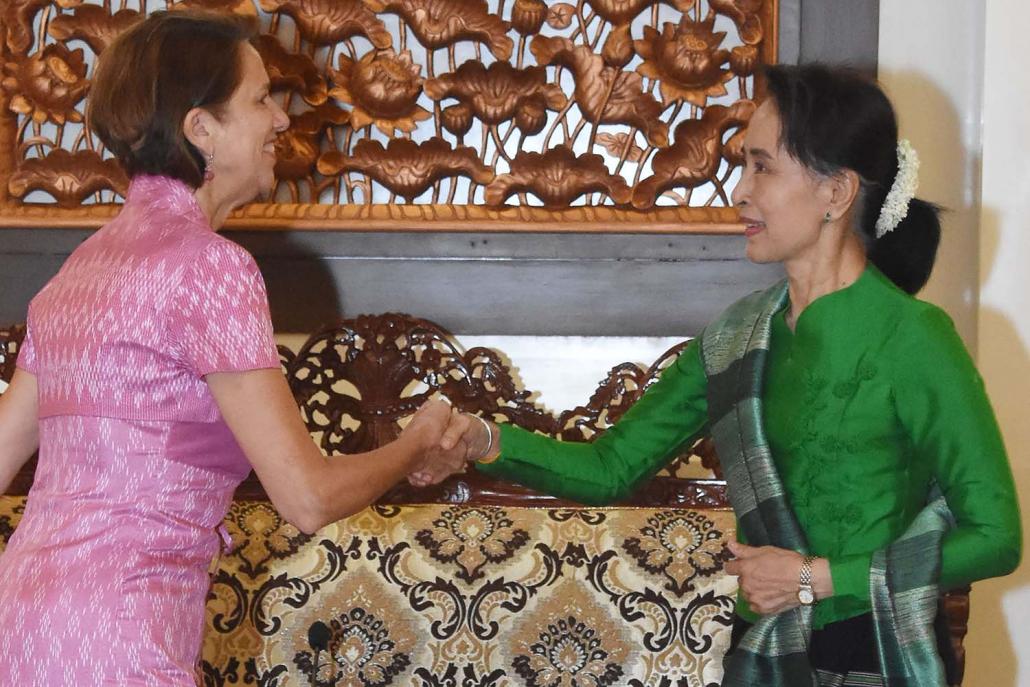 Befriending the Lady
"Christine only got the job because she is Christine," said Mr Leon de Riedmatten, a compatriot of Schraner Burgener's and a veteran of behind-the-scenes diplomacy in Myanmar. De Riedmatten built up the Myanmar operations of the International Committee of the Red Cross in the early 2000s and was later involved in shuttle diplomacy between the military government and Aung San Suu Kyi when she was under house arrest. He retains close ties to the Lady.
"As always in Myanmar, success is about having personal relationships," he told Frontier in an interview at his Yangon office. "Suu Kyi knew Christine and her husband Christoph from when the couple had shared the diplomatic duties for Thailand and Myanmar. She remembered her as being likeable. Therefore, she did not dismiss Guterres' suggestion this time."
In 2009, Schraner Burgener and her husband Christoph, who is also a diplomat and with whom she has two children, became the first couple to job-share the post of ambassador in Switzerland's foreign service. This could be said to chime with her liberal world views as a member of Switzerland's leftist Social Democratic Party.
While she dealt with Thailand, her husband was responsible for Myanmar, Laos and Cambodia and opened an embassy in Myanmar in 2012.
"She really likes Christoph," an informed source said of Aung San Suu Kyi, who received visits from Christoph while she was under house arrest.
Schraner Burgener revealed in the interview on Swiss radio that she first became acquainted with Aung San Suu Kyi when she went on her first overseas trip after being freed from house arrest in 2010. Mr Klaus Schwab, founder of the World Economic Forum, the high-profile annual event in the town of Davos in the Swiss Alps, had invited Aung San Suu Kyi to the forum's Asian offshoot in Bangkok. "Schwab asked me to throw a dinner party in her honour at the ambassador's residence," Schraner Burgener said. "She accepted the invitation."
However, a personal relationship with Aung San Suu Kyi is no guarantee of access and Frontier understands that the state counsellor has often cut ties with those whose opinions differ from hers. Securing the Lady's trust while staying true to her mandate, which would require pressing her on uncomfortable issues, may be among Schraner Burgener's biggest challenges. And as the clock ticks down to the 2020 election, the pressure to deliver may force a breakthrough – or the implosion of yet another UN misadventure in Myanmar.
TOP PHOTO: AFP