After years of challenges and controversy, a UNESCO committee will decide next year whether to grant World Heritage listing to Bagan – but hotel development in the archaeological zone remains a thorny and unresolved issue.
By YE MON | FRONTIER
MYANMAR WILL learn next year if the temple-studded plain at Bagan has been granted World Heritage status by the United Nations Educational, Scientific and Cultural Organization, 23 years after an initial attempt to have the site added to the coveted list.
Bagan is among the proposed sites to be considered for listing at a meeting of UNESCO's world heritage committee in the Azerbaijani capital, Baku, from June 10 to July 10, 2019.
Considered one of the most important archaeological sites in Asia, a 2017 survey by the Association of Myanmar Architects located 3,822 monuments at Bagan, including temples, stupas, monasteries and pagodas.
If the application is approved, Bagan will become Myanmar's second entry on the World Heritage List. UNESCO added the Pyu Ancient Cities – Hanlin, Beikthano and Sri Ksetra – to the list in 2014.
But success is far from assured. Efforts to have Bagan listed have faced a range of challenges over the years. These include controversy over inappropriate development in the Bagan Archaeological Zone, sudden changes in Myanmar policy, tensions between UNESCO and government officials, and the 6.8-magnitude earthquake that shook the area in August 2016, damaging hundreds of temples.
Site management is a key concern. When Myanmar submitted its application to UNESCO, it undertook to ensure that the Bagan cultural heritage region would not be affected by development projects.
However, critics say that the management of the Bagan area has not changed under the National League for Democracy government, while some even argue that it has gone backwards since early 2016.
E-bike shop owner Daw Myint Myint San said Bagan residents had voted for the NLD in 2015 because they hoped for improved management at Bagan but had been disappointed.
In particular, they are frustrated at the government's plans to build viewing mounds, and also that it has built toilets close to temples.
"Mandalay Region's chief minister doesn't understand about Bagan," she said. "He just follows the advice of government officials and neglects local voices."
A legacy of mismanagement
When Myanmar submitted its initial listing request in October 1996, UNESCO advised it to re-apply with a detailed map of the archaeological zone and after it had enacted a heritage conservation law, which occurred in 1998.
But a World Heritage Listing application has two parts: one is devoted to the heritage area, its monuments and mapping, and the other is a comprehensive management plan.
A constant barrier to listing since the initial attempt was made in 1996 has been inappropriate commercial development in the Bagan Archeological Zone. Over the years the problem has worsened, and the area now includes an unsightly viewing tower and other infrastructure projects built under the State Peace and Development Council government, such as roads and a golf course.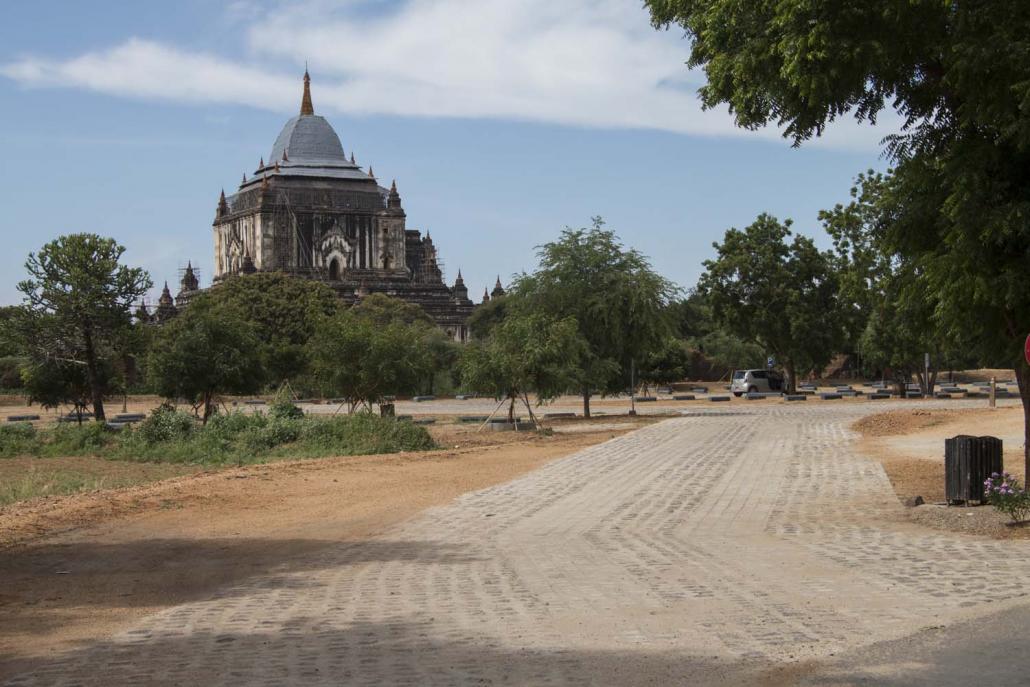 The culturally sensitive issue of rebuilding or renovating its ancient temples to earn Buddhist merit is also a challenge. Critics said the rebuilding of ancient monuments at Bagan had compromised their architectural integrity. Materials used in rebuilding temples sometimes also compromised their structural integrity and was a reason for serious damage suffered in the 2016 earthquake by the Sulamani Temple, among the most significant of the thousands of monuments recorded at Bagan.
But it is the construction of hotels in the archaeological zone that has been the main source of contention and highlighted deficiencies in the management of Bagan.
In the late 1990s and early 2000s, the junta allowed a handful of developers to build hotels in an area known as Old Bagan, close to some of the most prized monuments. Extensions to existing hotels and new construction also continued for decades in the larger Bagan Archaeological Zone.
Finally, in March 2014, the Union Solidarity and Development Party government of President U Thein Sein announced a ban on building new hotels in Bagan, including 42 that had been recently approved or were still under construction.
The hotels had been approved by the regional government and local authorities, but not by the culture ministry in Nay Pyi Taw.
But in September 2016, Thura U Aung Ko, the minister for religious affairs and culture in the National League for Democracy government, announced that the ministry had agreed to grant licences to 25 hotels that had been built in the zone without the ministry's permission.
Aung Ko was quoted by The Irrawaddy as saying that poor cooperation between ministries during the change of government had resulted in permits being issued for the 42 hotels, of which 25 were almost completed. He said work would not be allowed to begin on the other 17 hotels.
Aung Ko said the government would sign an agreement with the 25 hotels under which they would be required to relocate after 15 years of operation to a hotel zone that was seven kilometres from the archaeological zone. This agreement has since been signed, Frontier has confirmed.
The USDP government's decision in 2014 to ban the building of new hotels at Bagan came a year after UNESCO suggested that they all be relocated outside the heritage zone.
This relocation requirement could affect "at least six" hotels in prime locations at Bagan, said U Aung Aung Kyaw, director of the Department of Archaeology, National Museum and Library.
These include Bagan Thiripyitsaya Sanctuary Resort, Bagan Hotel (River View), Bagan Thande Hotel, Nan Myint viewing tower at Aureum Palace, Hotel @Tharabar Gate and the Hilton Bagan Hotel, which is owned by Eden Group and still under construction.
These hotels are all in the most historically significant area, known as the monument zone, and some even have pagodas and stupas inside their compounds.
Aung Aung Kyaw said the ministry was still planning for the relocation and discussions were continuing with hotel owners.
U San Win, a retired director general of the department and chair of the team that drafted the listing application to UNESCO, said that while many developments had occurred in Bagan in violation of the 1998 heritage conservation law, he thought that most were "not deliberate mistakes".
But he urged the current government to take a stronger stand to resolve the "management issues" that have plagued the site and not put at risk Bagan's chances of being approved for heritage listing.
Defying the ministry
In March, the Ministry of Religious Affairs and Culture ordered a halt to work on a 340-room hotel at Bagan that had been approved by the Mandalay Region government.
Myat Min Co Ltd, a construction, real estate and hotel developer, was building the hotel near two pagodas in breach of the 1998 heritage conservation law, the deputy director general of the ministry, U Ko Ko Naing, told Myanmar Times in March.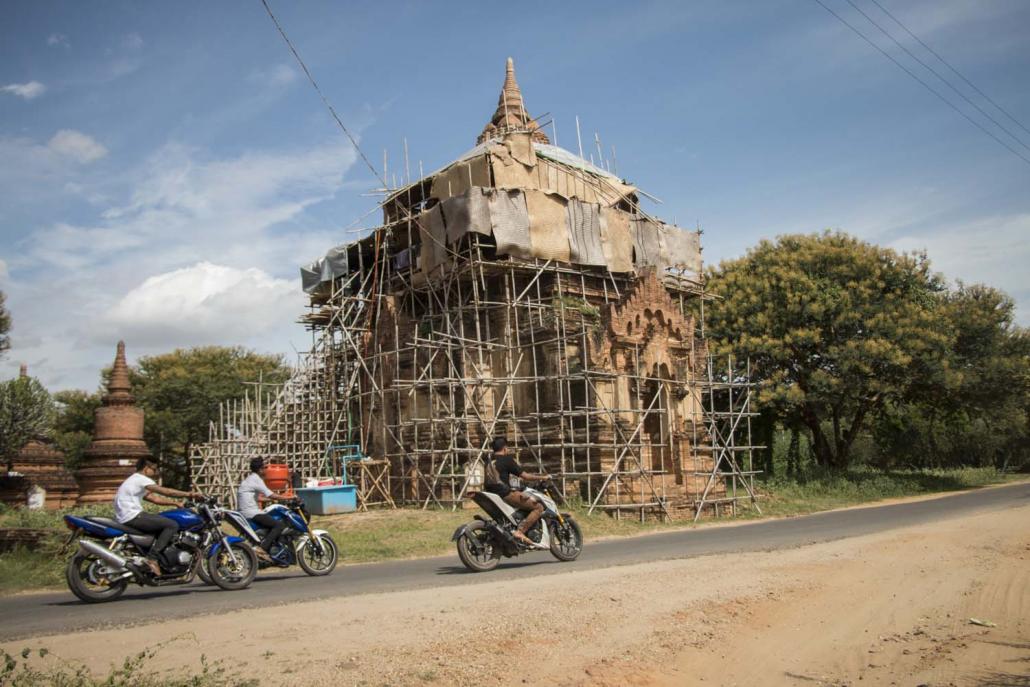 Government documents show that the regional government replied to Myat Min's application for a permit by saying that it had no objection provided the company followed all rules and regulations.
The Nyaung-U District General Administration Department, meanwhile, gave its permission in exchange for a K10.74 million donation – K50,000 per room – for the development of the Bagan region. On August 3 the Directorate of Investment and Company Administration announced that companies registered under the 2017 Myanmar Companies Law were prohibited from directly or indirectly offering charitable donations "when making business deals with ministries concerned or government organisations".
Myat Min chair U Phyo Hla Wai declined to comment to Frontier, but company officials have previously complained that they were never told they also needed permission from the culture ministry.
"We had permission from the Mandalay regional government to build the hotel; that's why we started construction," a Myat Min representative told The Voice daily on March 25.
The Department of Archaeology, National Museum and Library in Bagan says it instructed Myat Min three times to halt work on the hotel but the requests were ignored. In May, the department filed a complaint at Nyaung-U police station against Myat Min, accusing it of breaching section 24 of the 1998 heritage conservation law.
"We can't allow permanent buildings in the landscape areas," of the heritage site, said Aung Aung Kyaw, adding that under UNESCO guidelines, residential structures could only be permitted in areas of Bagan classified as "urban" or "village".
When Frontier visited last month, construction work appeared to have stopped and there were no workers present.
San Win said the regional government, district-level General Administration Department and the Department of Archaeology had been too slow to enforce the 1998 heritage conservation law.
"Some businesspeople don't pay any attention to the regional authorities or archaeology department because previously they got special chances under the military junta. The authorities have a responsibility to monitor and control development, and also businesspeople should not do anything that could affect Bagan's chances of World Heritage listing," San Win said.
A contentious view
There has also been controversy over where and how visitors to Bagan can view its spectacular, lingering sunsets.
Archeologists have long been concerned about visitors climbing temples to view the sunsets because of the risk of damaging the ancient structures.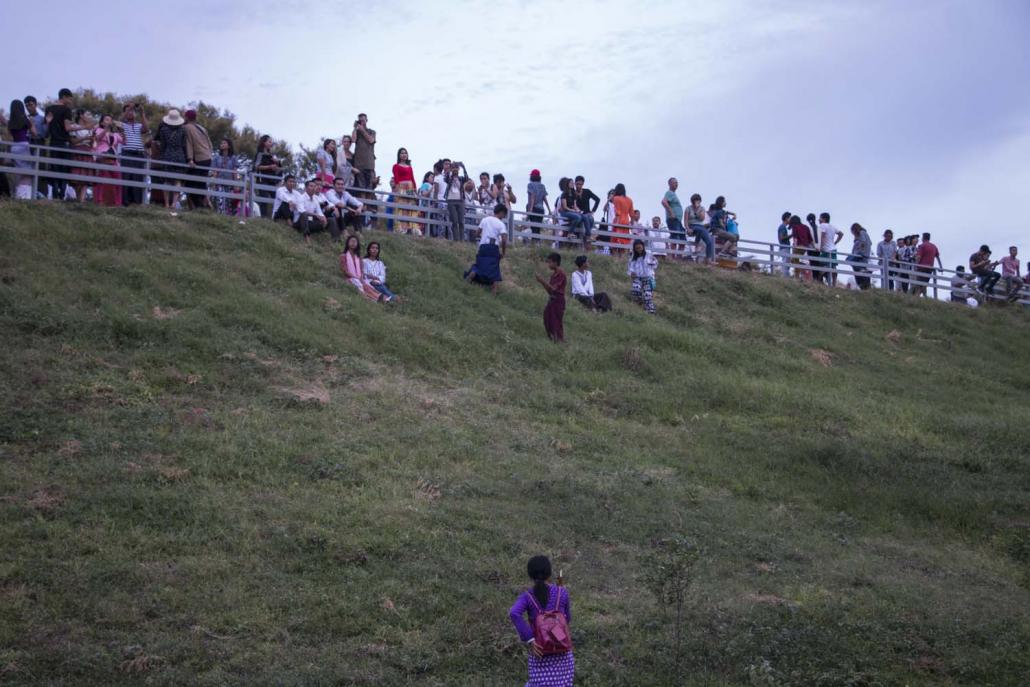 The influx of tourists after Myanmar began its transition to democracy when the USDP government took office in 2011 generated huge demand for viewing sites in Bagan, one of the nation's top destinations, and visitors were permitted to ascend five temples.
Differences between those concerned about potential damage from climbing ancient monuments and a tourism sector keen to maximize earnings have resulted in some policy flip-flops.
There was uproar after the Ministry of Religious Affairs and Culture announced on February 22, 2016, that a ban on climbing temples in Bagan would take effect from March 1.
The decision was reversed within 24 hours after it came under criticism from the Ministry of Hotels and Tourism, tour companies, travel guides and even the deputy minister for culture, Daw Sandar Khin, who complained about inadequate consultation.
During a visit to Bagan in January 2017, State Counsellor Daw Aung San Suu Kyi suggested that the ban be re-imposed.
Aung San Suu Kyi said she understood the appeal of viewing sunsets and sunrises, adding that they were "nowhere better than at Bagan", but climbing the temples was not in the interests of cultural conservation or sustainability.
"It shouldn't be allowed any more in the future," she said, suggesting that alternative viewing sites be developed instead.
But the government's solution – to construct soil embankments from where visitors can view sunrise and sunset – has also been controversial.
So far four or five have been built, but UNESCO national project officer Daw Ohnmar Myo said the mounds were "not really compatible" with the ancient city and it was inadvisable to construct "unnatural things" within the archaeological zone.
She said authorities had misinterpreted the state counsellor's comments. While Aung San Suu Kyi had said climbing pagodas should be banned, she did not give an instruction to construct the viewing mounds.
San Win said that the viewing mounds could harm the integrity of Bagan and were also a waste of government funds.
"Instead of banning all climbing on pagodas, the authorities should check first whether it will damage the pagodas if people are allowed up," he said.
Ohnmar Myo agreed that a blanket ban was unnecessary, and suggested that the government could raise additional funds for restoration work by selling a limited number of tickets granting access to pagodas for viewing sunset.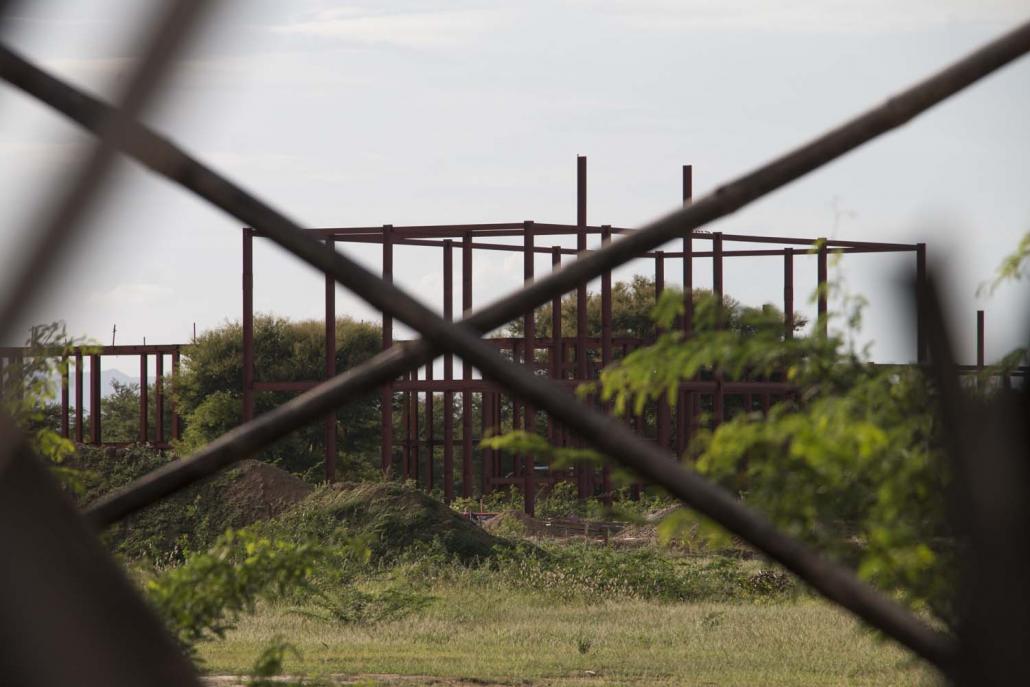 But Aung Aung Kyaw said the government plans to build more viewing platforms and insisted they would not detract from Bagan's heritage value.
Will Bagan get the green light?
Next month, an expert from the the International Council on Monuments and Sites will visit Myanmar to consider the government's application for World Heritage Listing for the ancient city of Bagan.
The Australian expert, who will arrive on September 15, will prepare a report for submission to the UNESCO World Heritage Committee ahead of a decision next year, said Ohnmar Myo.
"The expert will investigate everything that UNESCO needs to know to make a decision about world heritage status and then write a recommendation for the World Heritage Committee," she said.
The government will have the chance to explain to the expert about the steps it has taken to prepare for World Heritage status, she added.
In January Myanmar submitted its final nomination dossier for Bagan to UNESCO. In submitting the dossier the government pledged to implement a management plan for the Bagan heritage zone that covers issues such as local businesses, social issues, agriculture, transportation and tourism.
Earlier this year it also formed the Bagan National Coordinating Committee (BAGANCOM) led by Minister for Religious Affairs and Culture U Aung Ko, with the chief ministers of Mandalay and Magway regions as vice chairs. 
Aung Ko told Frontier that he was concerned that the Rakhine refugee crisis might affect how members of the World Heritage Committee vote next year, because eight of the 21 countries represented are Muslim-majority.
"We will need to get votes from Muslim countries," the minister said. "If the committee members don't consider the Rakhine crisis, I am 90 percent sure Bagan will get World Heritage status."
UNESCO official Ohnmar Myo said she was also concerned about how the composition of the committee might affect the outcome, as some of the countries "do not support conserving Buddhist heritage".
But Aung Aung Kyaw from the Department of Archaeology, National Museum and Library said that he did not think the Rakhine crisis would have any effect on the decision.
"I'm certainly hopeful that it will not be factor in the UNESCO decision," he said.
San Win said a bigger issue was ensuring that all development and commercial activity in the Bagan area was compatible with UNESCO rules for heritage sites.
"When the experts from UNESCO come to check its status, they will write a recommendation and the government should care about that," he said. "If Bagan is rejected and doesn't get World Heritage status, the Burmese people will grieve."
TOP PHOTO: Nyein Su Wai Kyaw Soe | Frontier