A dedicated group of youth known as the Session Breakerz is helping to reinvigorate the street dance scene in Myanmar.
By EMILY FISHBEIN | FRONTIER
Photos HAE THAW HTET aka KENJI PHOTOGRAPHER
IT'S LATE afternoon in Yangon and under the Myaynigone flyover in front of Dagon Centre 2 young couples hold hands, men gather for a game of chinlone and teenagers listen to music or play with their phones. Two black dogs stretch and yawn and doze off again, curled up beside each other.
Then, one by one, the dancers appear, barely noticeable at first. They're wearing well-worn sneakers, sweatpants, T-shirts and baseball caps.  Their equipment is a small set of speakers. As they arrive, they greet each other with a fist pump, lace up their sneakers and do a few stretches. Then they turn on the music, form a circle, and one by one, they enter and dance. They call themselves the Session Breakerz and they are united by their passion for dance. They rarely miss a day under the flyover and their dedication has helped to keep Yangon's street dance scene alive, vibrant and moving forward.
"B-boying", the name preferred by those in the scene to the more mainstream term "breakdancing", is not new to Myanmar. It is thought to have emerged in the early 1990s, with a group now known as the Old Generation, or OG. Under junta rule, expressive arts such as dancing in public carried risks. The street dance scene faltered and gradually dispersed, but a few committed dancers waited for the day they could re-emerge.
In about 2009 three Myanmar street dancers were living in Singapore, where they reconnected over a social media site. Jimmy Ko Ko, Lance Gao and a dancer who likes to be known as Poppin' Mouse formed a group they called Myanmar Street Dance, or MSD.
It was largely an online presence until March 2012, when Jimmy Ko Ko attended Radikal Forze Jam, an international street dance competition held each year in Singapore.
When the event's emcee greeted the crowd he gave a shout-out to dancers from other countries. Jimmy Ko Ko was dismayed when cheers erupted for Vietnam and Thailand, but Myanmar was not even mentioned. It made him determined to ensure that one day Myanmar dancers would make a name for themselves.
A few months later, armed with a pile of MSD T-shirts, Jimmy Ko Ko returned to Yangon, and together with other MSD members organised Myanmar's first street dance competition, the First Jam. It was a time of greater artistic freedom after the end of junta rule and the street dance scene began to grow. By 2014, b-boys were meeting regularly at the underpass beneath the Hledan flyover in Kamaryut Township for open practice sessions that they called Sweat the Floor. In 2015, the sessions moved to the underpass beneath the recently built Myaynigone flyover.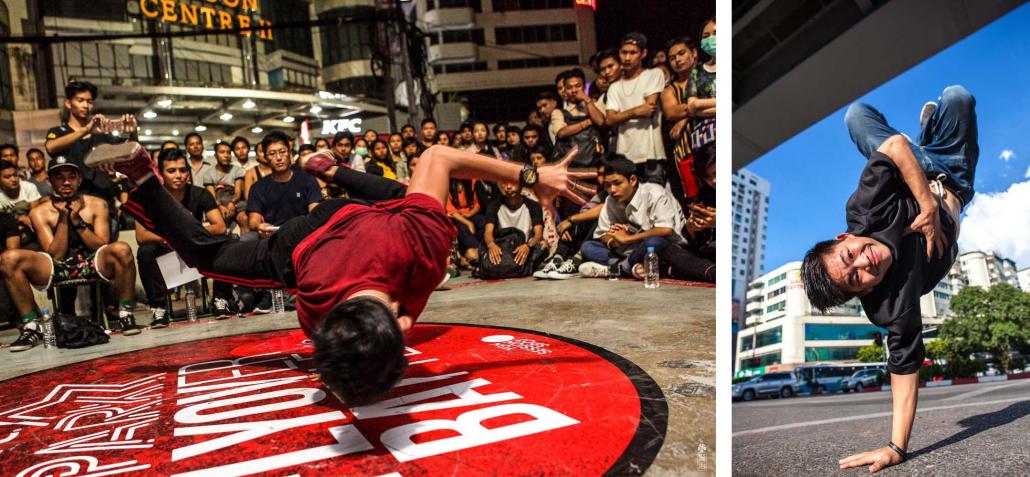 In the following years, many of the original MSD members became leaders and mentors within the community, teaching classes and organising events at which they served as emcees, judges and photographers. Although competition became more intense and the events drew crowds, the number of dancers attending session regularly dwindled because of work and other commitments.
In 2017, a revival occurred as increasing numbers of neighbourhood youth began attending the sessions. Mentors such as session leader Ko Ye Yint Moe, 25, taught the basics and encouraged them to develop their skills. Soon they were running their own sessions, coaching each other, experimenting with styles and creating their own distinctive moves.
Under the guidance of Ye Yint Moe, what was an informal group became the Session Breakerz Crew. Its eight members are aged between 12 and 25 and most attend school or work. But the demands of neither work nor school can break their steadfast commitment to each other and to b-boying.
The youngest of the group is Mg Nanda Moe, 12, a student at BEHS 3 Sanchaung, who was introduced to dance about two years ago at a class at Jimmy Ko Ko's studio, the Dance Lab. Nanda Moe is also a diligent student and after his parents take him home from dance sessions at about 9.30pm, he sometimes stays up until 1.30am doing his homework.
The group also includes former students from BEHS 3 Sanchaung who are studying for their matriculation exams during the day and dancing in the evening. Ko Thant Zin Htike, aka B-boy Ko Htike, 17, Ko Hein Thant Thoo, aka B-boy Eric BP, 16, and Ko Thaw Zin Min Oo, aka B-boy Fan Lay, 18, draw some of the loudest cheers for their creative, challenging moves and are a force to be reckoned with on the national scene.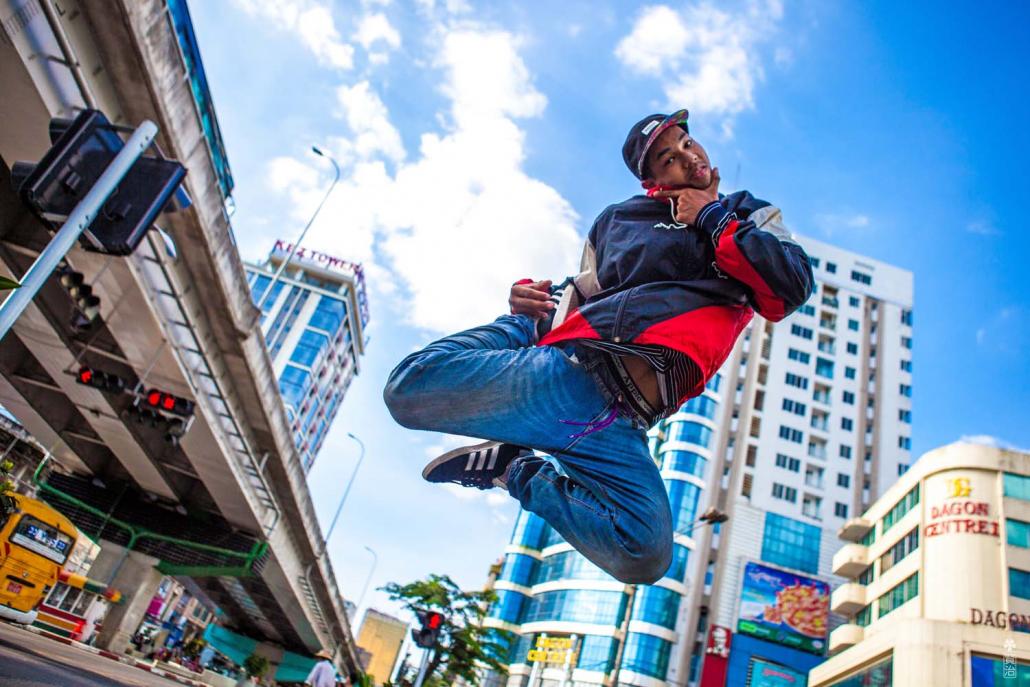 Other Session Breakerz, such as Ko Moe Thant Htet, aka B-boy Iris MH, 16, and Ko Hla Moe, aka B-Boy Drak Pis, 23, balance dance with their jobs.
Although street dance is gaining social acceptance in Myanmar, it is not always easy to convince parents to appreciate its value. Some of the Sessions Breakerz said their parents regarded b-boying as a waste of time or a negative influence on their education or careers. However, attitudes are changing. B-boy Ko Htike's mother initially discouraged his new-found passion, but became supportive after she realised that b-boying kept him away from smoking and drinking, kept him fit and enabled him to be part of a positive peer group.
The style and culture of the Session Breakerz and other Myanmar b-boys is a microcosm of b-boy culture around the world. YouTube and social media enable Myanmar b-boys to stream world competitions, connect with other b-boys, and learn about the history and culture of the movement. Considered one of the four core elements of hip hop along with DJing, rapping/ MCing, and graffiti, b-boying emerged among African-American and Latino communities in the Bronx, New York City, in the 1960s and 70s.
Although b-boying is a freestyle form of dance, with moves occurring spontaneously, the dance is framed by a core structure in which four types of moves – toprock, footwork, freezes, and power – are creatively combined.
B-boys are perhaps most recognisable for dynamic power moves; equally important to those within the scene are creativity and "flavour" – the way each dancer brings her or his soul to the music. The free, open session format, where dancers of all ages, backgrounds and levels can share and learn from each other, enables creativity to thrive and contributes to b-boying's diverse and dynamic element. The formation of crews is another integral component of hip hop culture, in which dancers establish groups with whom they train, compete, and develop deep friendships.
The Session Breakerz is one of the newest additions to the scene in Myanmar, and they differ from other crews because they practise only on the street. Ye Yint Moe said that in order to become a crew member, a person must attend sessions every day, show respect to other dancers and "really love dancing and feel it in [his or her] heart".
B-boying continues to be a male-dominated sport, but b-girls have been making a mark on the global scene and are perhaps the inspiration for the recent emergence of a few b-girls in Myanmar.
It is difficult to estimate the number of b-boys and b-girls in Myanmar, as many practise independently, but it is unlikely there are more than 100. Breakers are one sub-group among street dance communities, which regularly socialise, form crews together, and unite for all-style jams. As well as the annual First Jam event at Hledan Centre, other events during the year include monthly "flyover battles" at the session venue, as well as qualifiers for international jams that enable the winner to compete in Malaysia, Taiwan or South Korea under sponsorship.
The Session Breakerz welcome the positive effect of dance on their lives. "When I dance, all my worries disappear and I feel free," said B-boy Iris MH. B-boy Fan Lay said that before he took up dance he spent his days playing video games and hanging out with friends. "It feels good to move and dance."
B-boy Eric BP loves the open spirit of the sessions and the camaraderie of his crew and Nanda Moe says b-boying is "fresh and beautiful" and has boosted his confidence.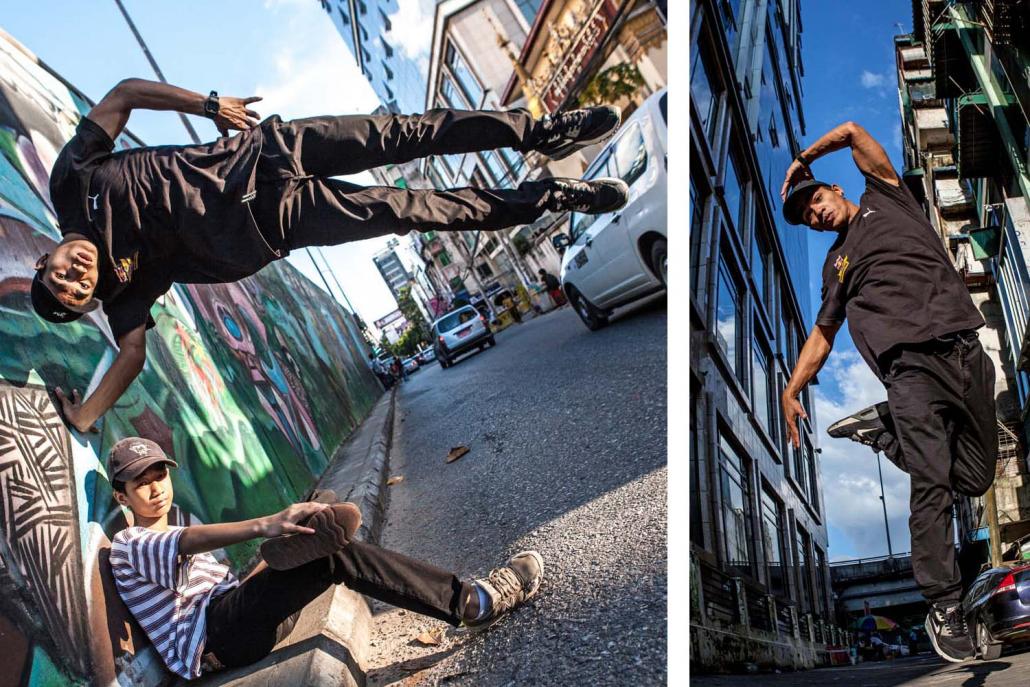 Dance can bring travel opportunities and last year B-boy Fan Lay became the first of the Session Breakerz to receive sponsorship to travel abroad, when he went to Taiwan to compete in a Youth Olympic Games qualifier in December.
Most of the Session Breakerz dream of competing internationally, especially in the Red Bull BC One World Championship, and of proudly representing Myanmar on the global stage.
The Session Breakerz are starting to advance in battles and have earned the respect of their seniors, who appreciate and encourage the movement's progression from one generation to the next.
Jimmy Ko Ko, now 26 and still a full-time dancer and dance organiser, is excited by the energy of the new dancers but recognizes that Myanmar has a long way to go to realise his dream of becoming competitive in Southeast Asia's b-boy scene.
Just as they have been nurtured by previous generations of dancers, the Session Breakerz welcome and encourage newcomers. "Be confident, don't be shy or scared. If you are interested, come join us," said Nanda Moe.