After a thrashing at the hands of Vitaly Bigdash in January, Myanmar's MMA hero has a shot at redemption in what may be his last chance to become middleweight champion.
By RJ VOGT | FRONTIER
Photos VICTORIA MILKO
THE NEWEST scar on Aung La Nsang's face stretches from one side of his left eye to the other, a shiny pink shadow draped across his cheek. He says it took 11 stitches to sew the wound shut.
Every time the 32-year-old mixed martial arts fighter looks in the mirror, the scar is a reminder of the last time he stepped into a metal cage with Vitaly Bigdash, ONE Championship's undefeated middleweight champion. Aung La Nsang lost that fight, his first career title contention, but on June 30 he has a shot at redemption. The rematch, billed as "Light of a Nation" and promoted by Asia's biggest MMA enterprise, will take place at Yangon's Thuwunna Stadium – his home turf.
"It's a fist fight, and this one's going to be violent," he told Frontier, relaxing in a teashop off Theinbyu Road in Mingalar Taung Nyunt Township, a week before the event. "I'm going to make it nasty."
If their first contest is any indication, Aung La Nsang has a high threshold for "nasty".  When they met in Jakarta on January 15, the two fighters seemed relatively evenly matched through two rounds. The tide turned early in the third, however, when Bigdash landed a heavy left kick to Aung La Nsang's neck and jaw.
Rewatching the fight, it's hard not to wince as the Kachin fighter staggers, stunned, and then Bigdash pounces, throwing 12 straight punches at his exposed face. Later in the round the Russian champion pins him to the ground, smashing three elbows into Aung La Nsang's left cheek and splitting open 11 stitches' worth of skin. Excessive bleeding forces the referee to pause the fight briefly so that Aung La Nsang can clear the blood from his eyes and continue.
During a normal ONE event, the match would have ended after the third round, with Bigdash the clear victor. But championship fights last five rounds; Aung La Nsang had 10 minutes left to either overcome his injuries or succumb.
In the end, he did neither. Aside from landing a few solid punches, he spent much of the rest of the fight on his back. The aptly named "Burmese Python", as Aung La Nsang is known, wriggled his way out of the stronger Bigdash's clinch again and again, absorbing blows but refusing to submit.
The final decision was a no-question victory for Bigdash; Aung La Nsang had already left the ring when the referee announced the winner. But, remarkably, it was still the first time Bigdash had met an opponent who made it to the end of a fight.
Afterwards, Aung La Nsang told me that he was underprepared for the fight but had jumped at a "shot for the middleweight gold". ONE had only offered him the bout two weeks beforehand, after the original contender dropped out due to injury. Aung La Nsang trained for just 10 days.
Despite the loss – and physical punishment – Aung La Nsang said he was glad he took that initial opportunity at Bigdash.
"It showed me what he's able to do," he said. "Winning gives you confidence but losing gives you character."
With a record of 19 wins and 10 losses, Aung La Nsang now has a second shot at becoming the first Myanmar MMA fighter to win a major promotion weight class. Mr Loren Mack, vice president for ONE public relations, said this could be Aung La Nsang's best opportunity to secure a title.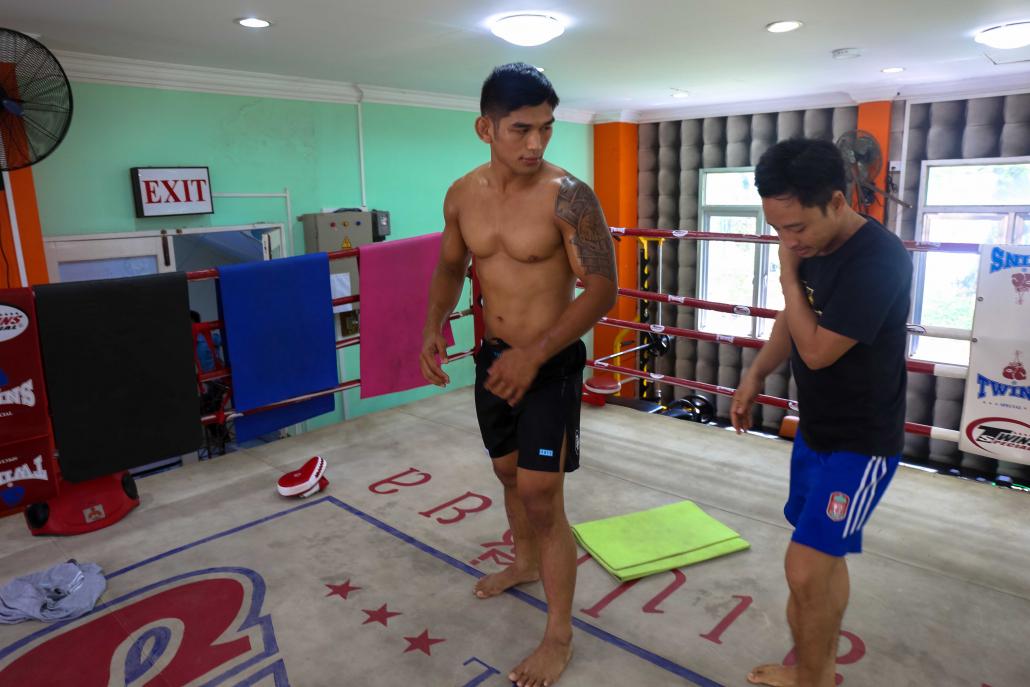 "Right now, Aung La Nsang has a great chance to pull off an upset," he said. "His last bout, he took the opportunity on two weeks' notice and didn't have enough time to prepare. Now with a full training camp behind him, Aung La will be as dangerous as ever."
Even Bigdash told Frontier that he expects a tougher fight this time around.
"[Aung La Nsang] knows me better now, and will be ready, 100 percent," he said. "It will be a more difficult fight for sure, and the better fighter will come up victorious."
Although he's the underdog, much is at stake for Aung La Nsang. If, on June 30, he can't become the first man to beat Bigdash, another championship bout could be years away – it took four years and four straight ONE victories before the promoter offered him his first title chance. Aung La Nsang is 32 years old. Time is running out.
"If Aung La loses again, he will have to figure some things out," Mack said, "and work his way back to the top."
'A guy from Myitkyina'
Before his face decorated energy drink packaging and TV commercials in Myanmar, Aung La Nsang was just another mixed martial artist fighting in one of several American regional MMA circuits. The first many Myanmar people heard of him was in 2012, when the then-27-year-old won a fight with a one-punch knockout in the first round.
In video footage that quickly went viral – reaching half a million views on YouTube – the celebrating Aung La Nsang displays a Kachin flag for the cameras.
"There's Aung San [sic], dedicating this fight to the Kaa-chin refugees in Burma," says the colour commentator, butchering pronunciations left and right. "Burma man – there's a lot of things going on out there, man."
Five years later, a lot is still "going on" out here, especially in Aung La Nsang's home state, Kachin. Since 2011, when a 17-year ceasefire broke down, the Kachin Independence Army has been clashing regularly with government troops, forcing around 87,000 civilians into refugee camps. Most recently, fighting has flared around the amber and gold mines of Tanai Township north of the state capital Myitkyina.
Aung La Nsang left Myitkyina as a boy to attend the International School of Yangon. After graduating, he immigrated to the United States for university and gained political asylum in 2005. He remains relatively unknown in America, where he lives with his wife and four-year-old son. Beyond the occasional diehard MMA fan or fellow Myanmar national, few people recognise him on the street, he said.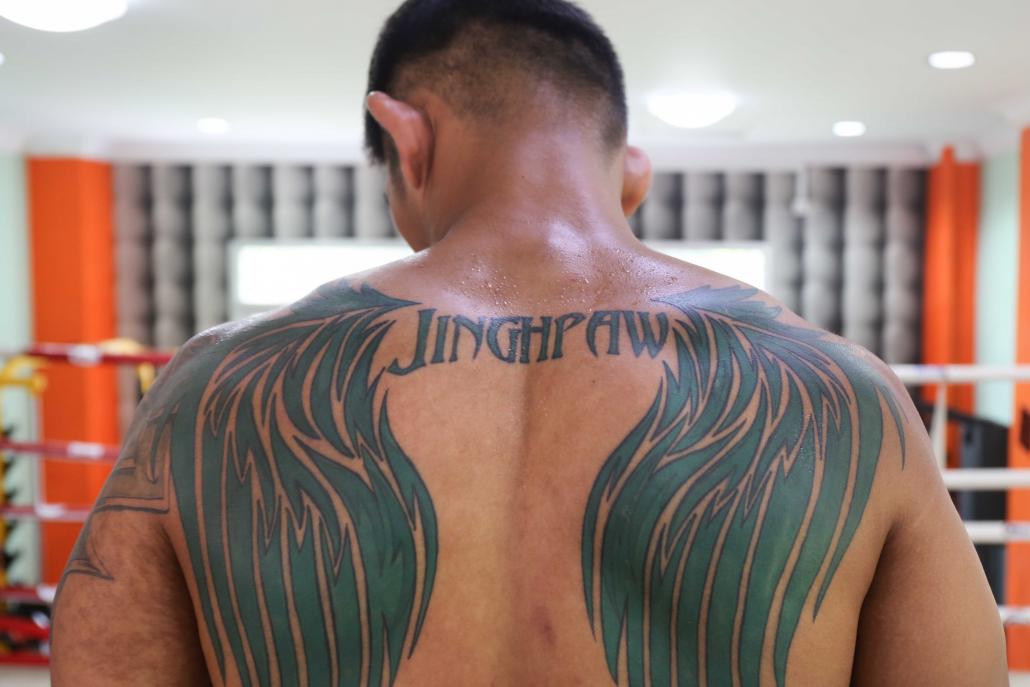 But all that anonymity disappears in Myanmar, where he's won two ONE Championship fights and signed sponsorship deals with a litany of local brands. Fame creates a strange paradox: A man who bears tattooed wings on his back that symbolise freedom for the Kachin people is often asked for selfies by police and soldiers from the same military waging war on the KIA and accused of abuses against civilians.
After his most recent victory, over Michal Pasternak in October 2016, Aung La Nsang used his platform to address the conflict.
"It makes me very sad that there is war in Kachin," he said in Myanmar language to the crowd. "We need to get along and work together if we want a better future for this country."
If he wins again on June 30, he'll earn his first world title in front of several thousand screaming Myanmar fans.
"A lot of things that I do, the fighting … it's to encourage the Kachin people, my people," he said. "Everything that I do is to let them know that I'm just a guy from Myitkyina."
Boyhood roots
Hkawng Dau worked for five years as an education officer at Mai Na, a camp in Myitkyina set up for people displaced by the conflict. He remembers the first time he saw footage of Aung La Nsang: the 2012 video, the first round knockout, the Kachin flag. He also recalls how the fighter promised to use 25 percent of his winnings to support IDPs.
Fast forward to 2017. A household name in his home country, Aung La Nsang harnessed his newfound fame to host a charity auction in March to raise money for the camps. After selling off old gloves, medals, autographed T-shirts and even a private dinner, he returned to Myitkyina for the first time in 14 years and delivered US$6,000 worth of aid to refugees at Mai Na.
He admitted that the rush of adoring Kachin fans overwhelmed him at first.
"It was full of families, and there were a lot of kids too," he said. "They don't have it as good as us, and it's just nice to know that I was able to help."
Hkawng Dau, who met Aung La Nsang for the first time during the visit, said he was grateful both for the assistance and show of solidarity with the IDPs.
"He sold his trophies and awards to help the IDPs," Hkawng Dau said. "He shares mutual feelings with us – that's why we are more attached to him."
They appreciate his support for Kachin people – but they also appreciate the fact that he is Kachin himself, a rare international icon from a region that few outsiders can place on a map.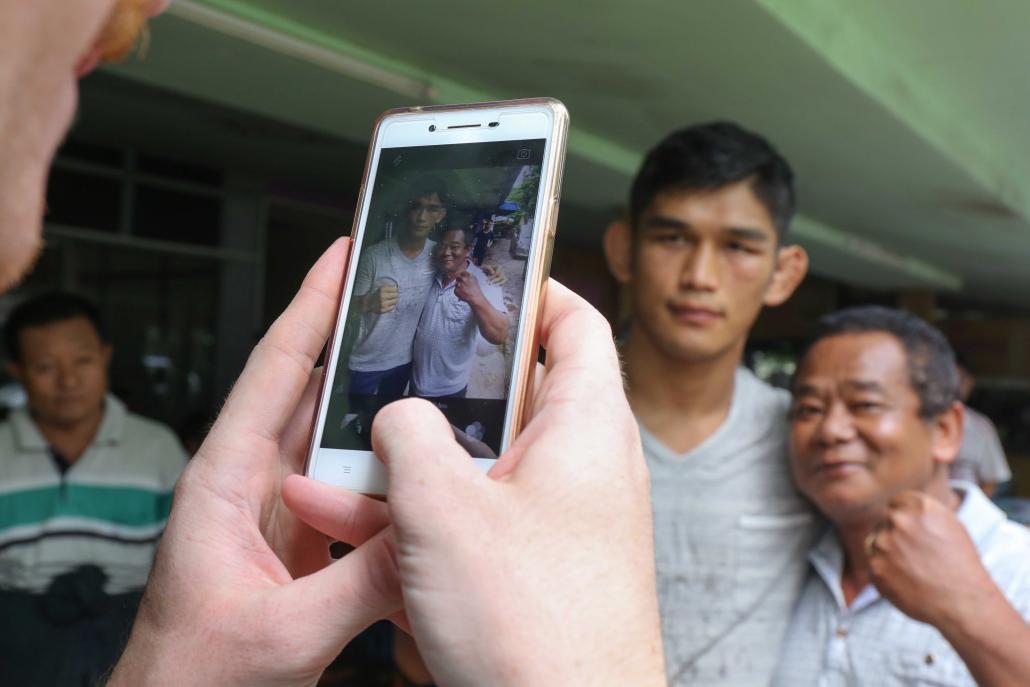 Returning to his childhood home, Aung La Nsang said it felt like he had been away a lifetime. He ate snacks that he missed from his youth and visited grandparents, even reconnecting with a street vendor who sold moun sein baun to him as a kid.
"She knew exactly who I was," he said. "She knew I was the kid that she used to sell snacks to."
No longer a child, he's now many other things: a father who takes his young son to a Kachin Baptist Church in Maryland once a week for Sunday school with other Kachin language speakers; a cage fighter who will go up to 25 minutes in the ring with a man intent on destroying him; a bona fide celebrity in the country he left behind, graciously posing for selfies with grinning immigration officers at the Yangon Airport.
Did the snack seller in Myitkyina recognise him as the Burmese Python – the Myanmar superstar?
"I'm not so sure about that," he said, tilting his head. "But she recognised me for who I am." 
Additional reporting by Sam Aung Moon