After making public accusations of corruption against an associate of the Yangon Region chief minister, a man finds himself caught in a legal labyrinth.
By SU MYAT MON | FRONTIER
Illustrations JARED DOWNING
IT'S JUNE 27, and North Dagon Township Judge U Aung Sann Maung is questioning a witness, U Hla Win, a 100-household leader from No 43 ward.
"Do you know if Michael Kyaw Myint has ever behaved with misconduct in the community?" he asks.
"No, I don't know," the witness responds.
Hla Win is one of seven people who have been called to testify in the state's case against U Michael Kyaw Myint.
The defendant is facing three charges under an obscure statute from 1961, the Restriction of Movement and Probation of Habitual Offenders Act, and a potential penalty of one year in prison.
The case stems from a press conference Michael Kyaw Myint gave on June 2, at which he told reporters that he had paid K1.2 million (about US$900) to a government official to secure the return of confiscated land in North Dagon Township to two farmers. 
Because he has two prior convictions – a six-month sentence in 2014 under the Overseas Employment Law, and a sentence of one year in 2015 under the Public Property Protection Act – the prosecution argues that he is a "habitual offender" and should be imprisoned.
The problem for the prosecution, though, is that none of the witnesses seem to be able to support the prosecution's case. Most seem confused about why they are in the court at all.
At one point, Michael Kyaw Myint asks the judge, "Why I am being detained under the Habitual Offenders Act without having committed any violation in the community – and I don't even live here [in North Dagon]."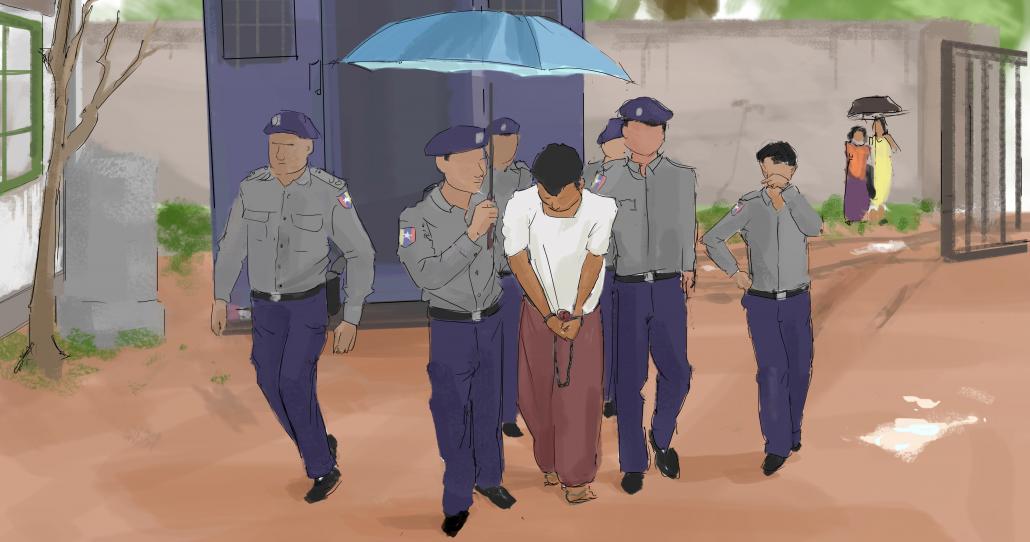 Defending himself, Michael Kyaw Myint asks the witness, Hla Win, whether those who have been convicted and served a prison sentence can be detained again.
The witness responds that it's possible under the Habitual Offenders Act.
Michael Kyaw Myint then asks Hla Win if he knows that President U Htin Kyaw and State Counsellor Daw Aung San Suu Kyi have previously been in prison.
"Yes, I know," he replies.
"So could they also be detained again [under the Habitual Offenders Act] if they have previous cases for which they were in the prison?" Michael Kyaw Myint asks.
There's silence for a few seconds, and then Hla Win says: "Yes."
Michael Kyaw Myint responds immediately in a loud voice, "I have nothing to add. Since those leaders can be detained again in these circumstances – there's nothing I can do."
He adds, "There should be no more court sessions. Just give me the verdict."
By this point, Michael Kyaw Myint is visibly seething. As he makes to return to the holding cell at the end of the session, he turns abruptly and begins screaming.
"That fucking guy!" he says, as Hla Win leaves the court. "How dare he say that even Daw Aung San Suu Kyi and U Htin Kyaw can be imprisoned again."
The handful of people in the vicinity of the court gaze at Michael Kyaw Myint, as two policemen grip his body and quickly drag him back to the holding cell.
A long way down
The June 2 press conference had been promoted on Facebook the night before; many wondered if it would turn out to be a hoax. And then there was the question of whether it would go ahead. The original venue, Royal Rose Restaurant, cancelled at the last minute and an attempt to hold it at Yuzana Hotel was also rebuffed. In the end, Michael Kyaw Myint and the journalists decamped to Tarmwe, to a space assigned for public protests.
Surrounded by reporters, Michael Kyaw Myint accused U Tin Htun, who he said was a personal staff officer to Yangon Region Chief Minister U Phyo Min Thein, of taking a bribe. He presented Facebook messages that purported to show Tin Htun acknowledging receipt of the money. They were explosive allegations and he was front-page news.
Predictably, though, Michael Kyaw Myint was arrested the next day. He was hit with five charges across three townships; as well as the three charges in North Dagon, he is facing a charge of holding an illegal demonstration in Tarmwe Township under section 19 of the Right to Peaceful Assembly and Peaceful Procession Law and of defamation under section 66(d) of the Telecommunications Law in Dagon Township. He has been in custody since June 3.
There has been no investigation into the allegations. Asked at a press conference about the case, Phyo Min Thein said that it had already been clarified.
Except that it hadn't really. Tin Htun gave a number of interviews in the wake of the press conference, but all were similar to that with Frontier.
He clarified that he was an associate of Phyo Min Thein rather than a PSO. Tin Htun was derisive of the accusation, but his main argument against it was that a bribe of K1.2 million was simply not large enough to be plausible.
"There are a lot of people richer than him [Michael Kyaw Myint] in Yangon. What a pity to take money only from him," Tin Htun said.
"I did not take the bribe. The truth will be revealed soon – within one or two days – by other officials.
"Once the truth is disclosed, the one who is wrong will need to accept the result."
So far, the government hasn't made good on that promise.
For sceptics, the question is: Why would Michael Kyaw Myint fabricate an allegation that would almost certainly land him in prison? The likely consequences of holding the press conference would have been obvious.
Or at least, most of the consequences would have been obvious. The North Dagon case was surprising because Habitual Offenders Act cases are rare, several lawyers told Frontier. They are also normally straightforward, with defendants convicted after one or two hearings. Given that the witnesses have, if anything, hindered the prosecution's case, it's hard not to wonder if they are there simply to drag out the process.
That's the theory put forward by Michael Kyaw Myint's wife, Daw Aye Aye Thin. "The case can even be decided in a day, if they want to," she said.
She is one of just a few people observing this strange case. Although reporters mobbed Michael Kyaw Myint on June 2, few bother to turn up to North Dagon court. Those that do stand outside the door to the court because the judge, Aung Sann Maung, won't let them enter the room, where there are about 10 empty seats. At one point, the judge jokes that he'll ask everyone to speak louder so the journalists can hear him.
There are a number of reasons for the lack of interest in the case. North Dagon is a long trip from downtown Yangon, and it's hard to find out when sessions will take place. Because courts are often closed, journalists are used to getting information from lawyers. In this case, there is no lawyer, and Michael Kyaw Myint's family and associates are reluctant to talk to the media.
It's a similar story in Tarmwe, where Michael Kyaw Myint and co-defendant Daw Chaw Kay Khine face the peaceful protest law charge, which was filed by Deputy Superintendent U Khin Soe of the Tarmwe police station.
A few journalists mill outside the court as the defence lawyer, U Phyo Thaw Zin, picks holes in the prosecution case. He hones in on the question of how a press conference can be considered a protest.
Responding is Police Inspector Soe Win, who attended the June 2 press conference. He replies that he knows a protest must consist of more than one person. He confirms that no one complained about the press conference, and that nobody held notices or posters, as one would expect at a protest.
So who were the protesters, the lawyer asks? Soe Win says that there were 60 journalists and 15 bystanders at the event. These, apparently, are the demonstrators needed to support the charge.
"It is necessary to inform the police station about what is happening," he adds to the court.
Who is Michael Kyaw Myint?
Since his press conference, information has emerged online about Michael Kyaw Myint's past. Photos have been posted purporting to show him in the uniform of the Karen National Liberation Army, the armed wing of the Karen National Union, together with comments indicating that he was some sort of finance officer in the group (the KNLA could not be reached for comment). Some also allege that he has a background in illicit, cross-border businesses.
His registered address is in Bahan Township, where he rents an apartment with his family. U Myint Hlaing, the administrator of Shwenantha Ward just east of Shwedagon Pagoda, said the first that he knew of Michael Kyaw Myint was when the press conference was held.
"Once the press conference was held, I checked in with his family," he told Frontier.
The family was forced moved at the end of June because the landlord refused to extend their lease. The administrator has a theory as to why the landlord would want them out.
"He is known as a kind of politician or something else," Myint Hlaing says dismissively.
In other words, Michael Kyaw Myint is a troublemaker. He is certainly not a political prisoner, at least in the court of public opinion. Because he has claimed that he paid a bribe, his actions are seen as motivated by money rather than politics. He is regarded as lacking the integrity of someone who has gone to prison for their political beliefs. His murky background only adds to the air of mystery and intrigue about the case.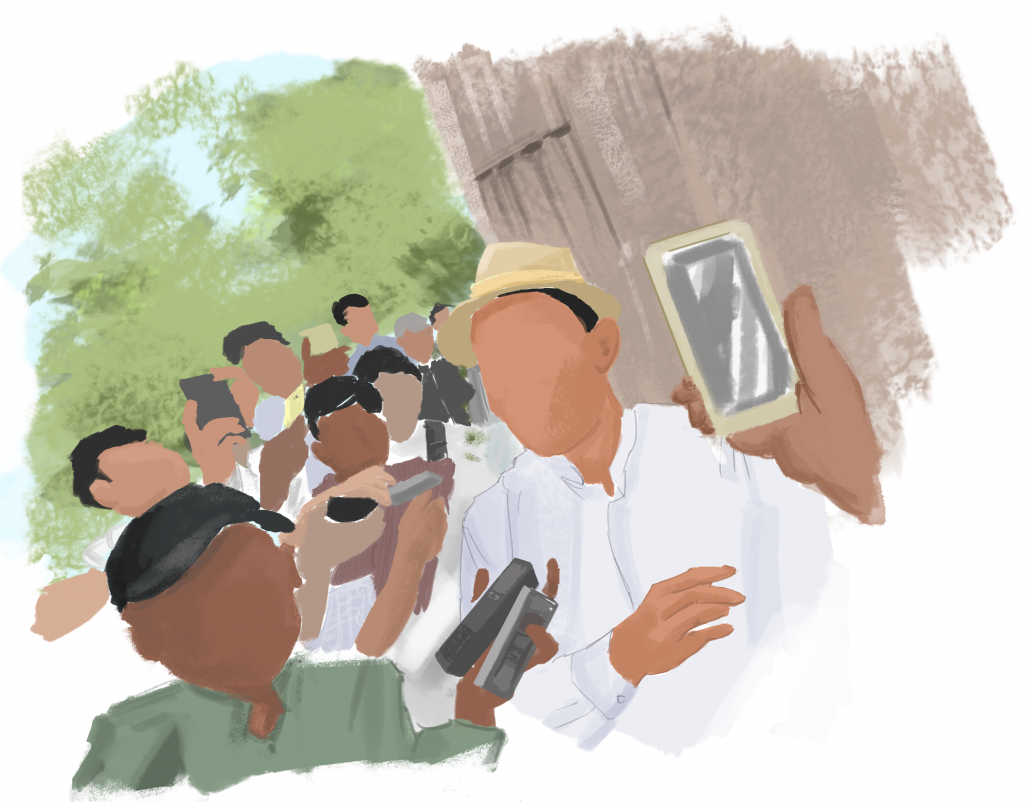 Who or what is Michael Kyaw Myint then? From his appearances at the press conference and in court – Frontier has attended six sessions to date – he is clearly impulsive and hot headed. He's a fighter, a pitbull, but one who has the skills and knowledge to wage a legal war in the courtroom that can embarrass everyone involved in his case.
And because he knows, or at least believes, that he's going to be convicted, he is bold and outspoken. What's the point of sucking up to the judge if you think the outcome is pre-ordained?
Some would say he lacks respect for authority and the rules; others that he refuses to show undue deference or bite his tongue. It's not hard to see how he could be considered a troublemaker.
The victims
But you can also see Michael Kyaw Myint as someone who has taken a stand for justice, even if it may be tinged with self-interest.
To see him in this more positive light, though, you need to talk to U Ohn Han, 69, and Daw Than Than Win, 61. After many requests they reluctantly agreed to talk to Frontier about their connection to Michael Kyaw Myint, but warned that they did not want to discuss his case for fear of aggravating the situation.
Shortly after the discussion begins – before the small talk is finished ­– Than Than Win breaks down.
"I just want to meet with Mother Suu [Aung San Suu Kyi] and talk about this," she says, wiping tears from her face.
She hits her chest with her fist. "We voted for the National League for Democracy because we believed we will get help. But now it has been in vain."
The couple lost their farmland in 1989-90 when the military government confiscated land to settle Dagon Myothit, comprising north, south and east Dagon.
From 2011, the U Thein Sein government began taking steps to return some land confiscated by the government and private companies. But Ohn Han and Than Than Win were unsure how they could pursue their case. In 2015 they were approached by Daw Chaw Kay Khine, who lives in neighbouring 43 Ward, and she offered to help them. Chaw Kay Khine then introduced them to Michael Kyaw Myint.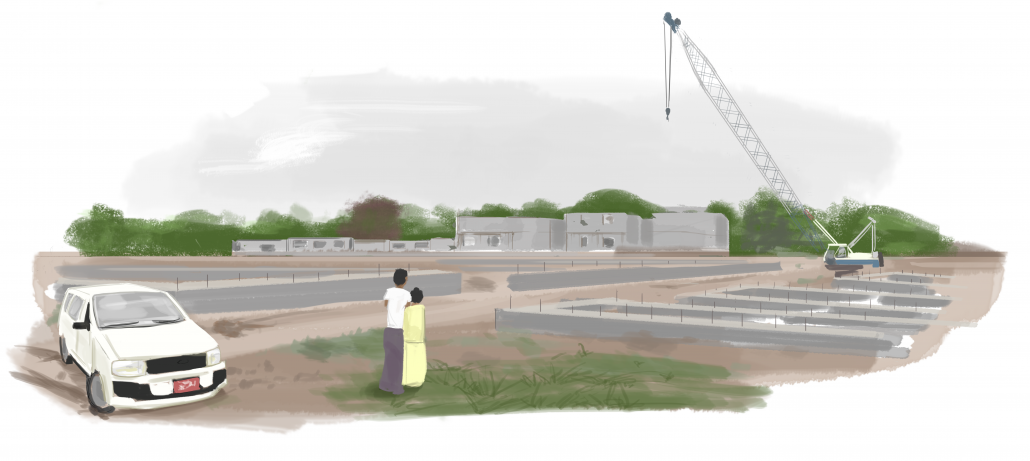 "They told us they will help us, so we accepted," Than Than Win said.
The pair has helped the farmers through the various steps required to reclaim their land. There was never any specific discussion of what would happen at the end of the process, if they would receive payment. Ohn Han and Than Than Win agreed there would be a "debt of gratitude to deal with".
Most of their advocacy has focused on the Land Reinvestigation committees that were set up by the NLD to examine legacy land disputes.
Early in 2017, Michael Kyaw Myint and Chaw Kay Khine told them that the regional government had decided their seven acres would be returned because it wasn't within a designated government housing project.
Several weeks later, though, they heard differently: their land was in fact within a project area and they would instead be compensated. No specific amount was mentioned.
When Frontier visited the site on June 21, construction was well underway on the government housing project.
"We want to ask the regional government why they first said there was no project and then later our land was included," Ohn Han said. "We can't think of any reason why that would happen."
The dispute has taken a toll on their health, they say; while meeting officials from the regional government earlier this year, Than Than Win became sick and was briefly admitted to hospital. Than Than Win needs her husband's help to stand straight, and Ohn Han relies on his wife because of his poor vision.
"Her health is weak and whenever she has to talk about [the land dispute] she begins to cry because she has such strong feelings about it," Ohn Han said.
Despite their anger at the government, they said they want to pursue their claim "within the legal framework" and disagreed with Michael Kyaw Myint's approach.
They only learned of the press conference on the evening of June 1, when Michael Kyaw Myint sent out the invitations. He did this immediately after returning from Nay Pyi Taw, where he had been pursuing their case. Ohn Han said it was the first time Michael Kyaw Myint and Chaw Kay Khine had taken action without discussing it with them first.
They refused to attend the press conference. Ohn Han said that when he read the papers the next day, he realised that Michael Kyaw Myint had lost control of his emotions.
Daw Than Than Win said, "I didn't even think Michael would be capable of saying such things."
She paused, though, and added, "But he is still a young man with an indomitable spirit. If they discussed it with us first, they would not have got into this situation."
Decision day
On July 4, the final hearing day in North Dagon Township Court before the verdict, Michael Kyaw Myint is again questioning the validity of the case against him.
"Get me a decision right today," he repeatedly tells the court. "I will agree with a decision made by the judge through rational thought."
Shortly before the session ends, the prosecuting lawyer says that by holding the press conference on June 2 Michael Kyaw Myint had committed defamation and weakened the law enforcement of the regional government.
The defendant immediately fights back. "No, that's not possible because I have certain evidence to show who is creating this situation."
He demands that this be included in the official transcript and the prosecutor objects. Michael Kyaw Myint responds that the prosecutors statement should also be excised, then. But he adds in a conciliatory tone, "I know your duty is to make sure I end up in prison."
This makes the prosecutor visibly uncomfortable. All he can respond is a meek, "No, it's not like that."
When decision day arrives on July 11, the atmosphere in the court is noticeably different – at least from judge Aung Sann Maung. He reads the verdict in little more than a whisper, which means that Frontier's team – by this stage the only journalists still paying attention to the case – can't hear a thing.
After the verdict is handed down, Frontier seeks out the judge for an explanation. "Is this off the record?" he asks nervously. He explains that Michael Kyaw Myint has been found guilty and given a suspended one-year sentence. Any further conviction within a year will result in a K2.5 million fine.
After the hearing, Michael Kyaw Myint remains defiant, saying the judge's decision was at odds with reality. He will counter-sue those who have made claims against him, he says.
The next chapter
As one (prison) door opens, another door closes behind Michael Kyaw Myint. The 66(d) case begins the next day, more than a month after U Moe Hein, a director in Phyo Min Thein's office, filed a complaint to police.
There's been no explanation why Tin Htun did not submit the complaint in person. Since Frontier spoke to him in the first week of June, his phone has been switched off. Frontier tried to contact Moe Hein over the past month but was told repeatedly that he was in meetings.
It's not clear why it has taken so long for the police to bring the case to court, when the other two began immediately. U Zaw Ne Chit, station commander of Dagon Township, told Frontier the case has been delayed because the other two trials were underway.
There are few answers in Dagon Township Court on July 12. Moe Hein doesn't even bother to show up; he sends a letter explaining his absence.
This has Michael Kyaw Myint riled. He tells the judge, "The one involved in this case is not a beggar; he's the chief minister of the Yangon Region government.
"I come here [the court] for the trial from Insein Prison which is far away," he said. "He [Moe Hein] should show me due respect as we are contesting the case."
At one point, the judge refers to Michael Kyaw Myint as "the offender". The defendant immediately objects to the word, saying, "I am not an offender. I am the accuser to the chief minister because I have strong evidence."
He then addresses the issue of political interference in the legal system. Since the case involves Phyo Min Thein, the only thing he has to "rely on" is the court standing on the side of truth.
"Even if I am have to go to prison under 66(d)," he implores the judge, "please show some humanity and make a fair and balanced decision."
The trial continues on July 25.