Scattered throughout Yangon are sites honouring the memory of men and women, famous and unknown, Burmese and foreigners, who rest in peace.
By JARED DOWNING | FRONTIER
The Tomb of Bahadur Shah Zafar
After the failed Indian Rebellion in 1857, the last Mughal emperor, Bahadur Shah Zafar, was exiled by the British to live out the last of his days in Rangoon, then the capital of Lower Burma.
When Zafar died in 1862 at age 87, he was buried in his compound but the location of his tomb was either forgotten or deliberately concealed by the British, depending on whom you ask. A symbolic tomb was built in 1903.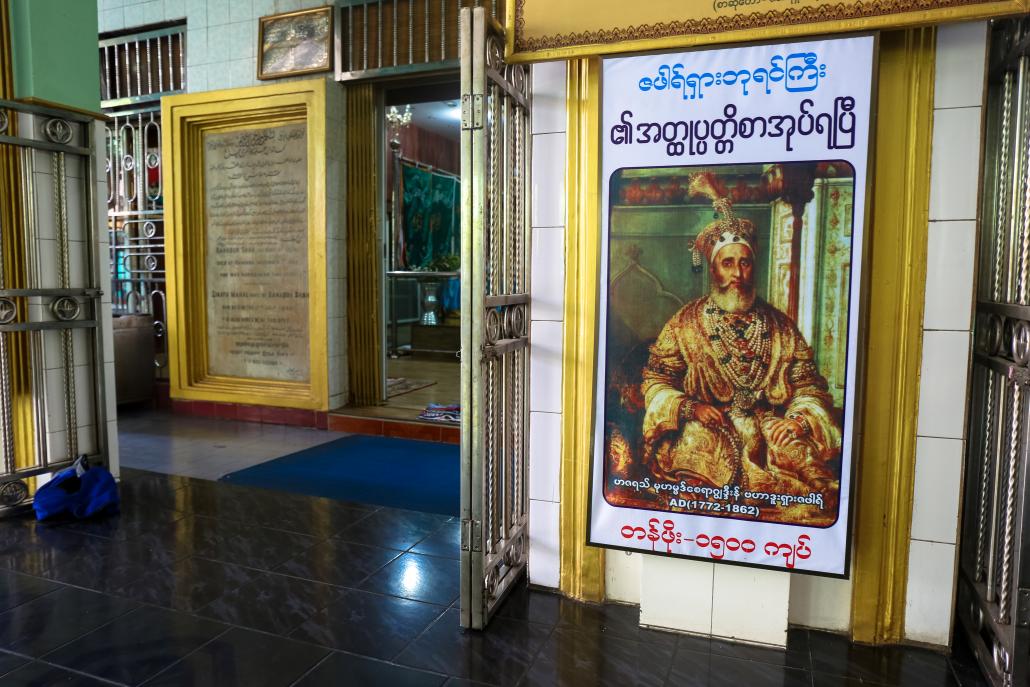 Almost a century later, in 1991, workers digging a drain uncovered an unmarked tomb that was declared to be Zafar's last resting place. The real tomb, the symbolic tomb and the tombs of one of Zafar's wives and a granddaughter are open to the public on Ziwaka Street, off Shwedagon Pagoda Road, just south of Shwedagon Pagoda. There is also a mosque at the site, where Muslims and visitors from India can often be found honouring the respected "Emperor-Saint".
Bahadur Shah Zafar was a devout Sufi and a gifted poet in Urdu. He wrote his own epitaph, which includes these poignant lines:
How unfortunate is Zafar! For his burial
Not even two yards of land were to
be had, in the land of his beloved.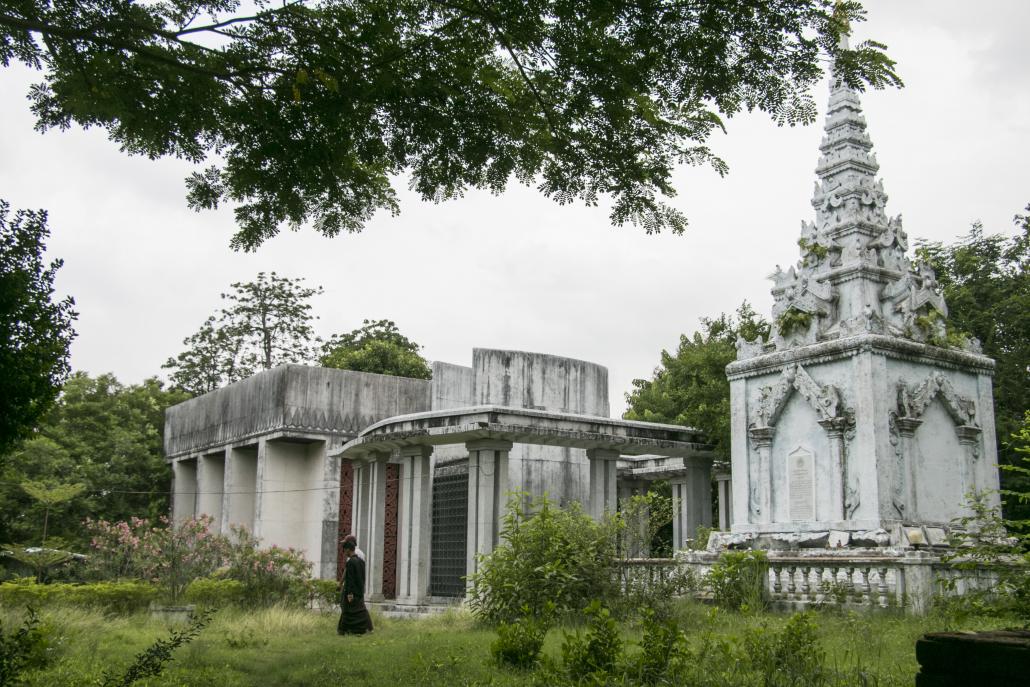 Kandawmin Garden Mausolea
The exiled King Thibaw never returned to Burma after being banished to India by the British in 1885, but his wife, Queen Supayalat, did. After she died in 1925, just before her 66th birthday, her remains were interred in an ornate, seven-tiered tomb among the memorial monuments at the Kandawmin Garden Mausolea, on Shwedagon Pagoda Road, just south of the Shwedagon Pagoda.
The mausolea also hosts the graves of renowned writer and nationalist leader Thakin Kodaw Hmaing, former United Nations secretary-general U Thant, and Daw Khin Kyi, the mother of State Counsellor Daw Aung San Suu Kyi.
The tombs of these three modern figures were focal points for protests during the military dictatorship.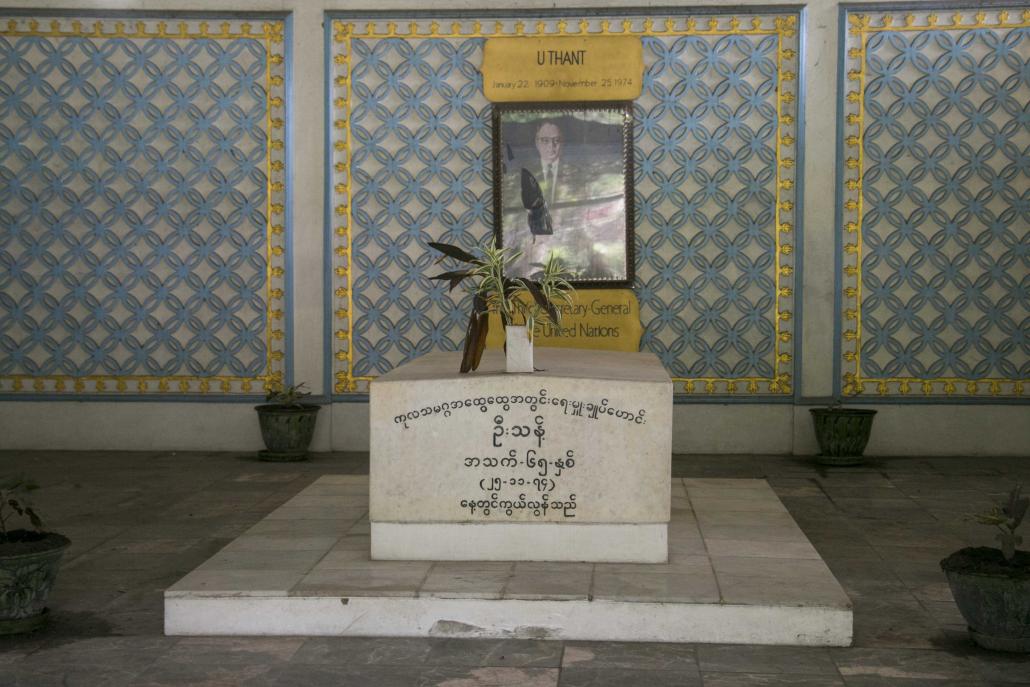 When Khin Kyi died at age 76 in 1988, the military tried and failed to prevent an unofficial gathering of about 200,000 mourners.
In 1976, scores of students were arrested during a peaceful protest marking the 100th anniversary of the birth of Kodaw Hmaing (who died in 1964 aged 88).
U Thant, who was UN secretary-general from 1961-71, died in upstate New York in 1974 aged 65. Protests erupted after his remains returned to Yangon because the Ne Win regime refused to honour the respected international statesman with a state funeral.
Student activists seized his coffin and it was placed in a makeshift mausoleum at Rangoon University until it was violently removed by troops and re-buried at the Kandawmin Garden Mausolea, in an operation that triggered riots and led to the imposition of martial law.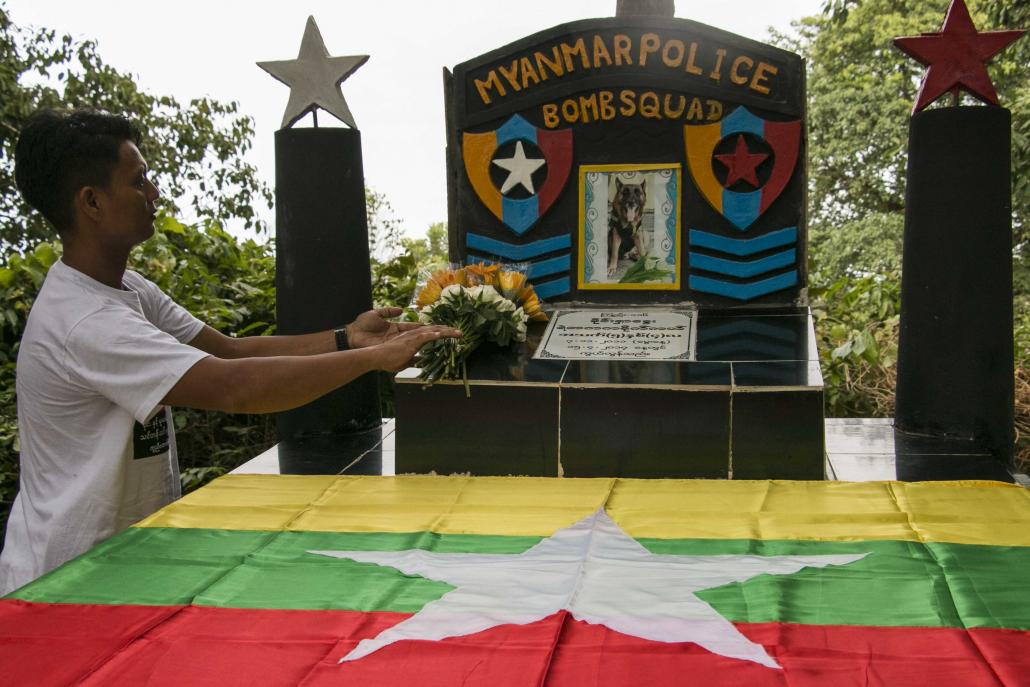 Sergeant Michael, the bomb squad dog
A large memorial to Sergeant Michael, Yangon's best-loved bomb-sniffing dog who died in April, can be found at Pyindaung Gyaung Thin Chaing, a pet cemetery established by animal-lover Dr Tin Htun Naing in Thanlyin Township in late 2016.
Michael, a German Shepherd who was in service for four years, helped police to find four explosive devices in Yangon last year. During nearly 600 missions, Michael gained a reputation for uncommon gentleness and good cheer, and his death inspired a new charity, named "For Brave Dog", dedicated to providing food and medical care to dogs in active service across the country.
Myanmar's only Jewish cemetery
Myanmar's once substantial Jewish community has dwindled to a tiny congregation, served by the Mesmeha Yeshua Synagogue, on 26th Street in downtown Yangon, near Maha Bandoola Road. The Jewish community's cemetery, with about 700 graves, is on 91st Street in Mingalar Taung Nyunt Township. The oldest grave dates to 1876, the Associated Press said in a 1997 report about a decision by the authorities not to proceed with plans to relocate the cemetery after an international campaign.
Father Hendrick Janzen (St Mary's Cathedral)
The remains of Dutch priest Father Hendrick Janzen are entombed in the floor at the entrance of St Mary's Cathedral of the Immaculate Conception, on Bo Aung Kyaw Street in downtown Yangon. The cathedral, the largest in Myanmar, was designed by a Dutch architect. Janzen, who arrived in Yangon in 1898, modified the design and spent more than a decade supervising the construction. He started the work with "only bricks and cement, an army of untrained coolies and a few Chinese maistries", or master tradesmen, says a post on the Yangon archdiocese website. Janzen completed his labour of love despite breaking his thigh in three places after a fall in the cathedral, which was dedicated in February 1911. He died just five months later.
The gilded body of U Thuri Ya (Arlein Nga Sint monastery)
The remains of U Thuri Ya, who founded the Arlein Nga Sint monastery in Insein Township in 1954, about 16 years before his death at age 55, are on display in a glass coffin on the compound. Wrapped in a burial shroud with his face covered in gold leaf, Thuri Ya's remains have supposedly remained intact over the decades.
Thuri Ya's body is not the only curiosity at Arlein Nga Sint, which also features a large maze, a spiral watchtower, a pagoda covered in gold scales and a distinctive green Buddha image. These features were inspired by the dreams of Thuri Ya and his successor, U Agga Dhamma.
Rangoon War Cemetery
The immaculately maintained Rangoon War Cemetery, smaller and less well known than Taukkyan War Cemetery north of the city, is down a small lane off Pyay Road, near the Hanthawaddy Roundabout, in Sanchaung Township.
The Rangoon War Cemetery was used as a burial ground immediately after Allied forces recaptured the city from the Japanese in 1945, says a history by the Commonwealth War Graves Commission, which maintains the site.
The cemetery contains graves or memorials honouring the memory of 1,381 Commonwealth soldiers who died during World War II (including 86 who were unidentified) and 56 service personnel who died in Rangoon during World War I.
The graveyard at the Drug Elimination Museum
"From insanity to death," warns Yangon's Drug Elimination Museum. It drives the message home with a house-of-horrors walkthrough that ends in a life-sized cemetery in which stuffed vultures and fibreglass dogs pick at the rubber entrails of those who didn't say "no" to drugs.
It (probably) doesn't have any real remains, but the museum was built on the site of a former cemetery. And unlike the others on this list, this gravesite features the mechanical hand of a demon that reaches out from the ground to drag foolish visitors to the underworld.