A small, dedicated team is doing its best to transform the country's museums into active, living repositories of history and culture but it faces many challenges, including a ponderous bureaucracy.
By JARED DOWNING | FRONTIER
Photos NYEIN SU WAI KYAW SOE
SEVENTY YEARS after Bogyoke Aung San was gunned down in the Secretariat, several of his bank cheques lie on a table in a back room at the National Museum, Yangon. Conservator U Kyaw Shin Naung and two of his apprentices are carefully gluing them to tissue paper.
The acid-free paper from Japan was difficult to acquire, as was the methyl cellulose glue that will not warp or corrode the old parchment. The small documents in the museum's conservation lab are worth little, if anything, on the antiques market, but Kyaw Shin Naung will use any resource he can to preserve these tiny but important scraps of history.
"Archaeology is about digging out the past," he explained. "But museology is not like that; museology is a bridge between past and future."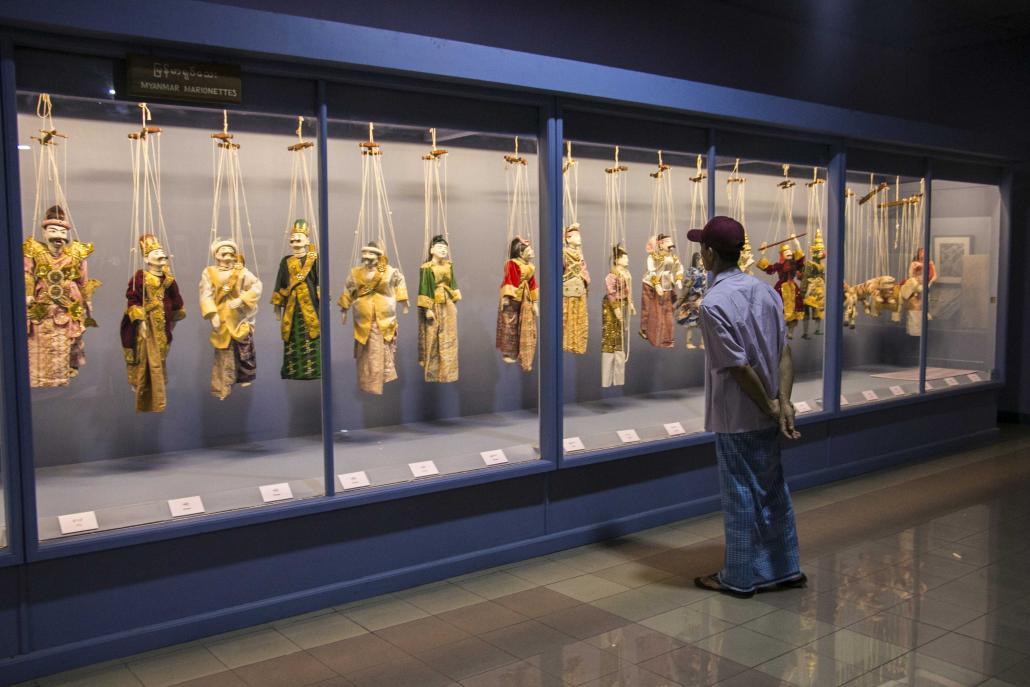 The documents will be sent across Yangon to the Bogyoke Aung San Museum, which is run by the National Museum's team of less than 40. This is less not even a third of the museum's optimal manpower, although the shortage of staff may not be apparent to museum visitors as they behold King Thibaw's ruby-studded robes or Mindon's massive Lion Throne.
"Now, so many visitors come to the museums, so we can only [focus on] the displays," said museum director Daw Nang Lao Ngin. "The people see the beautiful displays, but they do not understand the difficulties behind the scenes."
Collections and Displays is easily the most active of the five sections under the Department of Archaeology and National Museum, whose aegis also includes 10 archaeological museums and state and regional museums throughout the country.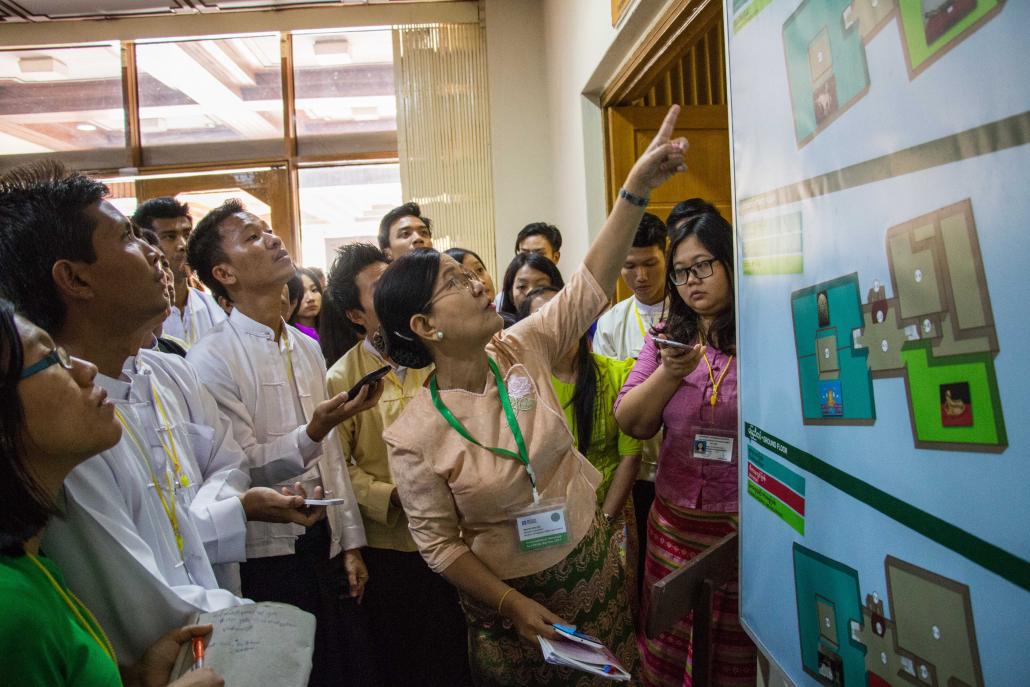 The other sections – Research, Conservation, Documentation and Public Education – have been chronically neglected for decades, holding back what should be a living repository of Myanmar's history and culture, said Nang Lao Ngin.
She would know; after all, she has worked for the various incarnations of the Ministry of Religious Affairs and Culture for 28 years.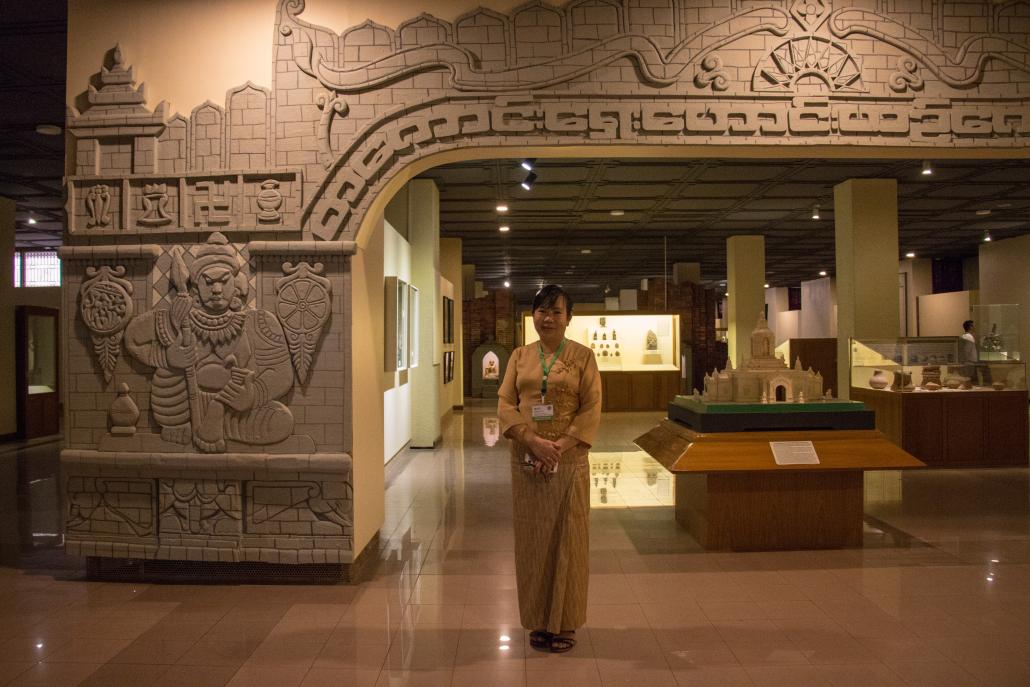 Myanmar's only museum conservator, Kyaw Shin Naung, is one of the few staff who have trained abroad, studying museology in China and museum conservation in Australia. He is training 10 apprentices, but eight have been assigned to the National Museum, Nay Pyi Taw, where a conservation lab is still being built.
Until the second lab at Nay Pyi Taw is completed, Kyaw Shin Naung and two helpers have sole responsibility for preserving Myanmar's ancient textiles, historical documents, golden ornaments and other treasures.
Museums out of fashion
The National Museum of Burma opened in 1952 in Jubilee Hall on Shwedagon Pagoda Road. (Jubilee Hall, built to commemorate Queen Victoria's Diamond Jubilee in 1889, was demolished in the 1970s to make way for the Defence Services Museum, which has since shifted to Nay Pyi Taw).
Since then, the fate of Myanmar's museums has always depended on whichever ministers have happened to take an interest, said National Museum consultant Daw Nu Mra Zan.
In 1996, Nu Mra Zan was sent to Japan for a general museology course amid a wave of enthusiasm for museum development spearheaded by State Peace and Development Council Secretary-1 Lieutenant-General Khin Nyunt.
The same year, the National Museum moved to its present site on Pyay Road, but with international sanctions spoiling would-be partnerships with museums in Europe and the United States, and a budget that emphasised lavish structures over human resources, Myanmar's museums failed to build a foundation of experts.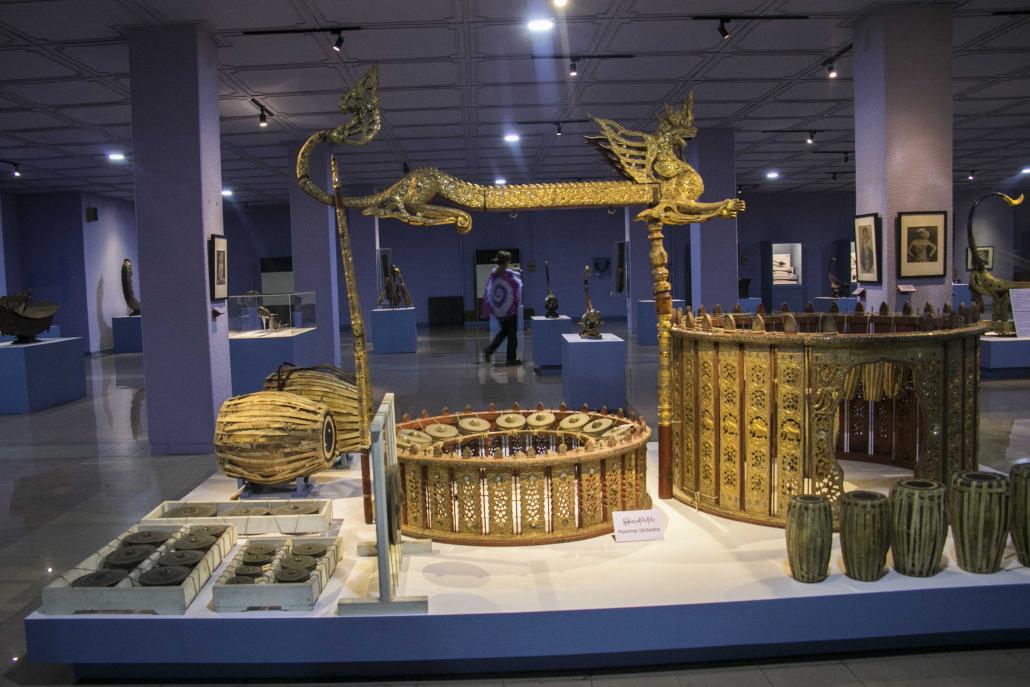 Museums have developed in more recent years amid the country's political liberalisation, but they have also fallen out of political vogue in favour of archaeology. Officials tend to focus on excavations and endeavouring to have sites included on the UNESCO World Heritage list rather than expanding museum programs, said Nu Mra Zan.
Indeed, instead of training museum specialists, many recent staff positions have been filled with archaeologists. It isn't that officials believe museums are unimportant, Nu Mra Zan said, only that they tend to think of museums in an archaeological context.
"The archaeologist mindset doesn't think of present-day social items, like dance and handicrafts. They don't understand how to educate the young generation," said Nu Mra Zan, who is working to expand displays of what she calls "intangible cultural heritage".
Kyaw Shin Naung worries that these changes will take a long time as they percolate through a top-down system.
He said he has been trying to start a conservation workshop for staff at smaller state and regional museums, but the idea has yet to escape bureaucratic purgatory.
"I am very eager to share my knowledge, but I have no way to share right now because I have to submit to the head. It is very difficult to obtain permission," he said.
Organising the past
Despite political, bureaucratic and budgetary hurdles, Myanmar's museums are steadily making progress, said Nang Lao Ngin.
In February, the National Museum partnered with the British Council and the Collections Trust, a London-based charity, for a training course in collections management.
"Their collections management is good; they're managing their collections well and when I'm talking to participants, I can see those standards in their own collections," said Collections Trust consultant Ms Alex Dawson, one of the trainers.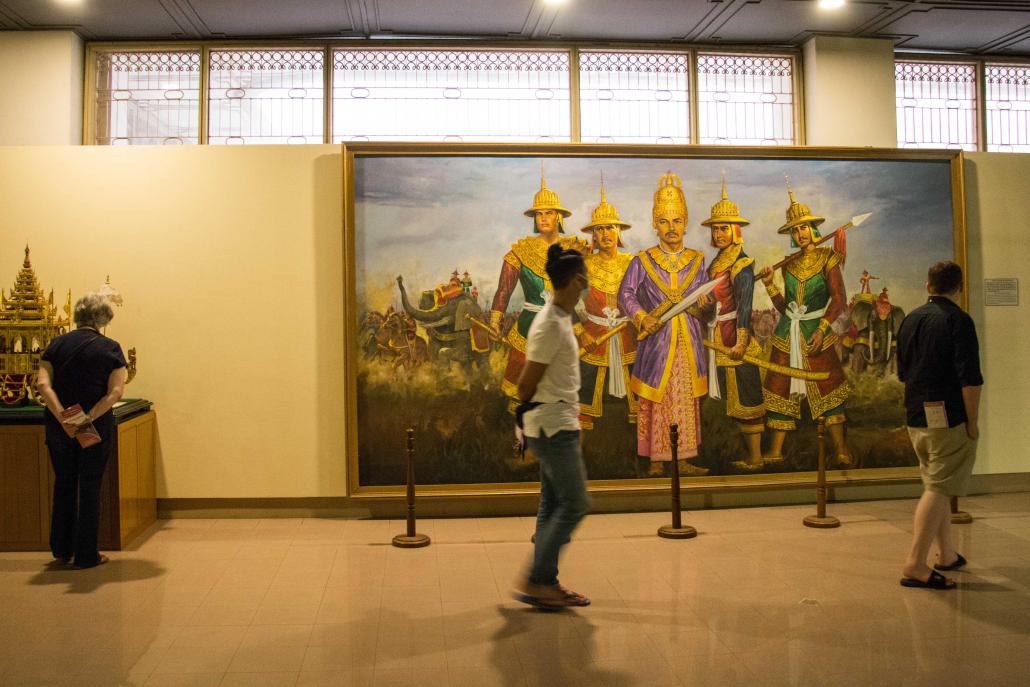 The week-long workshop brought together museum staff from throughout the country, including those not under the umbrella of the National Museum, such as the Drug Elimination Museum and the Myanmar Gems Museum. They spent three days learning how to digitise their collections and practising standardised cataloguing procedures on museum artefacts.
After a few days with the participants, Dawson said it was clear there was no lack of effort or professionalism. Rather, the main issue was a simple lack of consistency. Variations in the way collections are managed can create problems when sharing artefacts and information with other museums.
Participants learned the basics of a popular collections management platform called Spectrum Standard, but Dawson said museums do not need to lobby for expensive equipment and software to bring their collections up-to-date.
"Not every museum can set up a powerful database, but they can have a Facebook presence," she said. "What we're trying to do here is to illustrate the range of possibilities available and then equip the participants with the knowledge they need to make their collections accessible within the resources available."
Present and future
Above all, director Nang Lao Ngin wants both visitors and those working behind the scenes to regard museums as a living, active academic institution rather than a collection of old things.
No other institution, she said, has the responsibility to bring together so many different bodies of knowledge. A good museum must cooperate with other disciplines, such as history, art, science and economics.
For example, Kyaw Shin Naung often consults the chemistry department at the University of Yangon when trying to determine the chemical compositions of exotic metals on centuries-old tapestries.
These partnerships are not always smooth. When the old Yangon International Airport terminal was slated for demolition, Kyaw Shin Naung spent weeks with city officials, private contractors and the art community trying to find a way to salvage a mural by famous artist U Ba Kyi.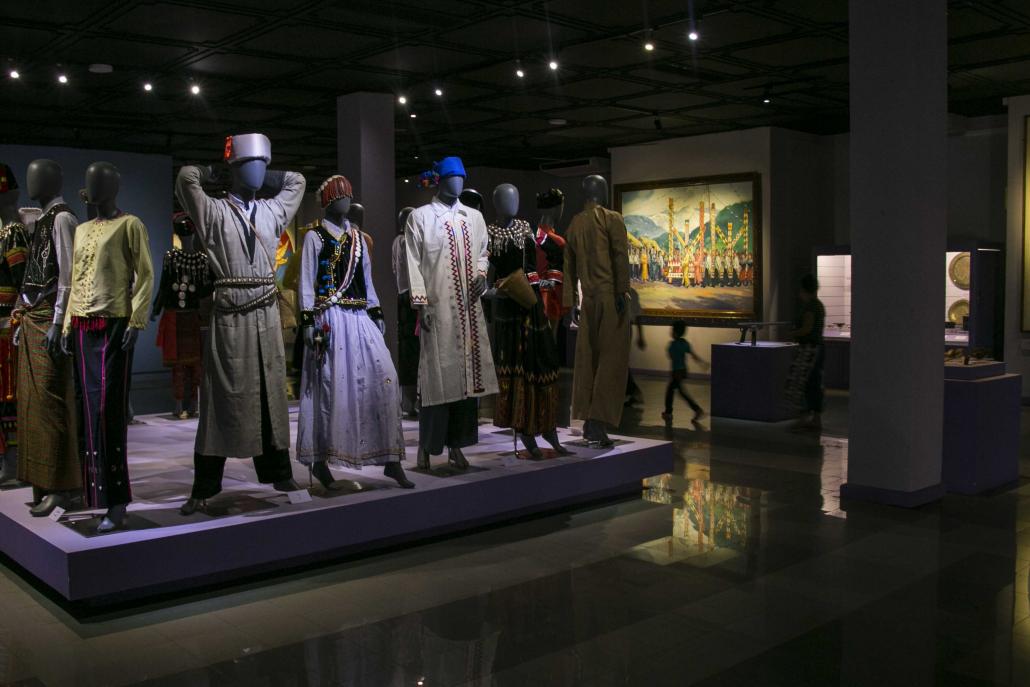 In the end, workers tried to remove the concrete wall one section at a time. The mural arrived at the National Museum in so many fragments that it took Kyaw Shin Naung and his apprentices eight months to put them back together. But at least the mural was preserved; today it is one of the museum's most prominent exhibits.
"From the artist side, they might say, 'You destroyed this painting!' But from the conservation side, we saved it," Kyaw Shin Naung said.
Nang Lao Ngin and Nu Mra Zan hope their cross-discipline endeavours will be less contentious: They plan to work with artists and educators for new interactive tours of the National Museum in which children learn traditional songs, dances and handicrafts.
"Museums are the face of our country," Nu Mra Zan said. "If tourists visit our museum, they can learn everything about our culture: our art, ethnic cultures, religion, our artefacts. Everything is inside the museum."