Friends of the taxi driver shot dead while chasing the gunman who killed high-profile lawyer U Ko Ni have paid tribute to a man of courage who was known for his sense of justice.
By HTUN KHAING | FRONTIER
FOR TAXI driver Ko Nay Win it was just another busy day. He was waiting for passengers at Yangon International Airport. It was late on the afternoon of January 29, a Sunday.
Not far from where Nay Win was waiting for a fare, another man, holding his grandson, was waiting for his family outside the new international terminal.
Then a shot rang out. It ended the life of the man holding the child: U Ko Ni, 63, constitutional expert, former Supreme Court lawyer and legal adviser to the National League for Democracy, who had just returned from Indonesia as part of a delegation that included Information Minister U Pe Myint.
As Ko Ni fell to the ground, bleeding from a fatal wound to the head, Nay Win was among a group of taxi drivers and other shocked bystanders who chased down the gunman as he tried to flee.
The gunman stopped a taxi, threatening the driver with his weapon. CCTV footage showed a pursuing Nay Win throw a broken brick at the gunman from about two metres away.
Then another shot rang out and took the life of Nay Win, 42, who friends remembered last week for his bravery and selflessness.
"First we thought he had been hit in the thigh, because that's where there was bleeding. But later we learned that it hit his bladder," said U Kyaw Lwin, a taxi driver.
Nay Win was bundled into a taxi but died during the short drive to the nearest hospital.
"He was courageous. He did not hesitate to join the chase for the gunman," Kyaw Lwin said.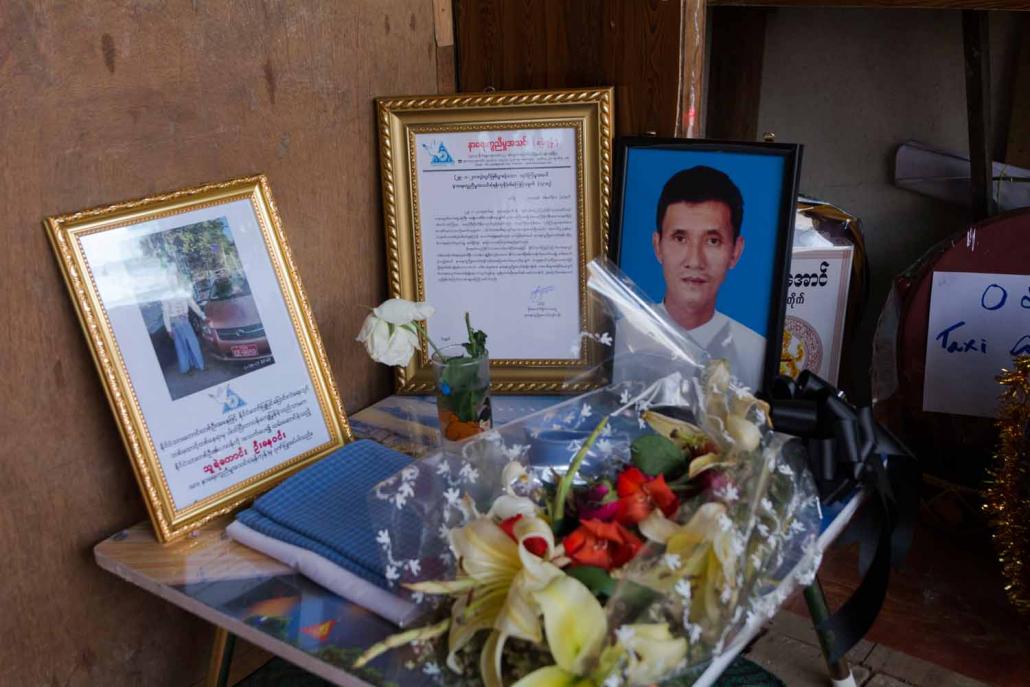 It was not the first time Nay Win had faced danger or the risk of being shot. As a youth he had participated in the 1988 national uprising and became an early supporter of the National League for Democracy.
It's not widely known that Nay Win was a member of the first team of bodyguards assembled to protect Daw Aung San Suu Kyi in the late 1980s and early 1990s.
The members of the team, known as the "Three Colours", put themselves at risk of great danger.
"At that time he served from the outer circle and we took responsibility on the stage; he watched for possible attackers from under the stage," former Three Colours team member Ko Kyaw Soe Naing, better known as Ko Baw Gyi, told Frontier last week.
At the time Nay Win was known as Win Lwin.
"You could never underestimate Win Lwin; he had a lot of guts," Kyaw Soe Naing recalled. "He had a habit of intervening in unjust situations."
In the crackdown on the NLD that followed its victory in elections in 1990 that the junta never honoured, Kyaw Soe Naing was detained at least seven times. Other members of the secret security detail were able to avoid arrest, including Nay Win.
He lived unobtrusively as a taxi driver but remained a stalwart supporter of the NLD.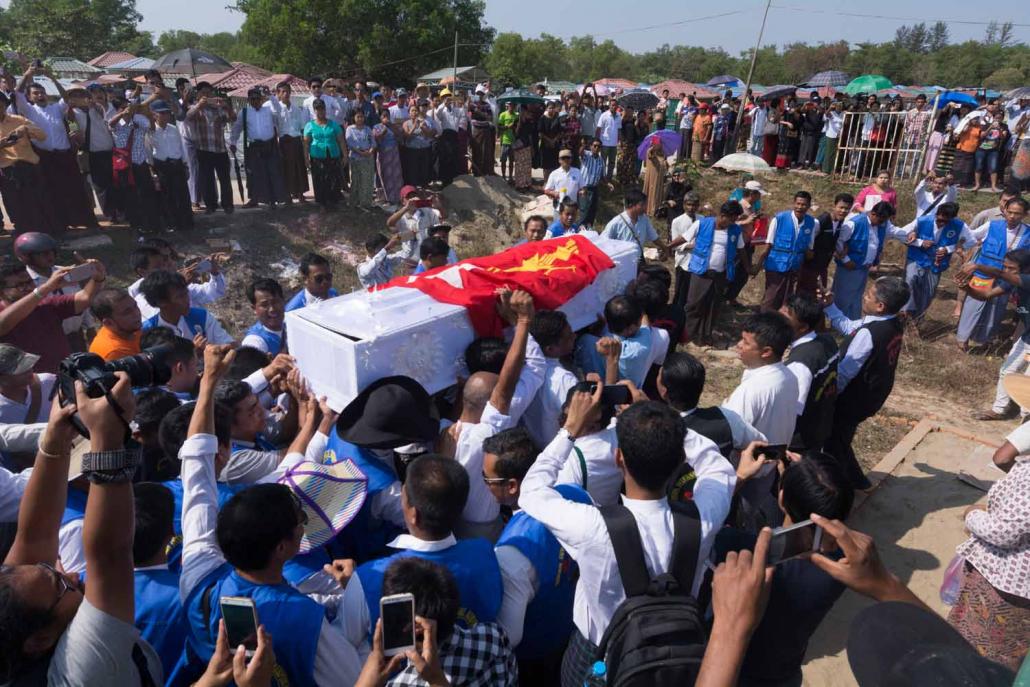 He showed his support for the NLD's reforms when the introduction of a new bus system in Yangon last month was marred by teething problems, resulting in big crowds at stops. Nay Win was among a group of taxi drivers who volunteered to transport frazzled commuters free of charge.
Ma Su Thet Khaing, Nay Win's bereaved wife, said her husband had little tolerance for people being treated unfairly.
"He tended to intervene in fights or quarrels if he thought one side was too unjust," the mother of three said.
Nay Win's funeral was held at Yangon's Yayway Cemetery on January 31, the day after the funeral there of Ko Ni.
The NLD's fighting peacock flag graced the coffin of Nay Win, a man who fought against injustice and will be remembered as a selfless hero.
Top photo: National League for Democracy patron U Tin Oo stands beside the body of Ko Nay Win during a funeral ceremony on January 31. (Teza Hlaing / Frontier)