A Tatmadaw spokesman rules out negotiating with the NLD and outlines corruption allegations against President Win Myint, State Counsellor Aung San Suu Kyi and other senior figures in the ousted government.
By FRONTIER
A military spokesman has accused the ousted National League for Democracy government of running "an undisciplined, authoritarian" state, as security forces gunned down at least eight more protesters across Myanmar and another died of injuries sustained yesterday.
Deputy Minister for Information Brigadier-General Zaw Min Tun said at a press conference in Nay Pyi Taw this afternoon that in seizing power the military was trying to create "a genuine, disciplined democratic system".
He also revealed that the military was investigating senior NLD officials over possible financial crimes and corruption, including President U Win Myint and State Counsellor Daw Aung San Suu Kyi. He claimed that Yangon Region Chief Minister U Phyo Min Thein had admitted to handing over US$600,000 in cash along with 7 viss (11.6 kilograms) of gold to the NLD leader between December 2017 and March 2018.
Asked by a reporter whether the political crisis could be solved through negotiation, Zaw Min Tun said the military had chosen the current path because negotiation had failed – a reference to behind-the-scenes discussions with the NLD in the months after the election.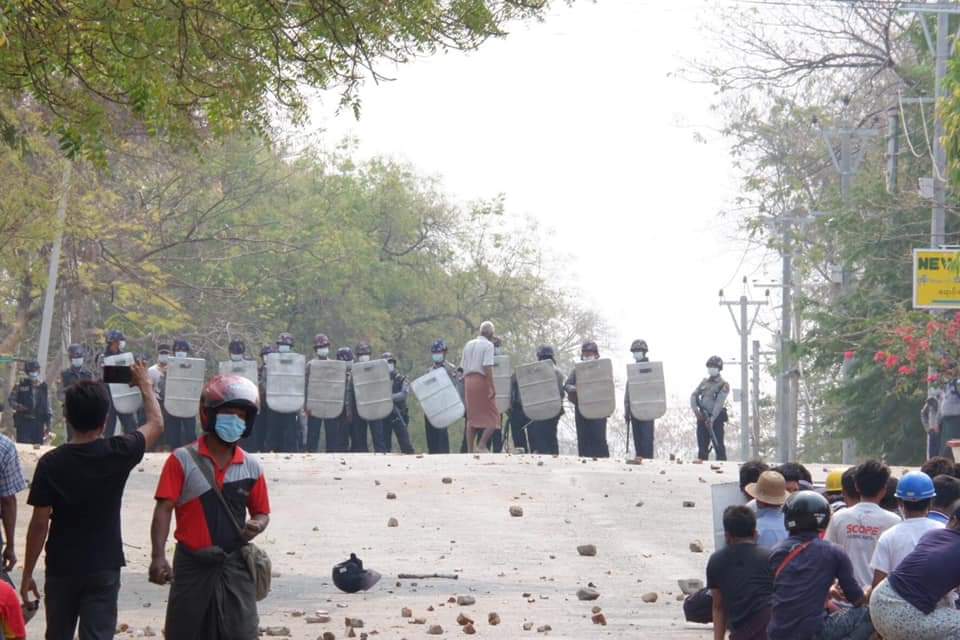 Nine more killed
Zaw Min Tun's remarks came as security forces shot and killed at least eight pro-democracy protesters across the country, including six in Myaing in Magway Region, and one each in downtown Mandalay and the outer Yangon suburb of North Dagon. In the Mandalay Region town of Myingyan, a protester shot yesterday also died of their injuries. More than 60 protesters have died at the hands of security forces since February 1.
In Myaing, six protesters were killed and at least 10 people were injured when police opened fire on around 300 demonstrators with tear gas, rubber bullets and live rounds.
"All dead people are men. One of them was hit in the head and died in the ambulance," said a resident who joined the protest and helped transport the wounded to Myaing hospital.
In Mandalay, a protester was shot and killed when police cracked down on a group of protesters from Mya Taung monastery as they neared the junction of 30th and 90th streets. In North Dagon, a young man was killed when a live round pierced his homemade shield.
The killings come a day after the United Nations Security Council urged the Tatmadaw to show "restraint" and stop killing pro-democracy demonstrators.
"The Security Council strongly condemns the violence against peaceful protestors, including against women, youth and children," said a statement signed by all 15 council members. "The Council calls for the military to exercise utmost restraint and emphasizes that it is following the situation closely."
The statement failed to condemn the military's seizure of power outright, or call it a coup, as rights groups have called for, but it managed to get the backing of China and Russia ­– two permanent members of the council that had previously been reluctant to condemn the Tatmadaw's lethal use of force against civilians.
"The Security Council expresses its continued support for the democratic transition in Myanmar, and stresses the need to uphold democratic institutions and processes, refrain from violence, fully respect human rights and fundamental freedoms and uphold the rule of law," the statement said.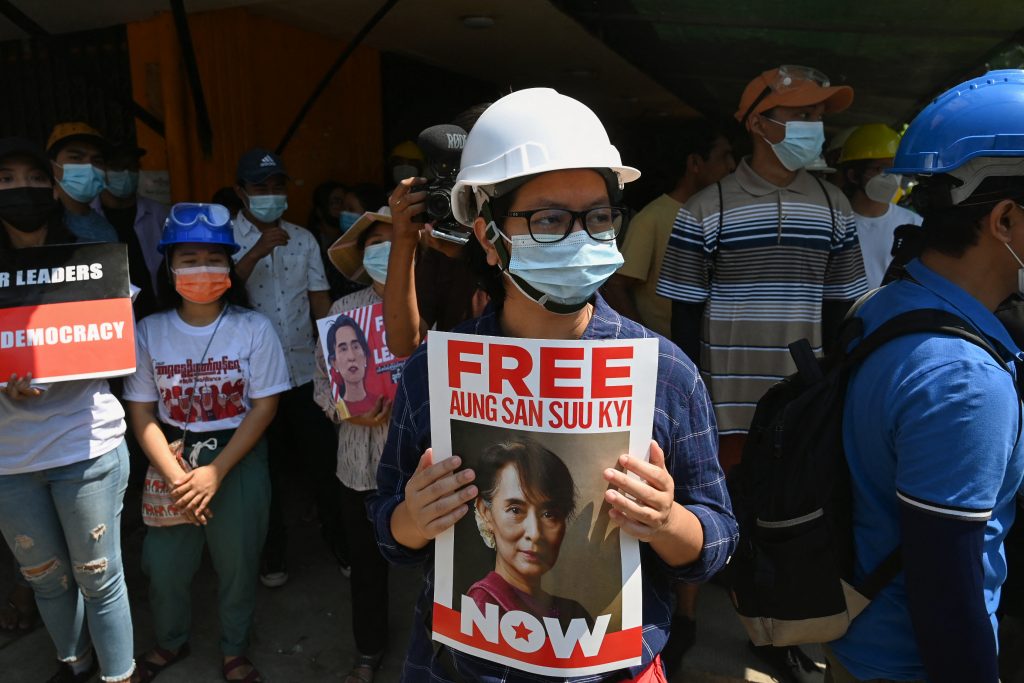 Corruption allegations
The Tatmadaw has insisted from the start that its takeover was entirely constitutional, and necessary because the democratically elected NLD government had refused to investigate the military's allegations of electoral fraud.
Zaw Min Tun said members of the ousted Union Election Commission had admitted to investigators that the commission had not "operated freely and independently" while overseeing the 2020 election, and that Win Myint had interfered in the UEC's affairs by telling commission chair U Hla Thein not to respond to the military's allegations of voter fraud. The president had also edited UEC statements before they were released, the spokesman said.
However, the military mainly used today's press conference to levy a barrage of corruption allegations at several senior NLD leaders, including Aung San Suu Kyi and Win Myint, that appear designed to sideline them from politics indefinitely.
On the day it took power, the Tatmadaw said it would hold a "free and fair" election at the end of a one-year period of emergency, and should this vote go ahead, the NLD in its current form is likely to be excluded.
Aung San Suu Kyi is already facing criminal charges for the possession of allegedly unregistered walkie-talkies and for allegedly violating COVID-19 restrictions while campaigning in last year's election.
Win Myint, meanwhile, is also facing a charge under the Natural Disaster Management Law for allegedly violating COVID-19 rules during election campaigning.
Zaw Min Tun said the Anti-Corruption Commission, which the military stacked last month with new appointees, is still investigating Aung San Suu Kyi but that Phyo Min Thein, who the military has also detained, admitted to personally giving the state counsellor the cash and gold.
Zaw Min Tun also accused Win Myint and his wife Daw Cho Cho, Mandalay Region Chief Minister Dr Zaw Myint Maung, Sagaing Region Chief Minister Dr Myint Naing and Mon State Chief Minister Dr Aye Zan of "having corruption issues", but did not offer further details.
He also said the financial affairs of the Daw Khin Kyi Foundation were under investigation because it had received funding from domestic and international NGOs and companies from 13 foreign countries. The NLD-linked foundation, which is named after Aung San Suu Kyi's mother, had received K38 billion and $7.9 million, of which K8 billion and $1 million had not been spent, Zaw Min Tun alleged. 
Thura U Aung Ko, the ousted minister of religious affairs and culture, was accused of receiving K500,000 and accepting a vehicle valued at over K100 million to grant religious titles to unnamed individuals.