Frontier joined the government's latest media trip to Maungdaw, and developments there placed further scrutiny on the government's official version of events.
By NYAN HLAING LYNN | FRONTIER
AROUND THE lush green paddy fields, herds of cattle and goats roam freely without their owners, set against a backdrop of the rolling Mayu Mountains. Off in the distance, occasional plumes of smoke can be seen sprouting up into the sky.
This is Maungdaw, the sparse district in northern Rakhine State that has been the scene of heightened security, and violence, for the better part of a year following the emergence of a militant group known as the Arakan Rohingya Salvation Army.
ARSA first made their presence known on October 9 last year, with attacks on Border Guard Police outposts that saw almost a dozen security officers killed. The attacks led to a months-long security operation that came with accusations of disproportionate force, a charge continuously denied by the military and civilian government.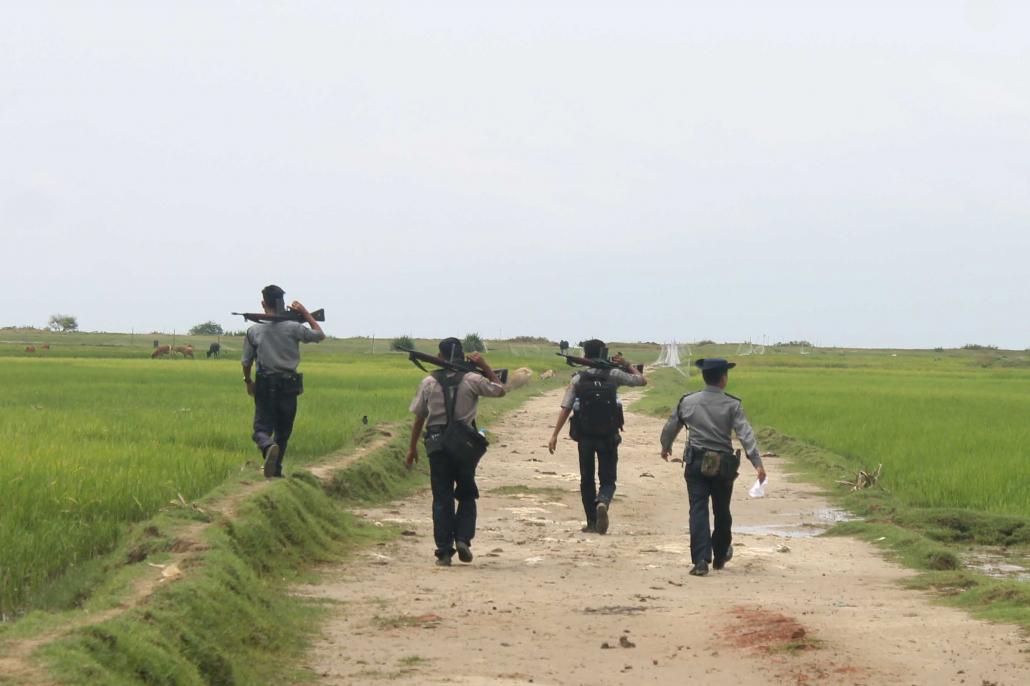 After a period of relative calm, ARSA again launched attacks on the morning of August 25, just hours after the Advisory Commission on Rakhine State, headed by former UN secretary-general Kofi Annan, submitted its final report to the Myanmar government.
Violence, fear and distrust have returned to northern Rakhine and the conflict at this point appears intractable.
I have had the opportunity to visit the region on two separate occasions. The first visit was immediately after the October 9 attacks and the second shortly after the latest uptick of violence started. Independent media face restrictions accessing the region and both of these visits were on media trips organised and tightly controlled by the government.
Our recent trip took place on September 6 and 7, with 18 journalists from domestic and international media visiting some of the communities affected by the latest violence. Due to time constraints, we were not able to get a full grasp of the situation on the ground, but the trip did offer some insights.
Staged photos
One of our first visits was to a small school on the outskirts of Maungdaw town that was being used as a camp for Hindus displaced by the violence.
"There's no one around here. I'm scared," said our first interviewee, a Hindu motorbike repairman.
The people there all told us that attacks had been launched by Muslims, forcing them to flee. They said they were taking shelter at the school, which was guarded by security forces, and were too scared to return to their homes. According to a government statement, three homes in their ward had been burned by ARSA extremists on August 26.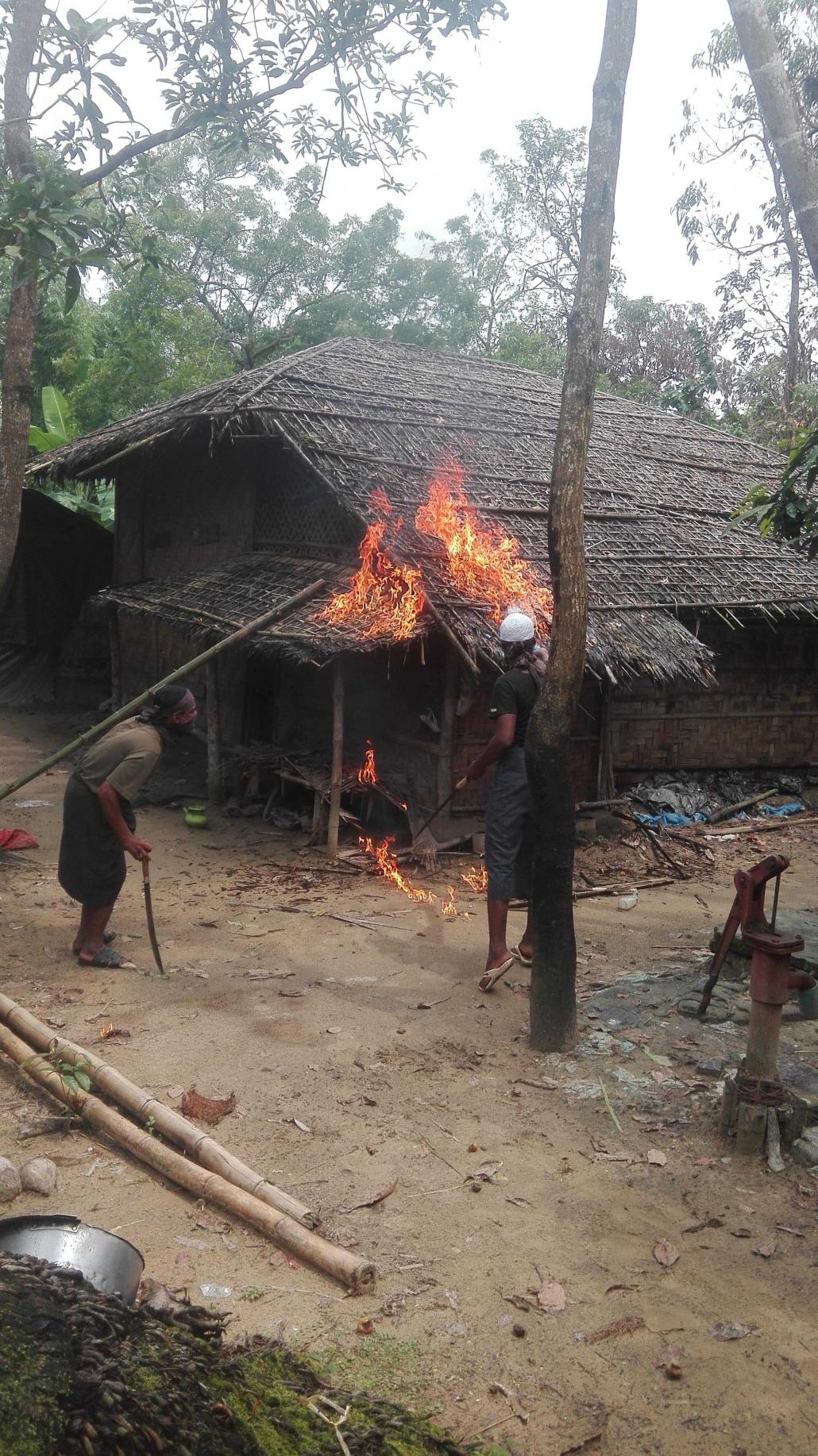 From there we were taken to the Zawtikayon monastery, where a monk told us he had seen Muslims burning down homes nearby.
"When they set the houses on fire, I went and told them to stop," the monk told us.
We were then shown photos apparently of the incident the monk had witnessed. They looked questionable. They showed men in Muslim-style caps burning down a thatched roof, as women – with what appeared to be tablecloths over their heads – stood nearby waving machetes.
Evidence later emerged that one woman in the photos was among the group of "displaced Hindus" we had earlier interviewed, while another man in the photos wearing a distinctive checked shirt and longyi had also been seen at the displacement camp.
Clearly, the photos had been staged.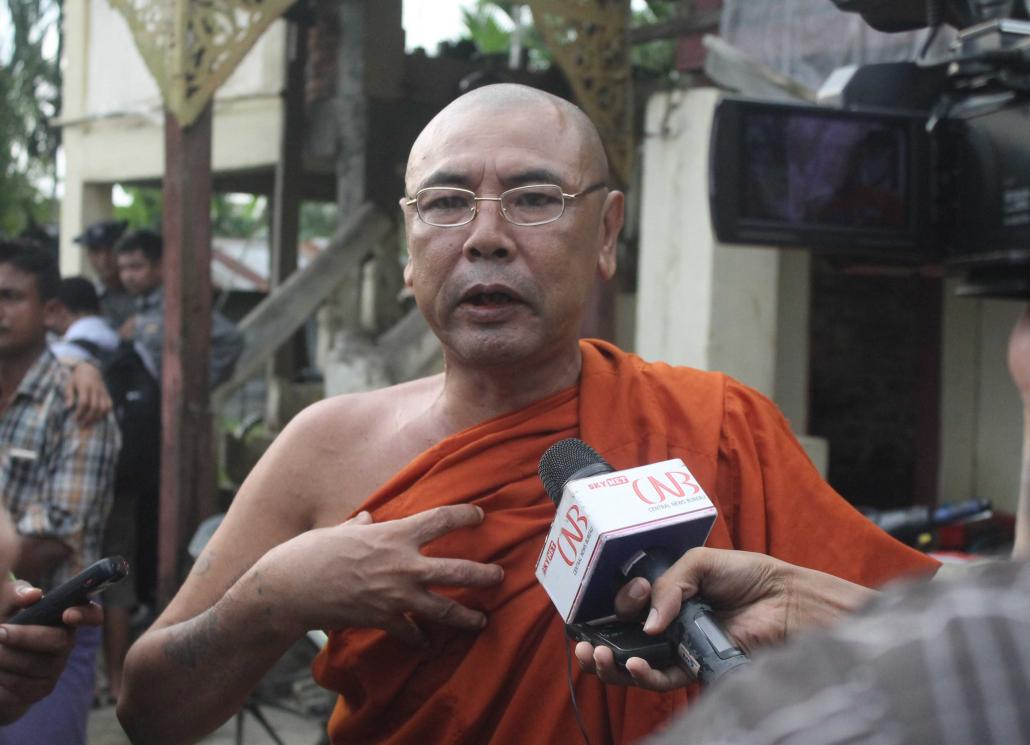 Widespread distrust
We then visited a Muslim village called Shwe Zar. Before the violence, the village had been home to about 15,000 residents, but during our visit we saw just a handful of people walking along the street, and most of the doors to the homes were closed.
"There are people inside – no one fled from this village," said local resident Roshi Amad, 59, who was concerned that his two sons, both who are in 10th standard, would not be allowed to return to school to complete their education.
"If people are allowed to do their business, their livelihoods, I think everything will be calm and peaceful," Roshi Amad said.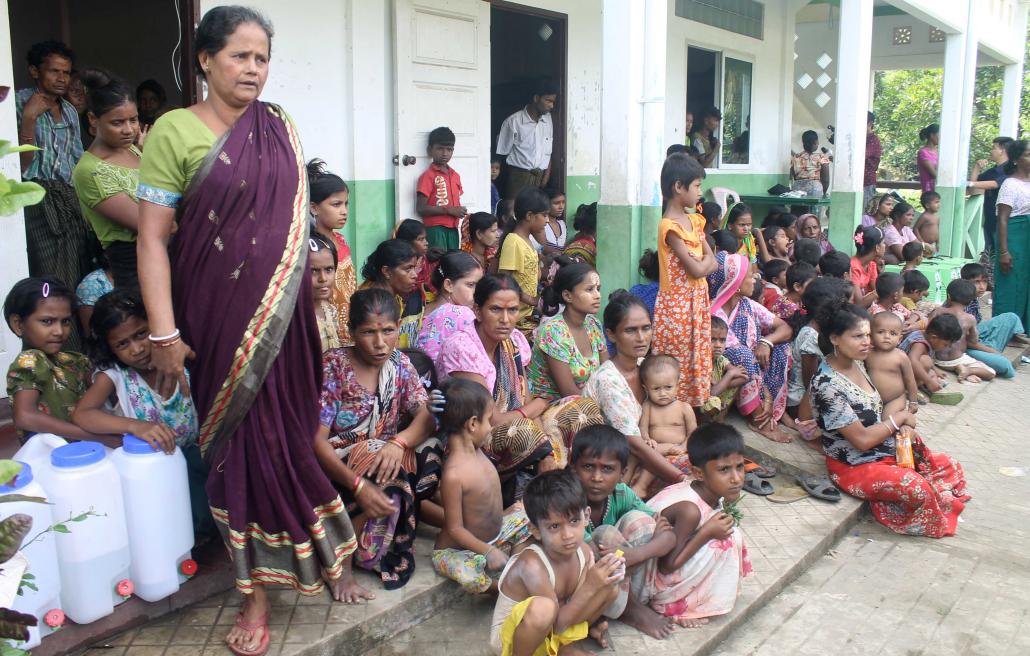 When we asked him about the violence, he repeatedly told us he could not say anything. Many other villagers we tried to interview refused to speak with us, while others expressed concern that ARSA had taken root in their village.
"We don't have terrorists. We don't want violence," said Mamad Zawli, 48, who later told us that the key to improving the situation would be for authorities to work closely with residents from all communities.
Mamad Zawli was the only Muslim we met during the trip who holds a National Registration Card, but even he cannot leave the village currently. One thing all the residents we met in the village agreed on was the fact that Muslims and Rakhine had lived and worked peacefully side by side before, but that the distrust was so strong that a return to normalcy was not possible for the time being.
He believes that the key to re-building trust in the region is for authorities and the local people to work side by side.
On the following day when we reached Myoma Kanyindan village, a Muslim betel seller told reporters that the government was not doing enough to resolve the situation.
"International assistance is needed. The government is not doing enough and now we can't go anywhere," said the vendor.
Charred villages
At Mawrawady village, we spoke to ethnic Rakhine who said they had been frequently threatened by Muslims living in surrounding villages. Originally home to about 600 residents, only about 120 remain, with the rest having fled for Maungdaw town or Sittwe.
"If [the violence] continues to happen, we can no longer live here," said resident U San Hla Phyu, 57. "Formerly both communities were interdependent and worked and lived together. I can't understand why violence suddenly erupted here."
He called on the government to grant citizenship to those who can prove they qualify under the 1982 citizenship law and said those who cannot should be put into camps.
"We can live together with them," he said.
At another village, Alethankyaw, Muslim and Rakhine residents had lived side by side, even after the October attacks. But that changed after the latest violence, when a Border Guard Police outpost was attacked, thousands of people fled and an immigration officer killed. Now, Alethankyaw is silent, except for ashes and smoke, and only a few residents remain.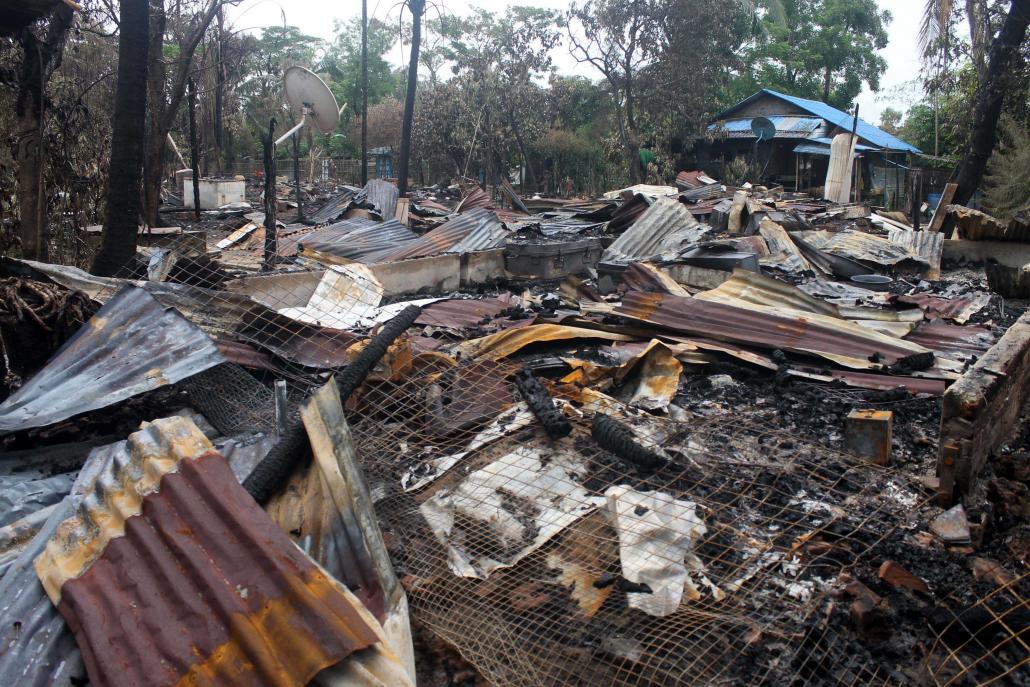 "I heard people shouting 'Kill, kill' nearby, and when I came out and looked I saw that they [ARSA] had captured more than half of the [police] camp," said Daw Thet Thet recalling the events.
The attack appeared to pit neighbours against neighbours in some cases. Thet Thet told Frontier that she recognised some of those who had launched the attacks.
"I didn't think the situation would be so bad," she said.
Police-Lieutenant Aung Kyaw Moe, who oversees security in the village, said he had received a tip-off that an attack was being planned so moved the ethnic Rakhine and government staff to a nearby camp in advance.
Authorities then escorted the reporters along a nearby track. After half an hour we reached an area where damage from a recent fire had caused widespread devastation and sporadic sounds of gunfire could be heard in the distance.
We continued further along the track and eventually reached the top of a hill from where we could see the beautiful Bay of Bengal in the distance.
We then noticed a figure moving slowly towards us. As he got closer, we saw that it was a man carrying some belongings. Immediately upon seeing us, he sat down quickly and held up his hands.
His name was Haribraman, 55. He said he had been walking for two days from a village called Thawun Chaung that had witnessed fighting between security forces and ARSA. His family was following closely behind, he said, and he was hoping to take a boat to Bangladesh.
We left Haribraman to his journey and made our way back to the vehicles for the return journey to Maungdaw town. While travelling along the road, we passed a village that was on fire. After some negotiation with the authorities, we were allowed to stop.
The village was called Gawduthara and had been Muslim-majority before the residents had fled. We could see religious books, some with Arabic script, strewn across the floor. An empty plastic jug, smelling of petrol, was sitting on the floor.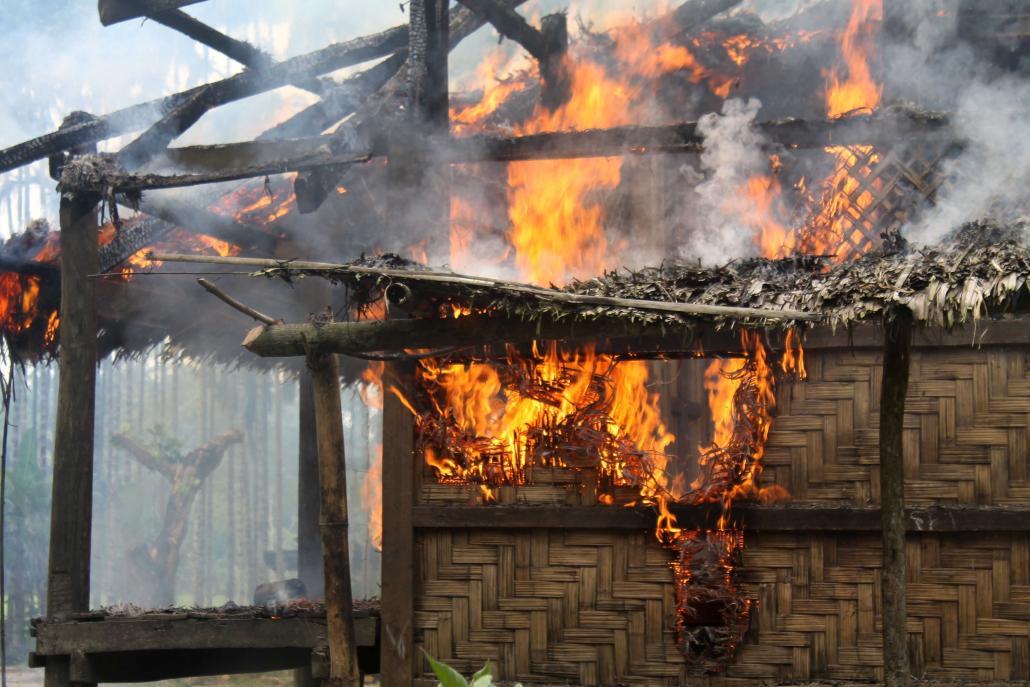 We could see no Muslims in the area, but we could see some people – who appeared to be Rakhine by their appearance – standing around watching in small groups. Some were holding swords or machetes. Frontier approached one of the unarmed men and asked what he had seen. He said he was from a nearby village and that "Bengalis" – a term many in Myanmar use to call the Muslim minority who identify as Rohingya – had set fire to their houses at 5am that morning.
I checked my watch. It was 1:44pm, almost nine hours after the man said the fires had been lit. It was clear that the fires flickering before us had been set much more recently than that.
Authorities have claimed that Muslims are setting fire to their own homes and blaming it on the military.
Colonel Phone Thit, state minister for security and border affairs, had previously told us that the "Bengali terrorists" had set fire to the villages to make local residents scared of them. "Their plans are successful if the villagers are displaced and the international community condemns the military," he said. "That's why they set fire to the homes."
But as I stood watching the flames, I recalled a conversation from a day earlier with the Muslim betel seller in Myoma Kanyindan village.
"It's not like that," he said, referring to reports that Muslims had set fire to their own homes. "We know who did it. It's impossible for someone to set fire to their own home. Impossible."
Postscript
On September 8, the government announced that they would establish seven temporary camps in various parts of Maungdaw district and provide humanitarian aid to Muslims displaced by the violence.
A day later, government spokesman told Frontier that they would accept those who had been displaced if they could prove they had lived in the area before August 25. He said that authorities had photo records taken by immigration department and that they would also consult village elders.
"What is happening now is that those who were displaced went to the border, but Bangladesh doesn't accept them. So they had to build huts along the border," he said.
"We cannot accept all of those displaced openly, but we will accept those with documents showing that they lived here. The people from Bangladesh who did not live in Rakhine State can enter the country. The government will scrutinize to ensure that those who did not live in Rakhine State don't enter Myanmar."
TOP PHOTO: A group of men carry knives and slingshots as they walk past a burning house in Gawduthara village near Maungdaw on the afternoon of September 7. (AFP)