Some expected drug trafficking routes to be disrupted by stepped-up enforcement and COVID-19 travel restrictions, but seizure data shows the industry has proved resilient.
By NE LYNN AUNG | FRONTIER
This article is from the January 28 issue of Frontier
Last February, Tatmadaw soldiers and police raided every home and commercial compound in the village of Loi Hkam (also spelled Lwe Hkam) in northern Shan State's Kutkai Township. The search for drugs was exhaustive – they even dug up yards– but the effort paid off: the joint Tatmadaw-police raid netted more than US$300 million worth of narcotics, precursor chemicals, laboratory equipment and vehicles.
The village was the home of the Loi Hkam People's Militia ­– one of 11 affiliates of the Kawng Hkar (or Kaungkha) People's Militia, headed by U Mahtu Naw, a former commander of the Kachin Independence Army's Brigade 4 who surrendered to the military junta in 1991. In 2009, Mahtu Naw's force was transformed from a ceasefire group into the state-affiliated Kawng Hkar militia and has grown into one of the most powerful militias in northern Shan.
The raid on the group's Kutkai stronghold was not only one of the most significant drug busts that joint Tatmadaw-police forces have carried out in recent years – it also marked the end of the Kawng Hkar militia. Evidence of the group's involvement in drug production and trafficking led the Tatmadaw to demand their disarmament, and in late March the militia surrendered enough arms and ammunition to equip about 1,800 fighters in return for its leaders' absolution.
That same month, Myanmar reported its first case of COVID-19, and the Union and state and regional governments responded by imposing travel restrictions. On roads and highways throughout the country, state and non-state actors established checkpoints to screen travellers for the coronavirus. Even in remote areas, communities felled trees to make blockades separating their villages from roads connecting them to the outside world.
Many thought the drug raids in northern Shan early in the year would lead to a reduction in output, and that transport restrictions imposed because of the COVID-19 pandemic would lessen the flow of narcotics from the area to domestic and foreign markets.
The evidence shows this has not happened – far from it. Data from the Central Committee for Drug Abuse Control and other open-source statistics show that seizures of narcotics – particularly crystal methamphetamine, the highly addictive stimulant commonly known as "ice", or shabu shabu in Southeast Asia ­– continued unabated throughout the year. Seizures are generally considered a reliable indication of the volume of drugs being sent along a particular route – but the real volume is likely to be many times higher than that which was detected. Myanmar's drug business – thought to be worth tens of billions of dollars a year, with crystal meth fetching hundreds of thousands of dollars a kilogramme in Western markets – has proven highly resilient.
Authorities seized at least 18 tonnes of crystal meth in Myanmar in 2020, of which the 509 kilogrammes taken at Loi Hkam in February accounted for just 3 percent. The rest was captured throughout the country by state security officials, and sometimes also ethnic armed groups.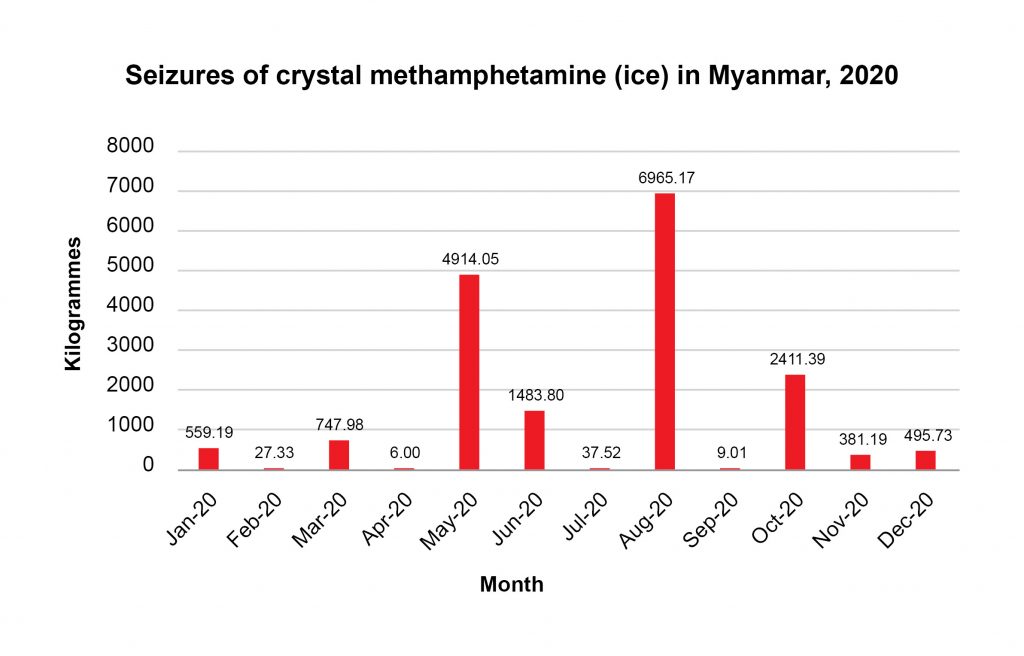 This is around double the 9.269 tonnes of crystal meth that was reportedly seized in 2019. It's impossible to know definitely whether production actually increased last year, but the monthly narcotics seizures indicate that, despite the new challenges, business continued to flourish.
Aside from the massive haul at Loi Hkam, other noteworthy seizures occurred last year in Loilen, Kalaw and Kunhing townships in southern Shan, and in Kengtung, Mong Hsat and Tachileik townships in eastern Shan. At least 11.86 tonnes of crystal meth was seized in Shan State alone last year – around two-thirds of the national total.
Officials in Myanmar use X-ray scanners that they say are capable of penetrating 2 millimetres of steel or equivalent material to check vehicles for narcotics and contraband. On May 29, Deputy Minister for Home Affairs Major-General Aung Thu told the Amyotha Hluttaw that the country has just two mobile X-ray vehicle scanners and a few handheld scanning devices used to monitor drug trafficking. The mobile and hand-held scanners are deployed in Muse, Hseni, Nawnghkio, Kengtung and Kunhing townships in Shan, and in Pyin Oo Lwin and Thazi townships in neighbouring Mandalay Region.
The seizure figures and locations for 2020 ­– and the implied production figures – show that traffickers have found ways to easily slip past these scanners. Narcotics are still being smuggled through checkpoints or along alternative routes from northern Myanmar to coastal areas or the border with Thailand, before being sent to international markets.
Seizure data shows that traffickers continued to smuggle their drugs through known routes last year. But new routes are emerging, and some formerly minor routes are growing in importance.
Before 2019, traffickers relied heavily on the Rakhine State coast to ship drugs abroad. At least 64 seizures of methamphetamine tablets known as yaba occurred in Rakhine in 2018, and another 28 in 2019. But the Rakhine coast became less viable for traffickers after fighting between the Tatmadaw and the Arakan Army escalated in 2019 and 2020, as Tatmadaw efforts to cut off AA supply lines disrupted routes.
Traffickers have not abandoned the Rakhine coast completely. In August last year, police seized nearly 1.4 tonnes of crystal meth from a trawler off Kyeintali town in Gwa Township in southern Rakhine, the first large-scale seizure of the drug in Rakhine. In November anti-narcotics units seized nearly 500kg of crystal meth in Shan's Aungban and Taunggyi towns that they said were en route to Rakhine.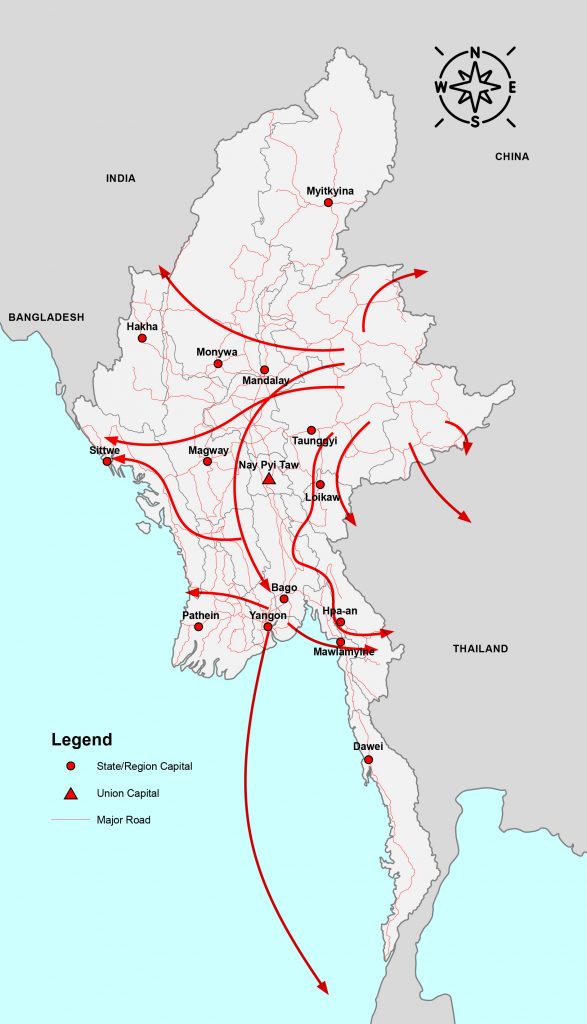 But a bust last year at Sel Eain Tan village, in Yangon Region's outer southwestern Kungyangon Township, underlines the increased use of Yangon as a transit point. In July 2020, residents of Sel Eain Tan reported to police that they had seen a suspicious speed boat and minivan parked near a small jetty in their neighbourhood. The police moved in and seized 999.8kg of crystal meth from the van. Police later said traffickers had brought the drugs from Namsan town in southern Shan and planned to use the speed boat to send it into international waters off Yangon. From here it would likely have been transferred to a trawler, then shipped to international waters between Malaysia and Indonesia and transferred to another vessel.
Late last year, two CCDAC statements noted that trafficking routes originating in Shan led to the Kayin State town of Three Pagodas Pass (also known as Hpayarthonesu) on the border with Thailand. On August 24, Thai law enforcement agencies seized 1.385 tonnes of crystal meth and 500kg of ketamine trafficked into the country via the Three Pagodas Pass area. Ahead of that seizure, the Tatmadaw and the Democratic Karen Benevolent Army separately seized nearly 2 tonnes of crystal meth in Waw Lay Myaing, also known simply as Waw Lay, some 250km north along the border.
Three Pagodas Pass and Waw Lay Myaing are contested areas where ethnic armed groups, state-affiliated militias, the Kayin State Border Guard Force and the Tatmadaw all operate. It is likely that transnational drug syndicates working with partners in Myanmar shifted their focus to the southeastern border with Thailand in recent years as security along Rakhine routes tightened. Drug trafficking from Shan to foreign markets via Three Pagodas Pass and Waw Lay Myaing is likely to continue this year unless there's a concerted crackdown by government agencies and non-state armed groups in Kayin.
An unpopular and bitter truth is that, although drug production and trafficking was born of Myanmar's decades of internal conflict and political instability, it now flourishes under ceasefires and periods of relative stability.
Armed groups that sign ceasefire agreements banning extortion or the collection of "levies" – essentially, a tax collected by a non-state armed group – need to find another way to survive. This truth has been exploited by transnational drug syndicates needing safe havens in which to operate; in return, these armed groups take payments or a share of the profits from drug manufacturers. This has been common since around 1990, when the ruling military regime started negotiating ceasefire agreements with many armed groups.
There is a risk this will be repeated in southeastern Myanmar, where several of the major ethnic armed groups are signatories to the Nationwide Ceasefire Agreement. More than five years since the signing of the NCA, peace remains elusive and the signatories receive no regular, direct financial support or opportunities to pursue legitimate business ventures from either the government or third-party organisations. During this time the drug problem has only worsened due to the boom in synthetic drugs, which are produced in areas under the control of powerful non-state armed groups and nominally state-affiliated armed groups.
The trends of 2020 are unlikely to be an anomaly. Production – as reflected in seizure figures ­– is likely to rise further this year, and more synthetic drugs made in Myanmar will find their way to users at home and abroad.
Ne Lynn Aung is the senior research manager of the Myanmar Institute for Peace and Security. His research focuses on armed conflict and violence in Myanmar, identity politics, counter-terrorism, transnational crime, illicit trafficking and Myanmar Buddhist iconography. The views and opinions expressed here do not necessarily reflect the policies or positions of MIPS.