A boycott of state schools under military rule has caused a spike in enrollments at ethnic community schools and created opportunities for ethnic armed organizations to broaden and strengthen trust and understanding with the public.
By NU NU LUSAN and EMILY FISHBEIN | FRONTIER
When state-run schools opened throughout Myanmar on June 1, in many cases with armed soldiers stationed outside, fewer than 10 percent of students showed up. But in ethnic community schools, including those run by ethnic armed organizations, enrollments have skyrocketed.
"Now, people don't believe in the Burmese government education system … parents are starting to trust us and send their children to us," said Hpawnga Yaw Sau, head of the Kachin Independence Organization's education department.
The National Unity Government's education ministry is developing a home-based learning programme for basic education so that students boycotting schools under the military administration can continue to learn. NUG deputy education minister Ja Htoi Pan told Frontier that the programme will include video lessons, assessment templates and a learning handbook. During the interim period before these materials are available, she is encouraging students to continue learning, and parents, guardians and teachers to try to adapt to the situation.
In the wake of the seismic shift in Myanmar's educational landscape that has taken place since February 1, ethnic community schools provide one of the few free or low-cost alternatives for those dissatisfied with central government schools even before the coup.
Often run by ethnic armed organizations and civil society organisations, ethnic community schools have been operating along Myanmar's borders for decades, filling education gaps in areas where there has historically been weak support for the national government or where the government has had a limited presence. They generally offer instruction in students' mother tongue and include ethnic history lessons in addition to or instead of those offered by the Ministry of Education. 
Frontier spoke with representatives from the Kachin Independence Organisation, Karen National Union and New Mon State Party (NMSP), which are among the country's most well-established ethnic education providers. They said that the coup and subsequent boycott of state-run schools has provided an opportunity for them to connect with a broader population from their own ethnic communities, as well as smaller numbers of students from the Bamar majority and other ethnic groups with whom they did not previously have strong engagement.
But having prepared for this school year according to last year's enrollment numbers, their budgets and facilities are stretched. Combined with the COVID-19 pandemic and coup-induced cash flow and supply chain disruptions, as well as rising operational costs, ethnic community schools are struggling to accommodate the rising number of students.
Safety concerns
A representative from the UN Children's Fund (UNICEF) told Frontier that Myanmar has seen significant progress in the education sector over the past decade, including increased budget allocations and curriculum reforms, and that school completion rates increased from 67 percent in 2015 to 76 percent in 2019.
But COVID-19 and now the military coup threaten to undo many of these gains. In May, UNICEF, Save the Children and UNESCO released a joint statement warning that more than 12 million students in Myanmar have not had access to organized learning for more than a year, and children in the poorest and most remote communities are likely to be the most affected.
"Teaching and learning will need to be adapted to compensate for the extended period of lost learning and there will be an ongoing need for supplementary and flexible learning approaches. Keeping places of learning safe at all times, and ensuring continuity of learning, must be a priority for Myanmar," the statement said.
When state-run schools opened on June 1 this year, the Myanmar Teachers' Federation estimated that more than 8 million students and 200,000 teachers throughout the country were absent. Many of them were protesting against what they called a "military slave education" and had joined the Civil Disobedience Movement of civil servants who went on strike rather than serve the regime.
Safety concerns also played a role in many students' and parents' decisions to boycott state schools. According to a statement by Save the Children, 103 education facilities were attacked or damaged by explosives in May alone, and armed forces occupied at least 60 schools and university campuses between March and June.
Htawshe Lum Zau from Kachin State's Waingmaw Township was among the few students to attend a state school in state capital, Myitkyina, on June 1. After losing a year of education to the pandemic, he was eager to enroll so he could resume his studies, he said. "I'm getting older and getting left behind in my education," the tenth grader told Frontier.
However, a few days into the academic year, he dropped out. "I didn't feel safe while I was studying in the Myanmar government school after the coup. I was always worried that somebody could place a bomb," he said. Instead, he enrolled at Alen Bum IDPs Boarder, a KIO-run middle and high school that mostly educates students displaced by conflict. "I decided to study here because I think the KIO school is safer and offers me a better education," he said.
Zingtung De Hkam, a mother of seven who lives in a camp for people displaced by conflict, felt similarly when considering her two school-aged daughters. "I was waiting for my children to go back to school, but this year on top of COVID-19, the coup happened … I and everyone around me sent their children to KIO schools," she said.
She added that the coup has eroded her trust in schools outside her Kachin community. "I believe we can only trust our own kind now," she told Frontier. In the IDP camp where she lives, she is hosting three students who recently enrolled at Alen Bum IDPs Boarder along with her two daughters.
Although students at ethnic community schools do not have to fear the presence of soldiers, conflict-related military attacks remain a risk in some areas.
In April, four schools in Kayin State's Hpapun Township, which the KNU calls Mutraw District, were hit by military airstrikes at night. Padoh Law Eh Moo from the Karen National Union's Karen Education and Culture Department (KECD) said Karen State Border Guard Force troops, who are under Tatmadaw command, have also warned KECD educators not to open their schools this year.
In KIO-controlled areas, educators and parents expressed a general feeling that nowhere is safe. "We [KIO] ask every house to dig trenches in case of emergency, but we cannot stay inside the trenches all the time. We have to work and go to school and we don't know where bombs or artillery shells will drop," said Yaw Sau.
"I'm concerned that [artillery fire] might not go in its intended direction and fall on us," added Hkawng Lum of Alen Bum IDPs Boarder, which had relocated once before the coup because of airstrikes. "If the war reaches our school, we don't have anywhere else to flee."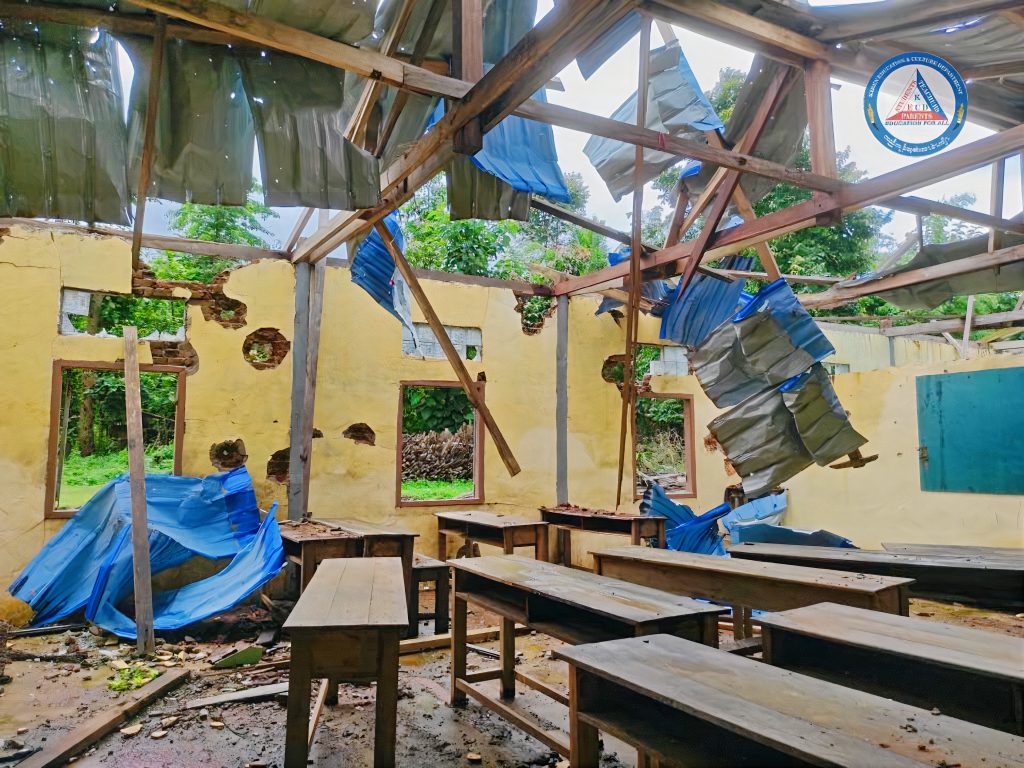 'Short on everything'
The KIO began informally offering education in territories under its control in 1965, and opened its education department in 1992. It currently administers 145 basic education schools in its territories.
Since the coup, enrollment at schools run by the KIO has nearly doubled, from 11,000 to more than 20,000, said Yaw Sau of the KIO's education department. The KIO is building six schools in response to the increase demand. "We're short on classrooms, facilities and food supplies," he told Frontier. "We're short on everything."
He said that almost all students from KIO-controlled areas who had been studying in state schools have transferred to KIO-run schools since the coup. Most of the new students came without advance notice and planned to board under KIO sponsorship. "We can't send them away or reject them, so our boarding schools are very crowded now," he told Frontier.
Enrollments at Alen Bum IDPs Boarder have more than tripled, from 650 last year to above 2,200, said headmaster Hkawng Lum. Most of the new students are from KIO-controlled areas, but some are from other parts of the state, including Myitkyina and the northern town of Putao, he said.
Further south, the KECD, which was founded in 1956, has also been inundated with new enrollments, according to department head Law Eh Moo. In 2019-20, it administered 1,362 schools serving approximately 130,000 students. This year, its schools enrolled about 10,000 more students than expected, and have had to turn away around 1,000 students due to insufficient facilities, Law Eh Moo said.
Naw Rosie, a high school teacher at a KECD-run school in Kayin State's Hpa-an Township, said that students are sharing textbooks, while dividers have had to be placed in classrooms so that two classes can be held in the room at the same time.
Enrollments in Mon community schools have also outpaced capacity since the coup. The New Mon State Party began operating an education department in parts of Mon State in 1972. Through the Mon National Education Committee (MNEC), which the NMSP established before agreeing a ceasefire with the Tatmadaw in 1995, it is now involved in the administration of 134 schools. Its community schools served around 12,000 students in the 2019-20 school year; until the coup, the MNEC also jointly administered mixed schools with the Ministry of Education.
Nai Min Aung Zay, a programme manager with MNEC, said that Mon national schools have also had to turn away students this year, and are now expanding some boarding schools with help from local monasteries. "We don't have enough space for the new students, and we cannot hire many teachers either because we don't have enough money," he said.
Providing an alternative
Like Myanmar state schools, ethnic community schools usually charge minimal or no tuition fees. As with schools in most poor parts of Myanmar, many rely on support from their communities for funds and the teachers' accommodation. Some also receive grants from NGOs, including the international donor-funded Myanmar Education Consortium.
Mr Kim Jolliffe, an independent researcher who has studied education in Myanmar's ethnic areas, said ethnic basic education systems in Myanmar are relatively developed and tend to place a greater emphasis on critical thinking and competency-based learning and assessment than state schools, but have struggled to gain equal footing. Before the coup, ethnic education providers sought to increase coordination with the Ministry of Education, but their efforts were "limited by a lack of willingness on the government side" to formally recognise them, Jolliffe said. Instead, the ministry sent teachers to many areas to "try and take over the existing systems and enforce the centralised, Bamar-centric curriculum".
More than 110 languages are spoken in Myanmar and although research indicates that mother tongue education offers many benefits, ethnic language instruction has been heavily suppressed in Myanmar's schools. A 2016 report by researchers Ashley South and Marie Lall on ethnic education and mother tongue-based teaching in Myanmar found that language and education policy and practice are "deeply implicated" in Myanmar's conflicts, with the state "perceived and experienced as pursuing a more-or-less explicit project of forced assimilation" toward ethnic nationalities.
Students who graduate from ethnic schools have also faced limited higher education options, in part because the Ministry of Education has refused to recognise certificates issued by ethnic providers that do not teach its curriculum. Instead, the ministry has required students from these schools to sit its matriculation exams to be eligible to attend state universities, presenting a challenge for students who passed ethnic schools' exams but are not familiar with the Ministry of Education curriculum.
The requirement has put ethnic schools in a dilemma. "We adjusted the [curriculum's] content and scope so the language is different but the content isn't that different. We created a curriculum so our students wouldn't face difficulties in transferring schools," said Min Aung Zay of the Mon National Education Committee.
Jolliffe said that lack of government recognition has "forced [ethnic schools] into difficult choices which have greatly affected quality [and] social mobility and led to compromises around culture and language, increasing ethnic grievances". Many hope that these issues can be addressed through a federal system in which ethnic schools and their curricula are formally recognised throughout Myanmar.
Ja Htoi Pan of the NUG's Ministry of Education told Frontier that it envisions a system in which students are assessed based on competencies, and ethnic schools and home-based learning options are recognised equally alongside government-run schools. "The important thing is we want students to achieve basic competencies by grade and age," she said, adding that the NUG is eager to work with alternative basic education providers.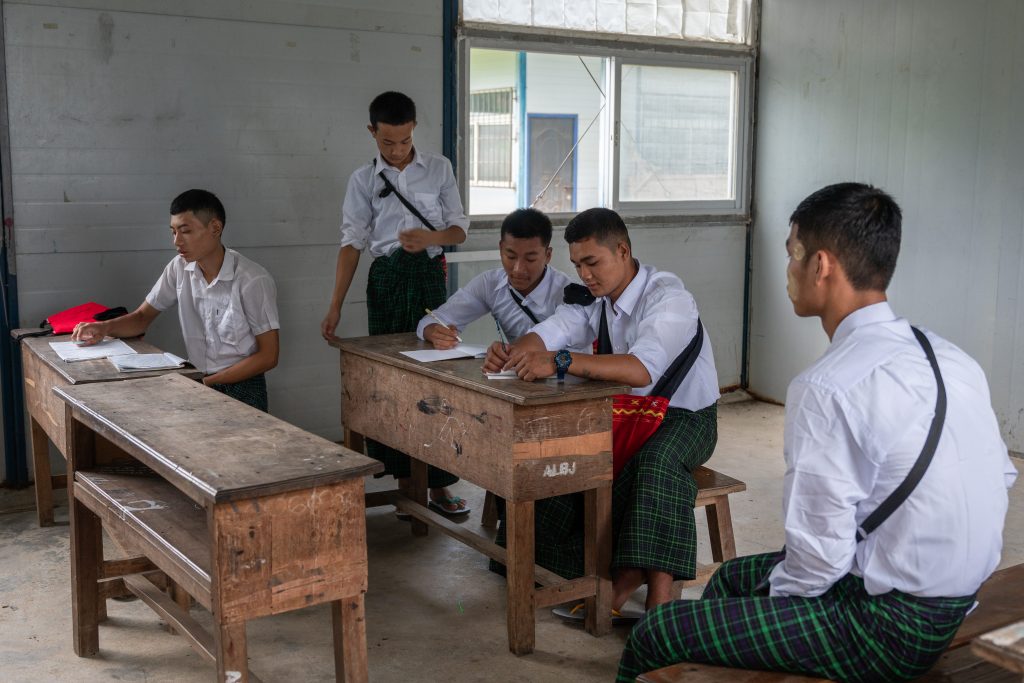 'Parents are trusting us now'
Ethnic education providers told Frontier that they welcome the new and diverse student bodies. However, one difficulty has been that some of the new students don't speak the schools' languages of instruction fluently, or that they speak the languages at home but are not used to speaking them in an academic setting. "We don't use much Burmese here; we mainly use Kachin language [Jinghpaw], so students who come from Myanmar schools have some challenges," said Hkawng Lum of Alen Bum IDPs Boarder.
The KECD uses Sgaw Karen, one of two dominant Karen languages, at most schools. Saw Pleh Htoo, a KECD education officer in Hpa-an, told Frontier that not all of the newly enrolled Karen students speak Sgaw fluently, and some Bamar students have also enrolled in KECD-supported schools. "The new students from other areas are having language challenges," he said.
The new students include Naw Khu Khu, who was preparing to start her final year of high school in Kayin State's Kawareik Township when the coup occurred, and instead enrolled in a KECD-run school in Hpa-an. Although she had once hoped to study medicine after completing high school, her focus now is on graduating in any discipline. She doesn't speak Sgaw Karen and to catch up she records her lessons and plays them back in her dormitory.
Despite the challenges, Khu Khu says she has had a positive experience at her new school, where she has found the quality of education to be better and the teachers to be friendly and supportive. "In Myanmar [state] schools, we memorised and memorised again, but here, we mostly try to understand the meaning," she said.
Lum Zau also said that he is more satisfied academically at Alen Bum IDPs Boarder than at the state school he attended, even though he struggled at first to adjust to instruction in Jinghpaw language. "We can gain more knowledge with this education, whereas in state school, we mostly memorised," he told Frontier. "Here, we learn more about definition and context. Comparing the quality of education, I would say it is better here."
Although ethnic schools face many challenges, educators said that the new enrollments offer an opportunity to strengthen trust and acceptance among their own communities and the broader public, at a time when people throughout the country are showing a new interest in ethnic nationalities' struggles for self-determination.
"People didn't like or understand ethnic armed organisations before. Urban people thought of us as rebels who didn't want peace and made the country poor; who didn't want the country to develop but wanted to destroy it," said Law Eh Moo. "Now, we are seeing that urban populations, including Bamar people, are starting to support us."
Community views toward ethnic schools also appear to be shifting. "Parents and the Mon public started to understand that we cannot solely depend on the government for our education, and that we need to build ourselves too," said Min Aung Zay of the MNEC. "Our schools are safer for education and parents are trusting us now."
Yaw Sau also said that parents and students' trust in KIO schools has increased. "This is our success," he said. "People who didn't know us before are getting to know us now."