Despite promising reform of state media outlets, the National League for Democracy government has instead been accused of continuing to use them as propaganda machines.
By KYAW PHONE KYAW | FRONTIER
On March 31, the day after the National League for Democracy took office, the masthead of state-owned newspaper Kyemon (The Mirror) changed to red, a traditional symbol of the pro-democracy movement.
That day's front page carried two photos: President U Thein Sein handing over to his successor, U Htin Kyaw, and Daw Aung San Suu Kyi in parliament together with Pyithu Hluttaw Speaker U Win Myint. This front page caused a stir on social media; readers showed their appreciation for both the changing of the government and the state-owned paper's new look, the latter a symbolic but seemingly important sign of intent from the new administration.
There were high expectations that reform of the state media – both newspapers and broadcasters – would take place during the NLD's term. Readers had long tired of government propaganda, from nationalist slogans to reports of military ministers inspecting projects and providing the "necessary instructions" for their successful completion. In a censorship-free age where news was spread instantly through social networks like Facebook, such ham-fisted efforts to shape public opinion seemed particularly anachronistic.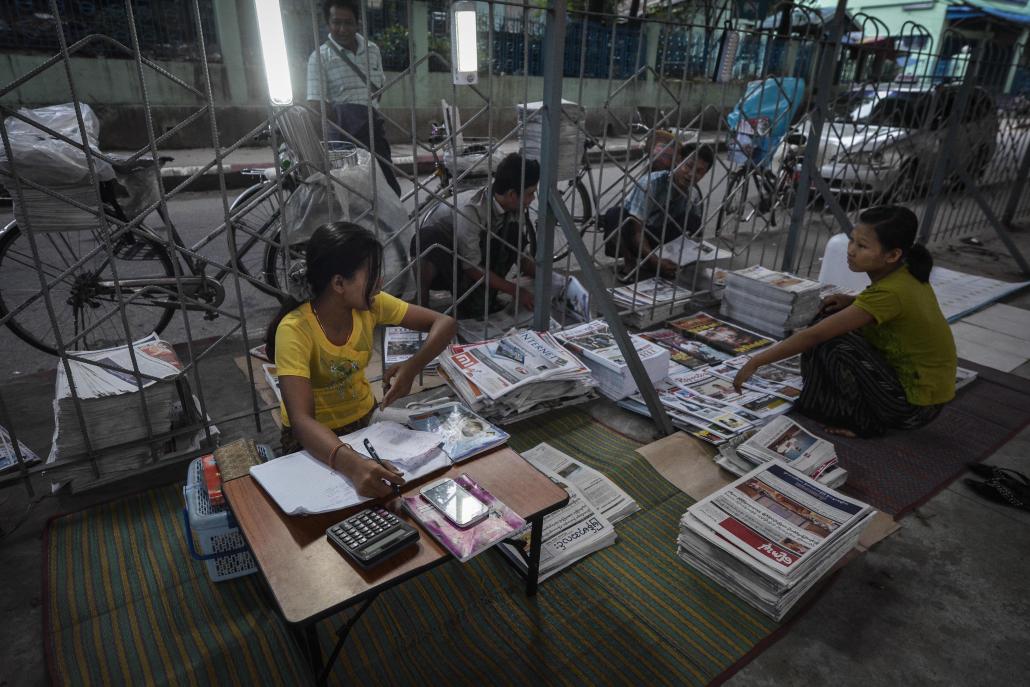 Journalists, editors and publishers also hoped for change. In particular, they took heart from the NLD's election manifesto, which not only promised that the media would be able to "stand independently" but also that print and broadcast operators could compete openly on the free market.
A key issue is the government's subsidisation of state media to the tune of tens of millions of dollars a year. This gives state newspapers in particular a huge advantage over the private sector, enabling them to sell copies at a loss – in the process driving the price of private papers down to unsustainable levels.
The previous government said it wanted to keep but reform state newspapers, turning them into "public service media" outlets. It initiated some limited changes to make them more appealing to readers, and the English New Light of Myanmar was rebranded the Global New Light of Myanmar with support from Japan's Kyodo News.
---

"A censor is still a censor. It's just more polite at the moment."

— Khin Maung Aye, chief editor, Global New Light of Myanmar

---
But Aung San Suu Kyi indicated the new government would take a new tack that could see them sold off or closed down. She told Radio Free Asia on December 31, 2015, that she believed that such outlets were "not good for democracy".
"We will not abolish them immediately, but yet don't want to delay doing it as well. It would be better if we did everything according to democratic principles as soon as possible. There are government-supported media in the United States and United Kingdom, such as the Voice of America and the British Broadcasting Corporation, but they have their freedom. They are working with their own channels. It is important to work freely even though we have government supported media."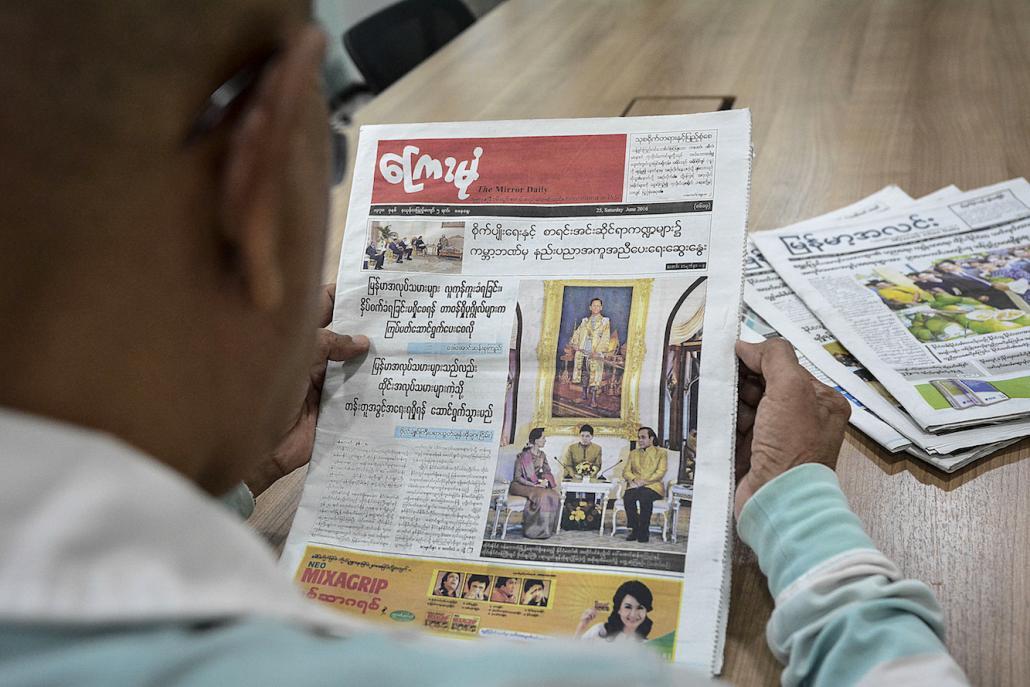 Expectations were also heightened by the composition of the NLD cabinet, with a well-respected editor and author, Dr Pe Myint, appointed minister for information. Prior to serving as minister, he was deputy chairman of the Press Council (Interim).
Three months after the government took office, it's worth considering how much of this promised change the NLD has delivered.
Frontier's observation: there has been a change at the state-owned media – a change of faces. In newspapers and on TV, the images of former president U Thein Sein and his cabinet have been replaced by those of The Lady and her supporters. That's about it.
But those inside state newspapers say that, if anything, their limited editorial freedoms have been further curtailed.
U Khin Maung Aye, chief editor of the Global New Light of Myanmar, said the new government was particularly sensitive about illegal migration and the peace process. Articles related to these topics are closely examined by the government before publication.
"The former government didn't care much about the views of outside countries. But Daw Aung San Suu Kyi cares more about international opinion. That's why that I think our English-language newspaper is facing a tougher situation," he said.
Each night, Khin Maung Aye has to call Pe Myint to discuss the paper's contents. The minister always reads the front page and opinion page closely, he said.
Under the previous government, the general manager and managing director of the News and Periodicals Enterprise managed the paper's contents.
Asked about the difference between the current and former governments, Khin Maung Aye replied: "A censor is still a censor. It's just more polite at the moment."
But then he added: "On the other hand, phoning to the minister to discuss the paper's content is better than simply following the order of military officers."
But the suggestion of increased government interference was rejected by U Tint Swe, the permanent secretary of Ministry of Information. He insisted the new government had given editors at the state media more editorial freedom.
According to Tint Swe, the future of state newspapers is unclear. The government intends to change the state broadcaster, Myanma Radio and Television, into a public service outlet, but has no specific plan for the state-controlled papers, including Global New Light of Myanmar, Kyemon and another Myanmar-language daily, Myanma Alin.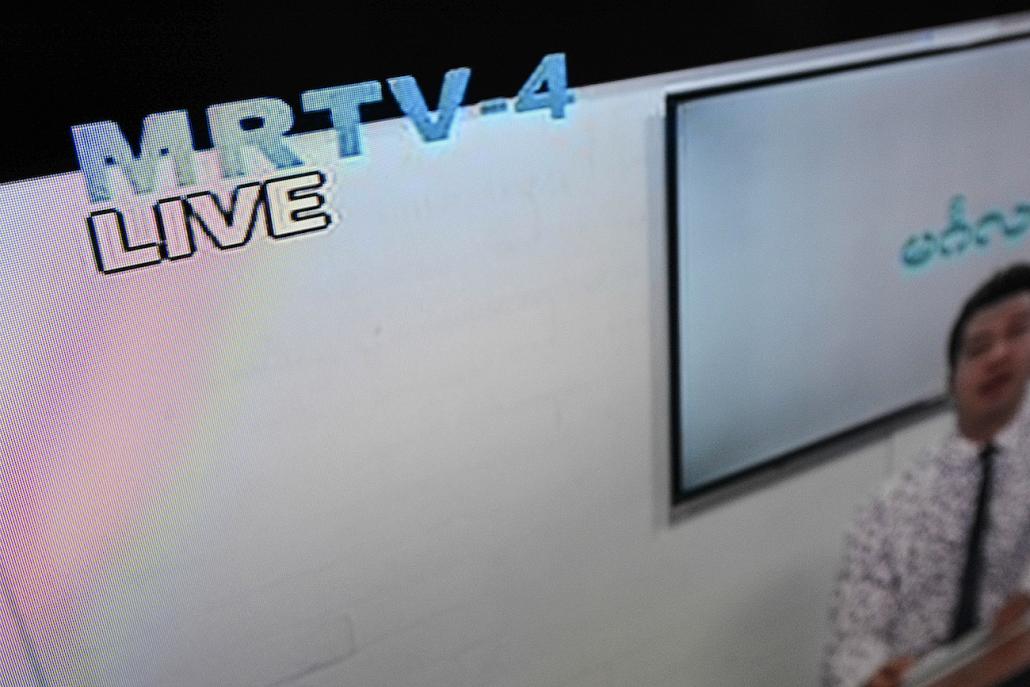 "We have a policy of publishing [articles] about the people-centred activities of the government and the people's voices in our newspapers," he said.
At a recent media development seminar in Yangon, Pe Myint indicated that state-owned newspapers were not going to disappear any time soon. The Global New Light of Myanmar quoted him as saying that state media would be "a channel of communication between the people and the government", and would provide room "for public voices and the expression of dissenting views on government's policies".
On the latter point – space for "dissenting views" – observers say there has been no discernible progress. While the state outlets present information about the government's activities, there is little actual detail and no analysis. There's definitely no criticism.
Journalism trainer Ko Phyo Wai Lin said he saw "no change at all" in the state media under Aung San Suu Kyi.
"During the term of the military government and U Thein Sein government, the state-owned media distributed propaganda. Now, they are doing it for the NLD government. The theme is the same," he said.
Press council secretary U Thiha Saw said state newspapers were a violation of the NLD's principles as a party of democracy.
"There is no place for government mouthpiece newspapers in a democratic culture," he said.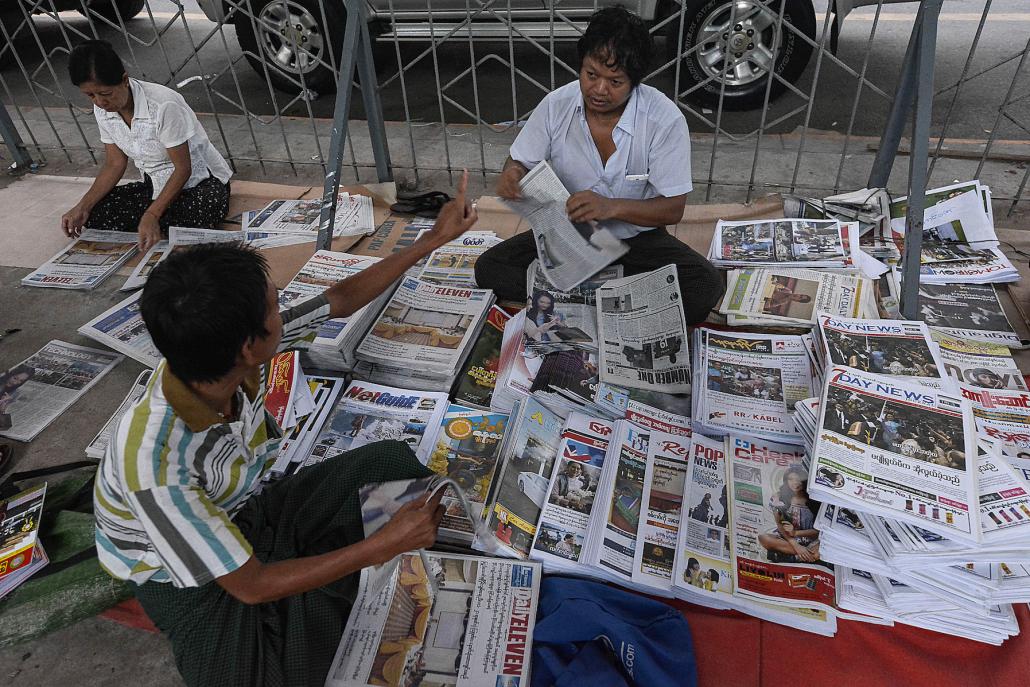 If a newspaper operates by government budget, it can't be truly independent. He suggested the state papers instead be transformed into public companies.
It is unclear why the NLD feels state media, particularly print, is necessary. The previous government, particularly ex-minister for information U Ye Htut, put forward some reasonable arguments. Chief among these is that most of the private newspapers lack the market reach of the state-controlled dailies. Closing the latter may, in some more remote or rural areas, leave readers without access to a daily print publication. Additionally, raising prices could mean that some people simply cannot afford to read a newspaper at all.
But then there's the political usefulness of propaganda. One senior official from a state outlet, who asked not to be named, speculated that the NLD viewed state media as a weapon in its struggles with the military, which also runs its own TV station and daily newspaper.
"The government is in its infancy, so they might think they need to make use of propaganda," he said. "Because the military side is still involved in politics the government might think [they need state media] or they will face a lot of difficulties."
One recent event suggests that the government is intent on using state media for political purposes. On June 25, Pe Myint met seasoned songwriters at MRTV and urged them to compose songs that would reflect Myanmar's democratic reforms. He offered to broadcast any songs produced in line with this theme on state media.
"This is just like what the former governments did. It's improper, I think," said Phyo Wai Lin, the journalism trainer.
Thiha Saw added, "The new government should build the foundations for democratic culture. We can wait but they need to be on the right track. They should think whether it's right for whoever forms government to use taxpayers' money to spread propaganda."
But there's one more point to be made in this debate. Many people still love to see images of Aung San Suu Kyi in newspapers and on TV. On that front, state media is delivering.
This was evident during a recent debate on social media about MRTV broadcasting a news item showing Aung San Suu Kyi providing cake to her staff at the State Counsellor's Office to mark her birthday. Some social media users argued that it was an impropriate use of state-owned media, but others said it was exactly what they wanted to see.
"I'm very glad to see Amay Suu (Mother Suu) on TV," said Ko Pyae Phyo, 35, from Yangon's South Dagon Township. "I've waited a long time to see her like this."
Top photo: Outside the Global New Light of Myanmar's offices in Yangon's Bahan Township. (Teza Hlaing / Frontier)