An annual report paints a grim picture of the plight of millions of workers in Myanmar and throughout the Asia-Pacific region forced to toil against their will as victims of modern-day slavery.
By OLIVER SLOW | FRONTIER
More than half a million people in Myanmar work under slave-like conditions, said the annual Global Slavery Index released last week by the Walk Free Foundation, a rights group based in Perth, Australia.
A report accompanying the 2016 index, released on May 31, found that 0.96 percent of Myanmar's population of nearly 54 million endured some form of slavery, the sixth highest per capita in the Asia-Pacific region, and the second highest in Southeast Asia, after Cambodia.
The foundation says more than 45 million people throughout the world were held in some form of slavery, including those held in debt bondage on fishing boats, kept against their will as domestic servants or trapped in brothels by threats of violence.
The slave trade in Southeast Asia has attracted considerable attention since last year, with many reports highlighting the abuse suffered by Myanmar and other nationalities working on fishing boats operating in Indonesian waters.
An investigation by the Associated Press into the Thai fishing industry in 2015 exposed the plight of more than 2,000 trafficked fishing boat workers left stranded on isolated Indonesian islands. The vast majority of them were from Myanmar.
Following the investigation, for which AP was awarded a Pulitzer Prize for Public Service in April, all of the victims were either repatriated or were in the process of being sent home, the Walk Free report said.
Investigations also resulted in the Indonesian government revoking the licences of four business groups, 18 companies and 388 vessels, as well as the introduction of legislation in the United States Congress for greater transparency from seafood suppliers.
Vulnerable groups
"All countries within the Asia-Pacific exhibit some pre-conditions to modern slavery," the report said.
Among the most vulnerable in Myanmar were members of minorities, notably the community in Rakhine State that identifies as Rohingya Muslims.
After communal violence erupted in Rakhine in 2012, tens of thousands of people, most of them Muslims, were confined to camps with little access to education, healthcare and livelihoods.
In March 2015, the U Thein Sein government revoked the temporary citizenship documents known as white cards, mainly held by stateless Rohingya, in a move that left them disenfranchised.
This had left them more vulnerable to the slave trade, the report said.
"The Rohingya people… continue to face systemic persecution and denial of rights. Many lost their homes, farms and the ability to work, creating a dire choice between residing in shanty towns on the outskirts of Rakhine [sic] or paying smugglers to transport them abroad," it said.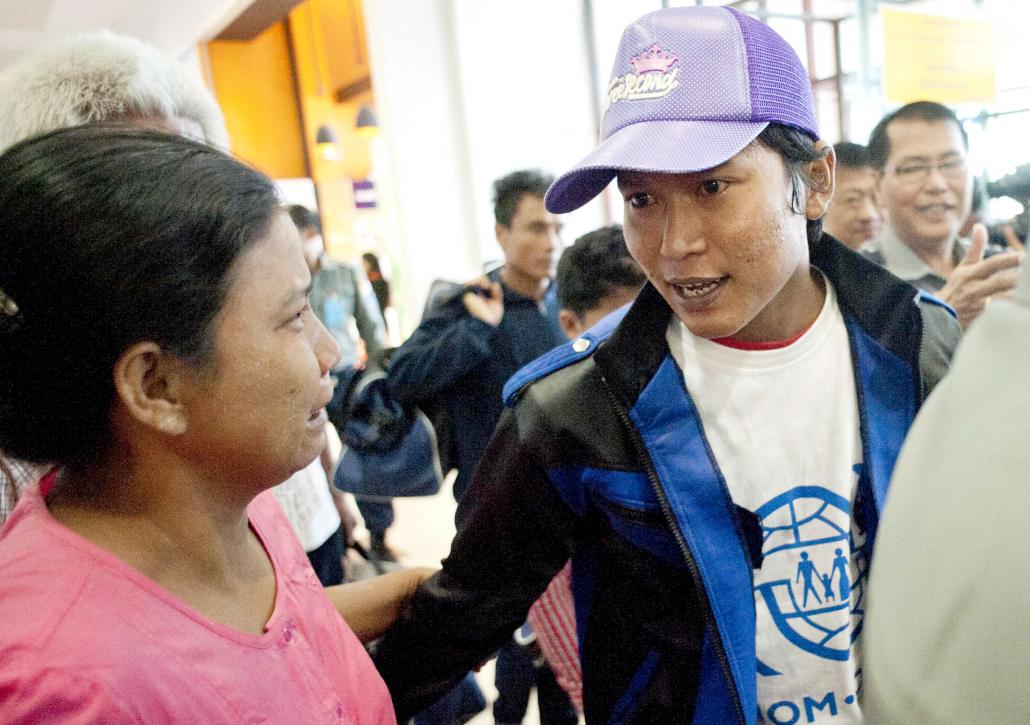 Child soldiers
The report also referred to the recruitment of child soldiers in Myanmar, a practice that remains an issue despite action by the government since reforms began in 2011. The Walk Free report said that the high youth unemployment rate in Myanmar made it easier for the Tatmadaw to recruit children.
"According to Child Soldiers International, unaccompanied children searching for work were recruited at railway stations, bus terminals and markets and outside temples, and deceptively offered roles as drivers," the report said.
Mr Aaron Greenberg, UNICEF's child protection chief, told Frontier that although high unemployment was a challenge, it was "by no means an excuse for recruitment and use of children as soldiers".
"Armed forces and armed groups have an obligation to stop the recruitment and use of children, even if they drop out from school in search of an income for them and their families," he said.
"However despite these challenges, the past three years have demonstrated that it is possible to reduce recruitment and use of children when specific actions are taken in close collaboration with the UN," he said, adding that the practice has gradually declined since the government and UNICEF signed a joint action plan to end the use and recruitment of children in June 2012.
Greenberg added that, as well as the Tatmadaw, seven non-state armed groups were listed for using and recruiting children, including the Kachin Independence Army, Democratic Karen Benevolent Army, Shan State Army South and the United Wa State Army.
He urged the government to introduce laws ensuring that the use and recruitment of children in armed forces is a crime, as well as to include commitments on children and armed conflict in the peace process.
The report found that of the estimated 45.8 million people trapped in modern slavery, more than 30 million – or about two-thirds – are in the Asia-Pacific.
Figures from the International Organization for Migration show that of the 1,644 victims of human trafficking it helped in the Asia-Pacific, 82.9 percent were male, and most were involved in the fisheries industry. The average age of human trafficking victims in the region was 30.7 years.
In the category for government response, Myanmar was ranked CCC, along with Pakistan, Cambodia, China and Japan. In the Asia-Pacific, Australia was ranked highest with a BBB rating, and North Korea the lowest, the only country in category D. Afghanistan was classified as "No Rank."
Mr Andrew Forrest, chairman and founder of Walk Free Foundation, said eradicating slavery was a moral, political, logical and economical decision for governments.
"I believe in the critical role of leaders in government, business and civil society. Through our responsible use of power, strength of conviction, determination and collective will, we all can lead the world to end slavery," he said.
Top photo: In this photograph taken on May 28, 2015, three Rohingya migrant women from Myanmar at a confinement camp at Bayeun district in Indonesia's Aceh Province. (Chaideer Mahyuddin / AFP)