Singer Khin Maung Htoo is campaigning for the return of valuable properties in Yangon that were taken by the socialist government from his adoptive father – including the United Nations headquarters beside Kandawgyi Lake.
By GABRIELLE PALUCH & KYAW LIN HTOON | FRONTIER
IN THE 1950s, U Soe Kha began amassing his fortune building airfields and army bases for the government.
Originally from Meiktila in Mandalay Region, he later settled in Yangon with his family and began investing in real estate.
By the mid-1970s, four homes for his large family in prime locations around Yangon. He also bought some industrial land and 16 acres of forest near Taunggyi in southern Shan State, where he built what was then the country's largest sawmill.
In June 1976, the socialist government sent a notice to Soe Kha informing him that he was being prosecuted under the 1968 Authorisation for the Construction of a Socialist Economic System Law. Soe Kha, who was also known as U Shalfi, was then detained for several months.
It wasn't the first time he'd been targeted by the socialist government; like many wealthy people, he had been detained during a nationalisation campaign in 1963.
Then he had managed to hold onto his assets. The second time he wouldn't be so lucky; after a three-year trial, Special Court 3 decided on May 3, 1979 to confiscate four of Soe Kha's properties and gave his family two weeks to vacate them.
Soe Kha's widow, Daw Than Myint, 89, gazed out the window of her apartment, her eyes welled up as she recalled these events to Frontier last week.
The seizures ruined the family financially; afterwards, Than Myint had even been unable to afford new clothes, she said.
Along with the properties, the government took a fleet of Hino buses that Soe Kha had bought from the government at auction.
"He planned to use them to set up a bus line to meet the transport needs of Yangon," she said. "Although the auction was official and the buses were legally purchased from the government, they took everything."
Prime real estate
The government found a range of uses for Soe Kha's properties.
His former primary residence in Yangon, a house at 462 Ahlone Road that he bought for K350,000, would eventually become home to Vice Senior General Maung Aye, Senior General Than Shwe's deputy in the military regime.
Soe Kha's sons, meanwhile, lived at almost neighbouring properties in Bahan Township, just south of Shwegonedaing Road. Today they contain the fortress-like home of the national police chief, which looms over a sizable stretch of Komin Kochin Lane, and the nearby Bahan Township Court.
In Hlaing Township, a piece of industrial land now belongs to the military conglomerate Myanmar Economic Holdings Limited.
And finally, for K320,000, Soe Kha had bought an idyllic, 1.172-acre compound at 6 Natmauk Road that had a small, single-storey house facing the northern shore of Kandawgyi Lake.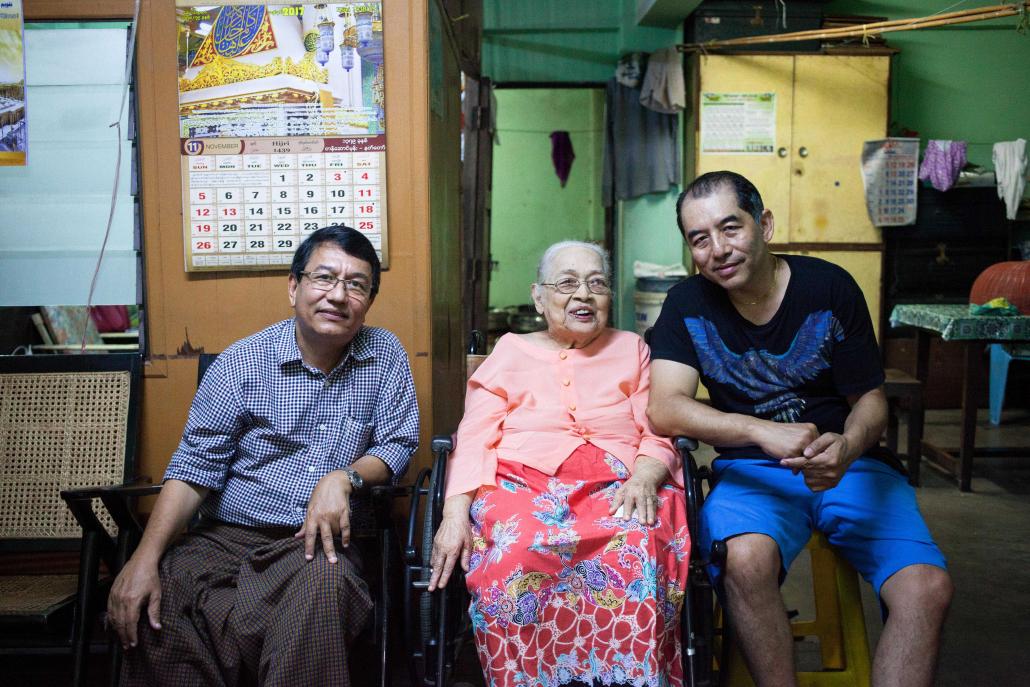 Soe Kha had planned for his wife, Daw Than Myint, to live out her days there, where she could tend to the surrounding lush tropical garden. The compound was also large enough to accommodate parking for the 21 Hino buses Soe Kha had acquired.
Today, the property serves as the country headquarters for the United Nations. Initially it was occupied by the police and then the housing board. But in 1987 the government agreed to lease it to the UN for a peppercorn rent of roughly US$450 a year, a UN spokesperson confirmed to Frontier.
Seven office buildings were eventually put up where Soe Kha had planned for Than Myint to have her garden.
Soe Kha lamented the loss until his death in 1994. "He would go to visit the properties sometimes," said Khin Maung Htoo, a famous vocalist who is Than Myint's adopted son. "He assured us that one day in a more favourable moment, we would be able to get our properties back."
It is unclear why Soe Kha fell foul of the Ne Win regime. Khin Maung Htoo and Mr Andrew Soe, a grandson of Than Myint who has lived in the United States since 1978, said they believed it related to a personal dispute between Soe Kha and Ne Win over a woman.
But others told Frontier that Soe Kha may simply have grown too wealthy.
U Thein Than Oo, a well-known lawyer from Mandalay, met Soe Kha in prison. He said that while most nationalisation took place in 1963, the government continued to seize properties in the decades afterward.
"The socialist government labelled such rich men as notorious persons, even though they weren't," Thein Than Oo said.
New hope
Now, almost 40 years later, Khin Maung Htoo wants to fulfil Soe Kha's dream of having the properties returned.
Khin Maung Htoo rose to prominence in the 1980s with hits such as "Chwe Manay Neh" and "Min Lan Min Shauk" and was a long-time friend of one of Soe Kha and Than Myint's sons. In 2010, Than Myint formally adopted Khin Maung Htoo and gave him power of attorney over her affairs.
His quest began in 2011, following the election of President U Thein Sein. "My mother sent numerous letters," Khin Maung Htoo said, "but it wasn't until the Aung San Suu Kyi government assumed control of the President's Office that we heard a response."
Khin Maung Htoo has presented copies of the original deeds, scoured the archives for the original announcement of the seizures, and even presented a letter of support from the son of U Razak, a member of the pre-independence cabinet who was gunned down together with Bogyoke Aung San on July 19, 1947.
Earlier this year, Khin Maung Htoo received a reply from the President's Office saying they would first consider his claim to the UN compound.
If successful, the family will gain ownership of several thousand square feet of office space that presently houses six agencies, including the office of the most senior UN official in the country, the resident coordinator.
Khin Maung Htoo expects the Yangon Region government may rule on the case on next month, as all of the documents related to the case have been prepared for submission to the Committee for Re-scrutinising Confiscated Farmlands and Other Lands.
If he regains control of the Natmauk Road property, the UN may soon be looking for a new country headquarters.
"I do not yet know what I will do with the building once we get it back," Khin Maung Htoo said, when asked whether he will raise the rent on the UN or evict it completely.
He's hopeful the committee will rule in his favour. "Now that we have a democratic government, shouldn't we be able to get them back?" he said. "My mother is very old now, 89, and I want her to live to be able to see the properties returned."
Despite the decades of struggle – including the premature deaths of her three biological sons – Than Myint still manages to maintain a cheerful disposition.
The smell of thanakha on her cheeks fills the drawing room of the apartment that Khin Maung Htoo provides for her in Tarmwe Township.
She's not bitter at the people who suddenly took her family's fortune; rather, she blames the "bad system" introduced by General Ne Win. 
But she is determined to get her properties back. Than Myint said she wants them so she can afford to make donations and earn merit before she passes away. "I also want to leave something for my future generations."
TOP PHOTO: Khin Maung Htoo sits in his office in Tarmwe Township, his desk covered in documents supporting his family's claim to four valuable Yangon properties. (Theint Mon Soe aka J | Frontier)