The recent rape and murder of a 26-year-old women in a Yangon taxi has shocked the commercial capital and raised fears over women's safety after dark. 
By HTET HTET NAING & SU MYAT MON | FRONTIER
ON A RECENT February evening, Ma Htet Htet was walking home from work through Yangon's downtown area. As she made her way along Merchant Street, she noticed that a group of five men were following closely behind her.
Eager to push away the anxiety that had overcome her, she hoped that it was coincidence that the men were following the same route. But then one of the men lunged at her, trying to steal the bag that she was carrying. Htet Htet fought back, kicking the man firmly in the groin; the force of the kick was strong enough to knock him backwards and scare off the rest of the group, who scuttled off in the direction of west downtown.
Immediately after the incident, Htet Htet found some police officers who were patrolling nearby and they escorted her home safely. But the experience scarred Htet Htet and she is now too scared to walk around the streets of Yangon after dark.
Safety in Yangon has been an increasingly discussed issue in recent months. Many Yangonites – men and women – report regular cases of harassment, both verbal and physical, when travelling around the city by public transport. Sexual assault of women is rife on the city's buses and because of this many women who can afford to do so choose to travel by taxi, especially at night.
But a recent high-profile incident, in which a 26-year-old woman was raped and murdered, allegedly by a Yangon taxi driver, has raised concerns for many women who travel by taxi.  
On the night of January 20, Ma Shwe Yi Win reportedly took a taxi from Hledan Centre in Kamaryut Township to her home in Dagon Township, near Yangon's downtown. According to a police report, Shwe Yi Win and the taxi driver got into an argument about the fare, and the woman was stabbed in the throat with a screwdriver.
The taxi driver then allegedly drove to a sports field in North Dagon and raped her before taking her possessions, which included a necklace, earrings and a phone. Three days later, police arrested U Myo Zaw Oo at a mobile phone shop in Mingalar Taung Nyunt Township, where he had gone to install new software on the stolen phone. Myo Zaw Oo admitted to the crime, the statement said.
The incident has shocked many and created the perception that even travelling by taxi is unsafe.
"We used to be worried about minor crimes like pick-pocketing, but now people are worried about crimes such as rapes and murders at night, even in taxis," said Ma Moe Thu Ya, a Yangon resident. "Now, going home late at night is very scary for us women."
The incident prompted a group of women to protest at Myo Zaw Oo's trial in North Dagon Township last month and call for the introduction of a mandatory death sentence for those convicted of rape.
On February 15, the Ministry of Home Affairs published a post on its Facebook page, showing that the reported number of rape cases nationwide rose to 1,405 in 2017, up from 1,100 a year earlier. The figures included 897 reported rapes of minors – up from 671 in 2016 – and 508 against adults (an increase from 429). However, with many incidents going unreported, the real figure is likely to be much higher.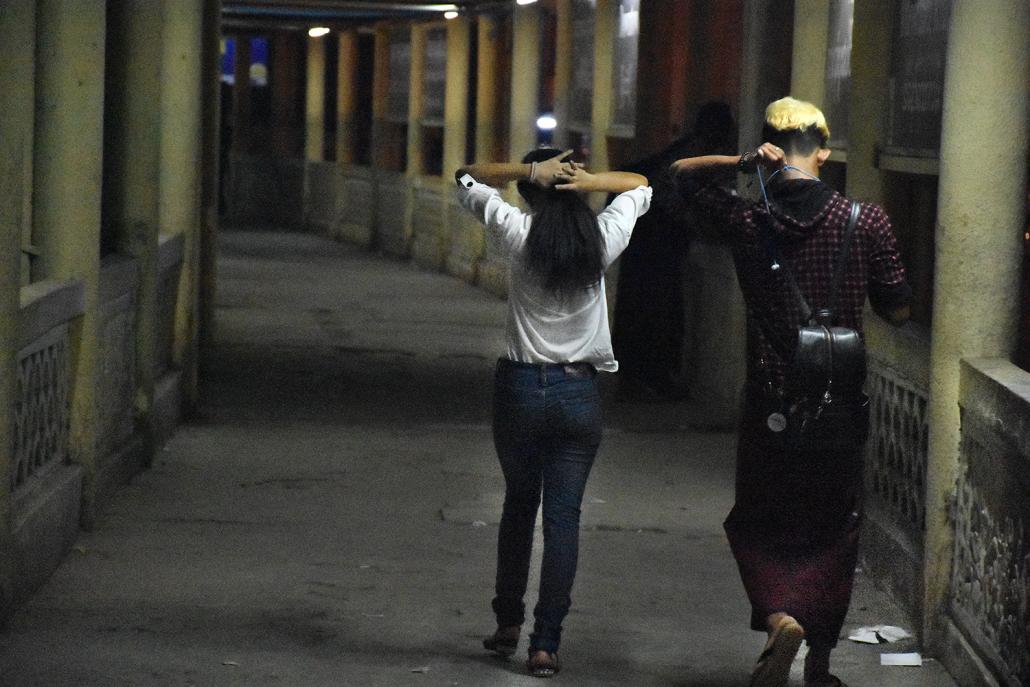 But what got people's attention was the tone of the post, which critics argued was a classic case of "victim blaming" rape victims. The five-page document said that one of the main causes of rape was women's behaviour and dress. The post urged family members, teachers and the media to "enforce [modest] dress of the girls".
On February 20, an opinion piece was published in the state-run Global New Light of Myanmar, discussing the issue of rape cases in the country. The article, written by a former diplomat called U Maung Thaung Win, said that families should take responsibility for their daughters and never leave them alone.
"The usual criminals are prowling nearby," the article said. "All the stranger males are never to be trusted. The parents must never let their daughters to be with any male strangers."
The opinion piece also said that clothing "must be decent and proper, not showy", adding that "stylish outfits" should not be worn as the girl could be mistaken for "call girls or hookers".
Dr Thet Su Htwe, founder of Strong Flowers Sexuality Education, told Frontier that such attitudes were present not only in Myanmar but also many other countries.
"This victim blaming mindset is embedded in our culture and norms, and shows how we have to work harder than ever in order to change it," she said.
Fighting back
Ma Suu May, who runs the Myanmar Women's Self Defense Center in Lanmadaw Township, said that in the wake of Ma Shwe Yi Win's death the number of women buying deterrent devices has increased.
"I feel very sorry that women have to face this," said Suu May. 
The MWSDC celebrated its second anniversary on February 25. To date about 400 women have attended its classes, said Ma Ei Nge, one of its trainers, and there are plans to open new centres in northern Yangon and Mandalay.
"Self defence is not just about fighting with people," said Ei Nge, who added that participants also learn how to deal with other dangerous situations, including car crashes and dog attacks.
The centre attracted some negative comments when it first opened, with critics saying the classes were unnecessary. But Ei Nge said attitudes had changed and it now receives mostly positive feedback. The classes gave many of the participants greater confidence, she added.
Ma Sandar Hlaing, who lives in Yangon's Insein Township, started attending the course in February. Having read about a number of high profile rape cases around the country, she said she started the courses to learn how to protect herself, and to share her knowledge with friends.
"What is special is that after the training, I gained so much self confidence from it," Sandar Hlaing told Frontier with a laugh. "I'm no longer afraid like I was in the past, and I think everyone should learn self defence in order to protect themselves."
Ma May Thin Kyaing, another trainer at the centre, said anyone can unexpectedly find themselves in a dangerous situation in Yangon.
"You should be cautious every place you go," she said. "If you have to go alone, please inform people from home where you are going and who you will meet with. Even if you face danger, don't be afraid and think about how to protect yourself."
In the workplace
Gender discrimination also remains an issue in the workplace. Myanmar acceded to the UN Convention on All Forms of Discrimination against Women (CEDAW) in July 1997, article 11 of which requires states to eliminate discrimination against women in employment.
In September 2017, the Myanmar Centre for Responsible Business published a report that said there is "no overarching or specific law protecting women's rights" and that the 2008 Constitution includes discriminatory provisions with regards to women.
Article 350 of the Constitution guarantees that women are entitled to "the same rights and salaries as that received by men in respect of similar work", but the MCRB report states that the use of "similar work" should be strengthened to the principle of "equal pay for equal work of equal value".
Article 352 states that there should be no discrimination on the basis of gender "in appointing or assigning duties to civil service personnel". However, it adds that "nothing in this section shall prevent appointment of men to the positions that are suitable for men only".
With regards to laws affecting equality in the workplace, the MCRB report, said that while the 2012 Minimum Wage Law provides that men and women should receive the minimum wage without discrimination, that is not necessarily the case in practice.
"Although the law guarantees equality between men and women, enforcement is weak and women are under-represented in most traditionally male occupations," the report said.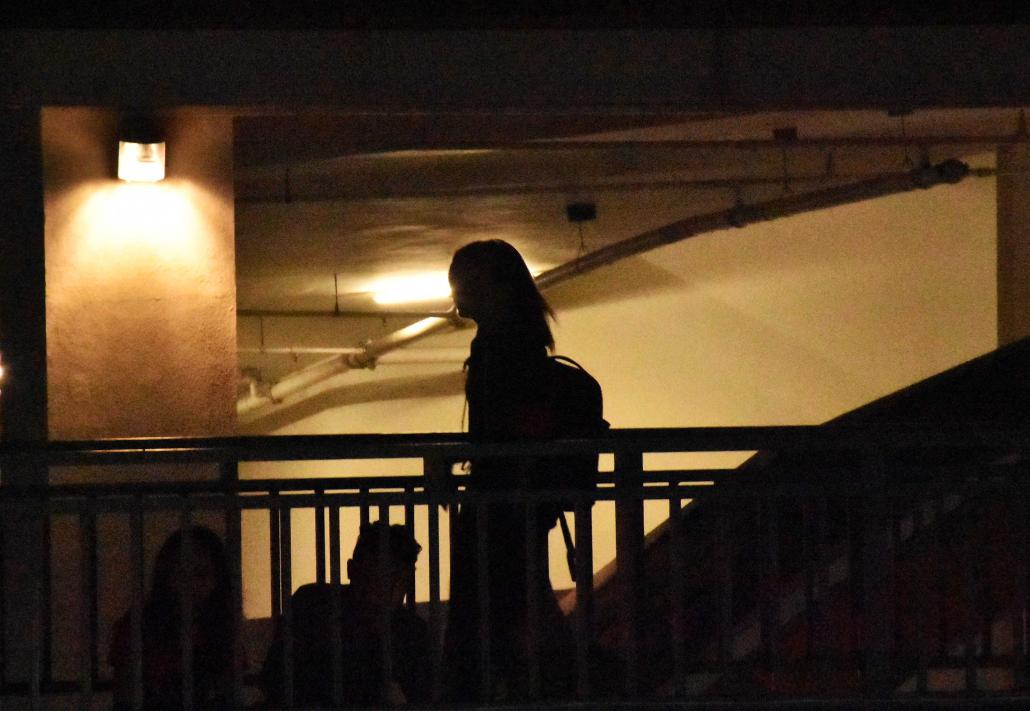 Ma Hnin Yut Wee, research and outreach manager for MCRB, said that some of the recommendations for companies included companies implementing policies to address and effectively respond to sexual violence and harassment in the workplace, putting in place gender-sensitive security measures such as female security guards or no body-checks by male security guards in companies with female employees, and offering self-defence training to women workers. 
The International Labour Organization has recently conducted a gender equality assessment of the garment industry, as part of its Garment Industry project.
"The majority of the employees in the garment sector in Myanmar are women, whereas the majority of the factory owners and managers are men," Ms Catherine Vaillancourt-Laflamme, chief technical advisor for ILO in Myanmar told Frontier. "This establishes a power relationship between men and women based on biological sex differences, with potential impacts on decision-making in the workplace, control of labour conditions, and control of the labour force.
The gender assessment focuses on three topics, namely: barriers to gender equality, career advancement and skills training for women working in the factories; experiences of harassment and abuse while at work and travelling to and from work; and the sexual and reproductive health of female employees.
Vaillancourt-Laflamme said that while the first two topics receive some attention from industry stakeholders, the issue of SRH is less well understood.
"Generally speaking, women who have limited knowledge of sexual and reproductive health issues and/or limited access to sexual and reproductive health services are less likely to be able to make informed decisions about their personal and family life, career, and the relationship between the three," she said, adding that women who are not aware of SRH tend to be disadvantaged in their careers because biological processes such as menstruation, pregnancy, childbirth and breastfeeding do not affect men directly.
"Sexual and reproductive health issues should be of great interest to employers and their sectoral representatives as this may affect women's performance at work. However, cultural norms regarding sexual behaviour and attitudes hamper women to openly discuss these issues, which then become a taboo not easy to shatter," she said.
The assessment also found that cases of sexual harassment, verbal abuse and physical abuse occurred in the factories they surveyed, and affected women travelling to and from work. Of the three, sexual harassment was the most common.
"When it occurs, sexual harassment is most often perpetrated by a female co-worker within normal work hours," said Vaillancourt-Laflamme.
She said this suggested that there were misgivings about what constitutes sexual harassment among employees and employers.
"The female employees in particular often tend to confuse consensual workplace 'teasing' between friends, with what constitutes 'sexual harassment'," said Vaillancourt-Laflamme. "This makes it difficult to make authoritative conclusions about the rates of sexual harassment in the workplaces. The factories nevertheless lack formal policies and processes to help respond to cases of workplace harassment and abuses when they occur."
Thet Su Htwe from Strong Flowers agreed that women in Myanmar often don't view sexual harassment as such, especially in the workplace.
"In the workplace, many of the staff don't speak up about it because they think it is normal," she said. "Many people are also very embarrassed or shameful if it happens because it is regarded as a stigma."
Staying safe
The unfortunate reality is that it's important to always be conscious of our safety and surroundings – not just if you're a woman travelling alone at night.
The list is by no means exhaustive, but these are some measures that can be taken to better protect yourself from trouble.
Be aware of your surroundings: Especially at night, the more you pay attention to your surroundings the less likely you are to be caught by surprise. Avoid listening to earphones and try not to get distracted – that text message can wait until you are safely at home. Always keep your phone at hand in case you need to make an urgent call.
If you see something suspicious, report it: If something looks out of place, report it to the authorities (Myanmar's emergency number is 199 but it's often better to go to a police station in person). Don't worry if you think you will be seen to be overreacting – it's better to be safe than sorry.
The right to fight: Unfortunately, it might reach the point when you have to use force to protect yourself. Remember that you do have the right to defend yourself. If you're going to fight back, aim for the most sensitive part of the body: this could be the eyes, groin, or throat. And hit them hard. Another option would be to take a safety class. You never know when you might need to defend yourself, and these classes can be very useful in an emergency situation. There are a few options, but one Frontier would recommend is Myanmar Women's Self Defense Center, which can be contacted on 09-7955-96885, or you can find them on Facebook.
Don't open your front door if you don't know who is on the other side: It's better to be cautious on this one. If you're not expecting the person then make them wait outside until you can verify exactly who they are. Once a person is inside your home then it can be very difficult to get rid of them, especially if you're alone.
Be online smart: Some people share their whole lives on social media, from where they had dinner to where they went with friends. Be careful how much you share. You don't know exactly who is tracking your posts. If someone knows your schedule then it could make you more vulnerable.
Post the number plate: As people in Myanmar become more concerned about taking taxis, if you are alone and have to take a taxi at night, before entering the vehicle ask the driver if you can take a photo of the number plate and send it to a friend, or friends. If the driver has no ulterior motives, then they won't have a problem with you taking the precaution. If they do, don't get in. Ride hailing apps, such as Grab, Uber and Oway Ride can also be useful as the driver is registered and tracked.
Trust your instincts: This is the most important safety advice. Our bodies are generally pretty good at telling us if something doesn't feel right. If you sense something amiss, go with your instincts. For example, if a stranger asks you to go somewhere with them, and you don't feel comfortable about it, don't go, even if they assure you nothing will happen.