The new government has made the release of political prisoners a priority but activists say they won't be satisfied until all repressive laws are changed or repealed.
By OLIVER SLOW & THI RI HAN | FRONTIER
When garment workers demonstrated in support of higher pay at Yangon's Shwe Pyi Thar Industrial Zone in February last year, brothers Ko Thu Zaw Kyi Win and Ko Naing Zaw Kyi Win offered their support.
However, their show of solidarity cost the wage rate activists time in jail.
Naing Zaw Kyi Win was arrested on February 24 at the home of a factory worker. Thu Zaw Kyi Win was arrested on March 4 while helping the strikers move their demonstration to downtown Yangon where it would have attracted more attention.
The brothers were sentenced to two years' jail under Section 505(b) of the Penal Code, a vaguely-worded law that makes it an offence to "cause fear or alarm to the public" and is often used to prosecute activists.
They were released under presidential amnesty on April 17 after serving a year of their sentences.
"It is good that this new government is releasing political prisoners," Thu Zaw Kyi Win told Frontier. "We were protesting because we wanted a change in government, so it is good to see this happening," he said.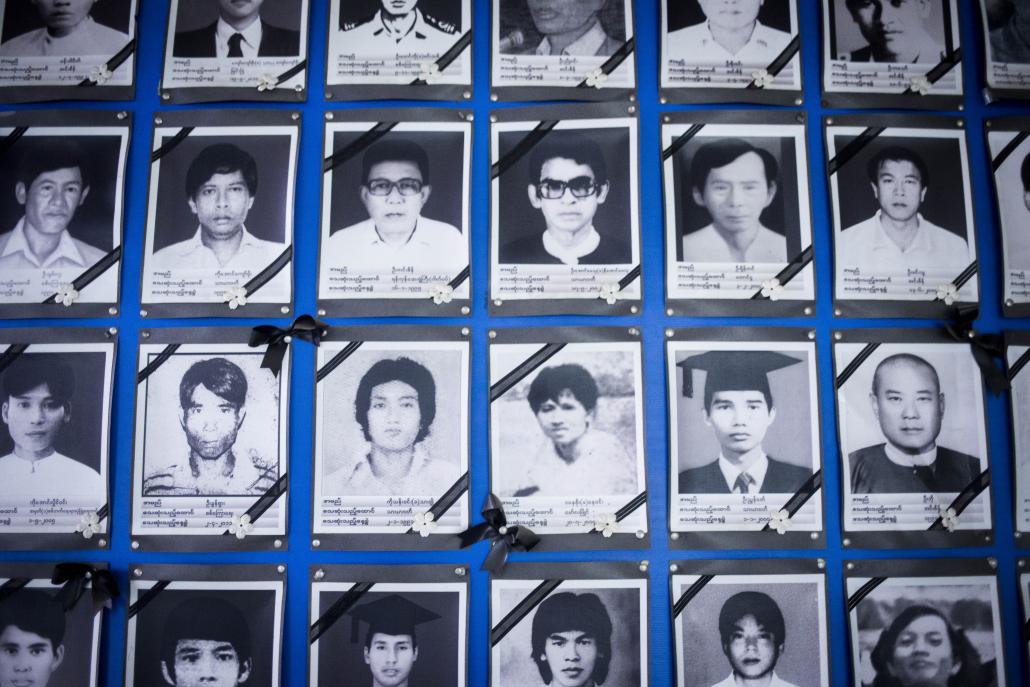 Although happy to be free, Thu Zaw Kyi Win expressed sadness that his close friend and former cellmate, poet Maung Saungkha, was not released.
Maung Saungkha was arrested last November for saying on his Facebook page that he had a tattoo of an unnamed president on his penis.
The authorities regarded the post as a slight on former president U Thein Sein and arrested Maung Saungkha under Section 66(d) of the 2013 Telecommunications Act. His trial continues.
"These laws that arrest people [for political purposes] must be changed. Laws should be there to protect the public, but many are scared of them. The new government must change them," Thu Zaw Kyi Win said.
U Bo Kyi, co-founder of Assistance Association of Political Prisoners, told Frontier on April 27 that 61 political prisoners remained in jail and more than 100 were in custody awaiting trial.
In a May 7 statement, human rights watchdog Amnesty International urged the government to free all political prisoners and to "double their efforts to ensure that no one is left behind bars for peacefully exercising their rights".
The statement highlighted the cases of Maung Saungkha, as well as Ko Nyi Nyi Win, the lay name of the monk known as U Gambira who was a leader of the protests in 2007 known as the Saffron Revolution.
On April 26, Nyi Nyi Win was convicted of immigration offences by a Mandalay court and sentenced to six months in prison. The Amnesty statement also referred to the five men detained in jail since their arrest under 505(b) in Yangon last November for printing a calendar that included information about Rohingya Muslims.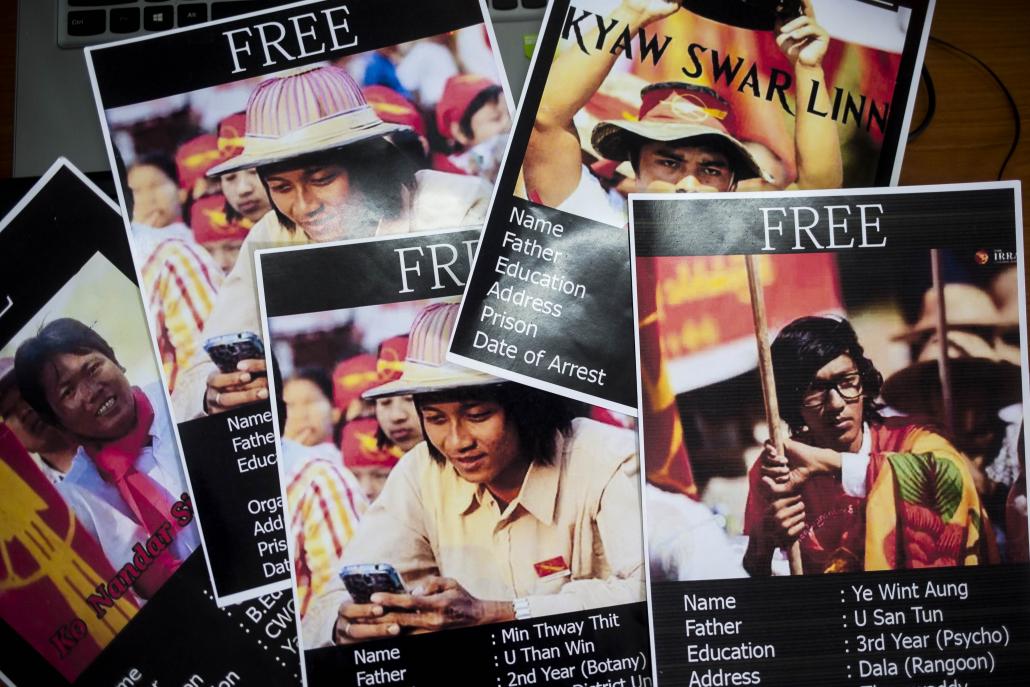 Changing the laws
The NLD, which has among its ranks in the country's parliaments about 120 MPs who have served time in jail for their beliefs, has made it clear that the release of political prisoners was a priority. Its commitment was demonstrated by the release of political prisoners before and after the traditional new year, Thingyan, and its plans to amend laws used to harass and prosecute activists.
On May 5, the NLD proposed amendments to the Peaceful Assembly and Procession Law that should result in fewer activists being jailed.
Under the changes, township police and administrators must still be informed of a protest two days in advance, but approval would no longer be required.
However, the amendments retain prison terms for breaches of the law. The maximum penalty for failing to inform the authorities in advance of a protest has been reduced from six months' imprisonment to three months for a first offence. A second offence carries a one-year prison term.
Bo Kyi called on the NLD to amend or abolish a number of laws that have been often used to charge activists. Apart from the peaceful procession law they include Section 505(b) and Section 5 of the Emergency Provisions Act.
"Without law reform, there could be a revolving door for political prisoners," said independent human rights lawyer Mr Matthew Bugher. "The NLD could pardon prisoners one day, and the police could arrest activists the next," he said.
Bugher said special attention should be paid to the peaceful procession law, which has been widely used against protesters, as well as "scores" of other repressive laws, many dating from the British colonial era.
"It's encouraging that the NLD has recognised the need for law reform; now it's time for action. With control of parliament, there is no excuse for allowing these laws to remain on the books," he said.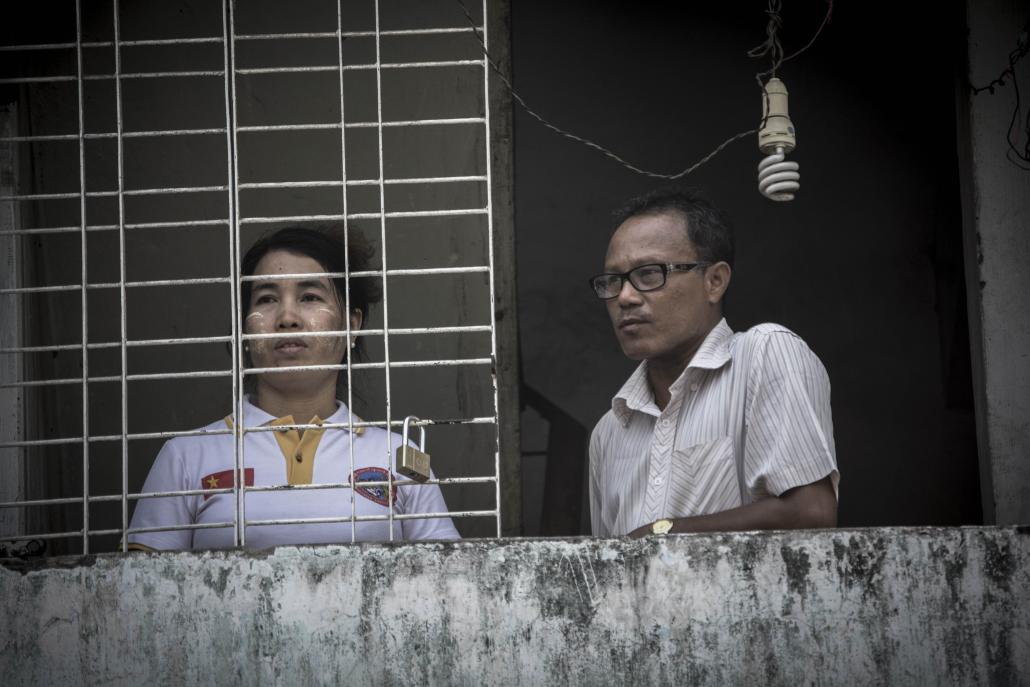 'Not afraid'
One of Myanmar's most prominent activists, Ma Su Su Nway, recently returned home after her fourth stint behind bars.
The Myanmar Farmers Union chair has been a passionate campaigner for the victims of land grabs. As someone who has been jailed for breaching the peaceful procession law, Su Su Nway said its repeal should be a priority.
"In our constitution, under Article 354, every citizen has the right to protest peacefully, but then you have this law that contradicts the constitution. How can that be?" she said.
Su Su Nway said she believes the NLD is genuine about achieving reform but is being obstructed by the military.
"The president and Daw Aung San Suu Kyi are demanding for these laws to be changed, but I think the military is using this issue to play political games," she said.
"I'm not afraid of going back to jail," Su Su Nway said. "We have more protests planned and my organisation has an objective. Until we meet that objective, we will continue to protest," she said.
Nyan Lynn Hlaing contributed to this report. Title photo: Activist Ko Naing Zaw Kyi Win, who was released from Insein Prison on April 17. (Maro Verli / Frontier)