By NAW BETTY HAN | FRONTIER
YANGON — Hundreds of people protested in downtown Yangon yesterday after a court sentenced Karen activist Naw Ohn Hla and two Karen youths to 15 days' imprisonment for organising a ceremony to mark Karen Martyrs' Day.
The event commemorates the day that Karen National Union founders Saw Ba U Gyi and Major-General Sai Kay were killed in an ambush by the Tatmadaw near Toh Kaw Koe Village in Kawkareik Township, Karen State, on August 12, 1950.
Activists had planned to mark the 69th anniversary with an event at Magway Priyatti monastery in Yangon's Insein Township on August 12.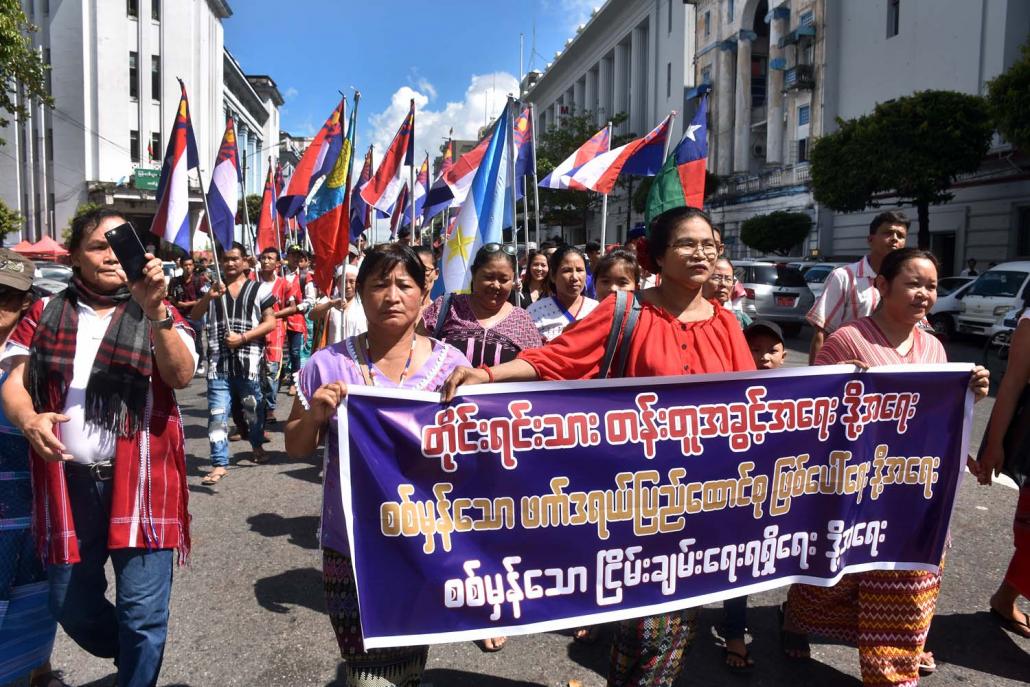 However, the Yangon Region General Administration Department wrote to them prior to the ceremony on behalf of Yangon Region Chief Minister U Phyo Min Thein prohibiting the use of the word "martyr" at the event. Defying the order, they changed the location at the last minute to City Hall and nearby Maha Bandoola Park.
Kyauktada Township police chief Police Major Myo Thet filed a complaint against Ohn Hla and two Karen youths, Saw Thein Zaw Min and Saw Albert Cho, under section 20 of the Peaceful Assembly and Peaceful Procession Law, which carries a maximum sentence of one month imprisonment and a fine of K10,000.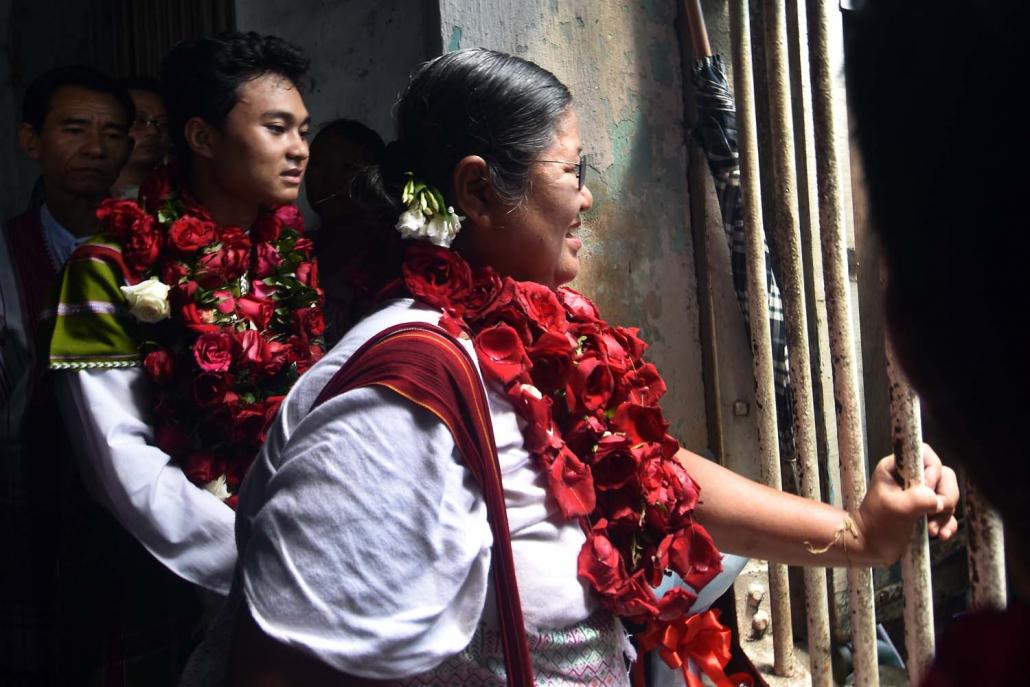 The three activists were arrested on September 9 and held until the October 2 verdict, when Kyauktada Township judge Daw Pann Sein sentenced and released them because they had already served 22 days.
Ohn Hla emerged defiant from Kyauktada Township Court thronged by supporters. "We didn't accept the court's decision that we are guilty. We will appeal the sentence and continue to fight for our Karen ethnic rights," she said.
"If the government does not care about ethnic peoples' needs and wants, they are still far from building democracy in Myanmar."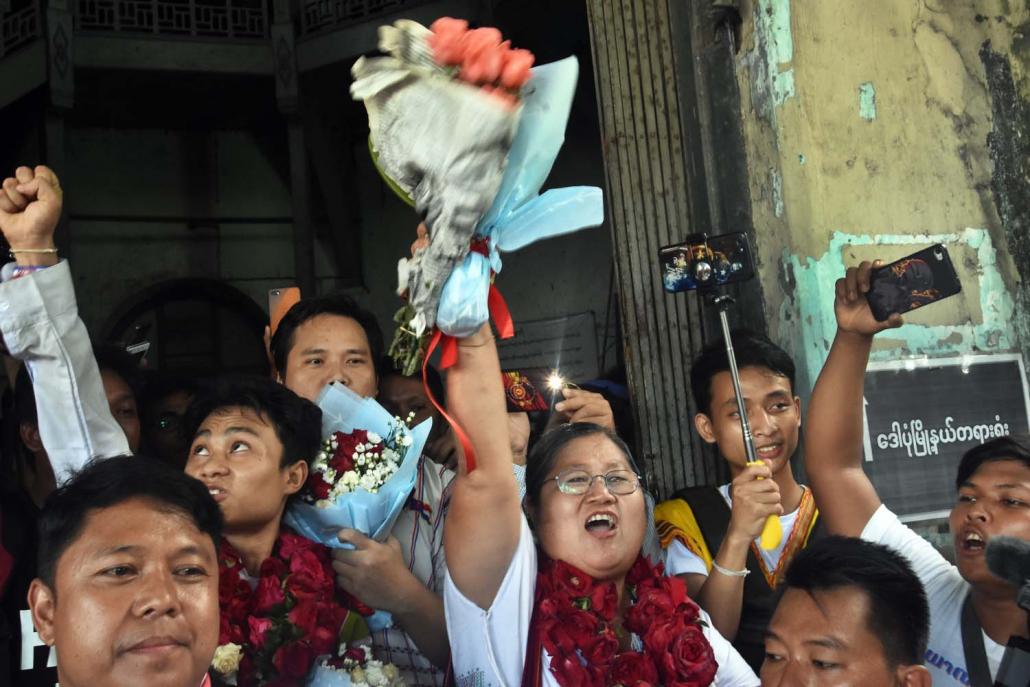 The activists' Karen supporters staged a demonstration near the court, holding Karen flags and banners that read, "Give equal rights to ethnic nationalities and stop oppression against ethnic people". The demonstration's organisers said about 1,000 people turned out in support.
Outside City Hall, protestors including Ohn Hla bowed in respect to the martyrs' and the Karen flag, and sang Karen songs, before Ohn Hla and Karen singer Saw Phoe Khwar gave speeches.
"Today, our Karen ethnic people are here together, because the court's decision is directly related to the dignity of the Karen," said Padoh Mahn Nyein Maung, a central committee member of the Karen National Union.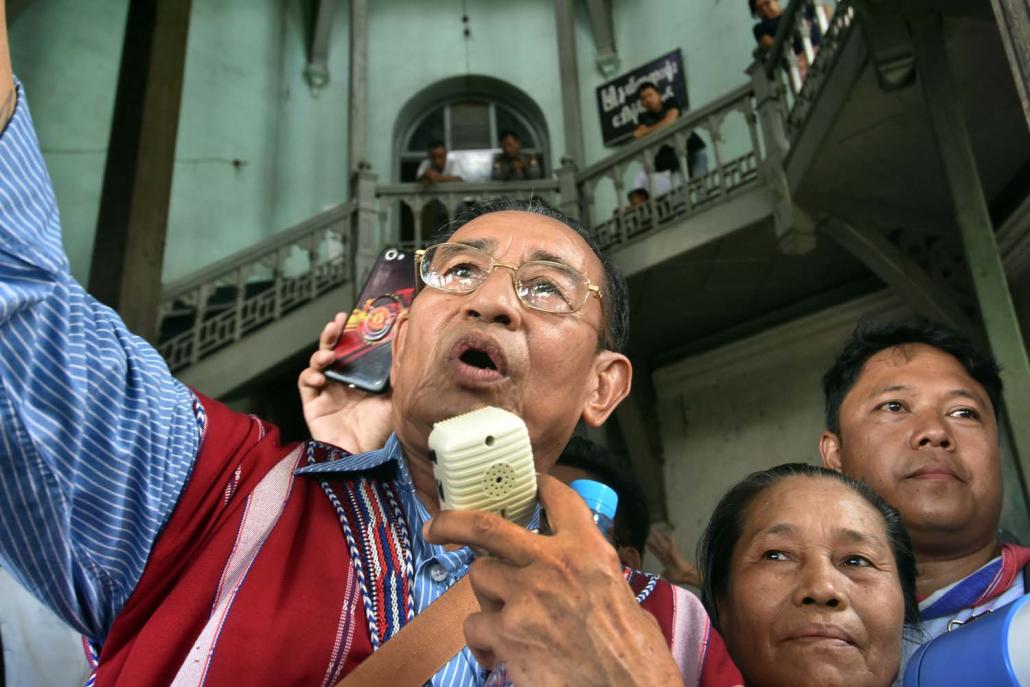 "It is very significant for all Karen people if a Karen is in trouble; it is the same as if all Karen people were in trouble. The organisers are standing for a significant historical day for the Karen, so we stand for them."
He said the issue would influence the ongoing peace process, national reconciliation, confidence-building and harmony, and could deeply hurt thefeelings of ethnic people.