By YE MON
YANGON – Several dozen mostly young activists gathered in front of Yangon's City Hall on Wednesday to mark the one-year anniversary of the arrest of Reuters journalists Ko Wa Lone and Ko Kyaw Soe Oo and to demand their release.
Wa Lone and Kyaw Soe Oo were arrested while investigating an army-led massacre in September last year of ten Rohingya men and boys in Inn Din village of northern Rakhine State, which the military has since admitted to, and have been behind bars ever since.
After a trial marked with inconsistencies, including a surprise claim from a police witness that he and other officers had been ordered by a superior to entrap Wa Lone, the Reuters journalists were sentenced in September to seven years each in prison under the Official Secrets Act for obtaining confidential papers.
The trial and their conviction has prompted a global outcry and been seen as an attack on press freedom in Myanmar. However, State Counsellor Daw Aung San Suu Kyi has publicly defended the verdict against Wa Lone and Kyaw Soe Oo, the chairman and other senior members of the Myanmar Press Council have refused to support them and consider them unpatriotic for reporting on atrocities against the Rohingya, and support among the wider public is narrow and generally overwhelmed by feelings of apathy or hostility towards them.
An indication of this was that, similar to previous demonstrations in support of Wa Lone and Kyaw Soe Oo and press freedom generally, fewer than 100 people participated in the rally on Wednesday. However, many of the dozens of Myanmar reporters covering the event showed their support, with some wearing t-shirts bearing the faces of Wa Lone and Kyaw Soe Oo.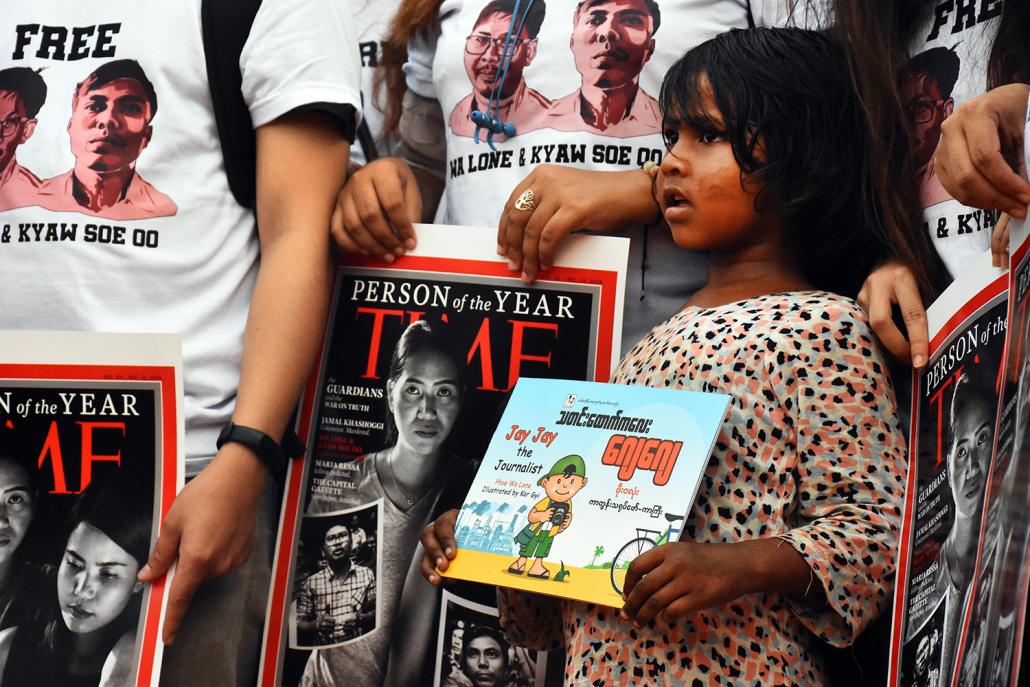 Attention was turned to the Yangon Region High Court, adjacent to City Hall, where lawyers for Wa Lone and Kyaw Soe Oo will launch an appeal against their sentence on December 24. However, there are also hopes that President U Win Myint will pardon the two journalists, which would entail their immediate release. According to the constitution, the president is able to exercise this right at any time.
Maung Saungkha, founder of Athan, an organisation advocating freedom of expression, and one of the organisers of the demonstration, told Frontier that he doesn't want the government to release Wa Lone and Kyaw Soe Oo simply because of international pressure. Instead, he wants the courts to admit that they are not guilty and were wrongly convicted.
"We want them to be released with a verdict from the court that they are not guilty. We don't just want an amnesty," he said.
However, Ma Pan Ei Mon, wife of Wa Lone, told Frontier that she had placed her hopes in a presidential pardon for her husband and Kyaw Soe Oo. She believed that a pardon may come either on Independence Day, January 4, or around the traditional new year Thingyan holiday in mid April. Both are times that mass pardons have been granted in previous years.
"I hope that they will be released on one of the special days," she said.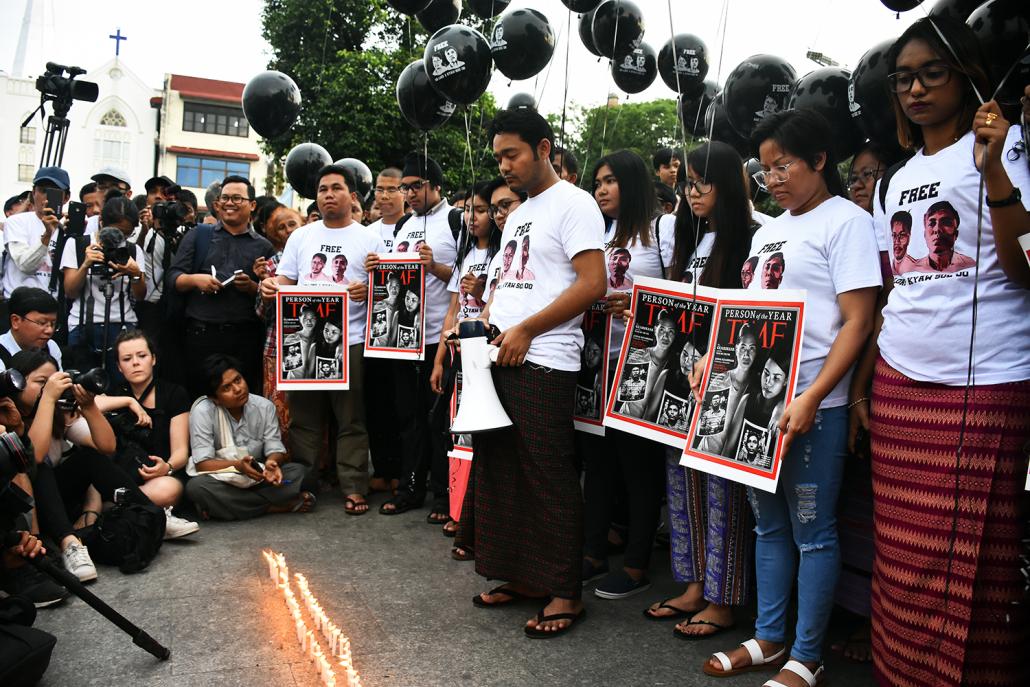 The Protection Committee for Myanmar Journalists, which also helped to organise the event, submitted an analysis of the verdict against Wa Lone and Kyaw Soe Oo to the president on November 3 in Nay Pyi Taw. Written by a team of practising lawyers, legal experts and MPs, it pointed out seven of what they considered to be glaring flaws in the verdict. This included strong indications of police entrapment, ignored by the judge.
PCMJ executive member Ko Thar Lon Zaung Htet told Frontier, "The government doesn't want [anyone] to write about the Inn Din case. So, the government asked the police to arrest them in a trap."