Some prominent activists who say they stand for human rights and democracy have propagated hatred for the Rohingya, a double-standard that international watchdog groups weren't fully aware of.
By ANDREW NACHEMSON and LUN MIN MANG | FRONTIER
Ko Zayar Lwin, 29, has become an icon in Myanmar's activist community since his arrest in April 2019 for a Thangyat performance mocking the military. Zayar Lwin and four of his colleagues in the Peacock Generation troupe, who performed the traditional form of satirical theatre during the annual Thingyan festival, were charged with defamation and undermining the military, and face increasingly lengthy jail sentences. The plight of the young satirists has attracted international attention, even as the civilian government led by their idol State Counsellor Daw Aung San Suu Kyi has remained silent.
"They should immediately drop all charges against the members of the Peacock Generation Thangyat troupe and allow them to freely express themselves," said Mr Brad Adams, director of Human Rights Watch's Asia division, in a statement shortly after their arrest.
But despite Zayar Lwin's practice of satire, he hasn't always expressed himself in a way that targets the powerful and champions the oppressed.
Two years before Zayar Lwin become a symbol of resistance, he was on the ground in Rakhine State spreading conspiracy theories about the Rohingya Muslim community as Myanmar's military carried out a campaign of violence that resulted in more than 700,000 Rohingya fleeing to neighbouring Bangladesh. The government and the military say the operation was a legitimate response to "terrorism" ­– that is, attacks by the Arakan Rohingya Salvation Army on police outposts on August 25, 2017 – but some international observers have labelled it genocide.
In multiple Facebook posts from September 2017, when the whole country was seemingly fixated on the situation in Rakhine, Zayar Lwin, using a profile named Nan Zay that is widely known to be his, blamed the Rohingya for their own plight while referring to them by the derogatory term "kalar", as well as "Bengali". The word "Bengali" is used to imply that the Rohingya are not native to Myanmar, but illegal immigrants from Bangladesh, justifying their violent expulsion from the country.
In one post, Zayar Lwin said residents of "Bengali villages" surrounded the "trapped villages" of Rakhine Buddhists and asked why the military wasn't doing more to save the Rakhine.
"Not all Bengalis from Maungdaw are terrorists, but still it is very difficult to differentiate between the terrorists and the Bengalis," he wrote, invoking a common government defence for the widespread state violence.
In another post, Zayar Lwin said the "kalar" burned down their own homes, repeating a since debunked conspiracy theory. "The situation has turned these people whom we regard as terrorists into poor things in the eyes of the world," he wrote.
After returning from Rakhine, Zayar Lwin attended a rally in Yangon in support of Aung San Suu Kyi, who was then facing global criticism over the crisis as the de facto head of government, with fellow Peacock Generation member Ko Paing Ye Thu. Paing Ye Thu also shared a statement from the Ministry of Foreign Affairs, which Aung San Suu Kyi also heads, that blamed the displacement of civilians in Rakhine on "the latest round of terrorist attacks", rather than the military. In another post, Paing Ye Thu wrote a disturbing message, which he attributed to the ultra-nationalist monk U Wirathu: "These terrorists are going to die." Frontier was unable to verify if this is indeed a quote from Wirathu.
Despite their fervent support for Aung San Suu Kyi, the pair remain locked up for their Thangyat performance, with President U Win Myint overlooking their case when he released nearly 25,000 prisoners during his annual Thingyan pardon last month.
Famous Myanmar poet U Saw Wai is facing trial for incitement for comments he made at a public rally in April 2019. Saw Wai read a poem encouraging amendments to Myanmar's 2008 Constitution that would limit the military's role in politics. Like the Peacock Generation members, his case has drawn international attention, and the poet headlined a recent Amnesty International photo essay on political prisoners.
This wasn't Saw Wai's first run-in with the law. He was reportedly fired from his government job in 1988 for participating in that year's national uprising against military rule, and later served two years in prison for penning a poem critical of the military junta.
But in 2018, Saw Wai was instead defending his long-time adversary. "Please stop blaming the military and learn the reality on the ground," he wrote in an op-ed in the Myanmar Times, asking what evidence there was that the military had killed thousands of Muslims.
Like many others at the time, Saw Wai blamed the violence on the Rohingya. "The government, while solving land confiscation cases in accordance with the law, have been attacked and murdered by Muslim extremists," he wrote.
Both Amnesty and Human Rights Watch told Frontier they were unaware of these comments, but stood by the decision to campaign on behalf of the activists. In an email, Amnesty called the statements "disturbing" but said it would continue to rally against the Myanmar government's use of "repressive laws" to violate free speech.
"Amnesty International does not agree with every statement made by these three individuals, or those of everyone it campaigns for around the world. However, the right to freedom of expression extends to commentary that may be regarded as offensive, shocking or disturbing," the organisation said.
Mr Phil Robertson, deputy director of Human Rights Watch's Asia division agreed, and said "strong international and national advocacy" for the activists should continue, despite their previous "reprehensible" statements.
Robertson added that he wasn't surprised to hear about these past comments. "The sad reality is hatred towards the Rohingya spans much of Burmese society," he said.
This sentiment is deeply embedded, even within the human rights and democracy movement. Those swept up in the frenzy of hate and fear include prominent members of the 88 Generation – a group of activists who rose to fame as student leaders during the mass protests in 1988 that were brutally crushed by the military. Activists Ma Nilar Thein and the late Ma Mee Mee visited Rakhine around the same time as Zayar Lwin, likely on the same trip. Nilar Thein was photographed travelling with what appears to be a military escort, and in another shot is seen handing food supplies to a Tatmadaw soldier.
After the trip, Nilar Thein and Mee Mee were joined by other 88 Generation members at a press conference, where one of the most prominent members of the movement, Min Ko Naing, justified the expulsion of the Rohingya by claiming they are not one of the recognised ethnic groups in Myanmar. The group also released a written statement saying that the situation on the ground in Rakhine was "totally different" to what "some international powerful giant media" were portraying. Another 88 Generation member, U Myo Thant, shared anti-Rohingya messages on his Facebook and Twitter profiles that used the hashtags #NoGenocideInMyanmar and #NoRohingyaInMyanmar.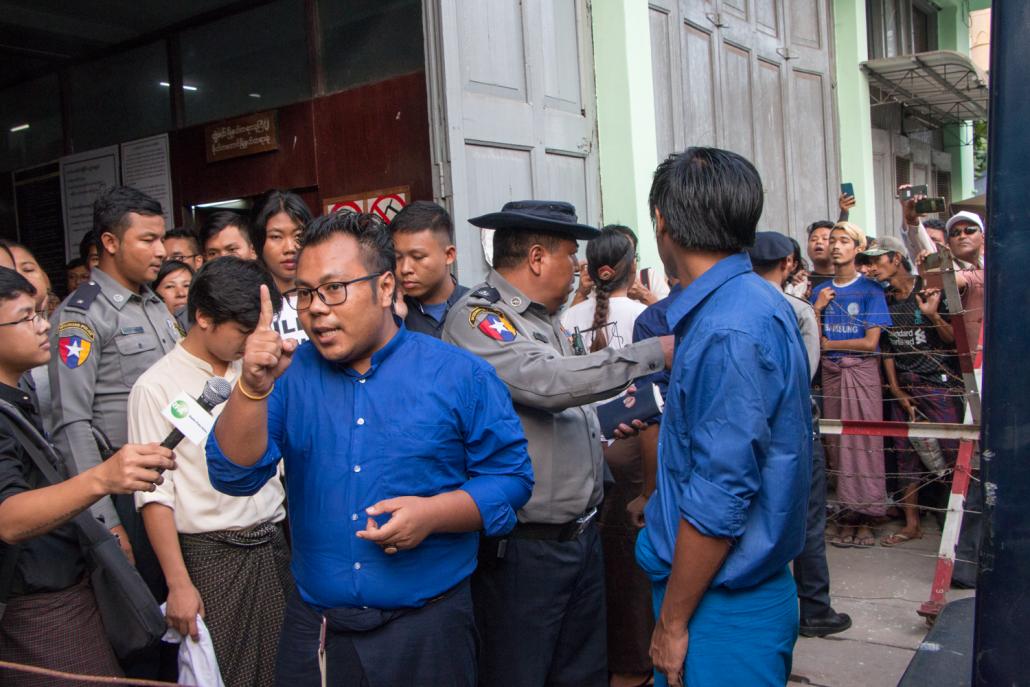 Statements like these have damaged the credibility of Myanmar's pro-democracy movement, once admired around the world.
"We point out where we disagree with them, they listen and nod their heads, and sometimes minds change," Robertson said. "It's interesting that Rakhine activists, some of who were attacking us for promoting the rights of the Rohingya back in 2017, now want to be our best friends now that the Tatmadaw is violating rights of ethnic Rakhine."
Robertson did say the activists should be challenged about their statements and asked how they promote human rights. "I hope that it is a difficult question to answer," he said. It certainly seems to be, as requests to Nilar Thein and Myo Thant for comment went unanswered. Zayar Lwin and Paing Ye Thu, however, are unreachable in prison.
Saw Wai did give an interview, standing by the op-ed he wrote in 2018 and insisting he never claimed the military did not commit war crimes or genocide. He was just opposing "one-sided accusations", he said.
Saw Wai answered questions somewhat vaguely, leaving his true opinion on the Rohingya open to interpretation.
"Whether they are called Rohingyas, Myanmar Muslims, or Bengalis, they are all human beings. As long as they abide by the law … I recognise them as they are," he said.
He also said the purpose of his article was to defend the first elected government in his lifetime, not to defend the Tatmadaw, but the article did explicitly say "please stop blaming the military".
Saw Wai accused Westerners of being "eager to throw criticism quickly" and of not understanding the "Myanmar context", which gives the military autonomy within the government. But the division of power between the elected government and the military is well known to outside observers, Western or otherwise, because it is the defining characteristic of the country's political system.
"I would like to ask those who say that I have the same attitude towards Rohingya as the Tatmadaw, if they have ever faced the same hardships that I do for criticising the military on freedom of expression," he added.
There was hope that the younger generation of activists would be more open-minded than their 88 Generation predecessors, but the examples of Zayar Lwin and Paing Ye Thu show that anti-Rohingya sentiment is still widespread. There are some, however, who feel differently.
Youth activists Ko Thet Swe Win and Ma Thinzar Shunlei Yi have spoken out in support of the Rohingya. They have also paid the price, in the form of estrangement from the rest of the activist community and society at large.
"Speaking for the Rohingya or making calls of support for them on Facebook comes with the risk of being labelled as a traitor or personally attacked," Thet Swe Win told Frontier.
Thinzar Shunlei Yi said just being asked about the topic made her sad.
"I was so upset in 2017 and till now," she said, adding that she was aware that many well-known activists have a history of anti-Rohingya hate speech. "I truly think it is important to point out how they are breaking their own principles and values or being hypocritical."
Thet Swe Win said the limited progress that has been made in softening public attitudes towards the Rohingya is thanks to a "small group of activists that have been persistently speaking out for them".
Thet Swe Win said some activists "revealed their true identities" during the Rohingya crisis. "Some of them even said, 'we must advocate human rights for all, but not for kalar, Muslims or Rohingya,'" he recalled.
Thinzar Shunlei Yi said the issue is difficult for the young generation to navigate, because of the beliefs still held by influential, older activists.
Despite their hateful comments, Rohingya activists still call for the jailed members of the Peacock Generation Thangyat troupe to be released.
"Even though they are denying our existence or our rights, they should not be persecuted," said Ro Nay San Lwin, co-founder of the Free Rohingya Coalition.
U Tun Khin, President of the Burma Rohingya Organisation UK, agreed.
"Racists have the same human rights as everyone else," Tun Khin said. "They should be freed. At the same time, if one of them is breaking the law [by] inciting hatred and violence, they should face justice for that."
Nay San Lwin said their pro-democracy activism is still achieving important things for other people, even if it doesn't include the Rohingya.
Rohingya were not always excluded from the democracy movement, Nay San Lwin said, recalling that his uncle founded the National League for Democracy branch in Buthidaung Township, and other members of the Rohingya community were active in the party. But today, he says only a "handful" of Myanmar activists support the Rohingya.
"They don't see the Rohingya as human, that is the real problem," he said. "They see us as subhuman."
Both Nay San Lwin and Tun Khin believe anti-Rohingya sentiment is widespread in the activist community, but both see glimmers of hope for the future. Nay San Lwin refers to shifts in thinking among younger generations, while Tun Khin says other ethnic minorities are beginning to show support for the Rohingya.