A variety of acacia from Australasia is becoming the preferred choice for commercial plantations, including those planned as part of a reforestation project.
By KYAW YE LYNN | FRONTIER
A FAST-GROWING species of acacia from Australasia has become the tree of choice for commercial plantations in Myanmar, including those planned as part of a big government project to address one of the world's worst deforestation rates.
The Forestry Department has launched a plan to reforest about 640,000 acres (25,900 hectares) of denuded forest land by 2028 and hopes private sector plantations will be established on at least 280,000 acres, deputy director U Thaung Oo told Frontier.
The latest global forest resource assessment by the United Nations Food and Agriculture Organization said Myanmar lost nearly 15 million hectares of forests and other wooded land between 2010 and 2015, when the rate of loss accelerated.
The 2015 assessment said the area covered by forests and wooded land in Myanmar had fallen to 43 percent and 22 percent, respectively.
For the reforestation project, Thaung Oo said the department, under the Ministry of Natural Resources and Environmental Conservation, would mainly plant indigenous species, such as teak and pyinkado, which can be logged in 30 years.
He said the private sector would choose fast-growing trees to maximise profits.
Eucalypts and Acacia mangium, known in Myanmar as mangiumcia – the fast-growing trees preferred by many farmers and plantation companies – are native to northern Australia, Papua New Guinea and parts of Indonesia.
Eucalypts have long been grown commercially in Myanmar but their popularity has been affected by the belief that they use too much water and they have been replaced by Acacia mangium as a favourite choice for commercial plantations.
There has been a sharp rise in demand for mangiumcia, which thrives throughout most of Myanmar, since about 2014, said U Nay Myo Aung, a resident of Hmawbi on Yangon's northern outskirts, where a 40-acre community forest he established with other farmers in 2011 has been expanded each year and covers about 90 acres.
"Mangiumcia became popular when it was promoted on social media in 2011 and since 2014, demand for the species has risen by 100 percent a year," Nay Myo Aung told Frontier.
Nay Myo Aung said that when mangiumcia was planted in the community forest, he and the other farmers initially planned to harvest it within a short time for use as firewood.
Then they discovered it was suitable for making furniture as well as door and window frames, he said while strolling in the forest with Frontier.
"We learned through a very slow and unstable internet signal that it is planted commercially in other countries," he said.
Acacia mangium can be planted at a density of 1,200 seedlings an acre. Plantations are thinned at five and eight years and the trees are harvested between the 10th and 12th year.
"The main reasons for thinning are to produce bigger trees and help recoup costs," Nay Myo Aung said.
It costs about K800,000 to plant one acre of the trees, he said.
Nay Myo Aung, who has a seedlings business, said he has planted more than 2,000 acres of mangiumcia plantations in recent years.
"We do the plantations for those who don't know how to plant the trees or don't have the time," he said. The trees grow very quickly and make a thick forest in five years, he said. "It is good for re-afforestation in Myanmar."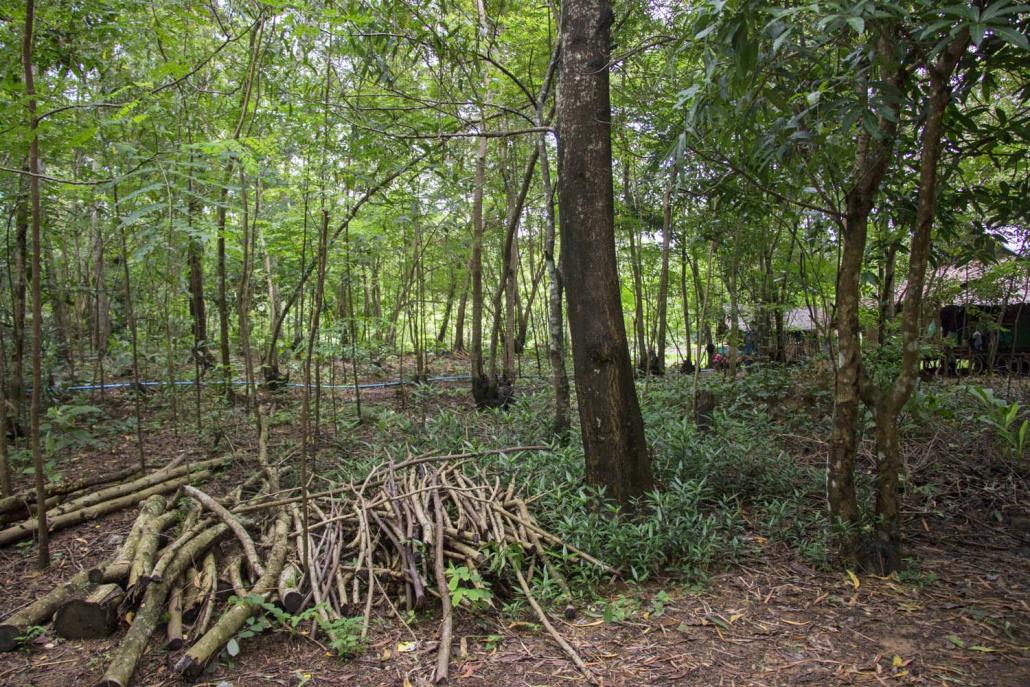 One of the first mangiumcia plantations in Myanmar was established about eight years ago in Bago Region by a Chinese company, and its success has been an inspiration for businessman U Aung Ko Lwin.
Aung Ko Lwin heads a group known as "Shwe Joe Phyu", which provides an advisory service for those wishing to establish mangiumcia plantations. "My wife is a native of Bago's Thayawady Township and we planned to establish a small-scale community forest there four years ago," he told Frontier.
They considered planting rubber but dropped the idea because of a slump in prices. Then Aung Ko Lwin heard about the plantation established by the Chinese company only a few miles from his planned community forest.
He paid the plantation a visit and discovered that the company had earlier established a mangiumcia plantation covering about 3,000 acres on a government-allocated forest area eight years ago.
"Then I started studying about the trees online," he said.
Aung Ko Lwin said there were many reasons why farmers had turned to mangiumcia, including market potential, the slump in rubber prices and a government decision in 2017 to impose a 10-year ban on logging in the Bago Yoma mountain range.
He is trying to establish an association to represent mangiumcia plantation owners.
"Without an association, farmers will only be raw material suppliers," he said.
TOP PHOTO: A worker plants mangiumcia at a plantation in Yangon's Hmawbi Township. (Nyein Su Wai Kyaw Soe | Frontier)