A recent double feature at the Thamada Cinema offered a rather unusual take on political satire and the story of the nation's first plane hijacking.
By FELIZ SOLOMON | FRONTIER
With so much exciting nightlife in Yangon, it's hard to decide how to spend your evenings. Late last month, it was difficult to pass up a visit to Thamada Cinema, where for a short window of opportunity moviegoers could catch a double feature that would have been unthinkable just a few years ago: "Our Election" and "Burma's Hijack".
The best thing about a double feature in Myanmar is that you get to hear the national anthem not once, but twice. The second best thing, at least as a foreigner (which I am), is that you gain double the insight into Myanmar life. "Our Election", for example, clued me in on a curious practice whereby two men, watching a couple make out through an open window, appear to nonchalantly pleasure each other outside. And here I was thinking Myanmar was socially conservative.
"Our Election" is a slapstick comedy, and a good one, so it's funny no matter where you're from. The film is in Burmese with no English subtitles, but I went with a friend and had no trouble following along, aided by his rough translations.
Myanmar viewers will no doubt catch many nuances that I missed; some characters parody real political figures, discernible by the way they dress and speak. One, my friend informed me, was based on former parliament Speaker Thura U Shwe Mann, who apparently "talks funny".
Directed by Nyi Nyi Tun Lwin, a well-known comedy producer, "Our Election" is a clever political satire mocking the jargon of "democratisation". Somewhere, presumably in Shan State, there's a place called Election Village, and in that village lives a beautiful young woman who has just returned from the city, where she attended school.
Everyone wants to marry her, but there are two standout suitors: Maung Pe and Maung Ku. Her father can't decide between the two, and the whole village has an opinion on the matter. So they do what you're supposed to do when a major decision must be made: they have an election.
Myanmar's political rhetoric, it turns out, is an endless source of comedic fodder. Villagers dress up their shops with photos of General Aung San, both sides claiming it would be the late independence hero's desire for their candidate to get the girl. "Aung San beans, vote for Maung Pe!" a woman yells. "If you are Burmese, you chew betel nut. If you chew betel nut, you vote for Maung Ku," sings another.
It looks like it's going to be an ordinary election until a herd of cattle suddenly stampedes through the village. A heavy metal soundtrack blares as a clan of what can best be described as terrestrial pirates appears through the settling dust, bazookas slung over their shoulders. On the off chance this needs explaining, they represent Myanmar's ruling elite. I won't tell you how it ends, but I will tell you it's hilarious.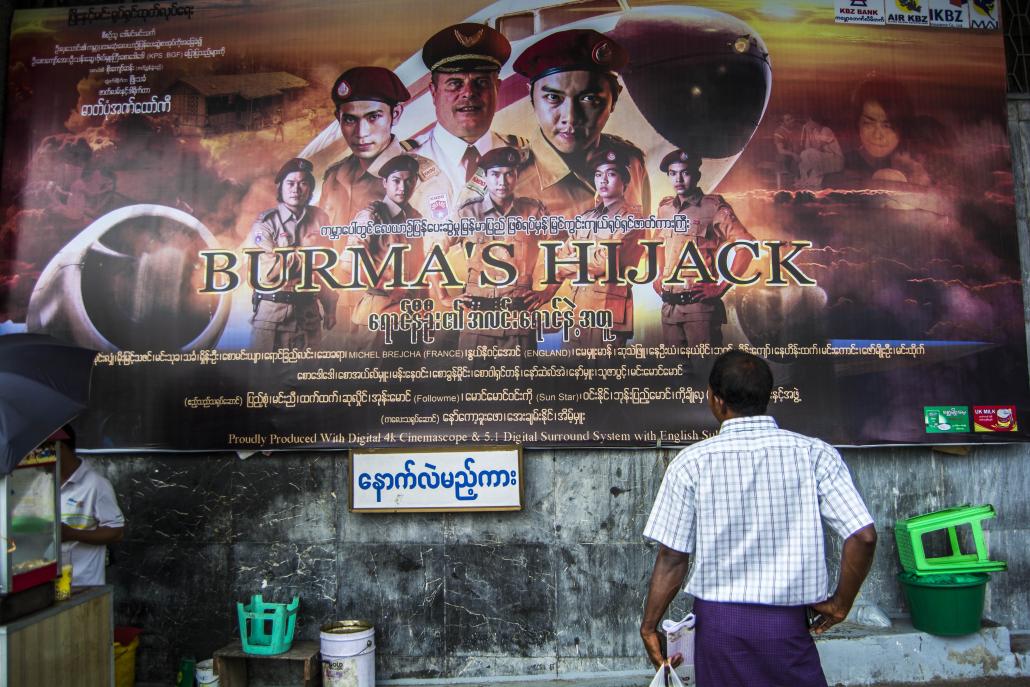 "Burma's Hijack", three years in the making, is the brainchild of a prolific director known only as Antony, though he prefers the spelling, An Htaw Ni. The movie is the screen adaption of a book called The World's First Hijacking, based on the true story of a group of young Karen rebels who commandeered a government-owned commercial plane in 1954.
The book erroneously referred to the incident as the world's first hijack, but it was actually just the first in Myanmar.
If three years seems a long wait, bear in mind that this story was suppressed by military government censorship for more than half a century. Perhaps not coincidentally, the film adaptation has a slightly pro-government tilt; the heroic rebels eventually rejoin the "legal fold" after realising that they were fighting a losing war and hurting their communities. Whatever the message, this is the movie that was finally borne of the long-forgotten story. At more than two hours and with modest production values, "Burma's Hijack" won't suit mainstream audiences but it does have cult classic potential.
As its title demonstrates, this is a very literal movie. It tells the story, with unnerving exactness, of Saw Kyaw Aye and his comrades, who hatched a plan to steal a plane and fly it to an old Japanese airstrip in the Karen hills to collect a stockpile of heavy weapons that would revive their revolution after its leader had been struck down.
The plot was so crazy that it just might have worked, were it not for one ruinous mishap. The rebels, members of the Karen National Defence Organisation, forerunner of the Karen National Union, successfully boarded the aircraft and, armed with revolvers, easily took over the cockpit. Comrades on the ground were meant to meet them with a safe landing strip, but were nowhere in sight.
After circling the area for three hours, the British pilot landed the plane on a beach at Gwa on the Rakhine coast. Before the hijackers could abscond, the co-pilot told Saw Kyaw Aye that the plane did not have enough fuel to fly anywhere else.
"It's impossible," the co-pilot said. Confused and dejected, the rebel asked, "Are you sure?"
Antony, who is Karen, is clearly a skilled director, having made seven films for theatrical release and dozens of video productions. The cinematography, while mostly static, is overall quite good, though the film's low production cost (about US$200,000, or K247 million) is evident.
With subtitles that could have used a sub-edit, foreign audiences with a taste for camp won't regret supporting their local cinema to see this one, while Myanmar viewers will enjoy a history lesson that's emerged from decades of redaction.