A group of aspiring stand-up paddlers has been testing its skills on Inya Lake in a program supported by a Thai company with a big name in board sports in order to promote the activities in Myanmar.
By SU MYAT MON | FRONTIER
MYANMAR'S "beautiful" water surfaces are ideal for stand-up paddle boarding, says Mr Daniel Hasulyo, and he should know.
Hasulyo, 25, a Hungarian who is one of the world's top stand-up paddle boarders, highlighted the sport's growth potential in Myanmar in an interview at the Yangon Sailing Club on Inya Lake one morning last month.
He was there to conduct a training session sponsored by one of the world's biggest makers of paddle boards and windsurfers, Bangkok-based Starboard, established in 1994.
About 20 young people, many from underprivileged families, gingerly explored new experiences in balance as they gradually became more adept at propelling themselves across the water.
Hasulyo, who began SUP when he was nine and with his brother Bruno is a member of Team Starboard International, said he welcomed the opportunity to visit Myanmar and help to promote interest in board sports.
He hoped that Myanmar's strong sport culture would help to grow interest in paddle-boarding as well as windsurfing.
Stand-up paddling was physically demanding because paddlers had to use their bodies like an engine, he told Frontier.
"It is, therefore, a very classical sport and it needs a very classical body type to be able to perform very well out there," he said.
Starboard is also supporting a program aimed at introducing young people from a range of backgrounds to the exhilarating thrills of windsurfing.
Ma Sandy Min Sat, who works in the environmental department at Starboard and is program director of the Myanmar windsurfing team, said the move to promote the sports were aimed mainly at young people from underprivileged families who lived near waterways or the coast.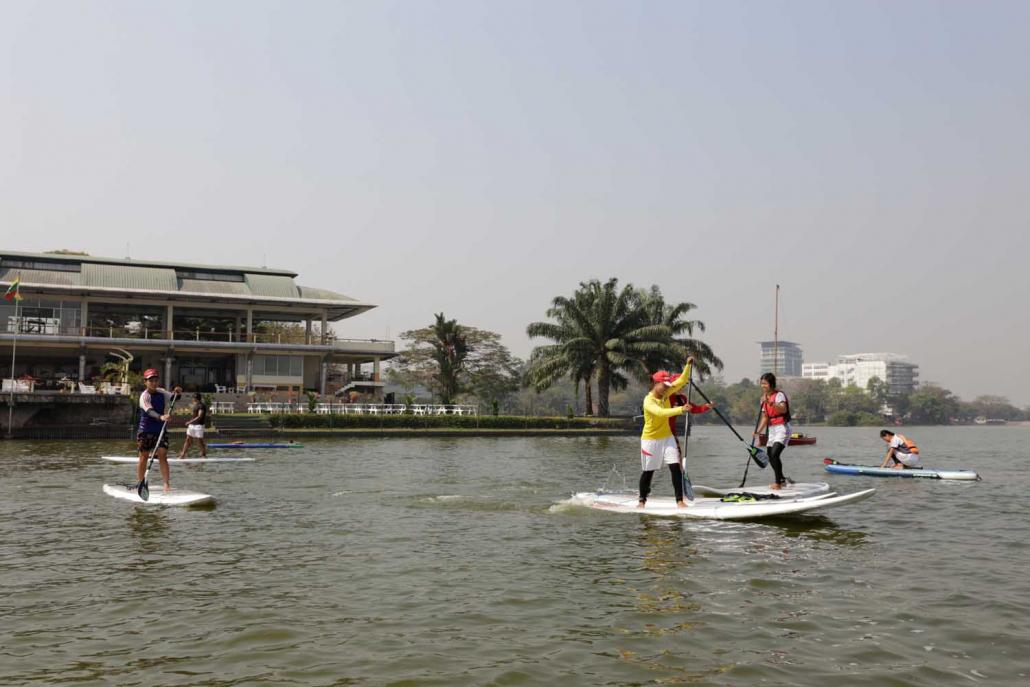 "This sport can provide a brighter future for young people," she told Frontier, adding that it could provide opportunities for children from all backgrounds.
Starboard would make windsurfers available to poor young people who could not afford them through its "Children of the Wind" program in Myanmar, its first such activity in Southeast Asia, Sandy Min Sat said.
An objective of the program is to have Myanmar competing in windsurfing at the Olympic Games, she said.
The program is named after a prize-winning 2013 documentary about three young men from poor fishing families on the Dutch Caribbean island of Bonaire who became the best freestyle windsurfers in the world.
Myanmar has already demonstrated its promise for success at windsurfing, winning the gold medal for the sport at the 2013 Southeast Asian Games, said Ko Phone Kyaw Moe Myint, vice-president of the Myanmar Yachting Federation, referring to Ko Set Nang Aung's triumph in the Under 16 men's event.
Phone Kyaw Moe Myint, who with his brother, Ko Sithu Moe Myint, won gold in the Half Rater class in the 2013 SEA Games, said windsurfing training would begin in March at the Ngwe Saung Yacht Club and Resort and any interested person could participate.
He said it was important for Myanmar to encourage and provide funding support for the development of sporting activities.
"Sport is very important for the country; sport helps people to be health and healthy citizens are needed to develop a country," he said.
Ma Shwe Yamin, 17, who is originally from Nyaungdon Township in Ayeyarwady Region and is a member of the windsurfing national team, is one of the new generation of enthusiasts the program is aimed at.
"I want to be the best athlete in Myanmar and I hope to compete in the next SEA Games," she said, referring to the event being hosted by Indonesia in 2019.
Shwe Yamin said she welcomed the training and support provided by international athletes to help Myanmar achieve its potential in sporting activities.
"Sport has a leading role in the country and everyone should try their best for the future of the country," she told Frontier.