A meditation centre on Yangon's outskirts is home for hundreds of destitute, disabled and diseased people who are encouraged to solve their problems by seeking refuge in the Dhamma.
By KYAW PHONE KYAW | FRONTIER
There is nothing unusual about a monk establishing a meditation centre in Myanmar and they can be found throughout the country, but the Thabarwa Center, established by the Venerable Sayadaw U Ottamasara in 2008 when he was aged 39, is very unusual indeed.
The centre, in Yangon's outer southeastern Thanlyin Township, is a refuge for hundreds of needy people who are encouraged to meditate, as well as being a retreat for yogis, as lay meditators are known in Myanmar.
Membership of the centre is open to anyone and hosts many residents, many of whom have no home to call their own and will live there for the rest of their lives. Their food, health care and accommodation are provided free of charge.
"Sayadaw thinks about the needs of the people; that's why he established a centre like this," Ko Nanda, a manager at Thabarwa, told Frontier.
"I encourage, train and guide those who come to Thabarwa Center, including the elderly and those facing complex health, social and financial problems, to solve their problems with the aid of Dhamma (meditation practice of mindfulness and right understanding)," U Ottamasara says on the centre's website.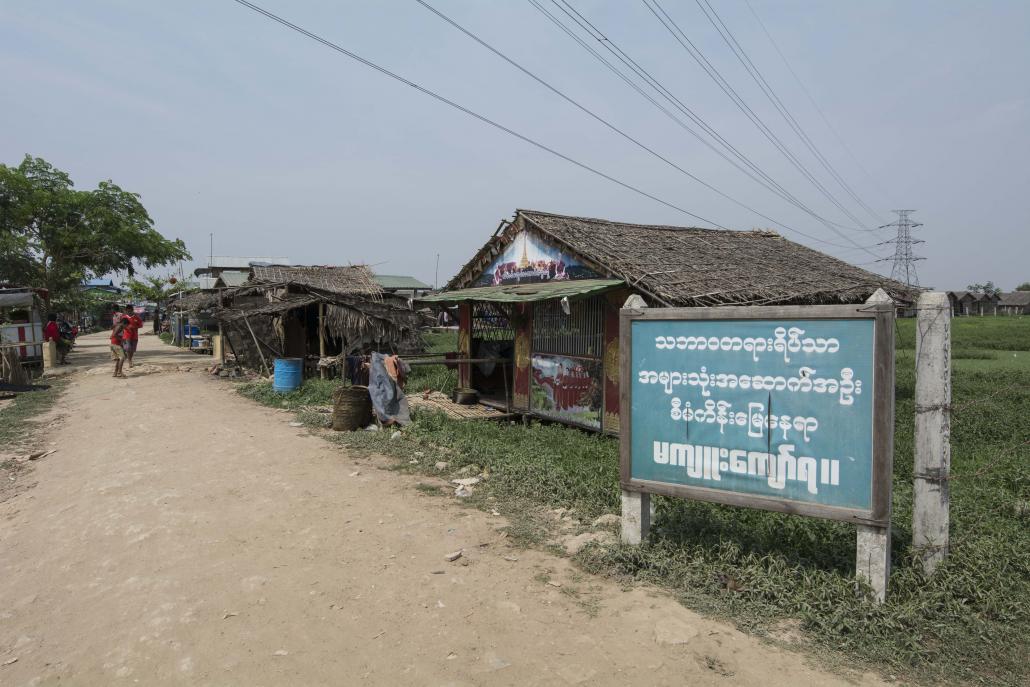 The centre, not far from Thanlyin's Kyaik Khauk Pagoda, covers a 58-acre site and is more like a village than a meditation retreat. It is home to about 2,500 people, of whom about 1,000 are women. Most are needy and some are seriously ill.
The centre's website says Sayadaw U Ottamasara is a former businessman who turned his back on the lay world and was ordained as a monk in 2002.
He opened a meditation centre in an eight-storey building on 45th Street in downtown Yangon in 2005 and it had about 200 yogis. After the monk-led protests in 2007, known as the Saffron Revolution, the centre was sheltering many monks and nuns and the Sayadaw needed to move to bigger premises, said Ko Nanda. The Thabarwa centre was initially established on three acres at Thanlyin donated by a retired military officer, U Kyaw Aye.
"The area covered by the centre increased after it was established because Sayadaw accepted offers from people living nearby to sell their land at market rates," said former teacher Daw Khin San Oo, a long-time supporter of U Ottamasara and the head of the centre's office.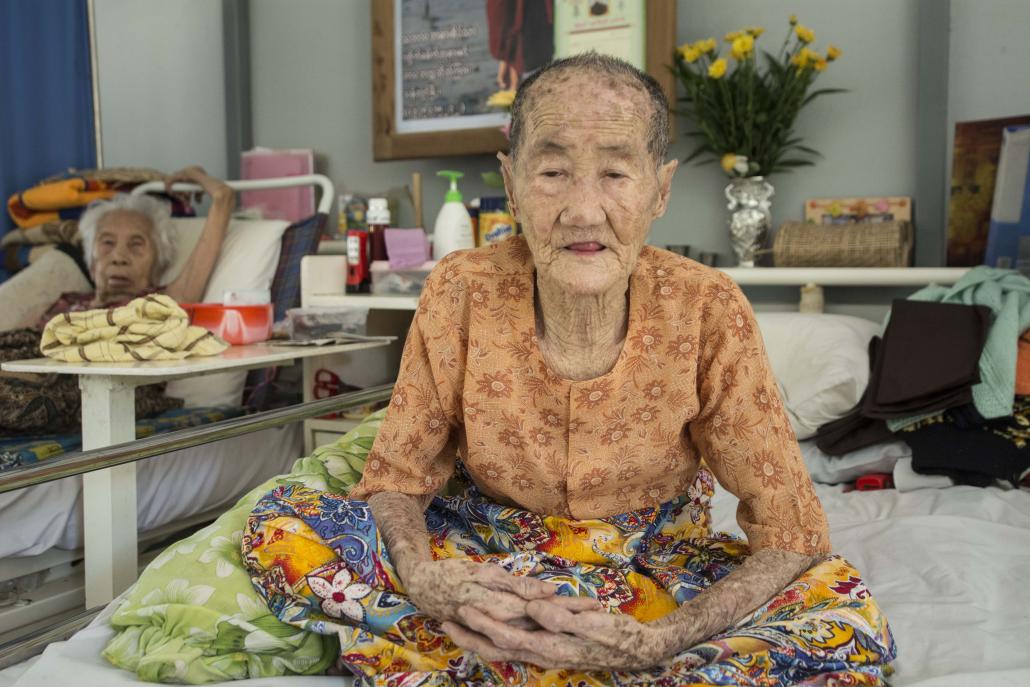 The Sayadaw's initial aim was to provide a centre for those who wanted to meditate but faced difficulties, for health or other reasons.
A list of the centre's residents shows that they include 650 people who suffer from disease or are disabled, of whom about 50 have AIDS. Around the same number are mentally ill. The list also shows that 107 residents are stroke victims.
Ko Nanda said the media had dramatised news about the centre when they said it provided a rescue service for the homeless and elderly people who had been abandoned. "The result was that volunteer groups sent a lot of people with special needs to the centre," he said.
"Actually, Sayadaw aimed to create a sanctuary for anyone who wants to meditate, regardless of whether they are disabled, aged, abandoned or homeless; this was misunderstood but Sayadaw's policy is that no one must be refused."
Caring for so many people creates challenges. "We have only 11 volunteers for nursing the patients and we face difficulties caring for them," Ko Nanda said.
When Frontier asked residents about their lives, most said they had children or other relatives who were unable to care for them.
U Myint Soe, 67, and his wife, Daw Than Than Aung, 61, have been living at the centre for about nine months. U Myint Soe has suffered a stroke that has affected his ability to speak. Daw Than Than Aung said they had a daughter who visited every three months. "We are okay here," she said.
The centre's aged residents include former celebrities and members of high profile families. Among them are an actress from the golden age of Myanmar cinema, Daw San San Nwe, and Daw Mya, the daughter of U Tun Pe, who was Information Minister in the U Nu government and head of the Union Civil Service Board under the Ne Win government.
A 15-minute walk from the Thabarwa Centre is Saytana ("Goodwill") Village, one of a series of communities being established by U Ottamasara to provide free land, food and shelter to those lacking adequate housing.
Daw Khin San Oo said the idea for the village came after the Sayadaw agreed to requests from farmers to buy their land, with the intention of returning it for their use so they could continue farming. But the soil was poor and the farmers did not want the land back. Some who had sold their land had made themselves homeless and asked Sayadaw for a plot to build a home, she told Frontier.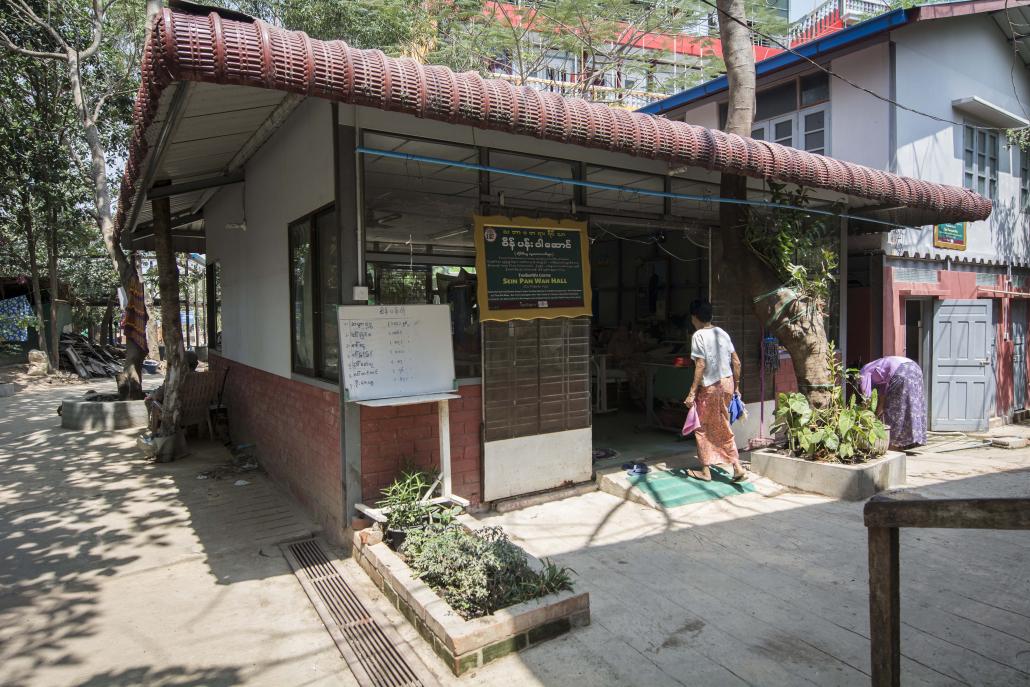 The Sayadaw agreed to provide plots measuring 225 square feet to the homeless on condition that a family member spent 15 days at the meditation centre, Daw Khin San Oo said.
"The news spread widely that if someone meditates for just 15 days at the Thabarwa Center they will get land, so many homeless families came to Sayadaw and put their names down for doing meditation," said U Kyaw Nyunt, 62, who moved into the centre two months because he does not want to be a burden on his children.
The village, on a 28-acre site, has about 3,000 homes and 10,000 residents, most of whom are casual labourers or masons. The community's 600 children attend the village's monastic school, that teaches to seventh grade.
The village is full but homeless people continue to register for meditation courses and the Sayadaw is planning another Saytana Village on a 180-acre site at Yangon Region's Hlegu Township. Half of the land will be used to provide housing for the homeless and the other half for a meditation centre, says Thabarwa's information office.
The Sayadaw was also planning an animal shelter at the Hlegu site for the many dogs and cats that people had abandoned at Thabarwa, said Ko Nanda.
All of the Sayadaw's followers interviewed by Frontier said they had given up their former lives to live at the Tharbarwa Center as volunteers.
In his message on the centre's website, U Ottamasara says he teaches residents to enhance their power of right understanding by listening to Dhamma teachings, practicing insight meditation and performing good deeds as much as possible.
"Those people gradually come to realise that their problems were solved during the merits they gained in doing various good deeds while staying at Thabarwa Center," he said.
"Sayadaw taught us 'there is only nothing but nothing'. After I realised that it is true, I was easily able to abandon my former life and spend all of my time helping others," said Daw Khin San Oo.
Title Photo: Teza Hlaing / Frontier