Over-extraction and illegal logging have resulted in deforestation and poor quality timber but new initiatives are underway to get the industry back on track.
By WIN KYAW OO | FRONTIER
WHEN U Than Nyunt gave up on his fish farm five years ago, he began looking for a new business. At the time, some contacts in the timber industry suggested he bid in a privatisation auction for a plywood factory.
He decided against bidding but it planted the idea in his mind, he said.
"I considered setting up my own plywood production business using rubber wood," said Than Nyunt, who is now managing director of Yangon-based Aung Oo Wood Industry. "I went to China to learn if it was feasible."
He undertook a feasibility study and decided to take the plunge. He cooperated with Chinese businesses to get access to technical know-how and equipment, and set up a plywood production facility in Kyaikto, Mon State, in 2014. He chose Kyaikto because it was close to the raw materials he needed, had a relatively reliable power supply and decent infrastructure.
He chose rubber wood because it was cheap and abundant (Mon and Kayin states have more than 1.3 million acres of rubber trees between them). When rubber trees get old, they are typically chopped down and sold as firewood. Much of it ends up firing brick kilns between Yangon and Bago.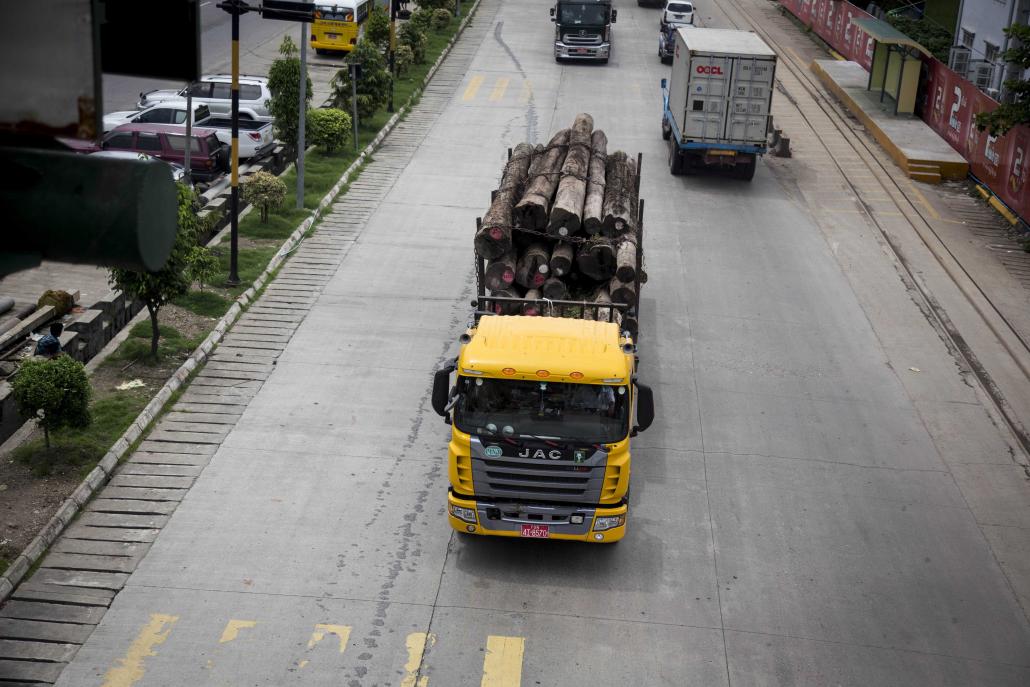 After a trial run in 2015, the facility opened in early 2016. He now employs around 200 people and produces 500 to 1000 sheets of plywood a day. About 80 percent of the wood is supplied by traders, the rest by plantation owners.
Infrastructure is a major issue. A number of plywood factories have opened in Thanbyuzayat Township, in southern Mon State, but they suffer from a lack of stable electricity. But Than Nyunt believes value-added wood products have a bright future.
"There are still many opportunities to set up similar operations and create job opportunities for young people. They don't need to go abroad to find their fortune," he said. "But efficient political and economic leadership is crucial to support the industry's growth."
Supporting domestic industries 
In April 2014, the government banned the export of teak logs in an effort to stem deforestation and promote the development of businesses that would "value-add" to locally harvested wood.
Logging, particularly since 1988, has devastated many Myanmar forests, with the country registering the third-highest amount of forest loss globally between 2010 and 2015, after Brazil and Indonesia, according to the United Nations Food and Agriculture Organization. Each year the country lost an average of 546,000 hectares, or 1.8 percent of its total forest cover.
U Myint Thein, a small sawmill owner and wood retailer based in Yangon, said he is expecting the government to develop programs to support SMEs in the timber sector.  
"We expect that government agencies such as the Myanma Timber Enterprise will begin dealing directly with private timber businesses in order to help reduce our operating costs," said Myint Thein, who has been working in the industry for 16 years.
Presently businesses haves to spend a lot of money on brokers' fees in order to get access to wood from the government, he said. This is a result of bribery and corruption and adds significantly to production costs.
He also hopes domestic businesses will be given priority over foreign buyers at timber auctions.
With domestic wood production businesses still in their infancy, Myanmar's income from timber exports has dropped dramatically in the wake of the ban.
Ministry of Commerce Statistics show exports in 2013-14, the last fiscal year before the ban came into effect, were almost US$950 million, making it among the country's top income earners. Last year the figure fell to $142 million, while only $90 million in exports is forecast for 2017-18, said U Aye Cho Thaung, deputy general manager of the state-run Myanma Timber Enterprise.
Aye Cho Thaung said extraction in 2017-18 would be well below what's known as the Annual Allowable Cut – the amount of timber that can be cut sustainably. The Ministry of Natural Resources Environmental Conservation has allowed MTE to fell 50 percent of the AAC for teak and 30 percent for hardwoods, he said.
Enforcement challenge
But enforcing this limit is difficult due to widespread illegal logging. Myanmar's porous borders, non-stated armed groups and corrupt officials make it easy for timber to slip out of the country. In 2014 researchers at the International Investigation Agency estimated that timber valued at $6 billion had been smuggled out of the country since 2000.
Aye Cho Thaung said that although the government banned logging nationwide in 2016-17 and for 10 years in the Bago Mountain Range, gangs continued to take wood out of the mountains illegally.
The loggers are often armed, making it dangerous for rangers who try to stop them. Between 2002 and 2017, nine officials were killed and 42 injured while investigating illegal timber trading, state media reported recently.
Pyithu Hluttaw MP U Kyaw Aung Lwin (National League for Democracy, Sidoktaya, Magway Region) told parliament recently that while government officials are often implicated in illegal timber trading, those who try to stop it often face threats.
But illegal logging is not the only cause of forest loss; others include human encroachment on forest reserves and the cutting of timber for firewood.
"Traditionally communities have collected wood in natural foreses," said U Aye Cho Thaung. "They need to be provided with alternative fuels, such as gas or electricity."
Meanwhile, "community spirit" among all stakeholders – forest governance, private sector, CSOs, the community around, law enforcement agencies – is crucial to sustain the country's forests, he said.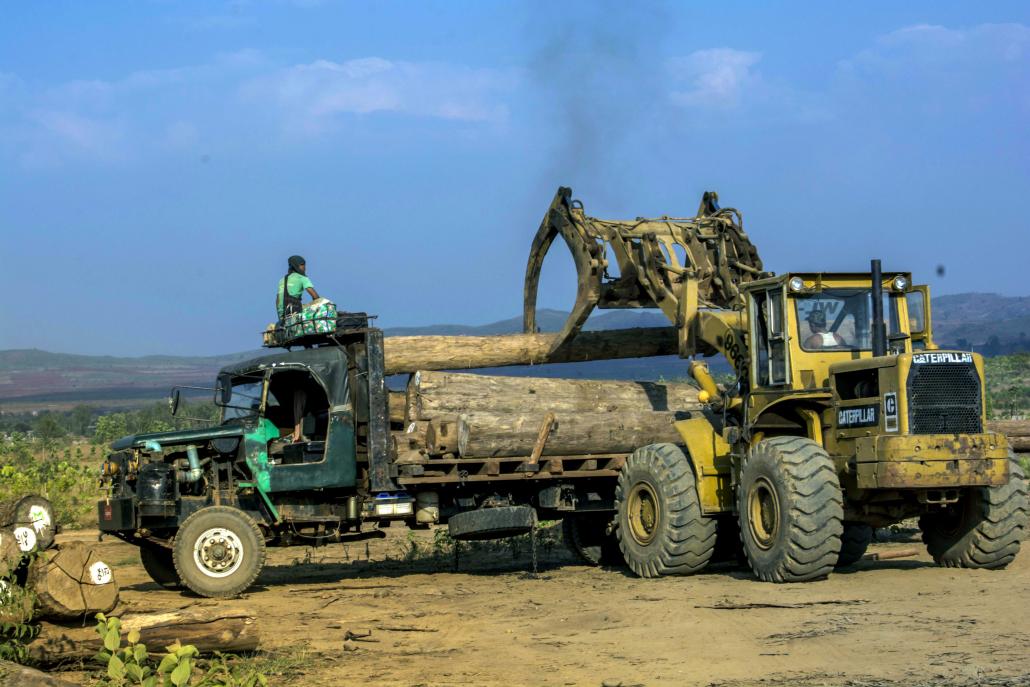 U Win Myo Thu, co-managing director of the non-profit organisation Advancing Life and Regenerating Motherland (ALARM), said it was clear that existing timber management systems had been unable to control illegal logging. Unless changes are made, the country's image will be damaged further, he warned.
Communal interests should be prioritised over those of individuals or a group of people, he added.
"Here's the question: Is our political economy working for the majority of the country's people?" U Win Myo Thu said.
The FLEGT effect
In 2003, the European Union adopted a Forest Law Enforcement, Governance and Trade Action Plan. The plan includes something known as the EU Timber Regulation, which requires that importers and traders in the EU deal only in legal timber.
In 2016, an EIA investigation found that many EU-based importers of teak from Myanmar were unable to be sure their timber had come from legal sources. Subsequently, Sweden fined a teak importer after deeming that the documents that came with teak from Myanmar did not prove that it had been legally sourced. Earlier this year, Denmark placed an injunction on Danish companies prohibiting them from selling teak of Myanmar origin.
In June, the FAO said that the government had committed to addressing "gaps" in its timber legality assurance system, based on an analysis completed earlier this year. The report recommended a raft of changes, including internal and third-party checks at the forest level and along the supply chain, and making processes, procedures and data publicly available.
The Ministry of Natural Resources and Environmental Conservation has also committed to no longer using contractors for timber extraction – a practice that had complicated the verification process – starting from this fiscal year.
It is also working with the EU on a voluntary partnership agreement that would facilitate timber exports to the bloc in future.
Aye Cho Thaung said that while FLEGT would create both winners and losers the benefits would be shared more widely if all stakeholders worked together.
Than Nyunt said he supported efforts to control timber extraction for the long-term benefit of all Myanmar people.
"There's a lot of potential for Myanmar to benefit from the timber sector but we need strict governance," he said.
"For businesses, we also need a workable operating environment and policies, and financial support."
TOP PHOTO: A worker draws paint markings on wood logs being prepared for export on the outskirts of Yangon in 2010. (AFP)