The bride is a Gorkha-Buddhist and the groom is an Indian Hindu. Their colourful wedding is an example of changing attitudes towards cross-cultural marriage.
Words & Photos NYEIN SU WAI KYAW SOE | FRONTIER
THE BRIDE, Ms Shilpa Pradhan, 23, and the groom, Mr Mandeol Pradhan, 24, exchanged vows at a Saat Phere (Hindu-style wedding) at the Shree Ambika Vijay Temple in Mandalay on June 29. They got to know each other on social media and their relationship blossomed after they met for the first time in 2015.
The bride is a Gorkha-Buddhist and the groom is an Indian Hindu. She was born in Kalay, Sagaing Region, while he is originally from Myitkyina, but both have lived in Mandalay for much of their life.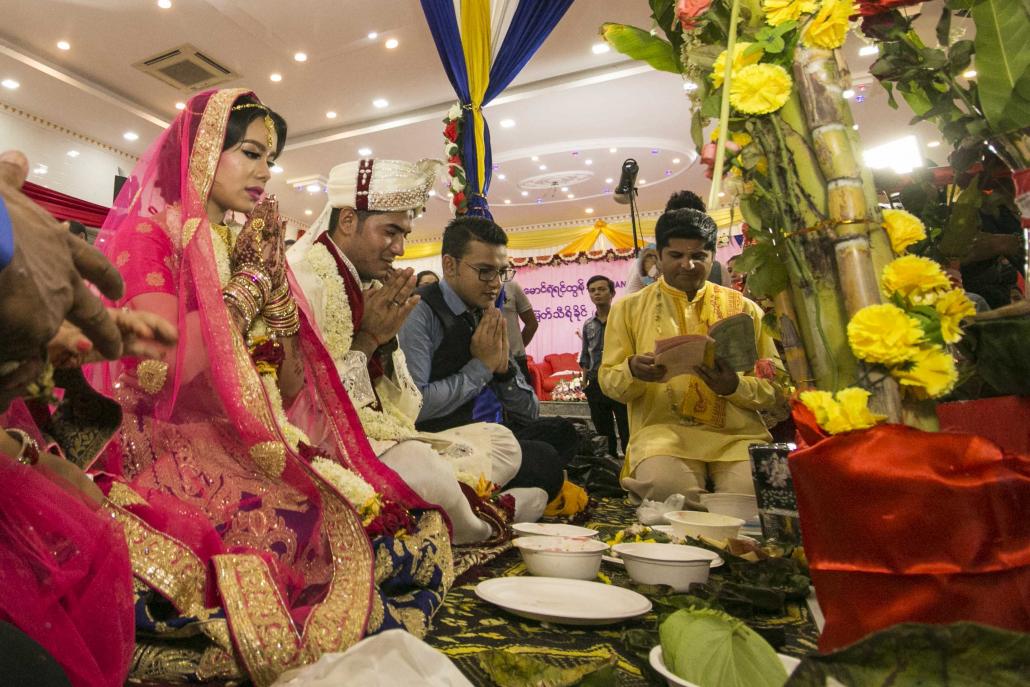 Hinduism is the major religion of Nepal, home of the Gorkhas. In a 2011 census, about 81.3 percent of the Nepalese people identified as Hindu and the rest identified as Buddhist.
"Our family members used to be Gorkha-Hindus but we changed to Buddhism in 1998," the bride said. Hindus and Buddhists have long worshipped at each other's temples. "We pray to images of the Gautama [Buddha], and give donations to monks and Buddhist charities," she said.
"My relatives are Hindus; we have handed down our religion from generation to generation. But we do worship Buddhist statues at Hindu temples," said the groom.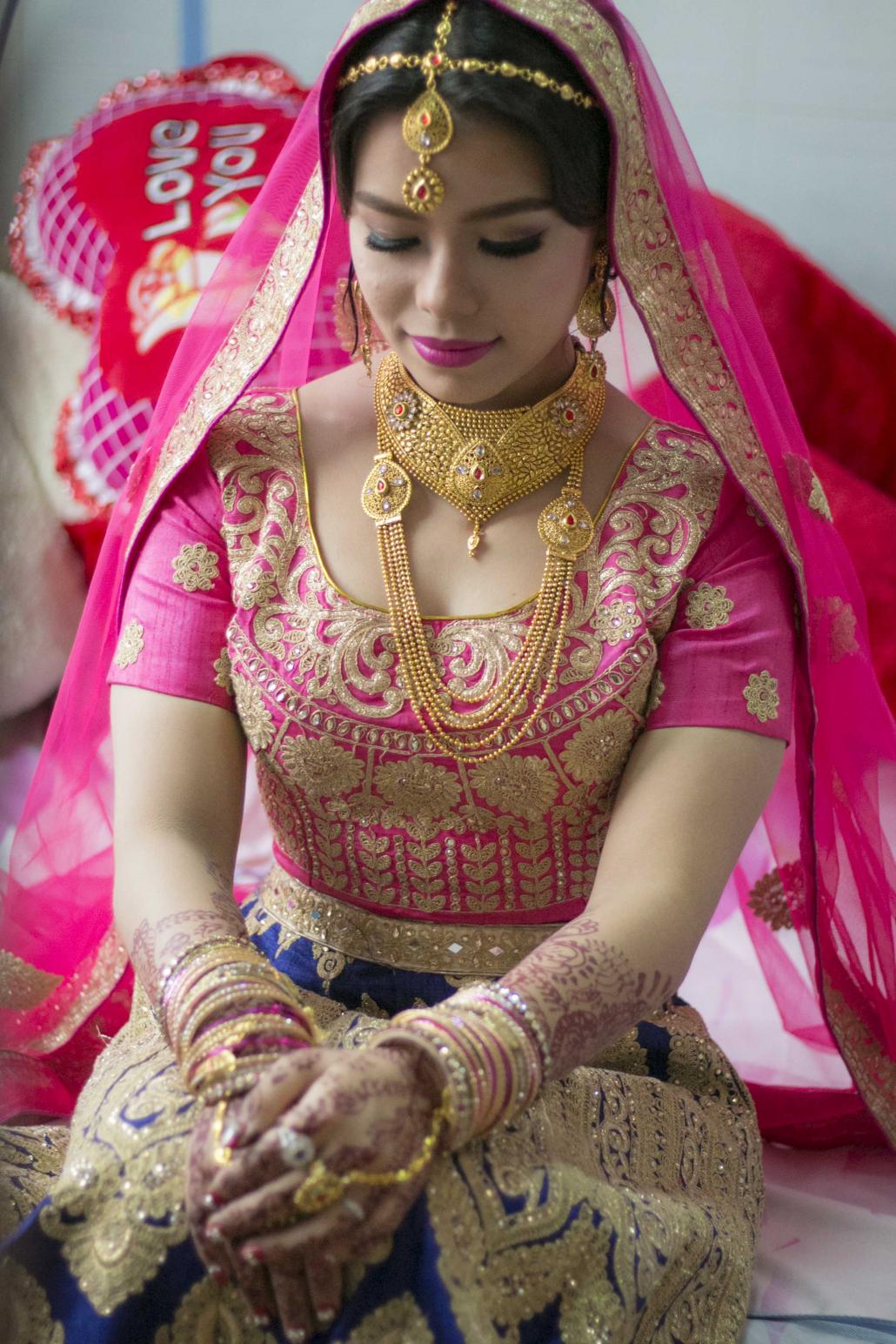 The reason for this is that Hinduism and Buddhism share some similar beliefs.
The groom said there was a family reason why they were married according to Hindu custom.
"I am the eldest son in my family and my relatives wanted me to marry in the Hindu style," he said.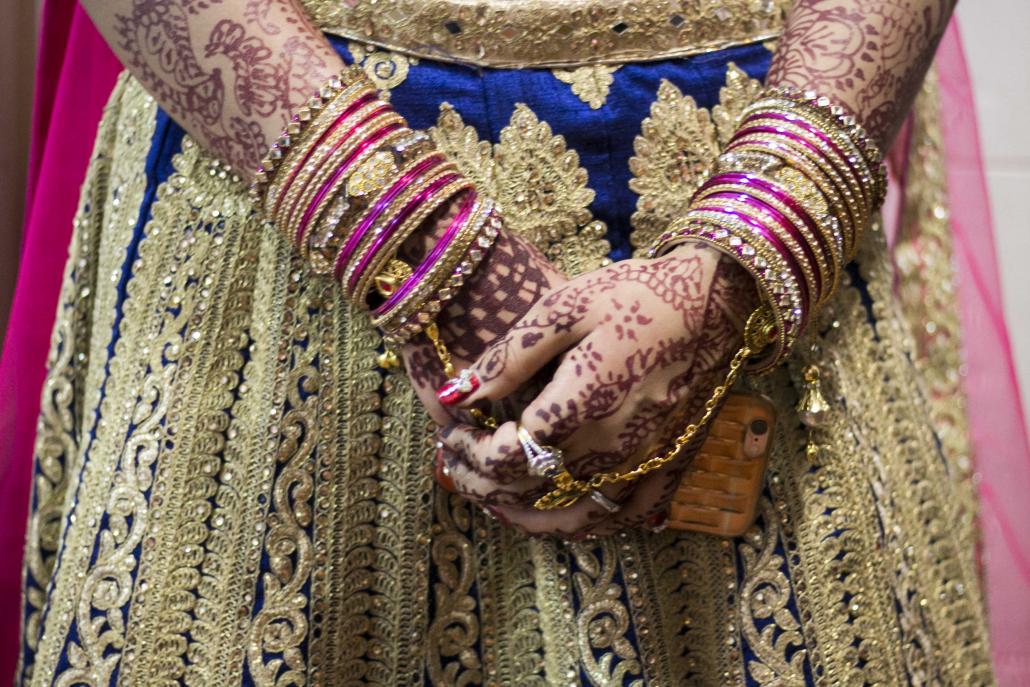 Daw Kanchi Pradhan, the mother of the bride, said she initially wanted her daughter to have a traditional Burmese wedding. "But the parents didn't see eye-to-eye on that," she said. "On the other hand, most of her siblings married in the Hindu style, so I decided to make it easy for her and allowed them to marry in the Hindu style according to our culture."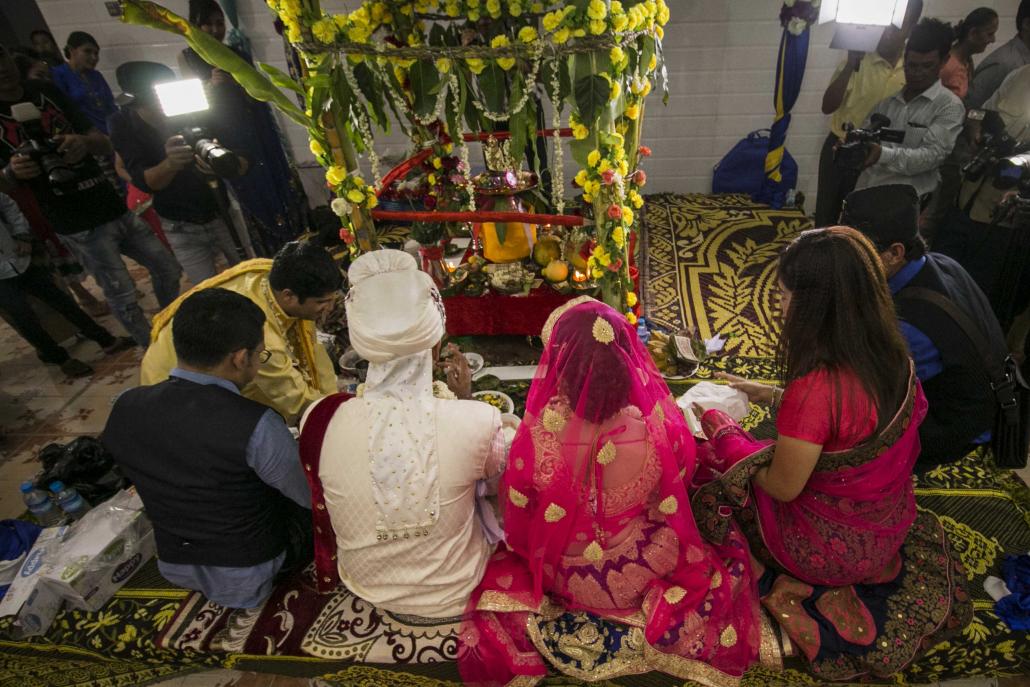 Shilpa Pradhan was open-minded about the wedding.
"Because of my curiosity and interest in Hinduism, I am pleased to marry in the Hindu way. Most Gorkhas are Hindus, although I am a Gorkha-Buddhist," she told Frontier.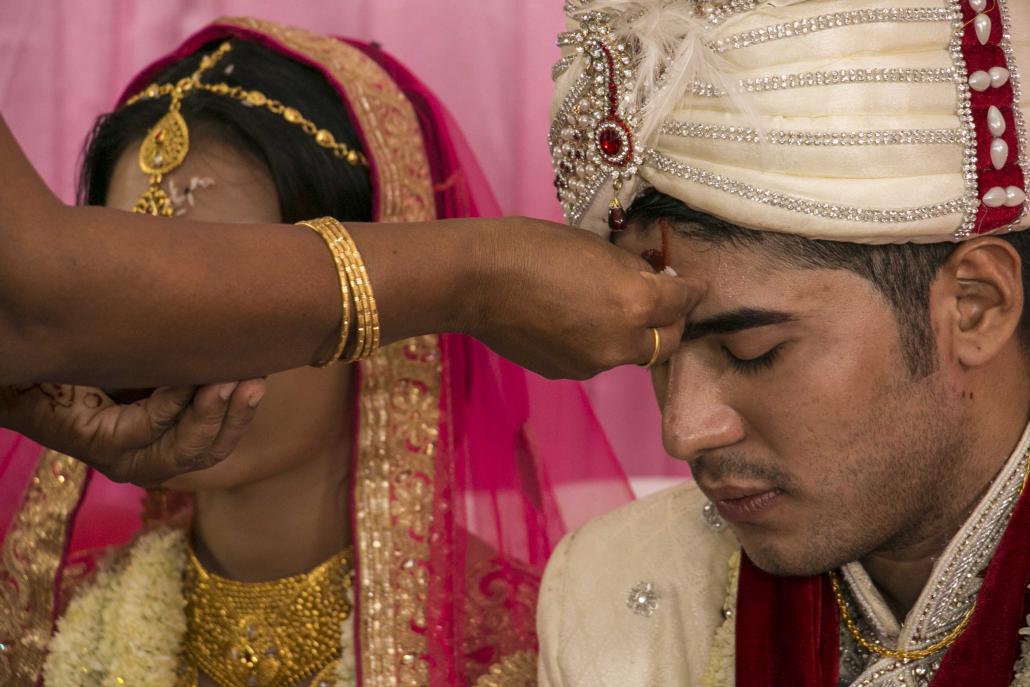 Their marriage in the presence of family and friends at the Gorkha Temple in Mandalay was a colourful ceremony that lasted until midnight. The entrance was decorated with pink fabric, balloons and flowers to welcome guests, who were served a traditional Indian buffet and entertained by a concert of wedding music and singers. The doors, walls and floor were also lavishly decorated.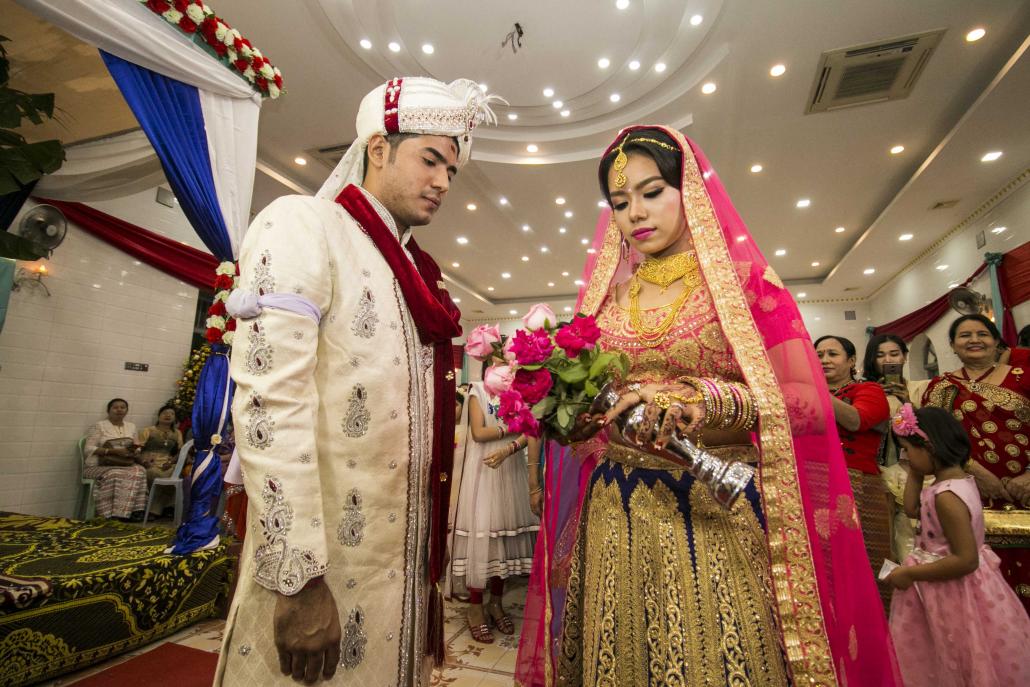 The guests blessed the couple by marking and applying rice to their foreheads and also offered gifts of cash. The most important feature of a Hindu wedding is the Saat Phere, or seven circumambulations, in which the couple perform seven circuits of a holy fire lit for the purpose amid the chanting of Vedic mantras. As the bride and groom circumambulate the consecrated fire seven times, they recite specific vows for each circuit.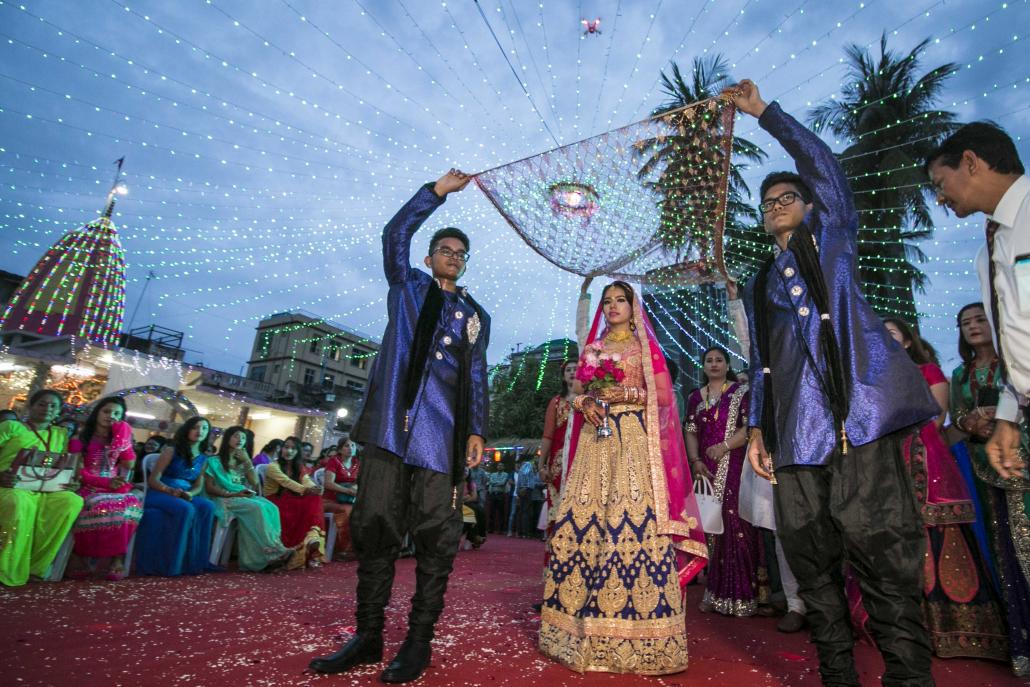 "Having our wedding, sharing everything and being together with friends and family was beautiful and happy," said Mandeol Pradhan.
"For us, it's not about a wedding ceremony. We just want to be together forever, but marry in the Hindu style because it is our family culture," he said.
"Now, we are focusing on our lives and profession."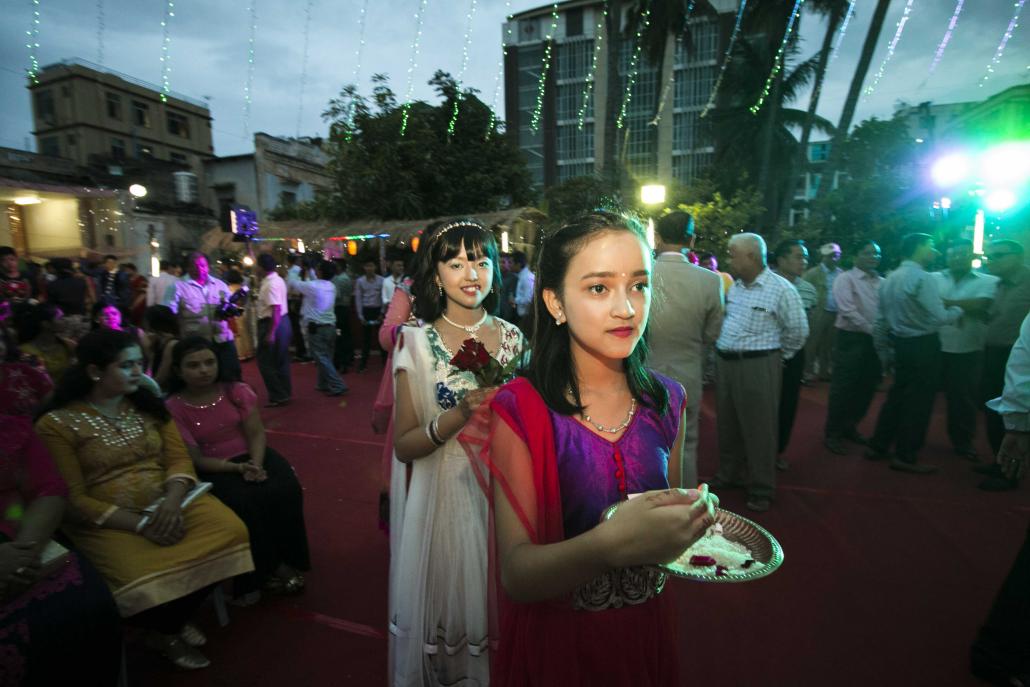 Attitudes and expectations about marriage are changing, particularly among the young. But traditions, particularly concepts of religion and ethnicity, remain powerful forces. Shilpa Pradhan and Mandeol Pradhan are one example of how the difficulty of navigating these forces can be overcome.