David Arnott, who died earlier this month in Thailand, was at the vanguard of online activism targeting Myanmar's regime and spent the last two decades of his life building the internet's largest collection of material about the country.
By TIMOTHY MCLAUGHLIN | FRONTIER
Mr David Arnott, a longtime human rights activist who built and for almost two decades dutifully maintained a vast online collection of Myanmar documents, died earlier this month in Mae Sot, Thailand. He was 77.
Arnott's death at his home on December 7 was confirmed by Daw Khin Ohmar, a fellow activist and friend. The cause of death was heart disease, she said. Arnott's health had deteriorated in recent years.
Melding decades of dogged activism with a penchant for combing through piles of source material, Arnott began creating an online archive of documents related to Myanmar in 2001. The collection, officially titled The Online Burma/Myanmar Library, grew continuously over the next 19 years, more than living up to its claim to be the "largest single source of organised Burma/Myanmar material on the internet".
Built on a shoestring budget, Arnott's bare-bones website provided anyone with an interest in Myanmar and an internet connection (even a patchy one) access to tens of thousands of pages of material: news stories, government announcements, reports, laws and legal documents, some dating to the 1800s. Much of it had been previously unavailable in a digital format and all of it was provided at no cost. The library would have been a tremendous resource for research on any country, but was all the more valuable because for much of the site's life the military's State Peace and Development Council government heavily restricted the flow of information out of Myanmar.
Exiled journalists pored over the state-run newspapers Arnott uploaded daily, searching for clues on who was on the rise and who among the ruling military brass had been "allowed to retire". Academics and researchers navigated the prosaic pale yellow-coloured site, overlaid with dark brown headings and body text and bright blue links, in search of documents to bolster their research.
"At a time when authoritarian regimes are finding new novel ways to stifle the collection, management and distribution of information, he [Arnott] had already amassed an unparalleled cache of documents on one of the most closed dictatorships of the 20th century," said Mr Lee Morgenbesser, a senior lecturer at Griffith University in Australia. "Thanks to his efforts, the Burma Library has been an invaluable resource for scholars investigating the very nature of Myanmar politics and society."
Arnott's project began as activists outside Myanmar were experimenting with online advocacy, which was then still in its infancy. Ms Edith Mirante, the author of two books on Myanmar, first met Arnott in the mid-1990s and described him as an "intellectual adventurer". He envisioned building an ever-expanding online library made up of not only mainstream press and dissident sources, but also government edicts and historical materials important to researchers seeking a wide range of perspectives. In many ways, she said, "he was ahead of his time on understanding free information access as key for Burma's future".
There is no doubt that he succeeded in his mission. Tributes to Arnott's legacy were shared on social media and spread quickly among Myanmar watchers and activists in the days following his death. Martin Smith, a Myanmar researcher and analyst who first met Arnott in London in the late 1980s, wrote that the library was a "powerful testimony to a lifetime of selfless endeavour and human rights dedication".
A focal point for activism
David Nicholas Arnott was born October 13, 1947 in Dewsbury, England. He studied at Reading University and travelled extensively in the 1960s and 70s. An avid photographer, Arnott wrote that while he did occasionally take photos of landscapes or people, he preferred to take pictures of walls, rubbish bins and trees, the "ugly or banal – valorising the everyday". It's not known if he had any family members or relatives.
Throughout the early 1980s Arnott founded a number of organisations focused on Buddhism, Tibet, Vietnam and the Chittagong Hill Tracts region in southeastern Bangladesh, according to a copy of his resume. In 1987, he turned his focus to Myanmar, co-founding the Burma Peace Foundation with the assistance of an influential UK-based Sayadaw, U Rewata Dhamma.
Arnott relocated the organisation four years later to New York City to be closer to the United Nations, where he assisted activists and provided UN officials with information on Myanmar. The same year Arnott founded the Burma Action Group UK, which became the advocacy group Burma Campaign UK in 1999.
Arnott then uprooted in the mid-1990s and moved to Geneva, where he remained a constant presence in and around the UN. Mirante recalled him wheeling a stack of documents nearly as tall as himself into a meeting of the International Labor Organization on forced labor in Myanmar. He had, she said, "collected everything, organised thousands of pages, so much proof of human rights violations, the incontrovertible evidence that was needed".
Over the years Arnott welcomed hundreds of Myanmar activists to his small apartment in Geneva, which was just steps away from the Palace of Nations. His living room, which doubled as an office, was covered with maps of Myanmar and stacked with filing cabinets and books. Arnott's collection of tropical plants snaked through the space, making it resemble a scene from the sci-fi novel "The Day of the Triffids", said Ms Debbie Stothard. The founder and coordinator of ALTSEAN-Burma, Stothard stayed with him during her visits to Switzerland in the late 1990s and early 2000s.
During major UN meetings, Stothard said, his apartment would be crammed with visitors. To feed the crowd, Arnott, a vegetarian and Buddhist, cooked large pots of red curry with pumpkin, canned beans and whatever other vegetables he could purchase at a discount. Stothard estimated she had "smuggled kilos" of curry paste to Switzerland for him in her years visiting Geneva.
In October 2001, Arnott launched the Online Burma/Myanmar Library. It soon became the Burma Peace Foundation's main activity.
The creation of the site came a few years after Myanmar activists had begun to skilfully embrace the internet, using it not just to share information but also wage campaigns aimed at pressuring corporations to boycott the country and governments to take tougher measures against the military.
Maung Zarni, then a graduate student, founded the Free Burma Coalition in the mid-1990s, pioneering the use of the internet in advocacy work. Around the same time, Mr Douglas Steele, a recent university graduate, launched the BurmaNet newsletter, compiling news from along the Thai-Myanmar border and sending it out on a daily basis. The newsletter delivered a near-daily news roundup to inboxes until the end of 2016.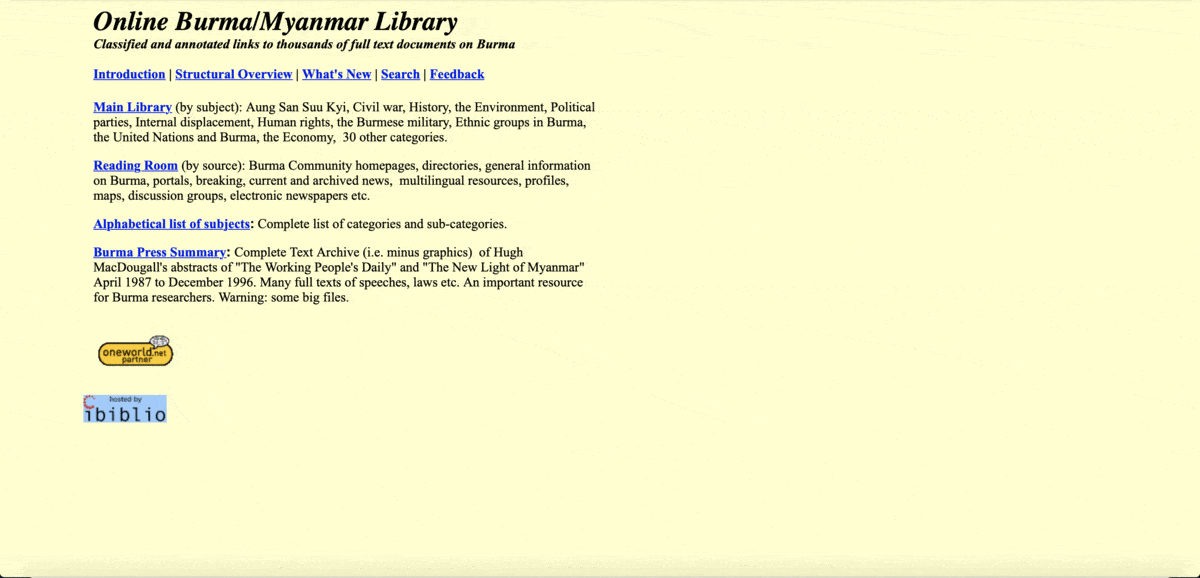 'You can find them on the OBL'
For many years, OBL, as the library is widely referred to by its enthusiastic users, had a rudimentary appearance. What it lacked in style it more than made up for in substance. Working mostly on his own, Arnott compiled the thousands of documents and catalogued them, including daily updates of state-run newspapers – The New Light of Myanmar, Myanma Ahlin and Kyemon – that carried detailed, if monotonous, official reports on the inspection tours and meetings of government officials, as well as screeds against the military regime's critics.
The library included more obscure periodicals, like The Mon Forum, and ones with limited or no internet presence at all. "On the border, we were in the jungle; we didn't have a place to archive meetings. The publications, we don't have them anymore, but you can find them on the OBL," said Khin Ohmar. The library also contained a host of other valuable material like the 13-volume Burma Code, an enormous set of laws and regulations dating from 1818 to 1954.
Mr Thomas Kean, the former editor of The Myanmar Times, said Arnott was often the first to alert him that the newspaper's IT team had forgotten to upload the most recent edition of the paper to the site in a PDF format. The site was regularly offline due to internet outages, technical issues or hacking attempts, and Arnott, always eager to make sure he didn't miss an edition, was usually the first to enquire when it would be back up and running, Kean said. "David's dedication to ensuring The Online Burma Library had a complete archive of everything in the public domain was unwavering," said Kean, who is now editor-in-chief of Frontier.
Relocation to Mae Sot in 2004 meant Arnott could more easily liaise with the active Myanmar community on the border, but government restrictions on the internet within Myanmar kept many people there from accessing the library. That ended in 2011 when controls on the web were eased by the government of then-President U Thein Sein. A recent funding proposal to expand the library said Google Analytics showed some 30 percent of the traffic to the site now originated from within Myanmar.
The library, which subsisted on small grants and donations, faced financial difficulties in recent years. Like many border-based organisations, it struggled to attract support as donor funding increasingly shifted to Myanmar-based groups. Arnott, who friends described as extremely private and at times could be demanding and abrasive, also found fundraising activities "very tedious", the recent funding proposal said. He resisted promoting the library on social media, in part to avoid any appearance of bias.
In 2018 the site received its first major facelift since its launch almost two decades earlier. Along with a more modern palette and fonts, the interface was re-worked and search function improved. Arnott was keen to add more Burmese and texts in ethnic minority languages, such as Pwo and S'Gaw Karen, to the library. He also had contemplated handing off operations and moving it inside Myanmar.
Khin Ohmar said the library transcended the political changes of Myanmar and the waves of people who have become interested in the country over time. It is exhilarating, she said, when someone tells her that they have found the site for the first time. "I'm so thrilled to see that the young generations have access to it."