One of Myanmar's most accomplished guitarists earned fame in the 1980s with the release of an album that was notable for its original musical compositions and philosophical lyrics. 
By MRATT KYAW THU | FRONTIER
"When you're walking around,
If you see your shadow,
Are you afraid of it?
You can wear Thanakha on your face,
But use your hand fan (to dry it)"
This critique of a social trend in socialist-era Burma – namely, women who pretended to be part of the elite, but were actually struggling to get by ­– was among the more popular songs of the 1980s.
Songwriter and performer Derek Millar, 55, a national legend of jazz and blues, was as renowned for his ability to weave social and philosophical observations into his songs as he was for being an accomplished guitarist.
The lyrics above are from one of his most popular songs, "Thel Nu", named after a young woman, but he is best known for his masterpiece, "Blue Coffee Shop", released in 1986. Fans of the song could be heard humming it into the 2000s, well after Derek Millar had stopped performing.
A Yangon resident of Scots descent, Derek Millar began playing the guitar at 13. This was in defiance of his father, Mr John Lancelot Millar, who had banned his son from so much as touching a guitar.
"His only reason was that he didn't want my life to be destroyed by music," Derek Millar told Frontier.
His father had also played the guitar, but as an amateur. Derek Millar's paternal grandfather, Mr Ebenezer Millar, had been Commissioner of Excise in Rangoon.
The family had lived comfortably when Derek Millar was a boy, but gradually suffered from financial difficulties as the socialist era dragged on. During this time, the family lived in the Pa Sa Pa La Ward of Mingalar Taung Nyunt Township.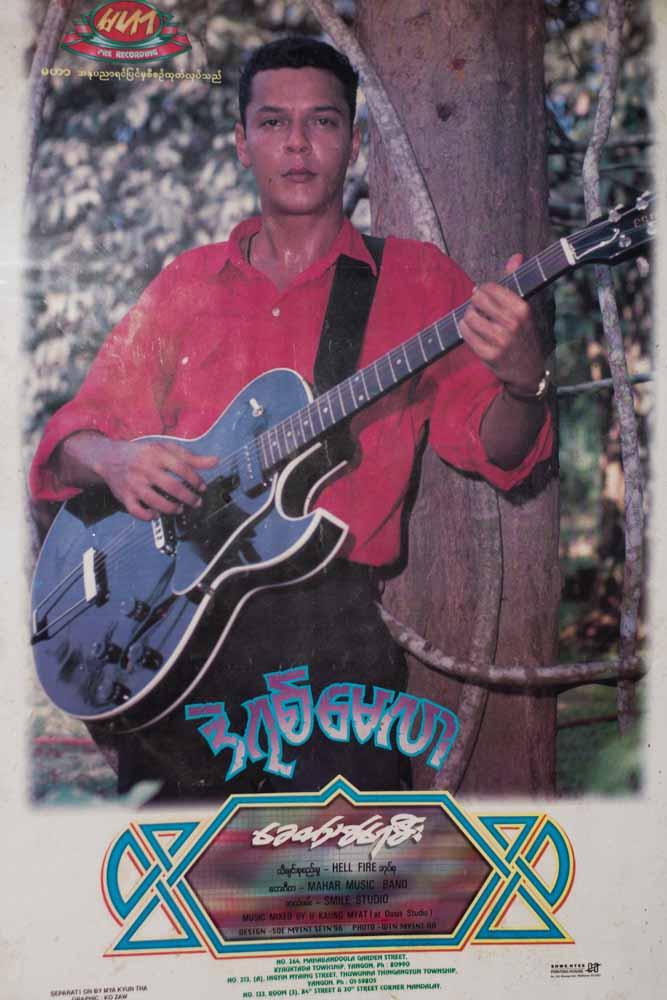 The ward was considered a centre of opposition to socialist rule and after 1988 many of its residents, including the Millars, were shifted out. They later settled in North Okkalapa Township; Derek Millar was interviewed by Frontier at a restaurant there near his home.
The interview began with a clarification about the spelling of his surname. Millar, ending with an "ar" is Scots; Miller is English, he explained. But Myanmar usually spell his name as "Derick Miller" because it's the phonetic spelling of his name as it appeared in Myanmar on the covers of his albums.
Derek Millar was born in 1962 and graduated from Rangoon University with a major in physics. Some of his university friends also became famous singers, including Htoo Eain Thin, Khin Maung Toe and Phoe Cho.
Derek Millar was reluctant to discuss his family's past, referring only to Ebenezer Millar's senior administrative position and his father's ability as a guitarist. This reluctance appeared to stem from the financial difficulties that had begun after the Ne Win coup.
In the 1970s, though, Derek Millar could still afford to buy American and other foreign music albums that were too expensive for most youngsters, though. Only the rich and those with a serious interest in music were buying foreign albums, which were acquired overseas by merchant seamen and sold on their return to Yangon.
"I often went to 35th Street to buy CDs from Indian shops which sold foreign music albums. I also bought many Indian songs, which I loved," he said.
It was in the 70s and 80s that "copy songs" based on foreign hits with Myanmar lyrics became increasingly available. Especially popular were the Beatles, Air Supply, Credence Clearwater Revival. Later, songs from groups such as Bon Jovi, Guns N' Roses and Metallica were widely copied.
"I listened to a lot of American bands," said Derek Millar, "but my favourites were the English bands: Deep Purple, Led Zeppelin and the Rolling Stones. I liked them too much."
A self-taught guitarist who plays by ear, Derek Millar's first "teachers" were guides to play the instrument that he bought at second-hand book stalls. He also received guidance from more accomplished players.
"I don't know much about Do Re Mi Fa; I just know about pucca [a form of notation based on chords] and some tablatures," he said.
"When I was playing the guitar on stage, I couldn't see the notes on the music stand.
I don't think anybody can read those notes when they are up on the stage," he added, laughing.
In 1985, when he was still living in Mingalar Taung Nyunt, Derek Millar began providing tuition in playing the guitar. He had produced his first album in 1983, and although not widely known it attracted critical claim from the music industry because of its innovative music style and unusual lyrics.
Even though Led Zeppelin, Deep Purple and the Rolling Stones are his favourite bands, their styles are not reflected in his compositions, which are a mixture of jazz and blues.
"If I have to talk about my music genre, it's difficult, like talking about my perspective on my religion. Some say my songs are jazz and some say they are blues, but for me they're just music –­ that's all," Derek Millar said.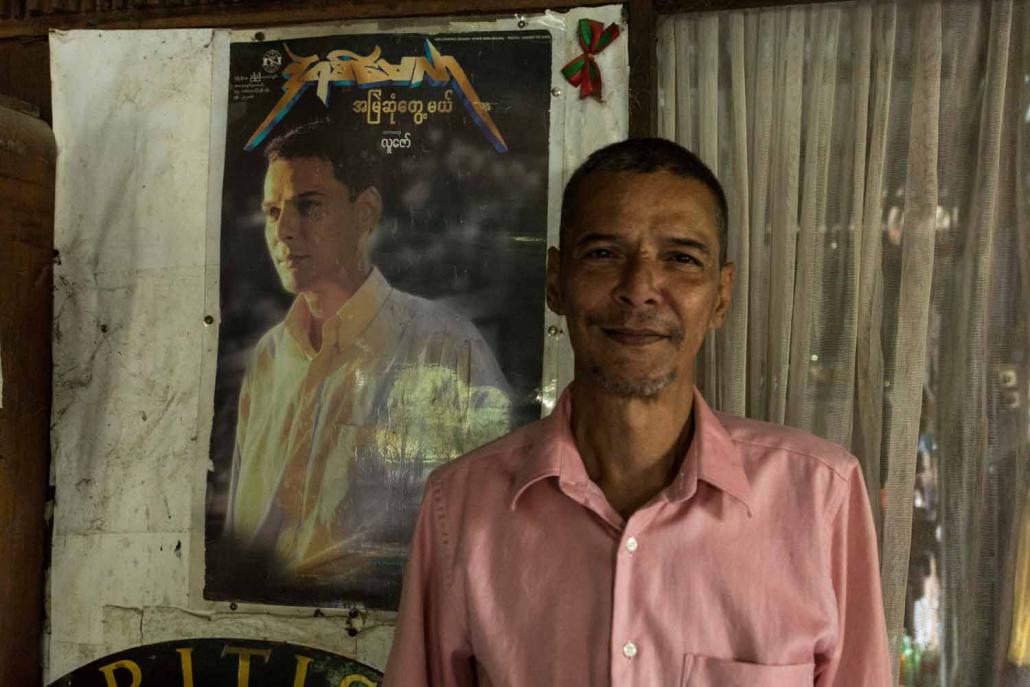 He is proud of writing his own lyrics and composing the music to accompany them, rather than copying Western songs. "I have always felt comfortable about creating my own melodies to accompany my own thoughts."
In 1986, he produced his second album, "Khit Thit Yaysi" (New Age Trends). Widely considered a masterpiece, it included the hit that propelled him to fame, "Blue Coffee Shop".
"I have to thank Ko Bo Ni, the composer of that song ['Blue Coffee Shop']. He came to me and gave me that song. He can't play the guitar very well, but he has written more than 400 songs. Most were never recorded," Derek Millar said, adding: "I don't know where he is now, or even if he is still alive."
Although "Blue Coffee Shop" made him famous, it did not make Derek Millar rich. He still earns money from playing with bands – his last was Mahar Arts Zone, which disbanded in 2000 – and as a session musician.
"[In the mid-1980s] I could earn K600 from playing at a wedding; I earned K3,000 from one album as a [lead] guitarist," he said.
He produced his last album, "Will Meet You Forever" in 1998. It was not a big commercial success because its release coincided with singer and actress Htun Eindra Bo's hugely popular album "1999".
In the early 2000s, Derek Millar was busy as a session musician and a producer of other singers' albums. If the opportunity arises, he would like to produce another album of his own.
"I have many songs already written and if I have a chance, I want to produce it," he said.
"People labelled me as a legend of Jazz, blah blah," he said. "I wrote lyrics, sang and played with my heart; there's no ownership label on my works, just my mood."
Derek Millar likes to unwind with his guitar at the North Okkalapa home where he lives with his wife and two daughters.
He has an uncomplicated attitude towards life.
"Live and think only about today," he said. "Tomorrow will be okay."