A pioneering low-cost housing project in Yangon is charting a possible path forward on one of the city's toughest challenges.
Words & Photos CONNOR MACDONALD | FRONTIER
U AUNG KYAW OO lives with four family members in a thatched bamboo shack that measures 12 feet by 14 feet. The hut floods during rainy season. Because it cannot be locked and burglaries are common on the main road where he lives, someone has to stay up every night to guard against thieves.
Like many of the 500,000-plus squatters in Yangon, Aung Kyaw Oo's adult life has been marked by uncertainty. The thought that tomorrow he might wake to the din of bulldozers about to flatten his home is never far from his mind – at least, until now.
UAung Kyaw Oo works during the day as a bicycle mechanic, but at night he is in charge of a housing project for a community of 120 squatter families, including his own.
The Yoma pilot project, in Dagon Seikkan Township on the eastern fringe of Yangon, is a collaboration between the Japanese government, UN-Habitat, the Ministry of Construction, Yangon City Development Committee and local non-profit organisation Women for the World. It aims to develop potential solutions for Yangon's housing crisis that can be replicated by government agencies on a larger scale.
For decades, the government has typically responded to squatters in two ways: by ignoring them, or evicting them. In the early 1990s, for example, the military junta evicted thousands of households and resettled them in new townships such as Hlaing Tharyar and Dagon Myothit. However, these projects were often ill conceived; the new settlements lacked infrastructure and social services, and in some cases had few job opportunities.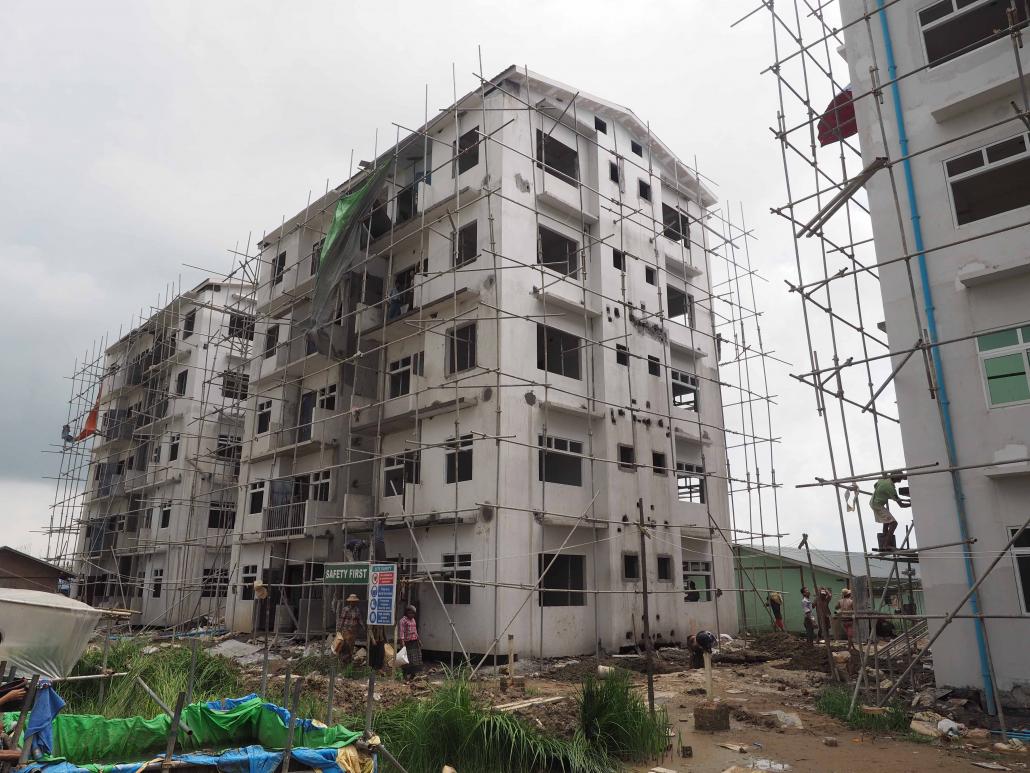 The former Yangon Region government, led by current vice president U Myint Swe, regularly ordered mass evictions, drafting in civilian thugs to help security forces destroy squatter settlements. The current government signalled early in its tenure that it would instead conduct a census of squatter households and arrange resettlement, but it's a daunting challenge, and no real progress has been made to date.
The Yoma project focuses on empowering households by giving them a lead role in building their future homes, right throughout the process. Elected community members are in control of the budget and maintenance responsibilities.
The organisations backing the project hope that this will instil a sense of pride and ownership in the new homes and as a result prevent the social problems and cyclical poverty that have plagued previous government resettlement models.
A women's world
The concept of mobilising very poor communities in Myanmar isn't new. It has already proven very successful, at a grassroots level, in the slums of Hlaing Tharyar Township.
Hlaing Tharyar is home to the country's largest industrial zones. The low-paying jobs on offer in the factories have acted as a magnet, drawing in hundreds of thousands from around the country. Conflict and disaster – such as Cyclone Nargis in May 2008 – have prompted influxes of migrants seeking work.
The March 2014 census found the township had a population of 687,000. Nobody knows how many of these are living unlawfully on vacant land; earlier this year, the regional government said it believed the citywide figure to be above 430,000. Hlaing Tharyar is thought to have the largest proportion of squatters, and many more in formal housing rent poorly constructed bamboo structures.
It was in these sprawling slums almost a decade ago that local NGO Women for the World (WFW) established what is thought to be Myanmar's first community-planned and community-built urban housing project.
WFW found that many of these squatter communities were crippled with informal debt, with interest rates of 20 percent a month not uncommon. Many were on the verge of eviction, having fallen behind on the relatively high rents demanded by landlords.
It was put to the women of 20 nearby households that they should develop a group savings scheme. Each family was convinced to put away K100 to K200 a day, and at the end of the week they came together and deposited it in a savings box.
Soon these women had enough to start distributing low-interest loans to members of their savings collective. Initially, most of it went toward paying off outstanding debts. Eventually though people began to borrow in order to buy sewing machines or livestock, or to make small upgrades to their homes.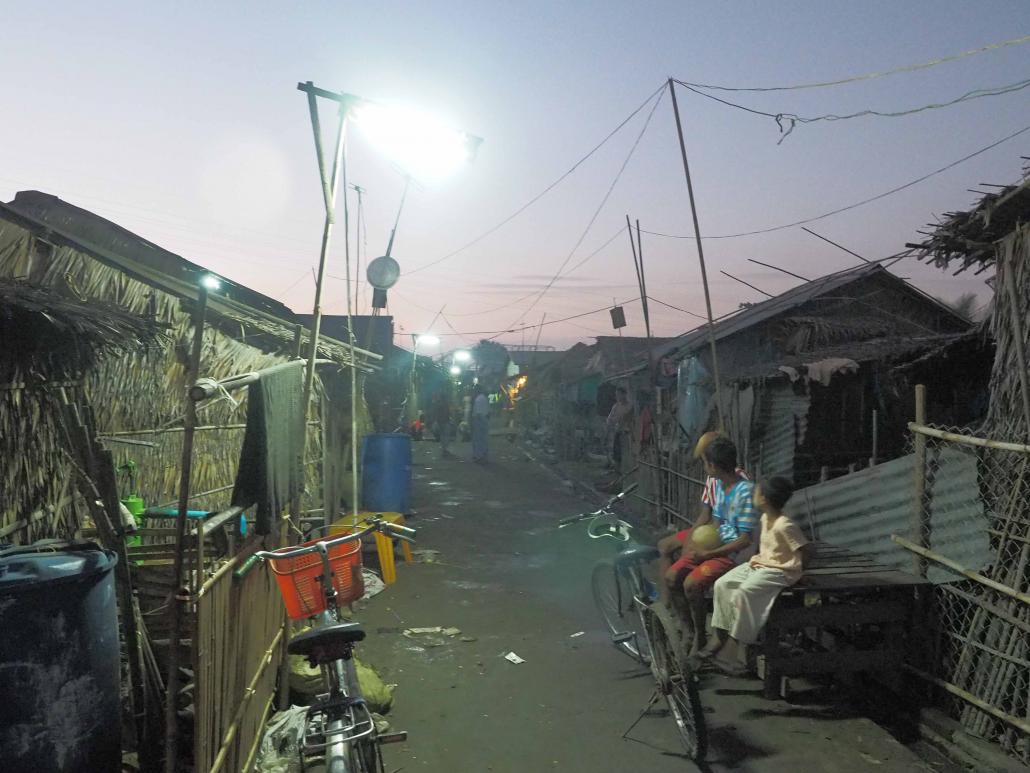 "Rich people are powerful because they have money," said Daw Van Lizar Aung, director of Women for the World. "So we encouraged the poor people to come together, to bring the little money they had, and then suddenly when they were a group they found they had power."
This early success emboldened them to take out a small loan from a city-level development fund supported by the Asian Coalition for Community Action (ACCA) – enough to buy a vacant plot of land where each family could build a modest wooden house. With design help from community architects and guidance from WFW, each family built a house using a loan of US$833, which incurred little interest and could be repaid in small instalments.
After the success in Hlaing Tharyar, similar groups were set up in other communities. Within a year, 30 squatter families in North Okkalapa Township and 48 families in Htantabin Township had taken out loans, bought land and built new houses using the same collectivised loan model.
"These people have confidence now. It was difficult to get them to believe in the process but now they're fully behind it. Now they see it as the only process that's truly beneficial for them," said Van Lizar Aung.
"We used saving as a tool to mobilise the people, to link everyone in a community so that they could find solution. Individuals can't tackle their problems alone but they can when they come together."
Scaling up
Many of the principles that Women for the World used to great effect in the poorest areas of Yangon are now being applied on a much larger scale through the Yoma pilot project.
The tenants, all of whom live within a 5-kilometre (3-mile) radius of the project, were chosen based on a set of vulnerability criteria. With guidance from WFW, these families have set up their own organisation and are negotiating with UN-Habitat, the Ministry of Construction, construction companies and other stakeholders.
The development is divided into six five-storey buildings, with 20 families in each. Each building elects members to sit on an Apartment Usage Committee (AUC), whose role is to manage cleaning and maintenance. An elected Integrated Apartment Usage Committee (IAUC) serves as the umbrella committee for all buildings and handles any collective issues.
The funding for construction comes from the Japanese government and is distributed by UN-Habitat. It is paid in four instalments through seven contracts: one for each building's AUC and one for the IAUC umbrella group.
As each AUC meets pre-determined construction milestones for their building, a payment is transferred into their bank account. They then pass the funds on to the IAUC, which has its own contract with the construction company. Ten percent of each payment is deposited into a community rainy day fund.
IAUC treasurer Daw San San Aye is the person at the top who handles this complex chain of transactions. It is a role for which she has had to make sacrifices, she said; because she has less time to devote to her cooking supplies business, sales have dropped by 30 percent. She's confident, though, that her volunteer work with the IAUC will be worthwhile.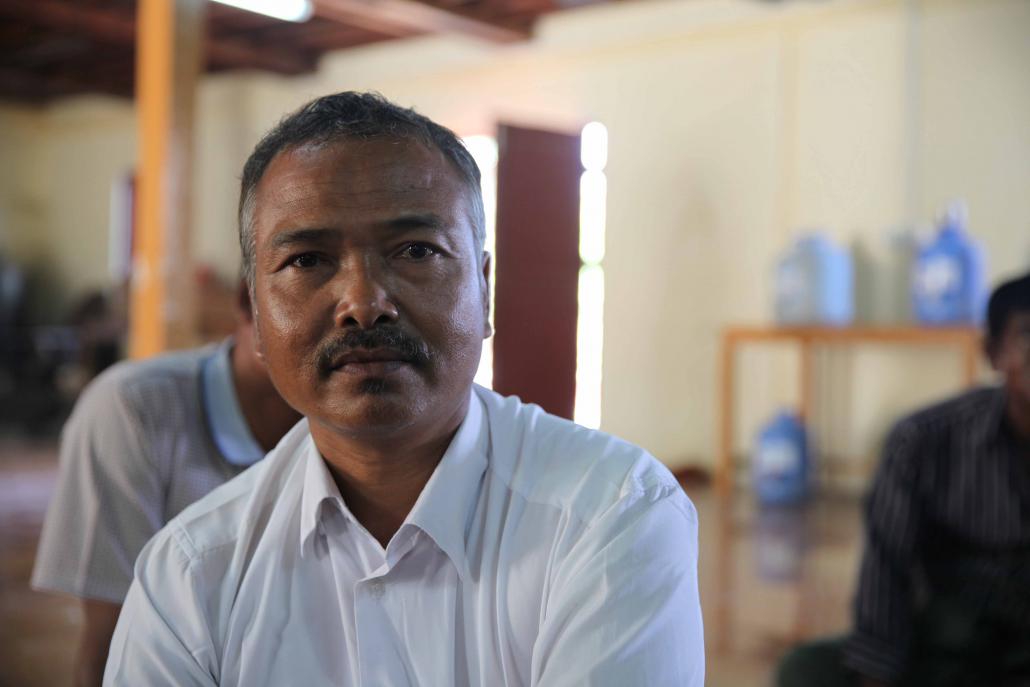 When handover of keys takes place in November, she and her family will have a new home – and, most importantly, security of tenure. While Japan is funding construction, building repairs, ongoing maintenance and cleaning will be paid for by the tenants.
The Yoma pilot differs from WFW's original model, but Van Lizar Aung said changes were always going to be necessary when scaling up and dealing with larger stakeholders, such as governments and international organisations.
"We want to continue with these sorts of projects," she said, "so this one was a very important project and we've [been involved] with it quite a lot. From it we have learned what we have to change when we do it at a larger scale."
The right people
The initial focus of the project was to identify the squatters who were the most economically vulnerable. Interviews with potential families were conducted by WFW and UN-Habitat to get information on the number of family members, the household's total income, how many of the children were going to school and how long they had been squatting in the area.
This is different from many other projects designed to alleviate housing shortages. In Yangon, the authorities regularly conduct a lucky draw, or lottery, with those selected winning the right to buy the apartment at a subsidised rate. In some cases, there have been accusations of relatives or associates of officials managing the projects being given preference over needy households. Either way, the apartments are often sold on at the market rate, negating their original purpose.
Another difference with traditional low-income housing models is that those who participate in the Yoma project have to contribute their time and effort to bring it to fruition. This avoids the perception that the housing is "free", or simply being given away.
"This is a pioneering concept. We don't have the resources to build 50,000 houses, so we are trying to solve existing problems within squatting communities, without triggering more [squatting]," said Mr Bijay Karmacharya, Myanmar country program manager at UN-Habitat.
"We aren't telling them, 'You live here so we'll build you a house, then you can come and live in it.' We are putting them into committees so they are in charge of construction… so they can be empowered to engage with construction companies," he said. "We want them to put their blood, sweat, time and energy into this project so that they feel engaged with it."
Mike Slingsby, a former UN-Habitat representative for Afghanistan who now advises on urban development and poverty in Myanmar, said free or subsidised housing was simply not a realistic prospect.
"No government that I know of has the resources to subsidise or give housing out for free. It's a path that many governments try to go down but they've all failed," he said.
"If you do that [subsidise housing], there's a great temptation for speculation in the sense that people will take it but next week they will sell it because they've been given something at a subsidised price."
The high-rise apartment model that has been favoured by governments in the past has tended to overlook both the needs of poorer communities and how they live, he added.
In a sense, the Yoma pilot project seeks to bridge the gap between past government housing endeavours and the grassroots community models of Hlaing Tharyar, North Okkalapa and Htantabin.
Aung Kyaw Oo is excited at the prospect of living in his own home. Of all the benefits this will bring – including no longer having to guard his home each night – he said the most important is that the community will have legal status. Rather than facing the constant threat of eviction, his household will be officially recognised by the government.
"I can say, 'I live in unit three', [and] I can register my family with the government," he said. "We are a team now and it will be easy for them to recognise our community, which makes it easier for us to help other communities."