The steady growth in global popularity of the ancient Indian practice of yoga is supporting a rising number of studios in Yangon as well as retreats in spectacular locations.
By LOREN LEE CHIESI | FRONTIER
AN INCREASING number of yoga studios have opened in Yangon in recent years as the practice developed in India thousands of years ago enjoys rising popularity throughout the world.
Myanmar is also emerging as a destination for yoga retreats held in locations of great natural beauty that rival the quietly reinvigorating ambience of venues elsewhere in the region, including Thailand, the Indonesian island of Bali, and the Philippines.
Here's a list of the studios in the commercial capital that are strengthening and expanding this ancient Indian tradition.
Yangon Yoga House
One of the city's leading studios, Yangon Yoga House, employs 11 certified instructors and offers a variety of classes taught in English: Ashtanga, Hatha, Yin, Pilates, Total Body Sculpt, and three levels of Vinyasa flow to meet the needs of yoga novices and advanced practitioners. The studio is fully equipped with mats, blocks, bolsters, blankets, weights, and straps to provide an optimal yoga experience at no extra cost. A wellness oasis in the heart of the city, Yangon Yoga House is in an alley opposite the ParkRoyal Hotel, and beside Nourish Café and Bliss Beauty Bar. Its fees range from US$13 for a single drop-in class, by-the-class passes at $55 to $180, and monthly memberships at $360 to $1,000. The studio also offers a special introductory rate of five classes/30 days for $35 for first-time students and a traveller's pass at $25 for three classes in one week.
Phone: 09-9738-02714
Facebook: YangonYogaHouse
Website: www.yangonyogahouse.com
Email: info@yangonyogahouse.com
Address: 36A Alan Pya Pagoda Street, Mingalar Taung Nyunt Township
Yoga at the Belmond Governor's Residence
This luxury hotel in Dagon Township offers weekend morning yoga classes in English for its guests and the general public. The classes are from 7am to 9am on Saturdays (Ashtanga with Christina) and Sundays (Vinyasa with Ila) and cost $10. During the rainy season, classes are held in the spacious Mandalay Room. Towels and mats are provided free. For a truly holistic treat, the hotel also offers the "Sharp Mind, Healthy Start" package, which includes a complimentary yoga class, buffet breakfast (between 6am and 11am) and use of the pool (8am to 6pm), for $58 a person. Customers who choose this package receive a discount of 30 percent on spa services and extra food and beverages.
Phone: 09-5123-02092
Email: reservations.tgr@belmond.com
Address: 35 Taw Win Road, Dagon Township
Yoga at the Indian embassy
The cultural centre at the Indian embassy hosts yoga classes for beginners and experienced practitioners. Yogini Manshu is the resident instructor for all classes, which are taught in English. There is a registration fee of $3 and prospective students must also show their passport. The monthly fee of $5 covers classes in yoga, meditation, pranayama, chanting and Sanskrit.
Email: yoginimanshu@gmail.com
Address: Embassy of India, 545-547 Merchant Street, Kyauktada Township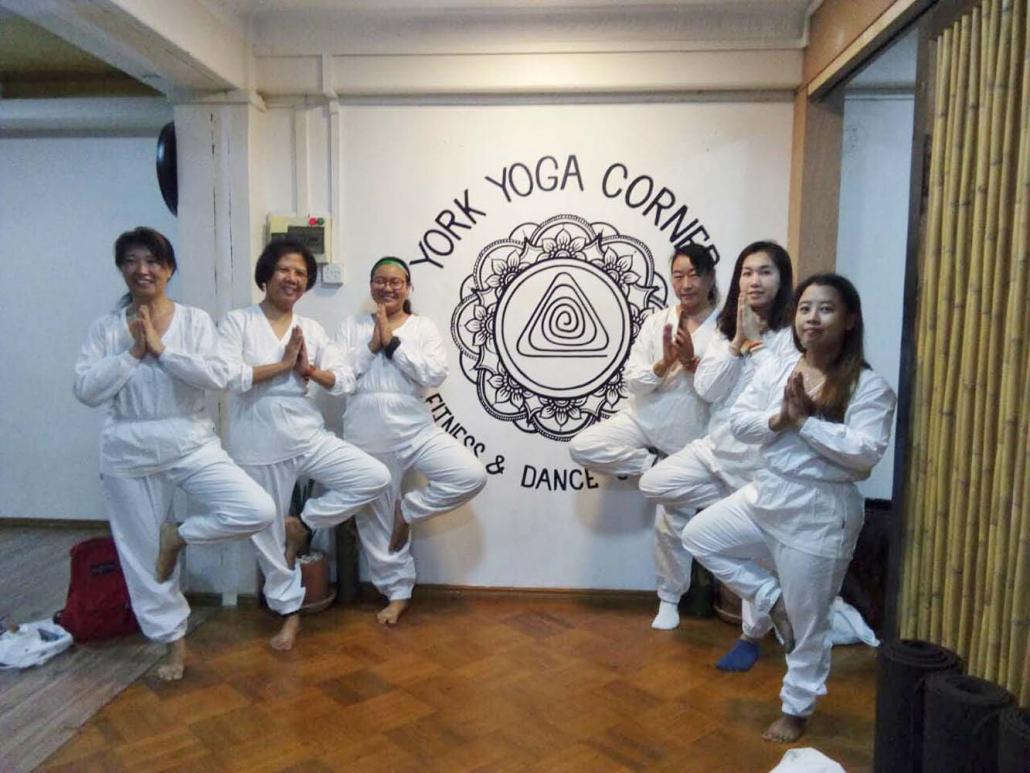 York Yoga Corner
This lovely studio in Dagon Township offers yoga, dance, Pilates, Zumba, and theatre classes. Five Yoga Alliance-certified teachers lead Ashtanga and Hatha classes during the week in English and Myanmar. The teachers adjust the language of instruction to suit students' needs. The studio provides mats. Drop-in classes start at K10,000 and monthly fees range from K78,000 to K670,000. Check the website for class times and special workshops.
Phone: 09-9691-13841
Email: www.yorkyogacorner.com
Facebook: Yoga In Yangon
Address: 28, 4th floor, Bo Yar Nyunt Street, Dagon Township
Kuuzchi Yoga
This shala, or studio, nestled among the winding, tree-lined streets of Golden Valley, has attracted a steady stream of students since it opened in September 2014. It features a serene, covered semi-outdoor setting that can be used in any season. Mats are available. Kuuzchi Yoga offers morning and evening classes, of between 60 to 90 minutes, focusing on Ashtanga and Vinyasa flows. Class schedules and teacher availability are posted on Kuuzchi Yoga's Facebook page. Fees range from $12 for a drop-in class to 10 classes for $100.
Facebook: Kuuzchi Yoga
Email: kuuzchi@gmail.com
Address: 103C Than Lwin Road, Bahan Township
Thiha YogaClass
In Sanchaung Township, practise a variety of styles of yoga with the studio's namesake instructor, U Thiha, and his wife, Daw Zarchi. Thiha is a 500-hour registered yoga teacher who specialises in Ashtanga and Vinyasa, and Zarchi teaches beginner classes. They teach in Myanmar and English and sometimes host partner yoga classes. Thiha Yoga holds 14 classes a week, between 9:30am and 11am, and from 6:30pm to 8pm. Fees range from K10,000 for a drop-in class to K60,000 for eight classes. Mats are provided.
Phone: 09-4500-04846
Facebook: Thiha Yoga Class
Email: thiha214@gmail.com
Address: 20 Thiri Mingalar Street (beside Asia Royal Hospital), Sanchaung Township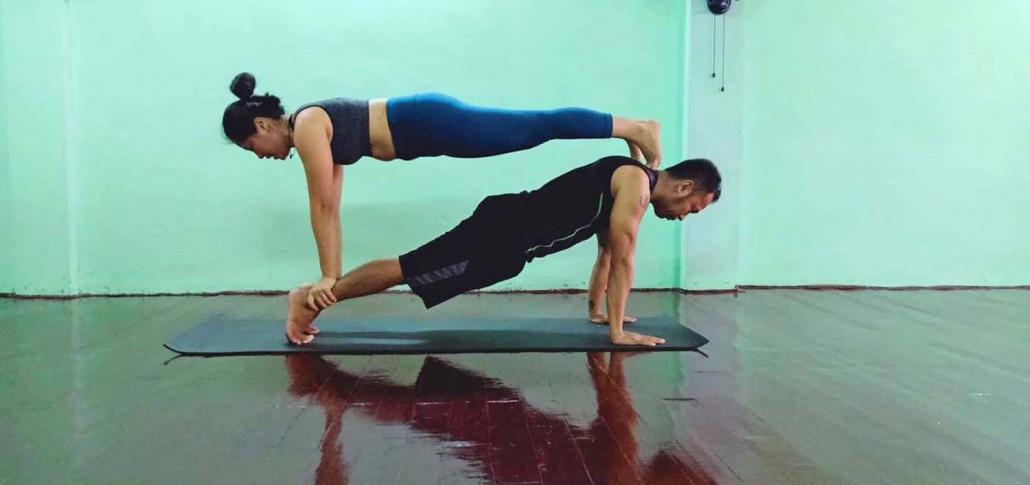 Yoga @ Pansuriya Art Gallery
For a truly unique yoga experience, join a certified yogini, Ms Imogen North, at Pansuriya Art Gallery in downtown Yangon for a candlelight Vinyasa flow practice on Tuesday evenings among beautiful works of art. The classes start at 6:30pm and cost K10,000. Bring your own mat.
Facebook: YogaPansuriya
Address: 100 Bogalay Zay Street, Botahtaung Township
Know your yoga lingo
Ashtanga: A style of yoga developed in Mysore, India, that involves a set series of poses done in a specific sequence to strengthen and open the body for meditation. First-time yogis may be intimidated by the quick pace of the practice, yet this type of yoga is ideal for advanced yoga practitioners and athletic bodies.
Vinyasa: A term used to describe the connection of one yoga pose to another in a brisk sequence. A Vinyasa flow class is a great way to stay in shape, build muscles, and maintain flexibility without vigorous impact.
Hatha: Arguably the most traditional style of yoga, Hatha yoga unites breath exercises (pranayama) with structured poses to increase flexibility and concentration. This style is suitable for beginners and advanced yogis alike.
Drop-in class: In yoga circles, this refers to a one-time class payment.