A little-known 11th century archaeological site near Bagan has been proudly tended for years by monks and local residents but they worry about the consequences if it attracts too many visitors.
By NYAN HLAING LYNN | FRONTIER
A SHORT walk along a shady forest path not far from Bagan is an ancient heritage site that proud local residents have rescued from obscurity, despite it being listed in archeological records.
The site resembles a rock quarry and is on Mount Thetsoe, part of a low range of hills that runs parallel to the road between Nyaung-U, the gateway to the Bagan Archaeological Zone, and Kyaukpadaung.
Nearby Tuyin Taung Pagoda and an adjoining monastery are popular with pilgrims. Tuyin Taung is one of four "Swedaw" pagodas at Bagan; many pilgrims believe that visiting the four in a single morning will bring good fortune.
From Tuyin Taung Monastery it takes about 20 minutes to reach the site and a reward of the walk is occasional panoramic views of the temple-studded plain at Bagan, as well as closer sites like Tuyin Taung Pagoda and the ancient Mya Kan dam.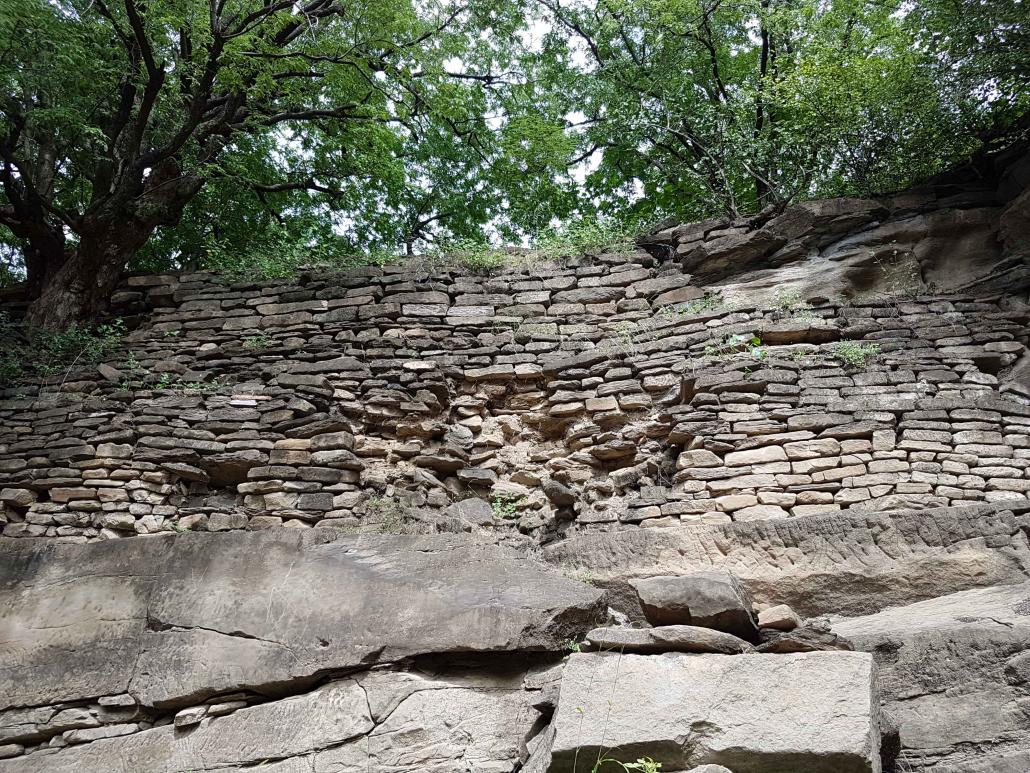 Dr Thein Lwin, a deputy director general of the Archaeological Department under the Ministry of Religious Affairs and Culture, says the site was a quarry to mine stone for building temples and making Buddha images.
Experts and the area's residents agree that the site was built in the early 11th century by the founder of the Bagan empire, King Anawrahta.
However, there is disagreement over the original purpose of the site.
Some residents believe the site is the remains of a reservoir built during Anawrahta's reign to provide a water supply for the area's population, including workers building temples at Bagan.
Whatever its origin, Nyaung-U residents and monks from Tuyin monastery have been tending the site since October 2006. A gathering of volunteers to keep it clean and tidy in 2007 attracted the interest of the authorities because it coincided with the monk-led protests known as the Saffron Revolution.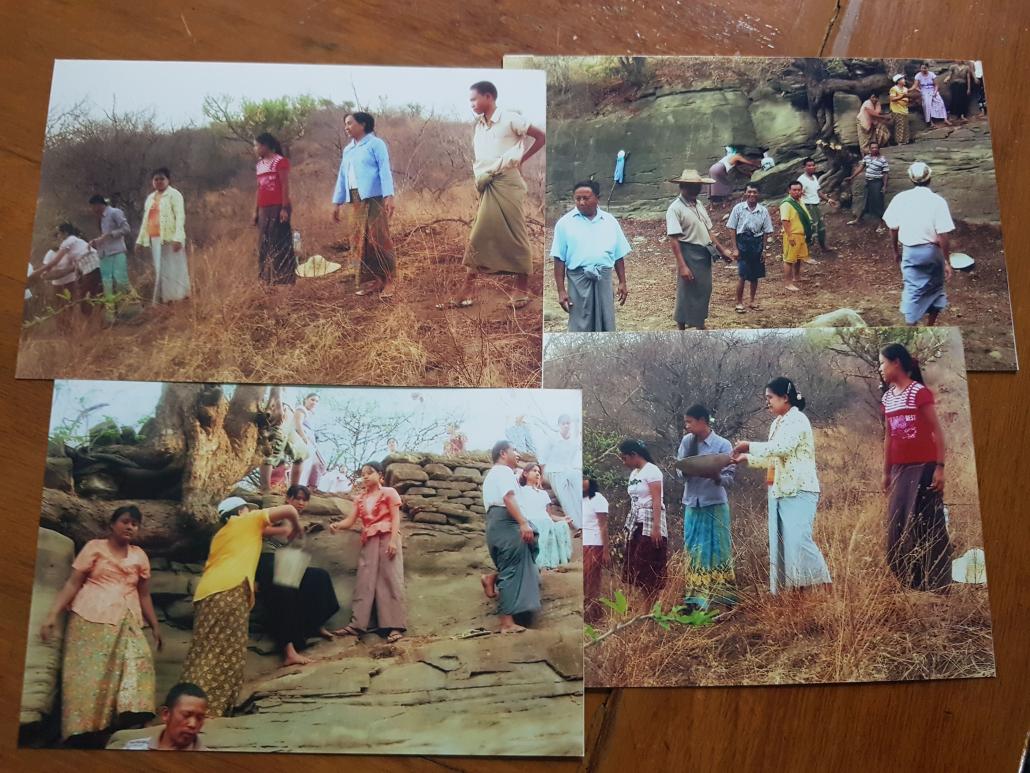 "The authorities were suspicious when monks and laity gathered at the site during the Saffron Revolution and I had to explain that they were only maintaining a heritage site," said U Tayzar Nanda, the abbot at Tuyin Monastery.
Nyaung-U resident U Tint Lwin said many people were keen to donate their labour to clear and maintain the site because such work was regarded as being auspicious.
The site was overgrown with bushes and rubbish and when the work began the depression in the rock seemed to be about five feet deep (about 1.5 metres), Tint Lwin said.
The volunteers' efforts have revealed a site measuring 25 feet deep and 30 feet across, he said.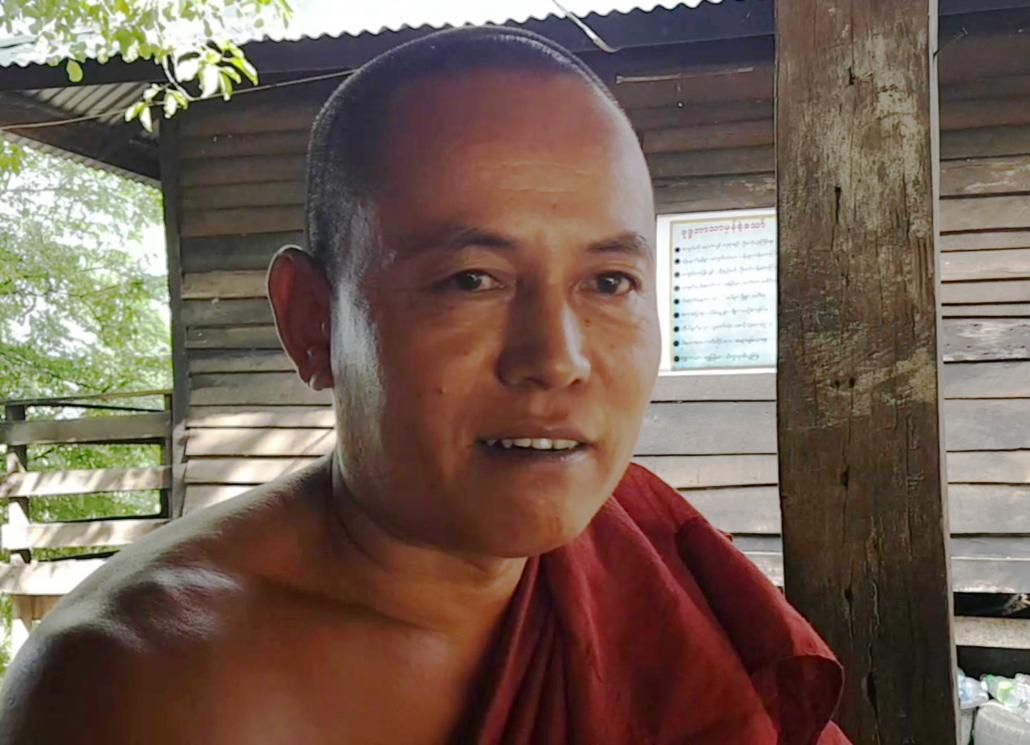 Three sides of the site have been hewn from solid rock and the eastern side is a dry-stone wall. Steps leading to the floor of the site have been cut into the rock. A drawing of a labyrinth has been carved into one wall, with a heron on one side and a dragon on the other.
A cavity in the centre of the site is believed to have been for a post used to measure water levels. A rock cut channel to drain water into the site is also cited as evidence that it was once a reservoir, though the area's residents admitted they had never seen it full of water.
Thein Lwin said the Archeological Department has no plans to maintain the site.
Nearby residents and monks from Tuyin Monastery are happy to continue their volunteer activities, but worry that it may become too popular.
Their concerns are based on the irresponsible behaviour of some visitors to Bagan, where littering and graffiti are marring the sanctity and beauty of even some of the best-known temples.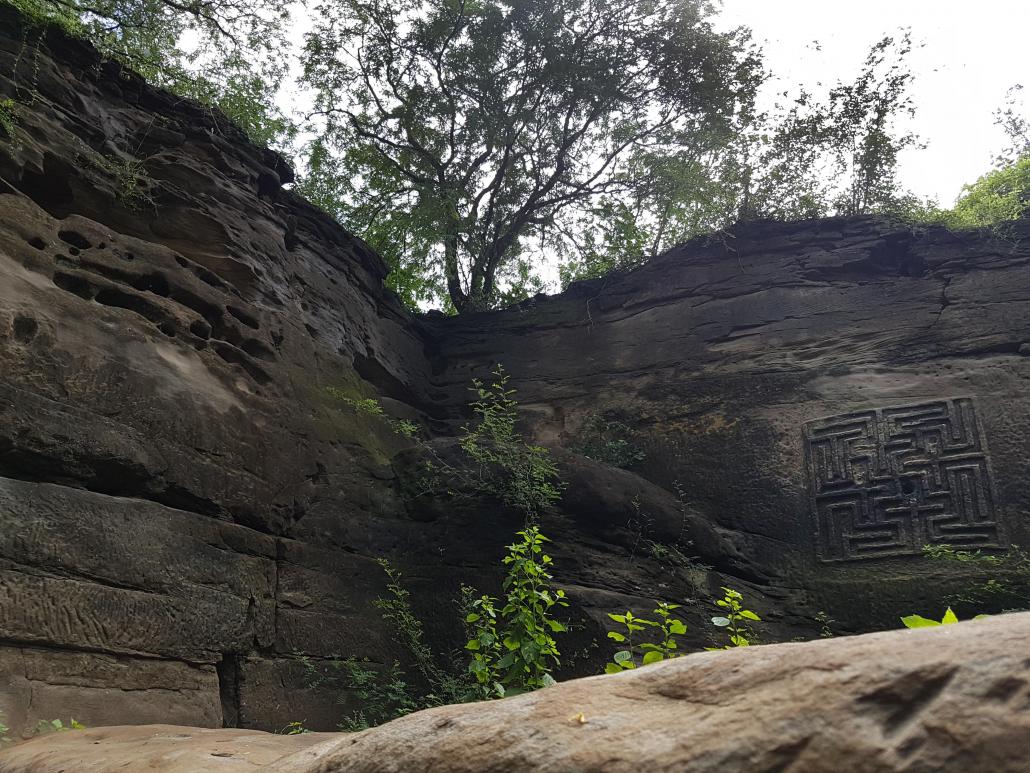 As Frontier reported in August last year, graffiti has been defacing temples and pagodas at Bagan for generations. Graffiti can be seen in Myanmar language, as well as English, Chinese, Thai and Japanese, and much of it is written by lovers.
Littering is also a big problem at Bagan. It has inspired residents to launch a Bagan Plastic Campaign, under which volunteers collect and dispose of rubbish left among the zone's temples, complementing the work of municipal garbage collectors.
Research by the campaign has found that about 36 tonnes of rubbish is dumped each day in Nyaung-U, New Bagan and Old Bagan, of which about 20 percent is plastic waste, such as water bottles.
Tayzar Nanda and others are worried that the ancient site a short walk from the Tuyin Monastery will suffer similar problems with littering and graffiti if it attracts too many visitors.
U Tin Win Lwin, a Nyaung-U resident and a leader of the effort to maintain the site on Mt Thetsoe, issued a heartfelt plea to prospective visitors: "Please do not throw any rubbish."