Volunteers and humanitarians struggle to meet demand as shortages of food and medicine as well as fear of junta attacks haunt the lives of more than 900,000 internally displaced people in Myanmar.
By FRONTIER
Since early March, U Myint Tin, a community leader in Mwe Lal village, has been kept busy arranging food and shelter for people left homeless and bereft by the killing and arson rampages of junta forces through the area.
The residents of Mwe Lal village, a prosperous community of 1,300 houses in the far northern Magway Region township of Gangaw, have been providing for their neighbours from Thin Taw and Shwe Bo villages. The villagers were displaced after Tatmadaw soldiers and pro-military militia members torched around 260 houses in the two villages on February 28. Arson attacks have been especially favoured by the regime in recent months, and according to local media reports, over 10,000 houses across Myanmar were set ablaze by junta forces in the first week of May alone.
Fifty-two of the 600 villagers left homeless by the arson attacks on Thin Taw and Shwe Bo sought refuge in Mwe Lal village while the rest dispersed throughout the area seeking shelter in other villages or camping out in nearby forests or farmland. When the internally displaced people arrived at Mwe Lal, Myint Tin went door-to-door seeking donations of food and other goods for them.
"Our village is yet to be targeted, but if it is, it will mean that all of Gangaw Township will have fallen, and if that happens we will no longer be able to continue providing help to other villagers," Myint Tin told Frontier on April 28.
He is also worried about the approach of the rainy season and wonders how it will be possible to continue providing support for the 52 people sheltering at Mwe Lal and the other displaced people in the area. Money is also a worry. Myint Tun said it costs at least K50,000 a day to provide the additional people at Mwe Lal with two meals a day, including rice, cooking oil, vegetables, fish and meat.
The number of internally displaced people, or IDPs, has soared throughout the country since the military seized power in February 2021, especially after fighting escalated between the military and ethnic armed groups and armed resistance forces. Despite the efforts of altruistic groups and individuals to provide IDPs with food, shelter, clothing and medicine, the situation is dire.
Figures released by the United Nations on April 6 estimated that around 560,900 people have been displaced since the coup, including 234,600 in southeast Myanmar and 227,300 in the northwest. Including those displaced before the coup, the total number of IDPs throughout the country is estimated to be around 907,500 as of April.
"It is really bad. I am a disabled person and my home has been burned down," said a distraught U Myo Thant, a resident of Thin Taw village, "I have no idea how I will rebuild."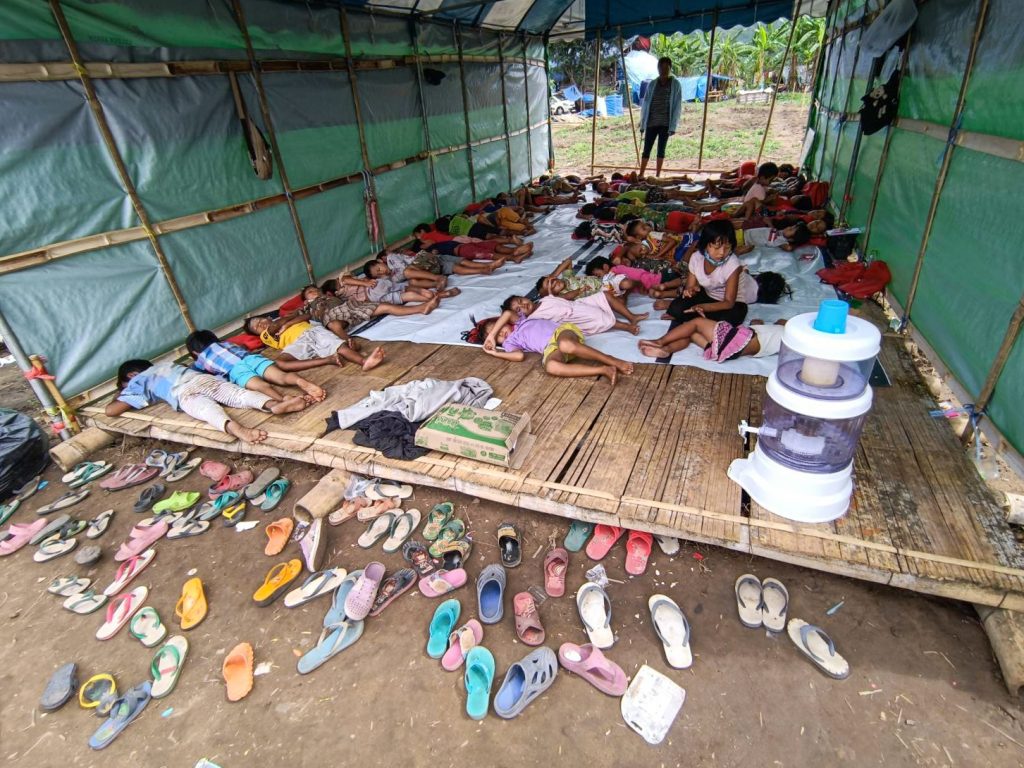 Basic necessities blocked
Food shortages in IDP camps have become more common in recent months despite the best efforts of humanitarian organisations to provide for those in need.
Director of the Karenni Human Rights Group U Banyar said that IDPs are facing shortages of food and medicine because of restrictions the military has placed on the transportation of vital goods like rice and medicine throughout the country, in an attempt to limit supplies going towards resistance fighters.
"The transport of basic necessities, such as rice and medicine, into the state from other parts of the country requires prior registration with the state government appointed by the junta council. If a vehicle brings rice or medicine into the state without registration documents, the occupants of the vehicle will be arrested," Banyar said.
While Frontier could not confirm the exact number of drivers who have been arrested, sources say that the detention of drivers is a common occurrence.
"Drivers and others transporting or carrying goods donated for IDPs continue to be arrested and charged under the Counter-Terrorism Law by the military council," said Ko Yaw Man, 31, a member of the Mindat People's Administration Board, a local administration board run by those opposed to the coup.
The Committee for Internally Displaced Karen People (CIDKP), a cross-border humanitarian group established in 1998, says it is difficult for outsiders to understand the obstacles involved in transporting food, goods and medicine for the IDPs from Myawaddy town or from across the border in Thailand. CIDKP said long detours are needed to avoid soldiers and police at checkpoints because humanitarian shipments intercepted by junta forces are likely to be seized.
With the rapidly rising cost of petrol, these detours come at a high price, but so does running into regime forces.
Lway Ku Ku, a humanitarian support supervisor for the Ta'ang Women's Organization, told Frontier that "restrictions have been imposed in every town in northern Shan and the trucks also have to pay more extortion money to the militias."
She said that in addition to food and medicines, IDPs are also in desperate need of other items like menstrual products.
Banyar has called on the military not to ban or block the provision of humanitarian aid, saying that such behaviour was a crime against humanity. He urges all UN agencies responsible for IDPs to forcefully intervene and pressure the military council to ensure those displaced by conflict receive the assistance they need.
"If they keep ignoring this situation and fail to address the shortages of food or medicine, we can expect IDPs to begin dying within a couple of months," he said.
'I will never forget the feeling of fear'
As of the first week of May, about 10,000 IDPs in Mindat in Chin State were receiving assistance from the People's Administration Board. The board has been unable to establish a camp where they can live, mainly because IDPs are reluctant to stay in one location because it would leave them vulnerable to harassment by junta forces.
Yaw Man said he hoped the revolution would accelerate and be victorious soon to bring an end to the IDP crisis.
"The IDPs are in need of all kinds of support, not only physical support but also mental support because they have been traumatised by what they experienced," he said.
Humanitarian workers in Kayin State are also scrambling to establish camps that would make it easier for them to distribute aid. Ko Chit Phyo Ko, a volunteer with the CIDKP working at the Sakhan Ka Gyi IDP camp in Myawaddy Township in Kayin State, said that Sakhan Ka Gyi houses about 1,200 people including more than 300 children, 18 pregnant women and more than 21 residents aged 70 or older. They have lived in the camp since fighting erupted in and around Lay Kay Kaw in mid-December 2021.
"We are trying to bring all the scattered groups of IDPs here to make it easier and to systematically distribute food, medicine and other goods. To do that, we need to build a big camp and we will need construction materials," said Chit Phyo Ko.
Sakhan Ka Gyi is one of eight IDP camps housing about 3,000 people under the management of the CIDKP in Kayin State.
"Some of the IDPs want to return to their villages, but that's not possible. Their villages are in areas where the junta's military and the Karen National Liberation Army are fighting each other and clashes can occur in the villages at any time," said another member of the CIDKP, who requested anonymity.
"Another reason why they cannot return four months after the fighting in and around Lay Kay Kaw is the amount of unexploded bombs and artillery shells in the area," she said.
The fighting also puts the lives of the humanitarian workers and volunteers in danger. Frontier spoke with Ko Zeyar Tun, the leader of a volunteer group that has been providing support to IDPs in Demoso Township in Kayah State since May 2021. He said that on February 28 he and the mobile medical team he was with at the time had to flee from junta soldiers.
"There were no internet or phone connections but we learned through walkie-talkies that a military column was approaching," he recalled.
Zeyar Tun said he was terrified when he learned that troops were advancing towards the village. After hearing the news, the team quickly loaded their medical supplies into a truck and drove for several hours to another village in the eastern part of Demoso.
"I was afraid not only for myself but also for the people we were helping. I will never forget the feeling of fear I had then," he said, adding that the IDPs at the village were also in a state of panic and rushed to flee the area.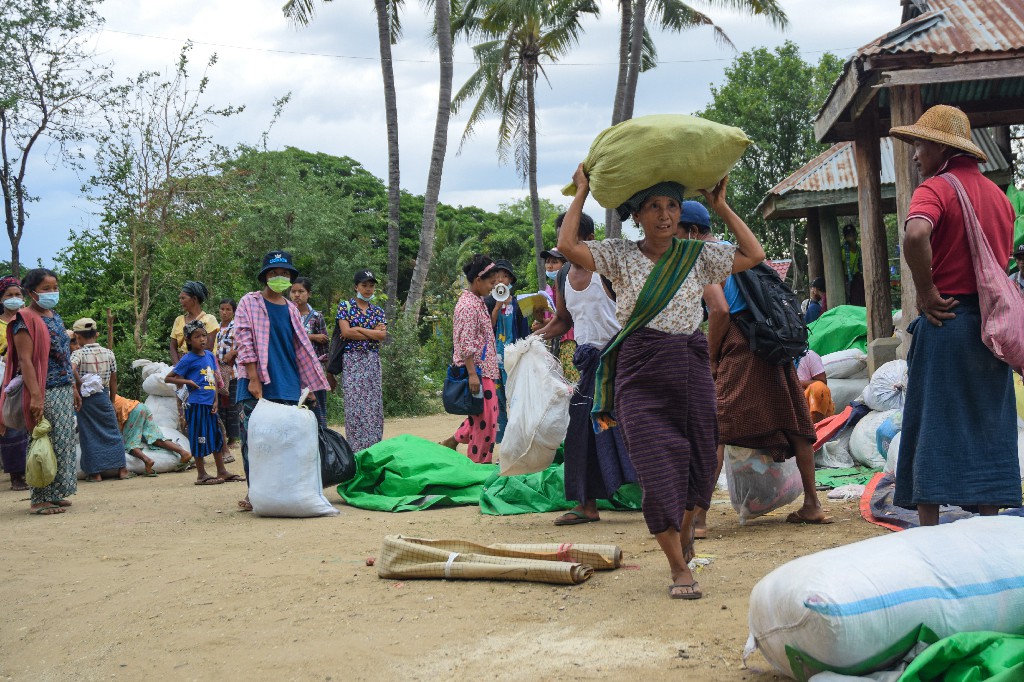 Dwindling resources
The razing of Thin Taw was hardly the first such attack in Magway Region. Kinma was reduced to ashes on June 15, 2021, acquiring the unenviable distinction of being the first community in Magway to be targeted for ruin by arson since the coup.
Its former inhabitants have not returned and are still dispersed throughout nearby forests and farmland. They were initially supported by the generosity of individuals and organisations from around the country who had learned of their plight. But as hundreds and then thousands of other villagers were made homeless by arson attacks, the IDPs from Kinma could no longer rely on donations.
Daw Thinzar Soe, and her husband U Than Tun were among those displaced from Kinma. They were reluctant to depend on donations and found work as farm labourers for as long as they could. When the fighting escalated, donors turned their attention to funding resistance forces and the farmers who had been hiring the couple also had to flee.
"The rainy season is coming and we are afraid that soldiers will follow. My daughter and other children are terrified every time they hear the sound of gunfire from fighting. The only food I have at the moment for the coming days and months is a sack of rice," Thinzar Soe said.
Residents of Thi Tin village in Sagaing Region resting with supplies in a nearby forest after the village was burned down in April. (Supplied)
In Sagaing Region's Pale Township, Thi Tin village in the Kan Gyi village tract was one of the last to be torched, on April 20. The blaze left more than 700 people homeless, who also found refuge in nearby forests. Two elderly people, one of whom was blind, were consumed by the flames that destroyed Thi Tin, which is about 9km from Pale to the north.
"It was not too hard to provide them with food and clothing, but it was difficult to arrange temporary shelter because timber and bamboo are scarce in this area," said U Moe Kyaw, a volunteer helping IDPs in Pale Township.
Every IDP and those who assist them who spoke with Frontier said they are concerned about the onset of the rainy season.
The Tatmadaw should not obstruct efforts to help IDPs, said Ku Ku, the humanitarian supervisor at the Ta'ang Women's Organization.
"The IDPs became IDPs by being forced to flee from a place where they felt in danger and we need to help them," she said. "International non-government organisations should do more to help them and the military council should not try to disturb our humanitarian work; to do so is inhumane."