Two tech whizzes are developing artificial intelligence software that will provide groups that counter hate speech with a powerful research tool.
By KYAW PHONE KYAW | FRONTIER
HATE SPEECH in Myanmar has been attracting increasing international attention since an image of U Wirathu appeared on the front page of Time magazine in July 2013 with the headline, "The Face of Buddhist Terror".
Hate speech had been poisoning community relations since soon after the transition to democracy began in 2011. It contributed significantly to the communal violence that erupted in Rakhine State in 2012 and elsewhere in the country in subsequent years.
It would be a thick book that contained information about the propagation and impact of hate speech in Myanmar in the early years of the transition.
Civil society groups that oppose prejudice and discrimination have launched campaigns to raise public awareness about the negative effects of hate speech, but their impact has been limited. This is not surprising, because even the government has struggled to silence those who speak with hate and intolerance.
Consider, for example, the failed attempts to silence Wirathu, a leading member of the hardline nationalist Association for the Protection of Race and Religion, known by its Myanmar acronym Ma Ba Tha. A few months after the National League for Democracy took office, it backed a move by the State Sangha Maha Nayaka Committee, the supreme body representing the country's monks, to declare Ma Ba Tha an unlawful organisation.
On March 10, the committee ordered Wirathu to cease giving sermons or speeches for a year, saying he had "repeatedly" used hate speech against other religions to cause communal strife. Wirathu responded to the ban by appearing on stage with his mouth symbolically taped shut and a sound system playing a recording of one of his speeches.
As efforts continue by the government and others to tackle hate speech, two young tech geeks are hopeful that they might have a solution.
Ko Yewint Ko, the co-founder and chief technology officer at software company Bindez, and Ko Thuya Myo Nyunt, its director of engineering, are developing a system that monitors hate speech through artificial intelligence.
The inspiration for developing the AI system came when the pair met members of civil society groups at a PeaceTech Exchange workshop hosted by the United States Institute of Peace in Yangon in 2014. The pair has also been working with the Yangon School of Political Science to help with digital technology for a project to analyse hate speech that is near completion.
"We learned about some anti-hate speech projects in Africa when we attended the USIP workshop and it inspired us," Thuya Myo Nyunt told Frontier.
"I want hate speech to be reduced because the country will develop only when it is at peace," said Yewint Ko.
Facebook is the place to look for anyone wanting to find hate speech in Myanmar. As the nation's most popular social media network, it is a magnet for those who want to spread messages about hate, intolerance, prejudice and discrimination.
The AI system being developed by Yewint Ko and Thuya Myo Nyunt will use advanced technology created for the Bindez apps – Thadin, a news aggregator, and Insights, a market intelligence service – which was also used to analyse hate speech in the YSPS project.
After working on the YSPS project, the pair realised that efforts to counter hate speech online were being hampered by coordination challenges in the absence of a common platform.
Yewint Ko and Thura Myo Nyunt competed for funding to develop a hate speech monitoring program through a civic tech innovation competition launched by Yangon start-up incubator Phandeeyar. On March 17, they won the first round and were awarded US$10,000 (about K13.7 million) to support project development for three months. If they win the second round, they will receive $30,000 to fund their project for nine months.
"We are aiming to build a sentiment analysis platform that can research people's emotion on things [posted online]," said Yewint Ko.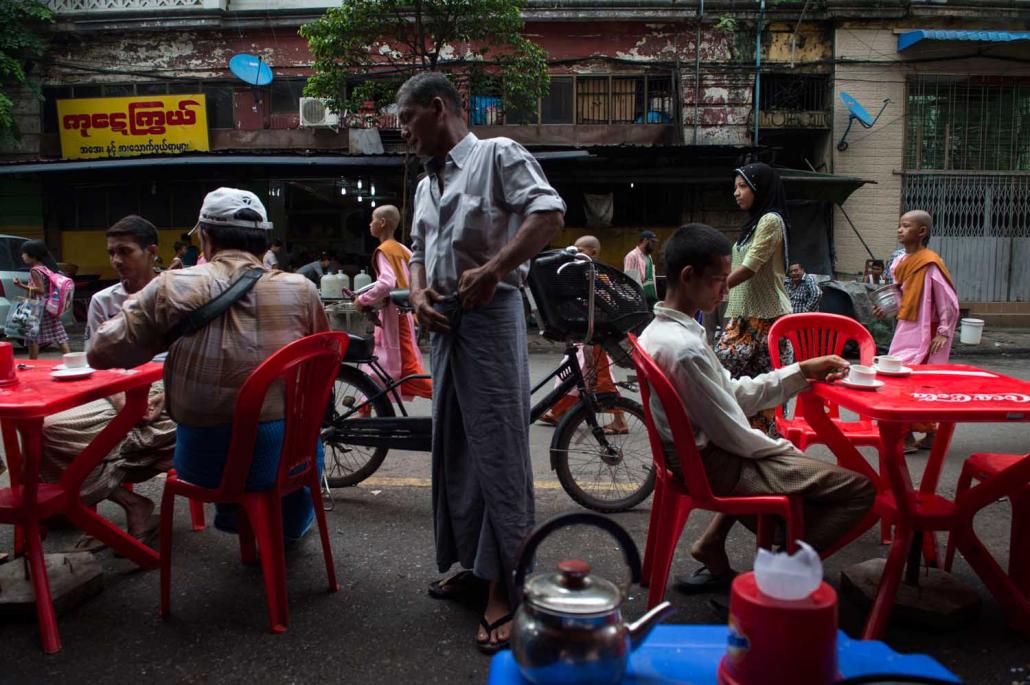 Their technology will perform natural language processing, text analysis, computational linguistics and biometrics to systematically identify, extract and quantify information, they said.
One of the challenges facing the pair concerns the intense battle in Myanmar between developers and users of Zawgyi fonts and Myanmar Unicode.
The dispute means that Yewint Ko and Thuya Myo Nyunt need to develop a system that is compatible with both fonts.
"Our system is based on Unicode, but if people write in Zawgyi it will be automatically converted to Unicode before the analysing process is running," Thuya Myo Nyunt said.
Another challenge is the way Myanmar is written, with long sentences of contiguous words But Yewint Ko said the AI system would be developed to recognise individual words for analysis.
Another challenge is to ensure that the system understands the difference between words that have similar meanings.
"For example, in Myanmar 'market' and 'shopkeeper' are the same word in written form, despite having a different meaning. So it is really hard to point out actual definition by machine," said Yewint Ko.
"That's why, when the system encounters a word such as 'water', it will throw up related words, such as 'river', 'stream' and 'sewage'", Thuya Myo Nyunt said.
They predicted their system would achieve a key word detection accuracy rate of between 80 percent and 90 percent and sentiment research accuracy of between 70 percent and 80 percent.
Yewint Ko said the AI system would simplify hate speech research because it would eliminate the need for laborious manual searches for examples.
"After our system is fully developed, CSOs, other stakeholders and behavioural analysts will be able to use it as a platform to conduct research on social behaviour," he said.
Under their agreement with Phandeeyar, their programming codes will be open source and available to all users free of charge.
The system will monitor posts on news and public pages on Facebook, as well as feedback and comments, and collate the information to produce an analysis. The system will also include stakeholders' forums to discuss the analysis.
"What happens next to the research based on our platform will depend on stakeholders," said Yewint Ko.
Thuya Myo Nyunt said private Facebook accounts would not be monitored to respect users' privacy.
He said it would only be possible to monitor private accounts if the government made an official request to Facebook.
The pair will decide the eligibility criteria for logging in and using the system after consulting with organisations involved in supporting the Phandeeyar programme, as well as CSOs and other stakeholders.
The development of the system comes as the Ministry of Religious Affairs and Culture, in cooperation with the Ministry of Foreign Affairs, is drafting a law on countering hate speech that is expected to be enacted later this year.
According to amendments to the Evidence Act made in 2016, digital records can be used as evidence in courts. Yewint Ko said in the presentation at Phandeeyar that the AI platform could be used to provide evidence for lawsuits.
He acknowledged that a more effective system for monitoring hate speech would not make it disappear.
"But it can be reduced to some extent; at the least it will make those who post hate speech think twice," he said.
Thuya Myo Nyunt said the AI system would enable CSOs and other groups working to counter hate speech to respond much faster to fake news and rumours.
"It will reduce and weaken the impact of fake news and rumours," he said.