By YE MON | FRONTIER
YANGON — President U Win Myint announced pardons for 9,551 prisoners on Wednesday, in an annual amnesty to mark the Myanmar New Year. A small, unconfirmed number of political prisoners were included in the mass release, and in an unprecedented measure, the president said that additional pardons would follow.
Crowds gathered outside Insein Prison in Yangon today, waiting for inmates to be released. At around 5pm the first of 700 prisoners to be freed from the city's jail were emerging. Prison warden U Zaw Zaw told Frontier that Reuters journalists Ko Wa Lone and Ko Kyaw Soe Oo would not be among them.
The reporters, who were honoured with a Pulitzer Prize on Monday for exposing the massacre of 10 Rohingya men by Myanmar security forces and vigilantes, are awaiting a ruling on their final appeal against their seven year sentences for breaking the colonial-era Official Secrets Act.
Other political prisoners, including Rakhine political leader and former MP Dr Aye Maung, Rakhine writer Wai Hin Aung and former child solder Ko Aung Ko Htwe were also overlooked in the amnesty.
A majority of those freed on Wednesday were imprisoned for drug-related offenses, Zaw Zaw said, but he did not give a breakdown of charges. However, well-known actor Ko Moe Aung Yin, who last year was given a combined sentence of 17 years on drug possession charges, remains behind bars.
Among those to be released are 16 foreign nationals, Win Myint said in a statement.
While some political prisoners will be freed, the Former Political Prisoners' Society said that the majority of them remain behind bars. Of these, 45 people have been sentenced and another 319 are facing trial.
U Tun Kyi, a member of the FPPS steering committee told Frontier that the National League for Democracy's national reconciliation and peace process would not succeed if there were still political prisoners in Myanmar. "We hope that all political prisoners will be freed in the follow-up pardons," he said.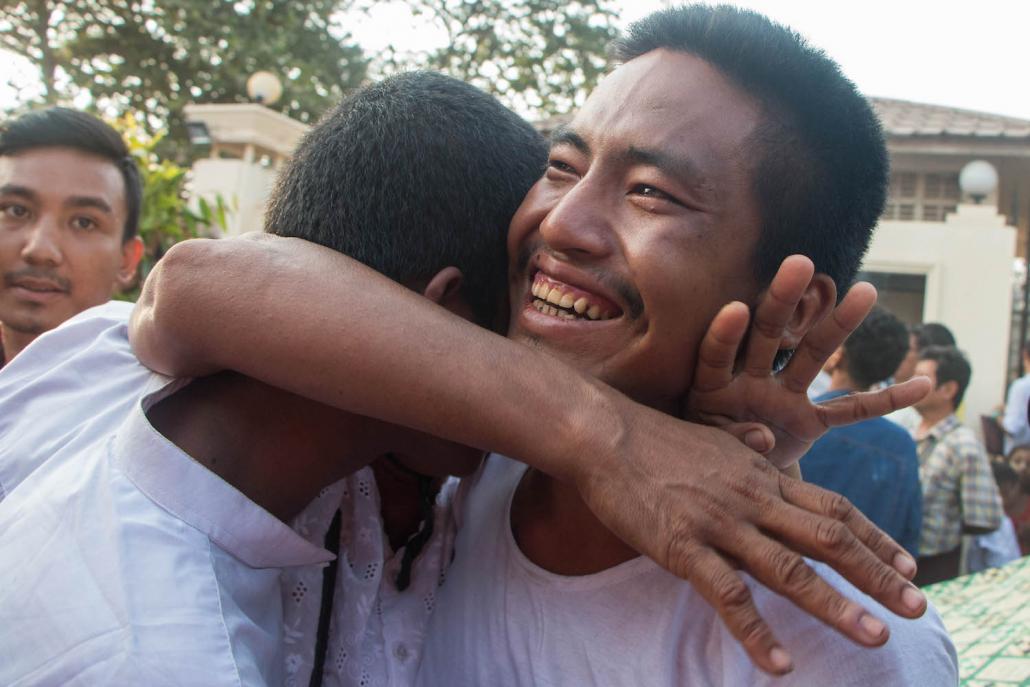 There was some confusion over the president's suggestion that more prisoners would be freed. U Min Tun Soe, spokesperson for the Myanmar Prisons Department, told Frontier that he had never seen such a statement before, and he did not know what the timeframe was likely to be.
"This year's statement is different from last year's. I can't tell you whether the pardons are likely to continue tomorrow. I'm not sure," he said, explaining that the President's Office had only issued instructions relating to the first amnesty.
Some of the prisoners released today from Insein Prison told Frontier that prison authorities had said more pardons would be granted tomorrow. 
"Some prisoners will be released tomorrow. The authorities are still scrutinising [their cases]," said one prisoner who wanted to remain anonymous.