An ancient Buddhist site and popular pilgrimage destination in Sagaing Region is deserving of better care and attention from the Archeological Department.
By MRATT KYAW THU | FRONTIER
Photos TEZA HLAING
IT IS FRUSTRATING trying to unearth information about Pho Win Taung, an ancient site in Sagaing Region featuring scores of sandstone caves containing thousands of Buddha images and some of the finest mural paintings in Southeast Asia.
In Yinmabin Township about 25 kilometres west of the regional capital, Monywa, Pho Win Taung – also known as Pho Win Hill – has been ignored for decades though it's long been a popular destination for Buddhist pilgrims.
Some of the oldest Buddhist sites on the hill are said to date to before the start of the Bagan era in 1049CE, but most are believed to have been built between the 14th and 18th centuries.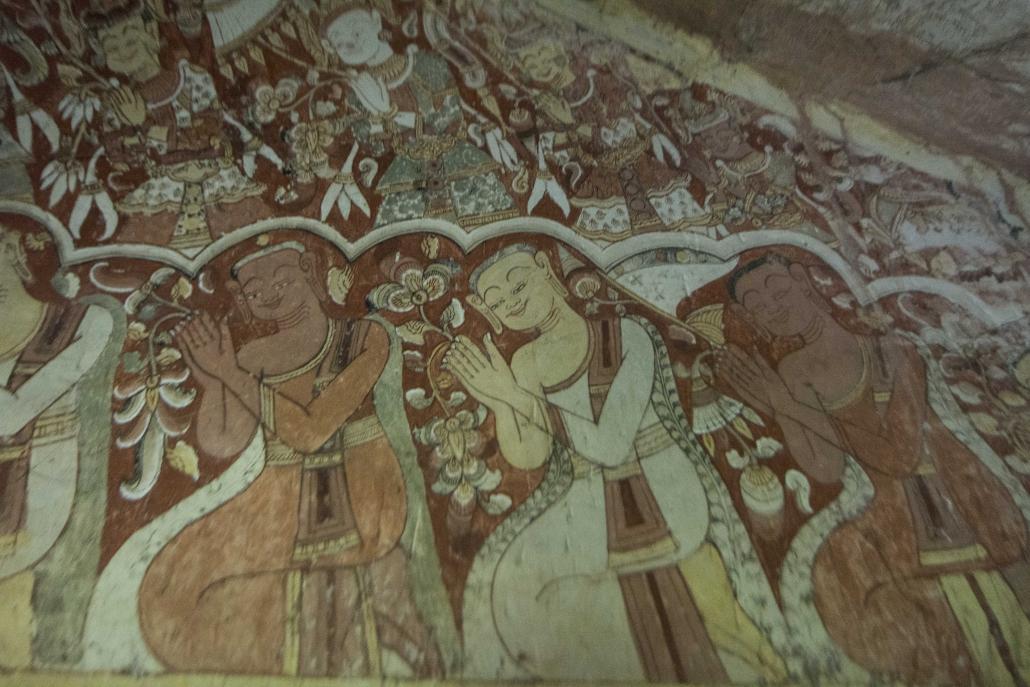 There are said to be a staggering 446,444 Buddha images of varying sizes and styles in the main cave and the other caves on the hill. Some of the earliest sites are believed to have been built by King Vandawa in the year 209 in the Myanmar calendar – the equivalent of 847CE.
According to the Myanmar Encyclopedia, which says the hill was on an ancient trade route between China and India, many religious buildings were erected during the Kingdom of Bagan, from 849 to 1297 CE.
The edition of the Myanmar Encyclopedia that Frontier referred to, in the National Library in Hlaing Township, had no publication date and was in poor condition, but appeared to be at least 40 years old.
In the 17th and 18th centuries wealthy people donated many images typical of the era, wrote U Kyaw in a thesis titled Pho Win Hill's History, which was published by Rangoon University Press in 1984.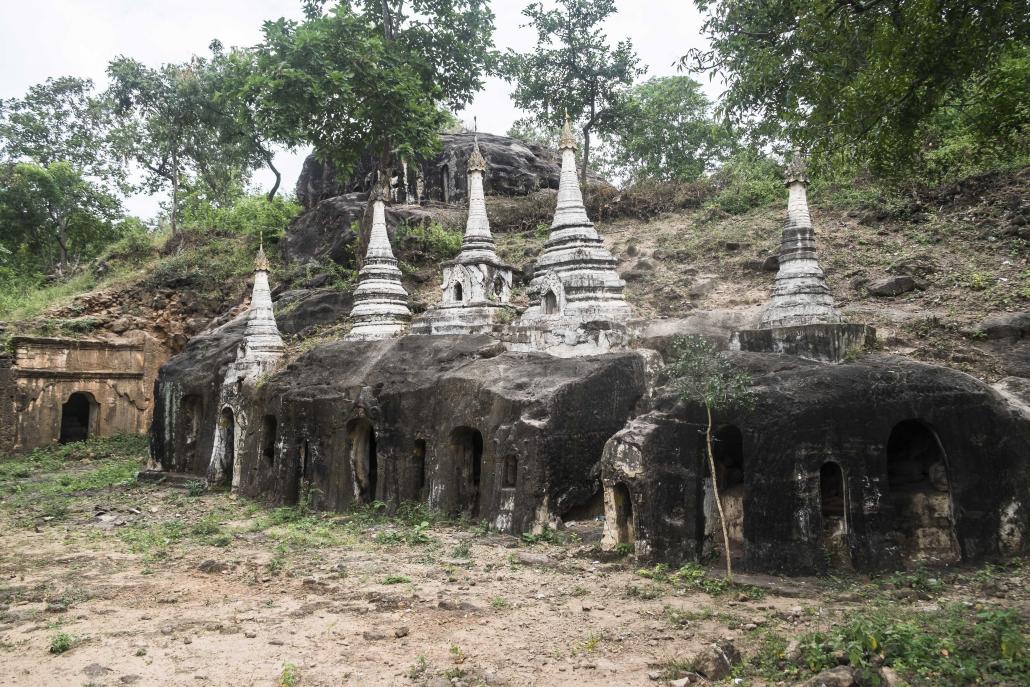 Many caves, temples and pagodas were also built in the first 50 years of the 20th century, U Kyaw wrote.
It is difficult to determine when many of the Buddha images were made, partly because some have been re-decorated.
Most of the ancient sites at Pho Win Taung have suffered from neglect or inappropriate changes, such as painting over some of the magnificent murals. Copper bells and rock-carved chinthe (Myanmar lion) at many sites show signs of weathering and a lack of maintenance. The copper may have been sourced locally because the hill is not far from the notorious Letpadaung mine.
The hill supports a colony of hundreds of monkeys, which can be a pest. At the base of the hill, vendors from nearby villagers sell monkey food to visitors before they begin the climb on a covered stairway to the main cave. The stairs are soiled with monkey faeces and some brazen animals steal from visitors. Littering is also a problem, with plastic bags and other garbage creating an eyesore on the platform outside the main cave and surrounding area.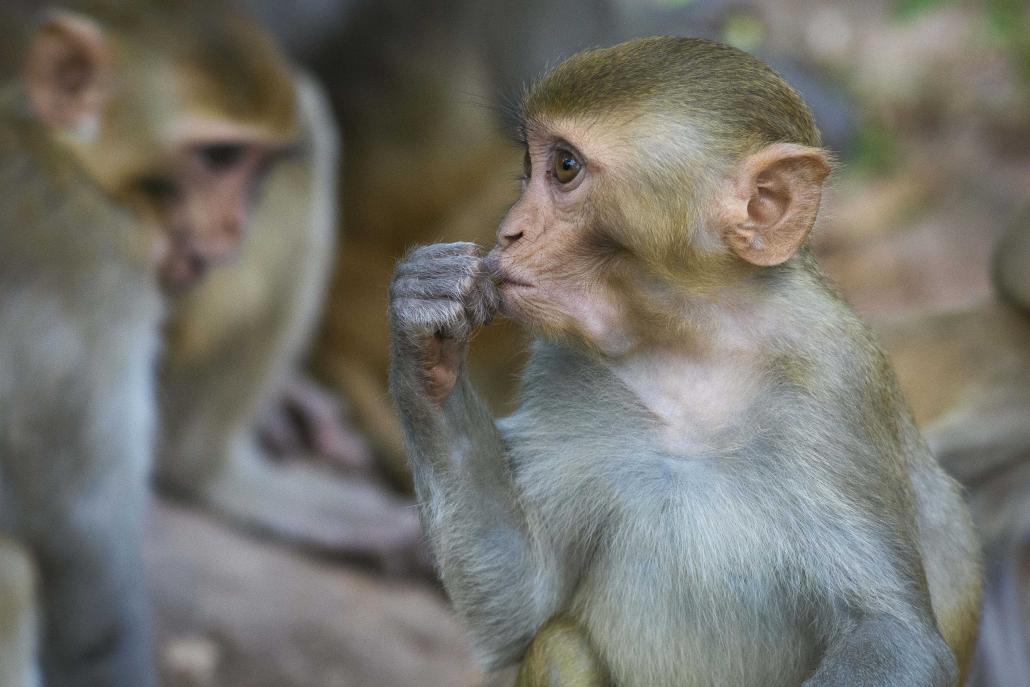 Although the monkeys are a nuisance they are also an attraction on whom the food vendors rely for a living and there is no plan to scare them away.
"We are cleaning as much as we can, but we can't control the monkeys and we have to take care of the villagers," said U Cho Oo, chairman of Pho Win Taung Board of Trustees, referring to the vendors.
"We have a simple plan for next year that involves using single-use cork cups for selling food to the monkeys so there's no need to use plastic bags on the platform," Cho Oo told Frontier.
It seems that the monkeys don't like very large crowds because they disappear every October when there's a big festival at Pho Win Hill. 
An auction system determines who has the right to sell monkey food, as well as operate kiosks, sell gold leaf and take souvenir photos. The trustees say earnings from the site, including auctioning vendors' rights, total about K30 million a year.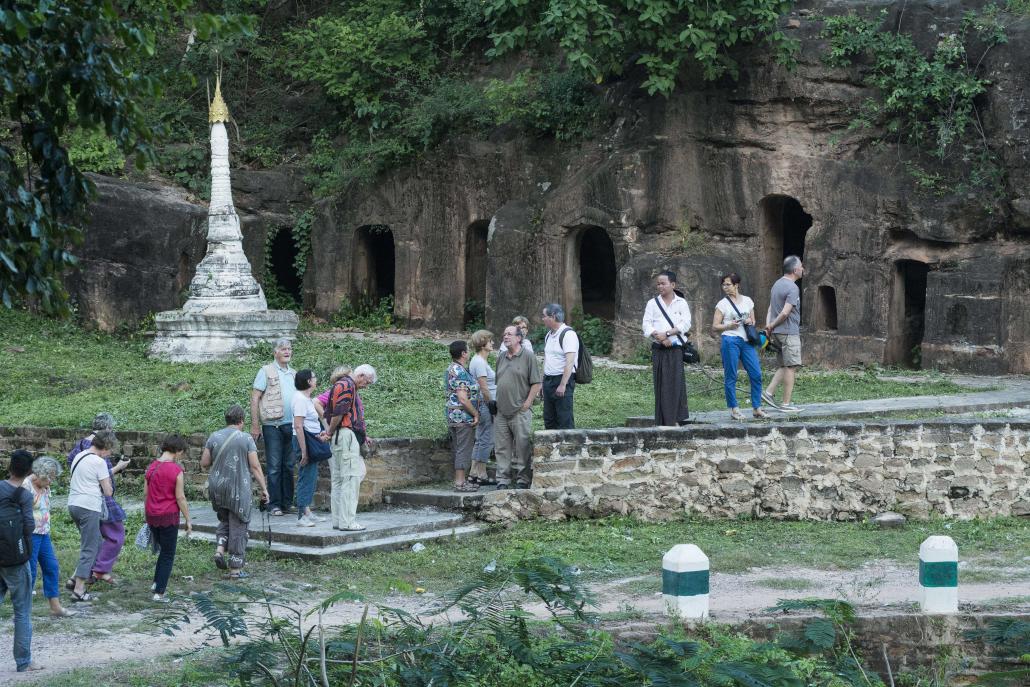 The Archeological Department lacks a comprehensive record of the site, though it has recruited two men from a nearly village to maintain the site. However, they are not properly trained so have contributed little to the preservation of Pho Win Taung.
It is disappointing that information about the hill's fascinating history is scant. Although there are some references to the hill in books on Buddhism in Myanmar, they are based on oral histories and their accuracy is uncertain.
The hill is a popular pilgrimage destination for domestic travellers for much of the year, but it is yet to attract large numbers of foreign tourists.
The Sagaing Region government is trying hard to promote Pho Win Taung and other "hidden" sites for tourism. Some roads are being upgraded, but much remains to be done.