Frontier takes a look at some of the figures who have had the biggest impact on the country – for better or worse – over the past 12 months.
IF THE past 12 months have taught us anything, it's that Myanmar's reform rollercoaster is showing no signs of slowing down. More than a year since the historic election that swept the National League for Democracy to power, the changes – both good and bad, planned and unexpected – continue at a rapid pace as the country continues on its path to democracy. It's a transition propelled not just by institutions, organisations and movements, but also by key individuals. Read on for Frontier's list of figures who have had the greatest impact during 2016.
Daw Aung San Suu Kyi – Iron Lady
It wouldn't be a "people of the year" list without the inclusion of The Lady, of course. But no examination of Aung San Suu Kyi's performance in 2016 can avoid the uncomfortable reality that she has finally completed the transition from an icon of democracy to some engaged with the nitty gritty of politics. She's even got a new title to confirm it; that of state counsellor.
Forging a working relationship with your foes? Check. Turning your back on the principles of transparency and accountability? Check. Silencing any dissent within your party? Check. Ignoring the media and civil society? Check. Stonewalling in the face of accusations of human rights abuses? Che … you get the point.
This may have annoyed some of the elites, but has done little to diminish her popular support. Instead what has hurt her popularity has been a failure to deliver the "real change" that she promised – the sense that her government largely represents a continuation of the status quo.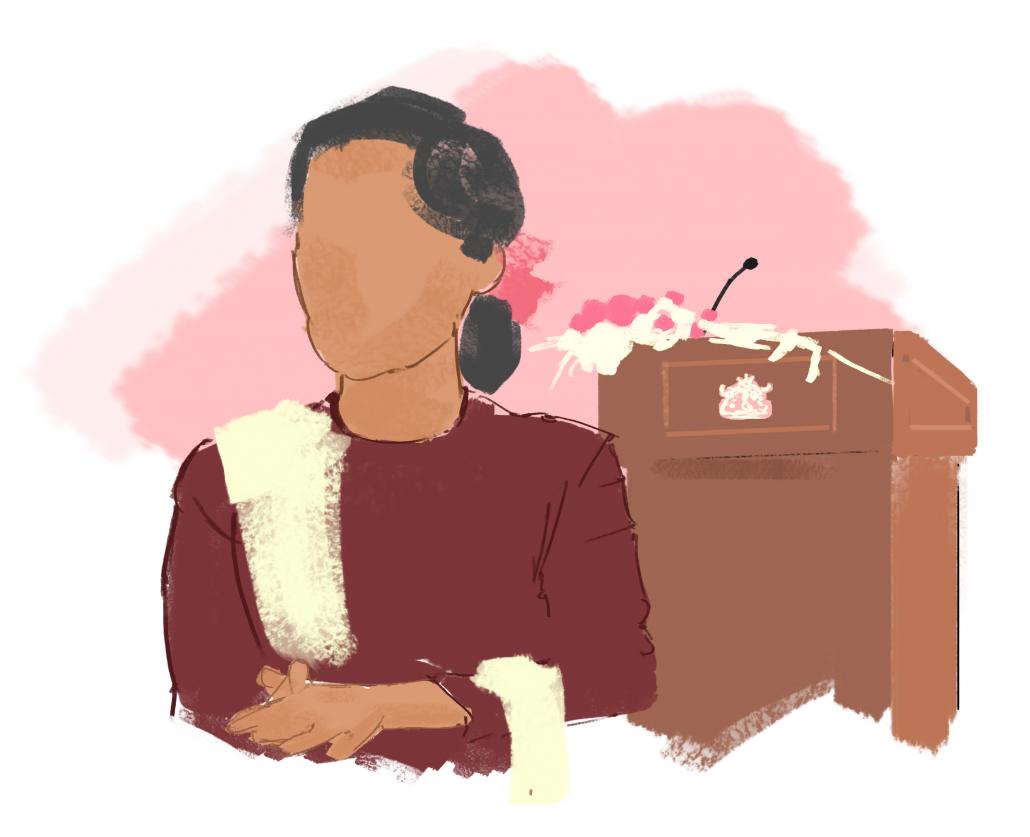 A major concern is the dysfunction within the government, as her ministers – ranging from the quietly impressive to the dangerously mediocre – struggle to impress their will upon a recalcitrant public service.
Casting around for positives is a little more difficult, but there have been some. We've seen measures to fight corruption and nepotism, and much-needed steps to improve liveability in Yangon. The government has begun reining in exploitation of timber and mineral resources, while also revoking repressive junta-era laws.
But these are all works in progress. The next 12 months – and the first half of the year in particular – will be crucial for Aung San Suu Kyi and the government she leads. Close attention will be paid to the security response in Rakhine State, while in February a major the second Union Peace Conference under her watch will present a major test. Having made the peace process her top priority, it's time to begin delivering some tangible progress.
Senior General Min Aung Hlaing – powerbroker
At the start of the year there was speculation that Tatmadaw commander-in-chief would step down from his role, but he ran roughshod over the mandatory retirement age of 60 and said he planned to stay on for another four years "if certain goals are reached", including an end to decades of civil war.
Months later and that target doesn't look any closer to being achieved. At the Tatmadaw's behest, three ethnic armed groups – the Ta'ang National Liberation Army, Myanmar National Democratic Alliance Army and Arakan Army – were not allowed to attend the Union Peace Conference in Nay Pyi Taw in August and September, and just a few months later the three groups, plus the Kachin Independence Army, attacked Tatmadaw outposts in northern Shan State. The coalition said the attacks were inevitable due to the "military pressure" they had been facing from the Tatmadaw.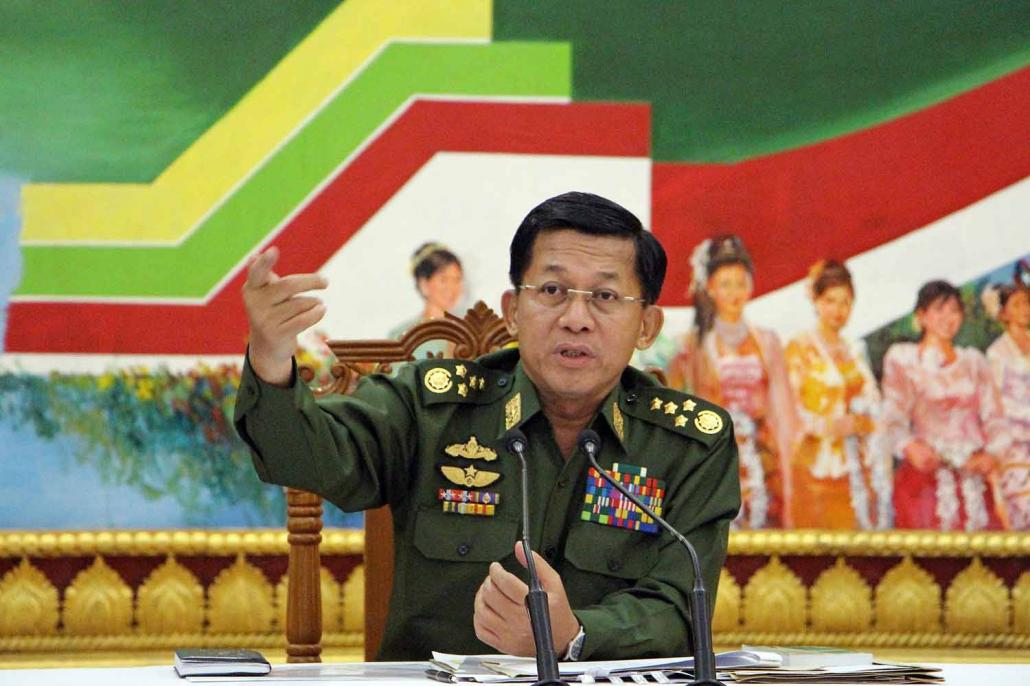 Security operations in northern Rakhine State have also come under heavy scrutiny. 
Although the government and military have strongly denied accusations of human rights violations, there is strong evidence to the contrary. Satellite imagery suggests military involvement in the torching of homes, while some of the thousands of civilians who have fled to Bangladesh have told stories of disproportionate use of force by security forces.
The denial of access for humanitarian workers and independent media has made verifying these accusations near to impossible. In both conflicts, it is clear that the military is calling the shots.
The Tatmadaw's power is not derived from military strength alone; despite the change of government, it still wields significant political power thanks to the privileges bestowed by the constitution, Min Aung Hlaing's savvy leadership and the weaknesses of the NLD. As a fighting force though it remains a work in progress, still a long way from the professional institution that Min Aung Hlaing has said he wants it to become. 
U Phyo Min Thein – man on a mission
Few chief ministers have the profile of Phyo Min Thein. One could argue that comes with the territory when you're running the country's largest city, but Phyo Min Thein's decisive leadership and willingness to pick a political fight have also catapulted him head and shoulders above his colleagues in the NLD, most of whom seem to still be waiting for the necessary instructions from the State Counsellor's Office. The revolutionary force is still strong in this one.
This has brought its share of ups and downs. There was the apparent backdown on the high-rise building suspension, but Phyo Min Thein also showed that Ma Ba Tha was little more than a paper tiger. He took ont high-profile media group and provoked the ire of his NLD colleagues in the local assembly for his government's lack of transparency, but he's also shown a commitment to urban planning and development and sought to clean up City Hall.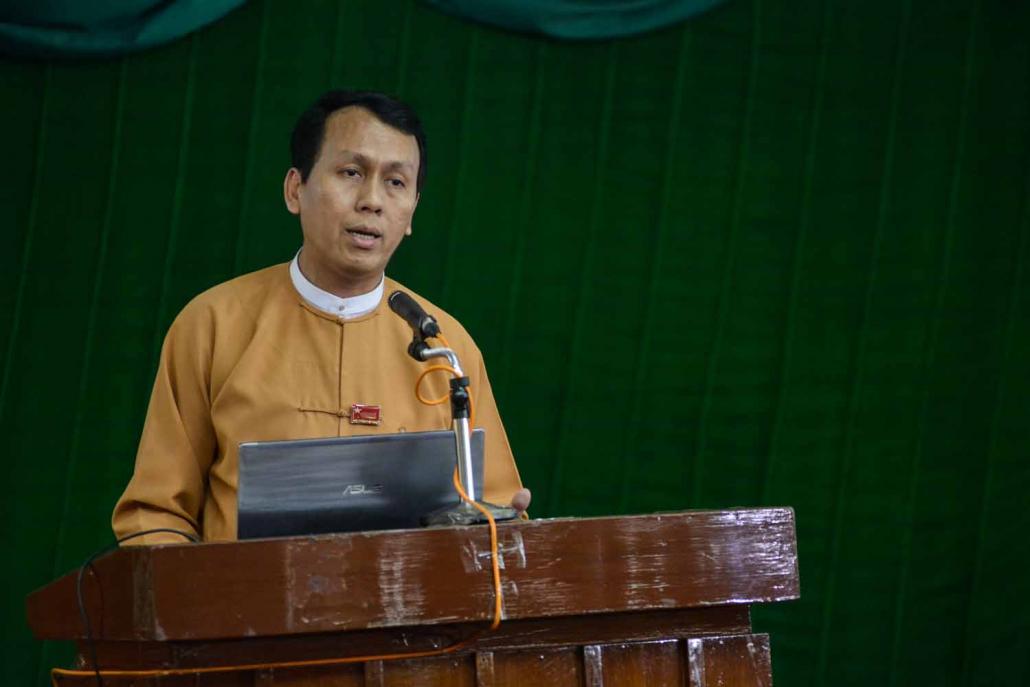 It's hard not to see Phyo Min Thein as a quixotic figure. Many of his endeavours have a touch of the impossible about them, or have been tried before and failed. He's made some big promises on the city's squatter problem that will be impossible to deliver on.
Nevertheless, anyone who has cruised along Anawrahta Road during peak hours since the street vendors were shifted out – in some cases forcibly – will appreciate that change is difficult but sometimes necessary.
Love him or loathe him, there's no doubt Phyo Min Thein cemented his place as one of the people of the year.
U Win Htein – party strongman
Will the real U Win Htein stand up? In the space of two or three years, the affable MP who was always up for a chat has transformed into a party-room enforcer fond of telling journalists where to stick their inquiries. Doubtless this reflects the change in the NLD's fortunes and the challenges of running a party that holds a majority in parliament, but it's hard not to wonder whether Win Htein is feeling the strain from too many responsibilities.
Party spokesperson is certainly not one that he seems to relish. Still, we at Frontier always admire a straight shooter. That might lead to inevitable consternation when Win Htein gives his thoughts on, say, the rights of the gay community, but his willingness on occasion to give the unvarnished truth is commendable.
One notable response, when asked about a potential breach of the constitution's separation of powers by the NLD: "We don't care." It's hard to imagine a USDP official being so frank.
As 2016 draws to a close, Win Htein is an increasingly controversial figure both inside and outside the party. His contempt for some other members of the central executive committee is widely known, and no doubt mutual.
Some have complained of being frozen out as Win Htein moves ever closer to Aung San Suu Kyi. Given the opacity of NLD internal politics, these criticisms are difficult to assess. But Win Htein's influence within the party has undoubtedly grown over the past 12 months.
Daw Sandar Min and U Nay Phone Latt – politicians of conscience
One of the big question marks around the NLD winning massive majorities in most legislative chambers – Rakhine, Shan and Kachin states being the exception – was how it would manifest in terms of checks and balances on governments. In Nay Pyi Taw, the party has endeavoured to keep its lawmakers on a short leash, ordering them not to embarrass the Union government or ask questions about policies and activities of the former administration. For the most part, lawmakers have toed the line.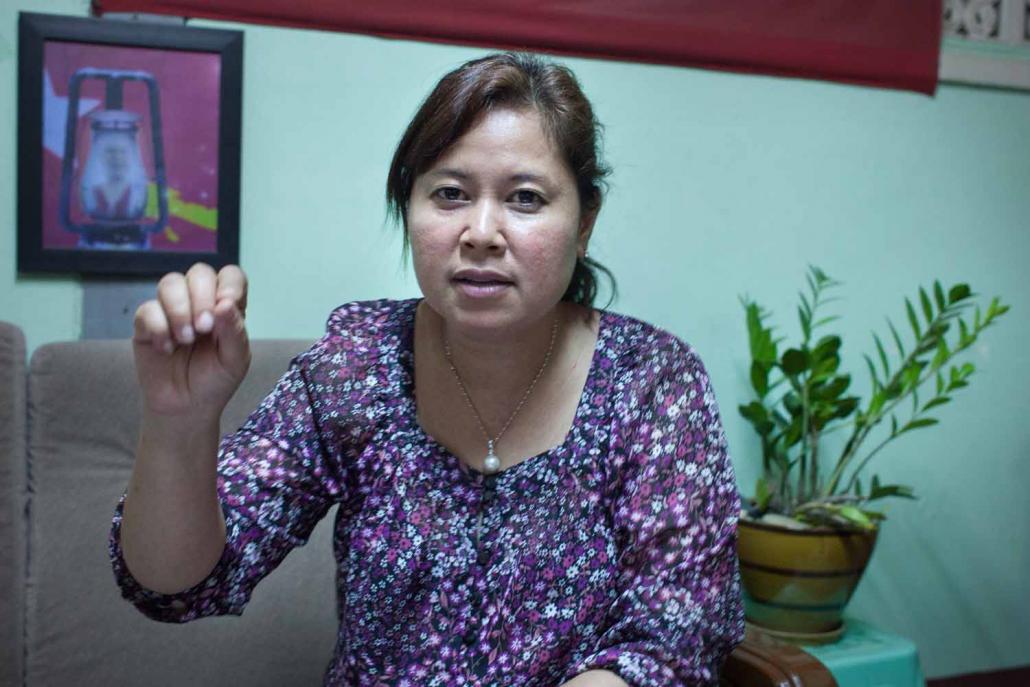 In Yangon, that hasn't always been the case. The NLD has a number of strong personalities in the Hluttaw, led by Daw Sandar Min and U Nay Phone Latt, who have endeavoured to maintain a higher level of scrutiny over the regional government and Yangon City Development Committee. Their recent public slap-downs of Yangon Mayor U Maung Maung Soe for his repeated attempts to dodge questions from lawmakers were not only justified but important for ensuring democracy and accountability to truly take root.
Nay Phone Latt has also been an outspoken critic of section 66(d) of the Telecommunications Law – used to stifle online freedom of expression – even while elders within the party have demurred on the need to amend or repeal the clause (and even, in some cases, used it to prosecute internet users).
The foreign advisers – shadowmen
You won't see them in the state newspapers or responding to MP questions in the Pyidaungsu Hluttaw. But rest assured they are there, working away in the shadows. A small coterie of foreign advisers with close relations to Aung San Suu Kyi have established themselves as important players in the reform agenda of the government.
The most well known of these is probably Sean Turnell, an economist from Macquarie University in Sydney who now works full-time in Nay Pyi Taw providing much-needed input on economic reforms. Another is Robert San Pe, a Hong Kong-based lawyer who has worked with Aung San Suu Kyi for several years.
Understandably, the government has not keen to play up their role. Foreign involvement in decision-making is dangerous territory and any perception that the government is beholden to foreign interests would be toxic.
During last year's election, online media outlets that often promote the USDP, Tatmadaw and religious nationalists began spreading rumours that Mr Joseph Fisher, a former diplomat at the British embassy in Yangon who advises Aung San Suu Kyi, was a British spy. The mud refused to stick, but it doesn't mean that the government's political opponents won't try again.
Mr Steven Law – quiet tycoon
If there was one big winner from the lifting of most remaining US sanctions in October, it was Asia World owner Steven Law (aka U Tun Myint Naing). Law has what could charitably be described as a colourful past.
His father, Lo Hsing Han, was accused of founding Asia World on the back of drug proceeds from the Golden Triangle's lucrative heroin trade. Law enjoyed close relations with the military regime, winning construction contracts for everything from the Myitsone Dam to the Mandalay-Muse Highway and Yangon Port.
Unlike many of those labelled as "cronies", Law keeps a low profile and is not given to ostentatious displays of wealth. The reason he won so many contracts was in part because his companies are well regarded for largely delivering on their contractual obligations – when the military needed a job done well, they tended to turn to Law.
It's not surprising then that he's rather successfully made the transition into the democracy era. A subsidiary, Yangon Aerodrome Company Limited, won the tender for the redevelopment of Yangon International Airport. The European Union had no compunction about renting office space from him at Hledan Centre. Billions of dollars of goods from around the world flow through his port each year.
But as the Wall Street Journal reported last year, sanctions were still a drag on Asia World's growth and Law hired public relations firm Bell Pottinger to improve his image. In the end it was the government's exigencies that got Law off the sanctions list, but he stands to benefit significantly.
Daw Lae Lae Maw – quiet achiever
When the Union government announced its chief ministers, one professed to be as surprised as the rest of us. Daw Lae Lae Maw, the representative for Thayetchaung in Tanintharyi Region, said she only found out a day before her name was announced.
She has proven an inspired choice. On taking office, Lae Lae Maw – who was a medical doctor for 25 years before joining the party in 2012 – promised to focus on regional development and resolving land disputes. On both fronts she has made some bold decisions.
On land, she has launched a sweeping review of oil palm plantations in a bid to salvage something positive from the military government's disastrous plan to turn Tanintharyi into the "oil pot" of Myanmar. Importantly, the review is taking a genuinely multi-stakeholder approach, with plantation owners sitting down together with activists, former land owners and even the Karen National Union to hash out a solution.
In a similar spirit, representatives from the government, private sector and civil society attended a workshop with Ecuadorean experts from the Galapagos aimed at ensuring the sustainable development of tourism in the Myeik Archipelago.
But Lae Lae Maw has also shown she can take a firm line, suspending operations at two tin mines that had failed to follow the mining law and refusing to issue new mining permits. A proposal to mine sand and export it to Maldives was refused outright. It seems that, in one part of Myanmar at least, the NLD's election promises are being upheld
General N'Ban La – rebel with a cause
It was arguably the greatest one-liner of the year. "I'm U N'Ban La. But ethnic armed groups call me General N'Ban La." In just a few seconds, the Kachin Independence Organisation leader drew attention to the inequities that have underpinned decades of conflict between ethnic forces and the central government.
It was also an indication that, while the KIA and many other non-signatories were in the room, they were far from willing to read from the script. From the government, that script begins with signing the nationwide ceasefire.
The KIO, together with the United Wa State Army, are the two most influential groups outside the peace process. They will effectively decide whether the ceasefire becomes truly nationwide, or encompasses less than half of the country's armed groups, mostly those clustered on the Thai border.
As the year closes, northern Shan and Kachin states have erupted into fresh conflict, with the Kachin Independence Army in the thick of it. The group has now lost its crucial Gideon post to the Tatmadaw, and public opinion seems to be shifting against the ethnic forces following the Muse offensives. At the same time, the government needs them for the peace process to have credibility, giving N'Ban La and his colleagues an important bargaining chip.
Mr Kofi Annan – principled politician
There are few more difficult jobs in Myanmar than the one held by former United Nations Secretary-General Kofi Annan. As head of the Rakhine State Advisory Commission, he's been tasked with the job of finding "lasting solutions to the complex and delicate issues in the Rakhine State, in accordance with established international standards".
In the best circumstances, it would be fair to question the feasibility of such a goal. But in an environment where Rakhine nationalists refuse to cooperate, and a minority of Muslims in the north of the state have launched an insurgency, it's going to be near to impossible.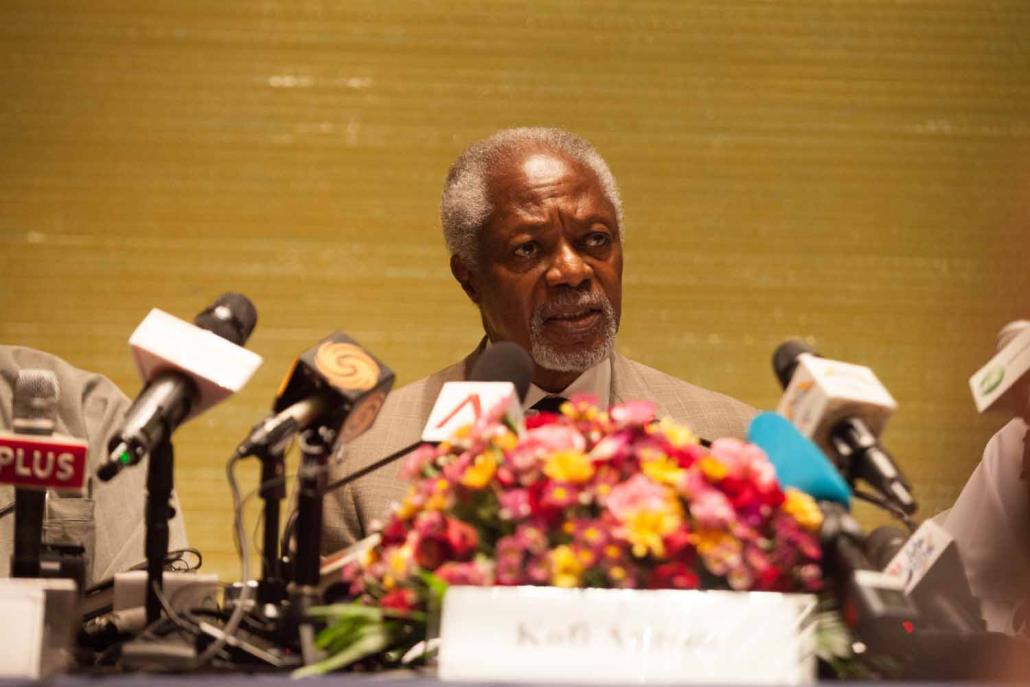 Some may suggest then that the commission is wasting its time. Far from it – the importance of identifying the underlying grievances and how to address them is only heightened by such dramatic responses.
Annan has built up a reputation as both a canny politician and principled diplomat. Once again he has put his reputation on the line in an effort to bring peace and development to a conflict-hit region of the world. If he didn't realise it when he accepted Aung San Suu Kyi's call, it's going to be one of the most testing assignments of a long and distinguished career.
U Zaw Htay – government mouthpiece
There was widespread surprise in April when Zaw Htay, who had been a spokesperson under the former president, U Thein Sein, was retained by the new government. Many analysts wondered what sort of role the former military officer would play as the voice of a democratically elected government.
Developments in the later part of this year answered that question categorically. Since a strong security operation was launched in northern Rakhine State in response to the October 9 attacks, Zaw Htay has acted as a firewall between the press and the government, denying any accusations of human rights abuses by security forces. "There's no logical way of committing rape in the middle of a big village of 800 homes where insurgents are hiding," he told Reuters in one memorable exchange.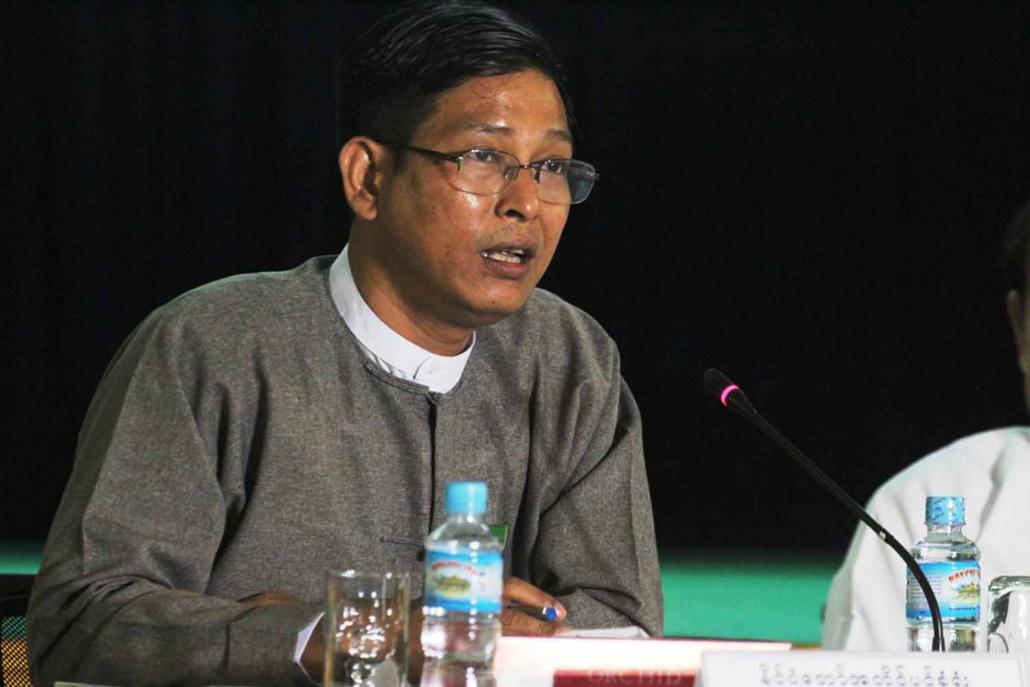 He has been highly critical of foreign media outlets (a serious threat to press freedom) reporting on alleged abuses, and when Human Rights Watch released satellite imagery in November showing burned buildings in the affected area, Zaw Htay said the group had "lost touch with reality". He said the images did not tally with findings from a government trip to the area.
While the security operation has attracted criticism from abroad, it has largely met a sympathetic response domestically. However, as long as access remains off-limits to the area, pressure will continue to be placed on the government to improve access and allow for an independent transparent investigation to be conducted. Blanket denials are not going to help anyone.
U Than Htut Aung – media jailbird
The chief executive of Eleven Media Group has long been a divisive figure, regularly using his publication to launch attacks on rivals and opponents. This has brought about a number of legal cases against him.
Never one to back down from a fight, Than Htut Aung has tended to double down, responding with lawsuits of his own. Throughout the term of the U Thein Sein government his papers were highly critical, setting the tone early on by taking a strong line on issues such as political prisoners and the Myitsone Dam.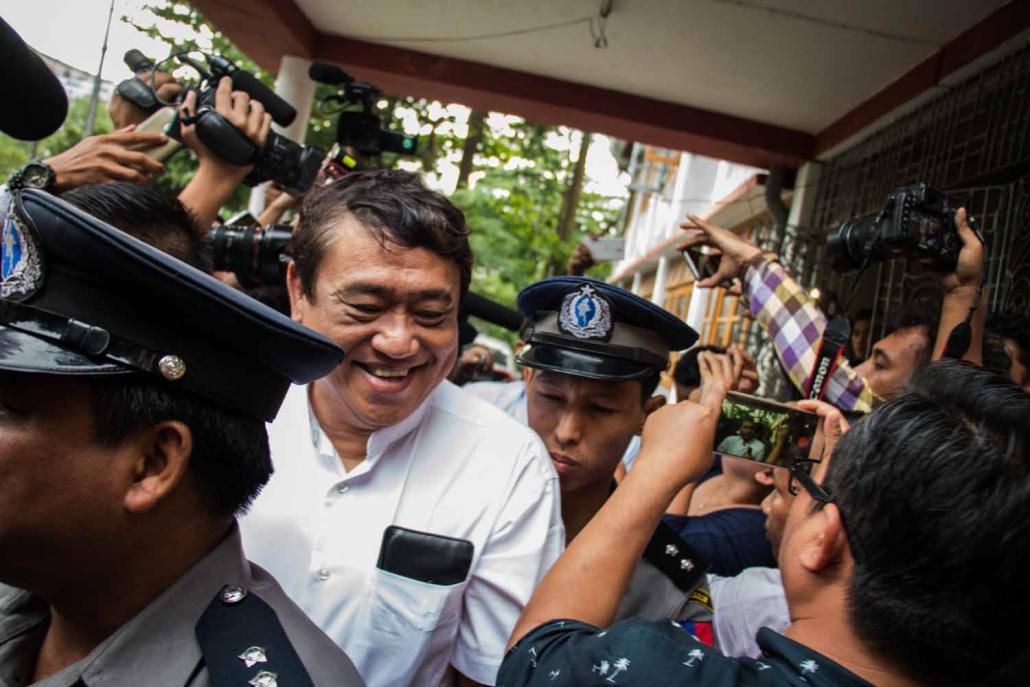 But it's under the NLD-backed government that Than Htut Aung has felt the full force of the law for the first time. In November, he and the publication's chief editor Ko Wai Phyo were arrested under section 66(d) of the Telecommunications Law for penning a commentary that accused a government minister of taking bribes from shady businesspeople. Although he wasn't named, it was obviously a reference to Yangon Region Chief Minister U Phyo Min Thein.
In late November, the pair were denied bail and returned to Insein Prison. It has been widely reported that Than Htut Aung is suffering from ill health and suffered a heart attack inside the prison, but so far the judge in the case has refused to grant bail.
Hong Liang – adapting diplomat
China enjoyed a cosy relationship with Myanmar's military junta, benefitting from that close association by being awarded large-scale tenders. Although its investment has moderated since 2011, Beijing remains a major economic player in a much more competitive and complex environment – one that has forced it to change tack and adopt new strategies to remain competitive.
In an interview at his Yangon residence in March, China's ambassador to Myanmar Mr Hong Liang told reporters that the approach had changed "due to the situation" in the country. Since the NLD took office, China has been forced to shift again. While State Counsellor Aung San Suu Kyi has largely sought to maintain the balanced foreign policy of Thein Sein, she is closer to her Western partners than China or Japan.
Hong Liang, who presented his credentials to former president U Thein Sein in July 2015, has been the public face of that change in approach. One of the biggest issues between the two countries is the multi-billion dollar Myitsone Dam project.
Hong travelled to the state in June, where he met with residents and authorities to try to lobby for the project to restart. But realistically, a re-start of the much-maligned project would be a PR disaster for both countries. Some analysts have speculated that China could be using the project as leverage to be awarded other contracts in Myanmar. China has, of course, denied this.
China has played an active role in the peace process too. It was the only foreign country to be invited to the meeting between ethnic armed groups at Mai Ja Yang, Kachin State, in July.
The recent skirmishes between the Tatmadaw and four ethnic armed groups in northern Shan State saw thousands fleeing across the border, bringing the ire of Beijing. Shortly after, Chinese state-run media called on the government there to play an active role in finally bringing peace to Myanmar.  
Min Zaw Oo – peace advocate
Although Aung San Suu Kyi appointed her personal physician U Tin Myo Win as the lead peace negotiator, Frontier understands that he is still working in his role as a doctor and is more of a figurehead. At the coalface inside the government's National Reconciliation and Peace Committee you'll instead find people like U Min Zaw Oo, who are working full-time on the peace process.
It's a tough task. The peace process has taken a few blows in recent months, particularly with the spike in fighting in the north of the country. The Tatmadaw's taking of the strategic Gideon post from the Kachin Independence Army might have helped its strategic interests, but it will have done little to improve trust in a process that appears to be losing steam.
Min Zaw Oo has consistently argued that an effective way to lessen the fighting would be for the ethnic armed groups to sign the Nationwide Ceasefire Agreement. On the first anniversary of the signing of the NCA in October, he told Frontier that it was a "chicken and egg" scenario. "I believe once we agree on proper terms to implement ceasefires, we will be able to reduce clashes," he said. 
Such a signing would require a significant level of trust between all sides. In the context of the current fighting, whatever trust there was has all but disappeared. For peace negotiators like Min Zaw Oo, it means many more months of toil in an effort to build up to the signing of a sustainable agreement.
Mr Scot Marciel – new arrival
It was never going to be easy for the new US ambassador to Myanmar to follow in the footsteps of Mr Derek Mitchell. Marciel's predecessor had extensive experience as a diplomat in Asia and appeared to enjoy a good rapport with the Myanmar public, in part due to the interest shown in the country by President Barack Obama and former Secretary of State Hillary Clinton.
It wasn't a smooth start for the former ambassador to Indonesia, either. Days into the new job, the United States embassy in Yangon was the scene of a nationalist protest after it used the term "Rohingya" in a statement to offer condolences after the sinking of a ferry in Rakhine State that saw 20 people killed.
But the path has steadied a little since then. In November, Marciel was part of a diplomatic mission that travelled to northern Rakhine State to assess some of the areas affected by recent violence there. Alongside other diplomats on the trip, including the UK ambassador to Myanmar Mr Andrew Patrick, Marciel urged the government to conduct an "independent and credible investigation" into the October attacks and the security operation launched in their aftermath.
In December, the US was one of the larger diplomatic missions in Myanmar to add its name to the list of 14 countries calling for humanitarian access to northern Rakhine two months after the security crackdown began – the United Kingdom was one country notable for its absence.
Ata Ullah – gamechanger
Whatever your view on the situation in northern Rakhine State, there is no doubt that the dynamics there have changed dramatically since coordinated attacks were carried out on three police outposts on October 9.
Amid a military "clearance operation", almost 30,000 people have fled across the border into Bangladesh and religious tensions have once again reared their head. We're not exactly back at "stage one", but a lot of the good work that has been done to rebuild trust between communities there – and there has been some – could be undone.
Ata Ullah (also known as Abu Amar Jununi and Hafiz Tohar) has been identified as the leader of the militant group that conducted the attacks, which calls itself Harakah al-Yaqin (Faith Movement). According to International Crisis Group's recent report on Rakhine, Ata Ullah identifies as Rohingya, and was born in Pakistan and raised in Saudi Arabia. He is said to have disappeared from the Middle East shortly after violence broke out in Rakhine State in 2012.
There are still gaps in what is publicly known about how the group is organised or funded, but the ICG report did reveal some foreign links. However, the report also noted that Harakah al-Yaqin seems exclusively interested in securing rights for Rohingya people in Myanmar, and does not identify as part of the global jihad movement.
The government's response to this new insurgency will be highly important. As the ICG report noted, the current heavy-handed security response is doing no one any favours and could potentially lead to more people joining the insurgent movement.
For now, Harakah al-Yaqin is likely to be small, as most Rohingya recognise that armed violence will not help their plight. It will be crucial, though, that the government comes up with a plan to ward off the threat of increased radicalisation. A clear pathway to human rights and acceptance will be essential.