Voters in Yangon's northern Mayangone Township say exercising their right to vote is more important than worrying about catching COVID-19 on Sunday.
This article is part of Frontier's Tale of Five Elections series. We're following the election through five townships across the country, capturing events and local voices through the campaign, voting and declaration of winners. Scroll to the bottom for the first two articles on Mayangone.
By KAUNG HSET NAING | FRONTIER
The older residents of Yangon's northern Mayangone Township were quick to take advantage of the Union Election Commission's decision to allow voters aged 60 and over to cast advance ballots – a response to concerns that crowded polling stations on election day could expose this vulnerable segment of the population to COVID-19.
More than 23,500 elderly residents registered for advance voting in Mayangone, according to the township election sub-commission. While the commission could not say how many of those had cast votes, when Frontier visited the township on October 29, the first day of the process, polling stations set up for these voters were packed.
Advance voting for elders was allowed between October 29 and November 5 in areas under stay-at-home orders or with high population densities – both of which apply to Mayangone. More than 4,000 – or 17 percent – of the township's elderly that had registered for advance votes live in ward 1, where, despite the stay-at-home orders, the streets were bustling.
One polling station there was set up for advance voting in a 10-square-foot shed, surrounded by another 20-square-foot outdoor waiting area, close to the Thamaing Myothit station on Yangon's circular railway. About 20 elderly voters were sat on chairs inside the shed waiting to cast their ballots when Frontier visited, with no social distancing between the chairs or between voting booths.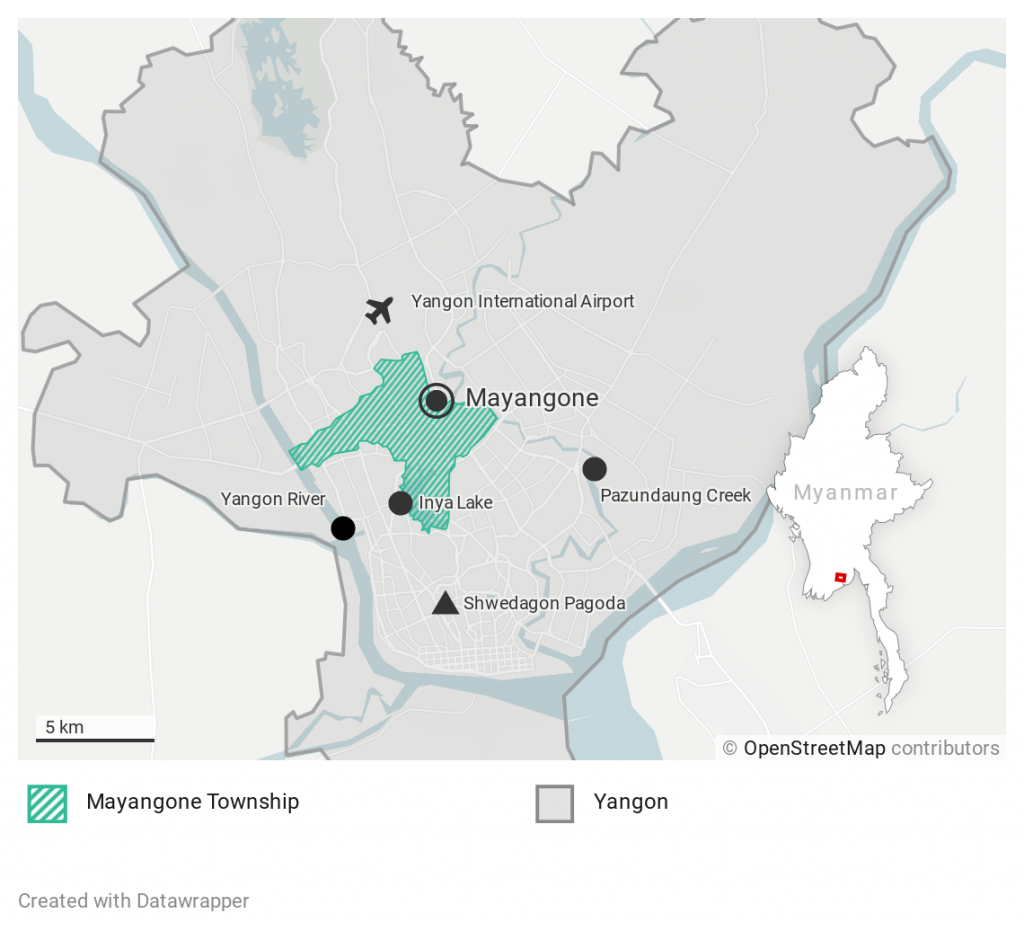 "This is all we could do with the space that was available to us," said U San Htay, a member of the ward election sub-commission.
Social distancing was also noticeably absent at other makeshift polling stations for advance voting that Frontier visited throughout the township. Conditions where universally cramped, yet the elderly voters didn't seem to mind, telling Frontier that exercising their right to vote was more important to them than social distancing.
"I'm worried, but casting a vote is more important for the country's future," said U Than Htay, 67. He was voting at a polling station on Thamaing Myothit 1st Street, where four people have tested positive for COVID-19 – the latest on October 30. "If I don't vote, the party I support might lose by one vote," he said.
Pyithu Hluttaw MP for Mayangone Dr May Win Myint, who is seeking re-election as a National League for Democracy candidate, said on her Facebook page on November 4 that more than 18,500 elderly voters in the township had cast their ballots by November 3. That's nearly 80pc of those registered, with two days left to go.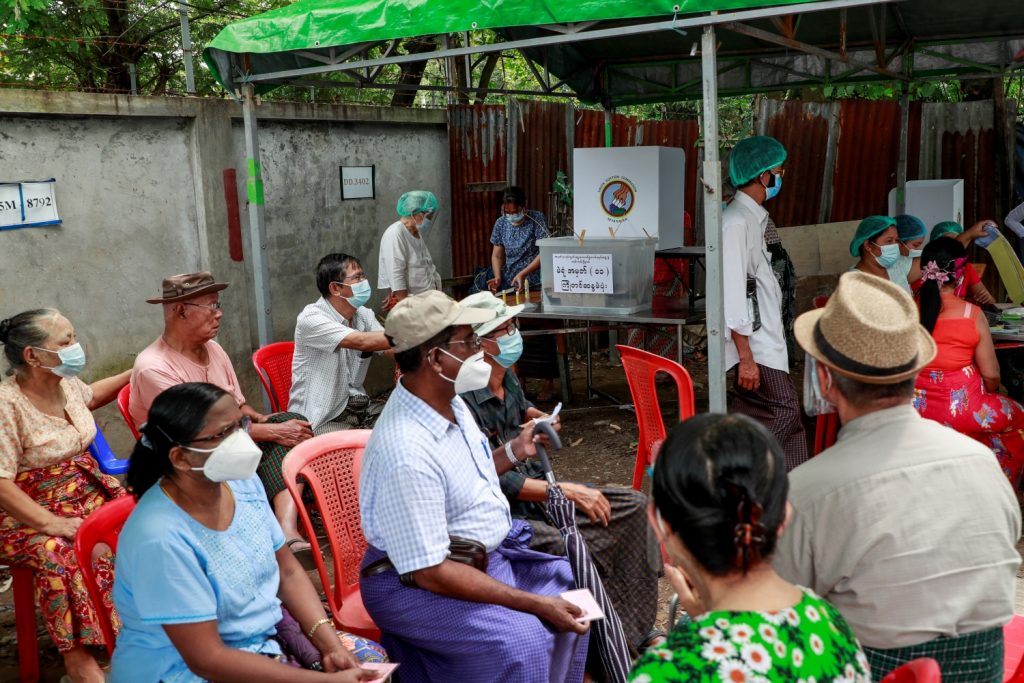 The Yangon Region election sub-commission told The Irrawaddy on November 4 that more than 600,000, or 75 percent, of Yangon's 800,000 voters who are aged 60 and over had voted in advance.
Daw Than Than Maw, an NLD representative at a polling station for advance voting in Mayangone's ward 3, said some had been so keen to cast a ballot they had arrived before the ballot boxes had even been delivered. This eagerness augurs well for a high voter turnout on Sunday despite COVID-19, election officials say.
U Khin Maung Win, chairman of the Yangon Western District election sub-commission, said people were more worried about missing the opportunity to vote or their ballot being declared invalid than they were about the coronavirus.
NLD supporters interviewed by Frontier said they were eager to vote because of their admiration for party chair and state counsellor Daw Aung San Suu Kyi, and a fear of the country returning to a military dictatorship if she leaves office. But others want to give a chance to the upstart People's Pioneer Party, whose chair, jewellery magnate Daw Thet Thet Khine, has been campaigning aggressively for the Pyithu Hluttaw seat, including by handing out charitable donations to poor residents who are suffering under the COVID-19 lockdown measures. Thet Thet Khine quit the NLD after it suspended her for criticising Aung San Suu Kyi's leadership style in 2018. The following year she co-founded the PPP.
Ward 4 resident Daw Khin Aye has high blood pressure and good reason to be cautious about voting: there are at least six COVID-19 cases in her ward. While that won't stop her from voting, she is taking precautions. "I wear a mask and wash my hands to keep safe," the PPP supporter told Frontier.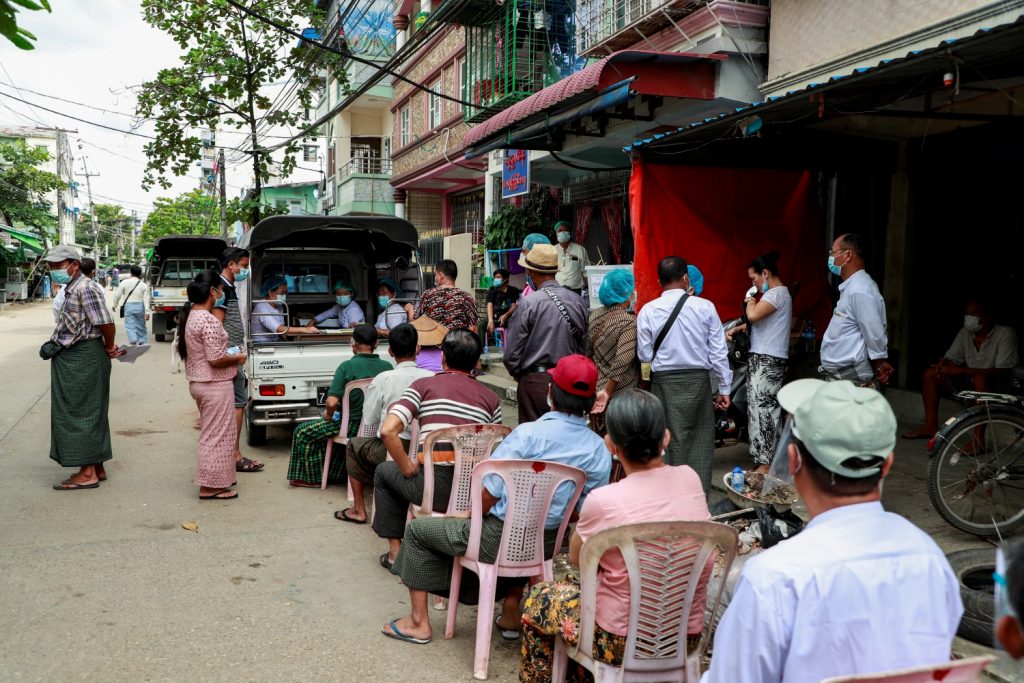 Still, plans to host multiple polling stations in single locations do have many residents concerned about overcrowding on election day. Of the 20 polling stations in ward 1, seven have been established at Basic Education Primary Schools No. 5 and No. 13 in the township.
Ward 3 resident Ko Kan Thar Hein thinks it will be tough to practice social distancing since, even if it is enforced inside, there will be large crowds of voters outside. "But people are crowding into buses to commute now anyway, so there's no difference," he said.
Khin Maung Win said the Western District election sub-commission had taken steps to ensure there was no crowding on election day, and that elderly people casting advance votes were doing so in shifts to avoid crowding – though, from what Frontier saw, this wasn't being enforced.
As of November 7, there had been 1,879 confirmed COVID-19 cases in Mayangone. But Ko Aung Kyaw Kyaw, who lives in ward 1, is undaunted.
"I intend to vote, and if I get infected I will have to accept it. I am likely to recover because I am healthy and have no pre-existing illnesses," he said.
"Mother Suu made many sacrifices for us; we only need to sacrifice one day for her."