The election in the southern Mandalay Region township is a fierce contest between the ruling NLD and military-backed USDP, but local enthusiasm for the vote is muted – and a lack of voter education isn't helping.
This article is part of Frontier's Tale of Five Elections series. We're following the election through five townships across the country, capturing events and local voices through the campaign, voting and declaration of winners. Stay tuned for updates about Pyawbwe, as well as Bawlakhe in Kayah State, Myitkyina in Kachin State, Mrauk-U in Rakhine State and Mayangone in Yangon Region.
By SWE LEI MON | FRONTIER
"Our failure in the 2015 election was good for Pyawbwe," said U Aye Cho, chair of the National League for Democracy in Pyawbwe Township, a stronghold of the opposition Union Solidarity and Development Party in southern Mandalay Region.
USDP candidates won all four seats in Pyawbwe in the last election, a result that Aye Cho said had benefitted the township, indirectly.
"Our NLD government really took care of Pyawbwe," Aye Cho, 67, told Frontier. "It did not want anyone to think it had left the township behind because it had no [NLD] representatives in parliament, so the government did as much as it could for the development of the township."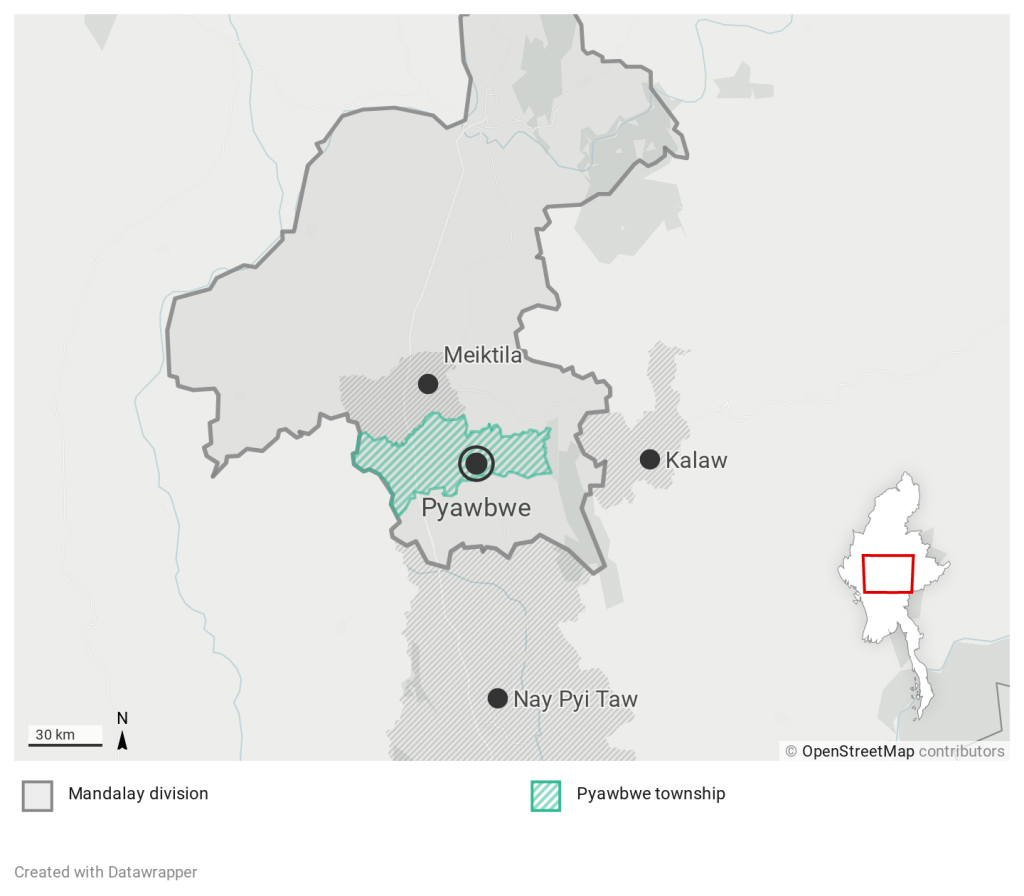 Pyawbwe is a busy transport hub, linked by road to Magway, Meiktila, Kalaw and Nay Pyi Taw, which is about 100 kilometres to the south. The town's main thoroughfare rattles with the noise of big trucks that travel the old Yangon-Mandalay highway, which bisects Pyawbwe. However, the township is mostly countryside, with an austere, arid landscape of palm trees and powdery earth that is typical of Myanmar's central Dry Zone.
The Pyawbwe election sub-commission says that 87 percent of the township's voters live in rural villages, where they mostly make a living farming onion, chillies, beans – and more recently watermelons, with the aid of Chinese investors who lease land from villagers. However, one of the main drivers of the local economy is the transnational trade in human hair. In the town and in the villages, a visitor can see women sorting through bags of hair, much of which is shipped from India, and is being processed for export to China.
Frontier's visit to Pyawbwe in late August revealed few signs of an impending election besides a few vehicles decorated with party flags and the images of party leaders. However, candidates had already begun touring villages to introduce themselves to voters, anticipating a race in which – contrary to most other parts of Mandalay Region and the Dry Zone – another sweeping NLD victory is not considered a foregone conclusion.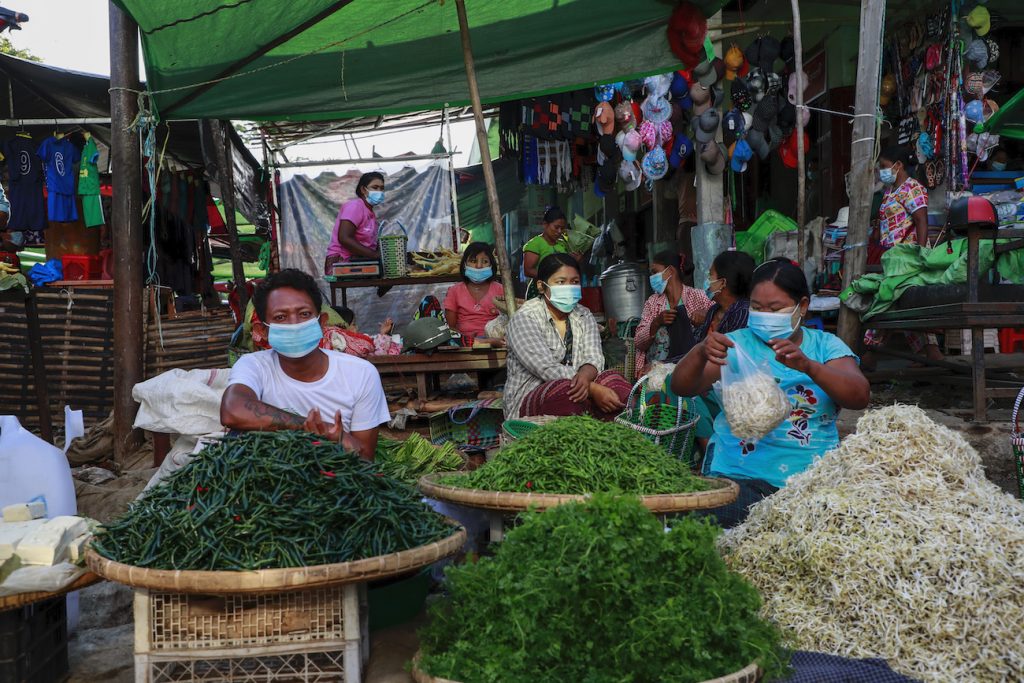 Aye Cho was among the defeated NLD candidates in 2015, losing to the USDP's U Myint Soe in the race for the state hluttaw seat of Pyawbwe-2 by more than 10,000 votes.
The four incumbent USDP lawmakers got between 55pc and 58pc of the vote in 2015, and all but the Amoytha Hluttaw MP, U Khin Aung Myint, are seeking re-election on November 8. Among those who'll be fighting to keep their seats is Pyithu Hluttaw lawmaker U Thaung Aye. The former Tatmadaw lieutenant-general is known for his forceful arguments against amending the military-drafted constitution, as well as for his local largesse.
NLD candidates attracted about 40pc of the vote in 2015, trailed by the National Unity Party, the only other party in the race in Pyawbwe, which could only manage about 4pc.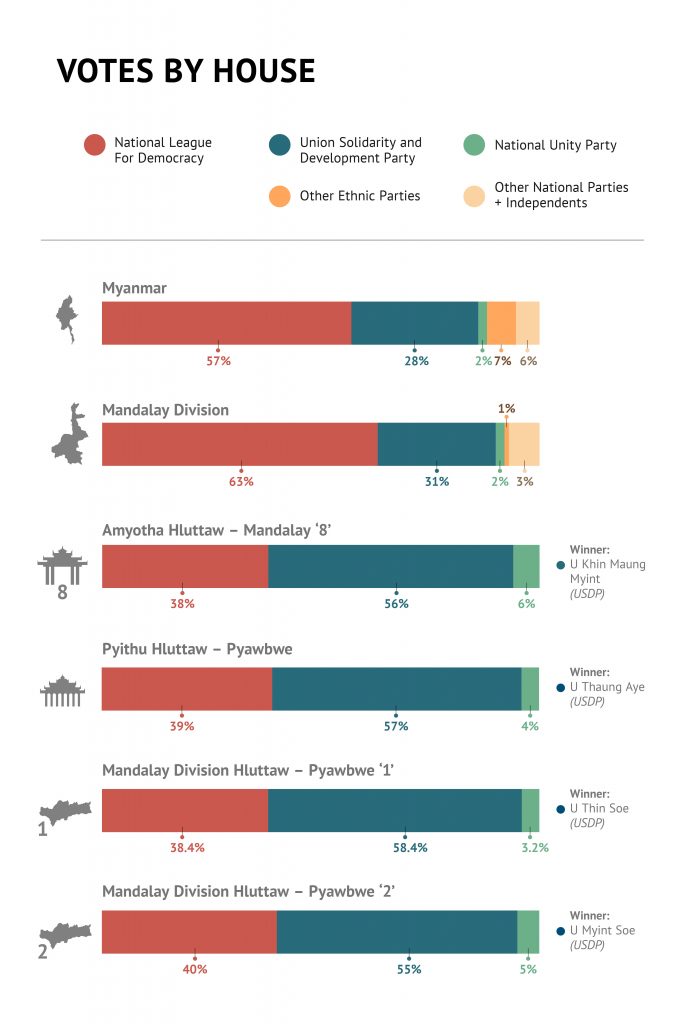 Myint Soe says he is confident of success in the six-candidate race for Pyawbwe-2 because his first priority is the people, not the party.
"Being a lawmaker is a self-sacrificing job; it is not about taking, because we are always giving," said the USDP incumbent, who owns the Thiha Tiger drinking water and soft drinks company and a construction firm, both of which are based in Pyawbwe. "We [regional MPs] receive [a salary of] K500,000 a month but I spend between K1.2 million and K1.5 million a month travelling around my constituency and making donations. I can do it because I have my own businesses."
A total of seven parties and 20 candidates are competing in Pyawbwe, said the township's election sub-commission. The candidates include four people vying for the Amyotha Hluttaw seat of Mandalay-10, which encompasses Pyawbwe and adjoining Yamethin Township.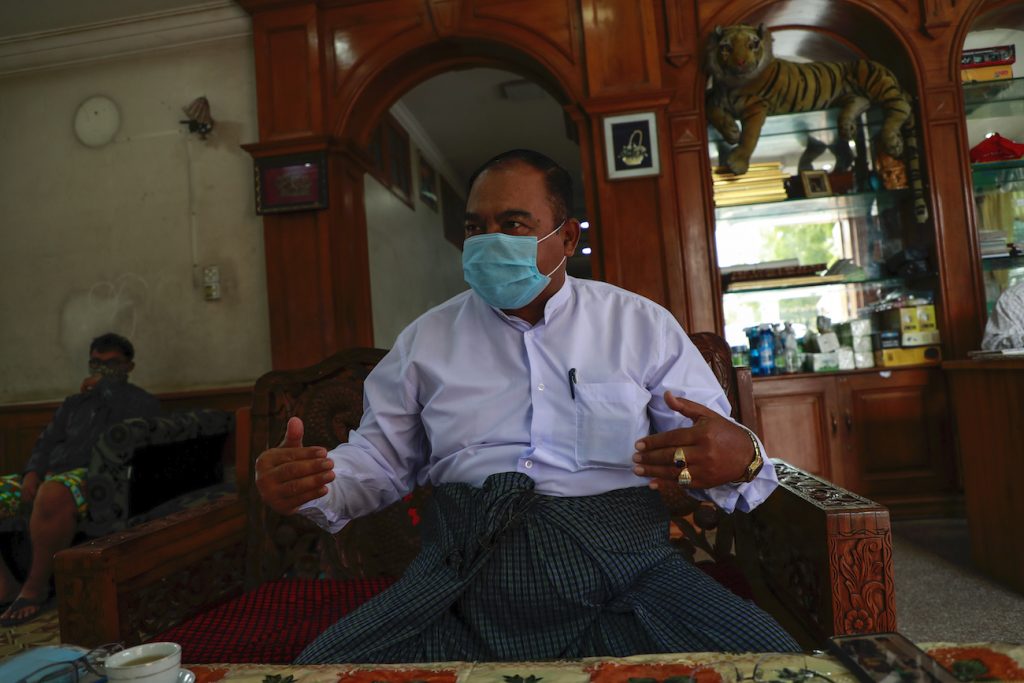 The chair of the township election sub-commission, U Soe Myint, said the people in Pyawbwe were not interested in the election because they were struggling to support themselves. There are 214,243 eligible voters in Pyawbwe, but only 20.33pc had checked preliminary voter lists after they went on display, he told Frontier.
"People don't have a deep interest in the election; all they know is that they have to go to the polling stations because an election is being held," Soe Myint said.
Ma Thet Thet Soe, an activist and one of five Pyawbwe-based members of Peace Forum Network, a nationwide initiative established under Myanmar's peace process, said Pyawbwe voters are less interested in the election than in 2015. This is partly because the heavily rural population of the township is preoccupied with debts that have spiralled with the COVID-19 economic downtown.
"In our township, most grassroots people are trapped by loans from microfinance companies and are focused on repaying their loans on time," she told Frontier.
Thet Thet Soe said at least six microfinance companies were lending money to villagers in Pyawbwe and most borrowers had taken loans from more than one company.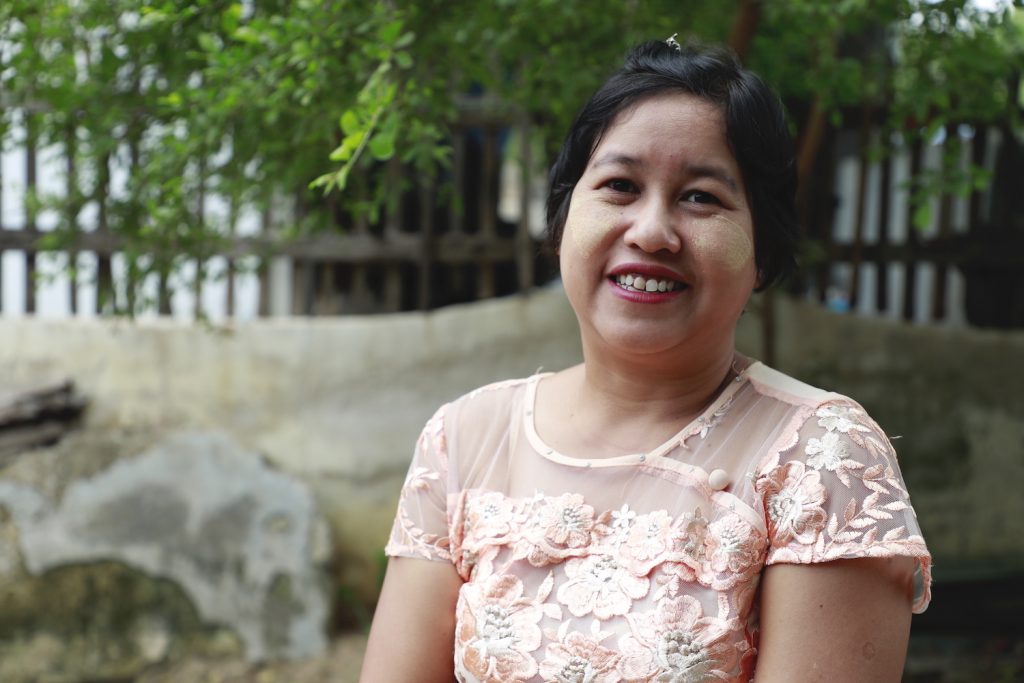 This lack of interest could be countered by a comprehensive voter education campaign, but there were few signs of one during Frontier's visit to the township.
Soe Myint, who has served as the election sub-commission's chair in Pyawbwe since 2010, admitted that he had not arranged enough voter education this year but said this was because he had not been instructed to by his seniors in the Union Election Commission.
"Voter education was strong in 2010 and included demonstrations on how to vote," he said, reminiscing in an unusually fond way about an election that was widely considered rigged in favour of the USDP. "But voter education like that involves costs and cannot be done for free, and so far we have not been instructed by the UEC to provide it.
Soe Myint also complained about not having enough staff to properly compile voter lists by the required time and said he was being assisted by volunteers from other government departments. The protocol of the township election sub-commission stipulate that Pyawbwe should have five staff but two positions were vacant, he said.
However, young, politically-aware township residents have accused the sub-commission of preventing them from carrying out voter education programmes.
Ko Pyae Phyo Thu, a member of Pyawbwe Youth Network, said the sub-commission had rejected the group's request to conduct voter education in the villages on the grounds that it was not a registered organisation.
The 27-year-old said the group's lack of registration was not for want of trying: "When we tried to register our group, the [township] administration office said it was unnecessary."
When the youth network tried to plead its case further with the sub-commission, it "said we needed to apply to the UEC [in Nay Pyi Taw] step by step if we want to get involved in the election," Pyae Phyo Thu recalled. "We don't have enough time to do that."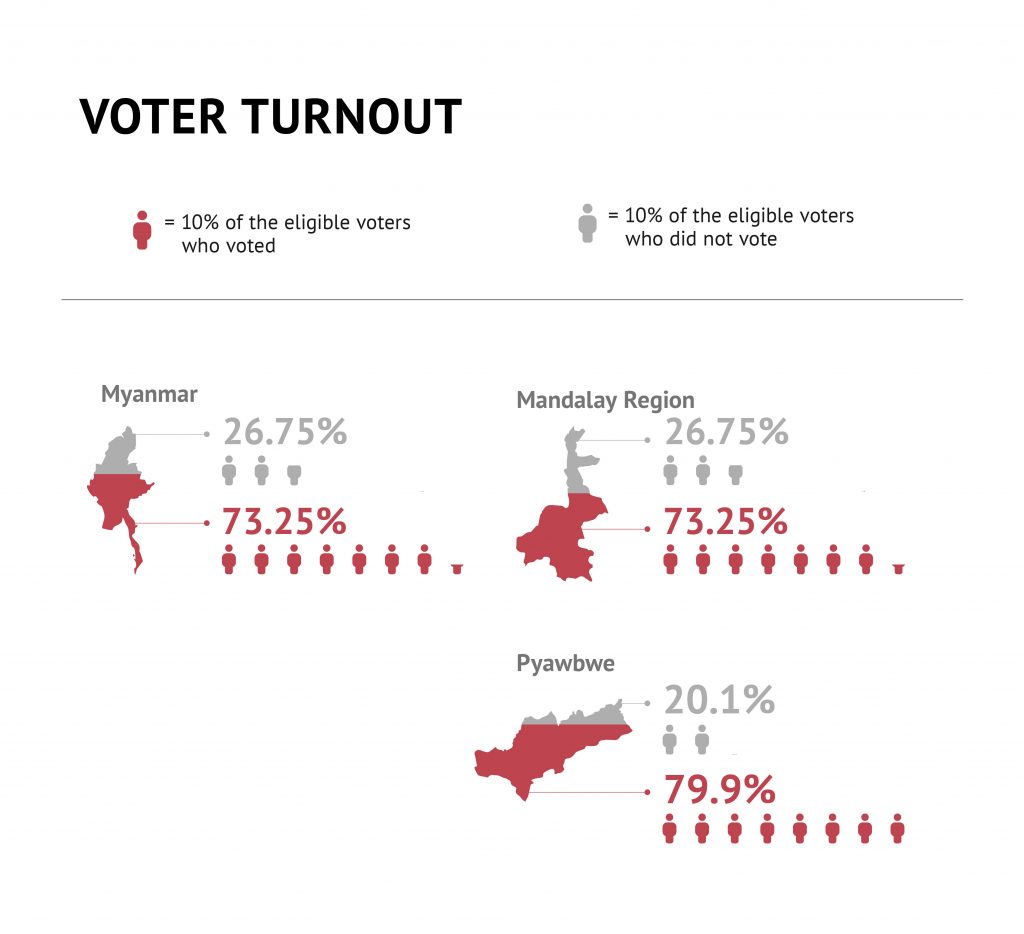 Pyae Phyo Thu said mistrust was at the root of the problem. "They [election officials] are worried that we will campaign on behalf of parties, but we do not represent any party," he said, adding that the youth network had found a way to provide under-the-radar voter education to young villagers, especially first-time voters, with the "understanding" of village tract administrators.
The NLD's Aye Cho, however, said that he was not disheartened by the apparent lack of interest in the election from voters, insisting that shyness about discussing politics should not be mistaken for apathy.
"The people in our town are always like that," he said. Although they are "quiet" about their political preferences, "they vote with their heart".