Heated campaign rallies have sparked tensions in Pyawbwe Township in southern Mandalay Region, a key battleground between the ruling National League for Democracy and opposition Union Solidarity and Development Party.
This article is part of Frontier's Tale of Five Elections series. We're following the election through five townships across the country, capturing events and local voices through the campaign, voting and declaration of winners. Scroll to the bottom for the first article on Pyawbwe.
By SWE LEI MON | FRONTIER
The sleepy villages of Pyawbwe Township, in southern Mandalay Region, were startled from their usual quiet on September 8 when campaigning for the November election officially began. Political parties started hitting the road, visiting the township's urban wards and villages to meet with voters.
The parties are focusing on villages because they are home to 87 percent of the township's population, of whom 213,823 are registered to vote next month.
Seven parties are fielding 20 candidates for four constituencies in Pyawbwe – one in the Pyithu Hluttaw and two in the regional hluttaw – and the Amyotha Hluttaw seat of Mandalay-10, which encompasses Yamethin Township as well as Pyawbwe. But as in most other Bamar-majority areas, the main contest is between the ruling National League for Democracy and the military-aligned Union Solidarity and Development Party. A rise in Buddhist nationalism helped the USDP win all seats in Pyawbwe in 2015 but the NLD government's suppression of nationalist groups, together with the advantages of incumbency enjoyed by the ruling party, make the results of the November 8 vote hard to predict.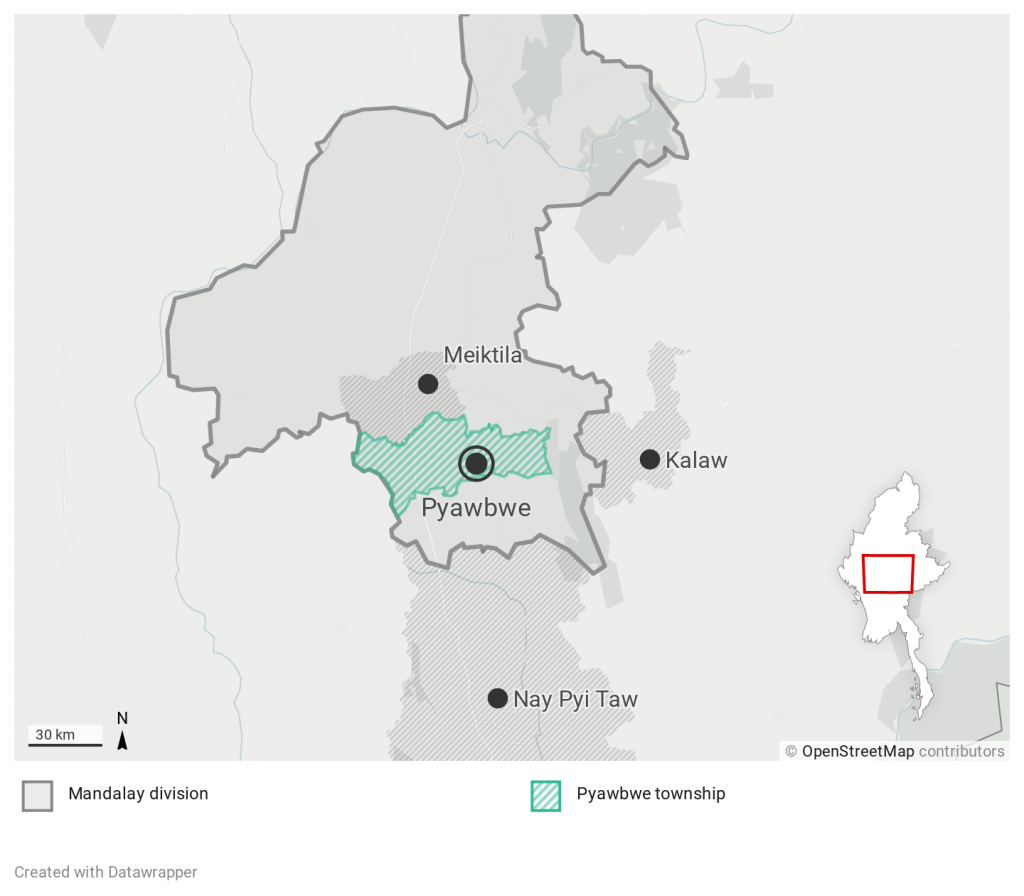 Unofficial campaigning in villages began before September 8, with parties offering assistance to people struggling under the impact of the COVID-19 pandemic. But as campaigning picks up steam, a worrying rise in tension between supporters of the two main parties have some fearing outbreaks of violence similar to those that have occurred in other parts of Myanmar's central Dry Zone in recent weeks.
U Aye Cho, chair of the NLD in Pyawbwe Township, accused USDP supporters of harassing NLD candidates out canvassing.
"When we enter a village, they dance in front of us and sometimes shout obscenities from a distance," he told Frontier on October 6. "We are being patient, but if the harassment gets worse we will have to take legal action."
To avoid potential clashes, political parties are required to give the township election sub-commission advance notice of what villages they plan to visit on which dates. Sub-commission officials are then supposed to ensure that rival groups do not cross paths.
But Ma Thi Thi Mar, a Pyawbwe-based member of the Peace Forum Network, a civil society network that supports the national peace process, said that despite efforts to avoid clashing schedules, party supporters in villages still try to disrupt campaigning by their opponents and attack their supporters.
"Just a few days ago, USDP supporters punched a young man in the head who was working at a tollgate because he supports the NLD," Thi Thi Mar, herself an NLD supporter, said. "The boy has taken legal action over the incident."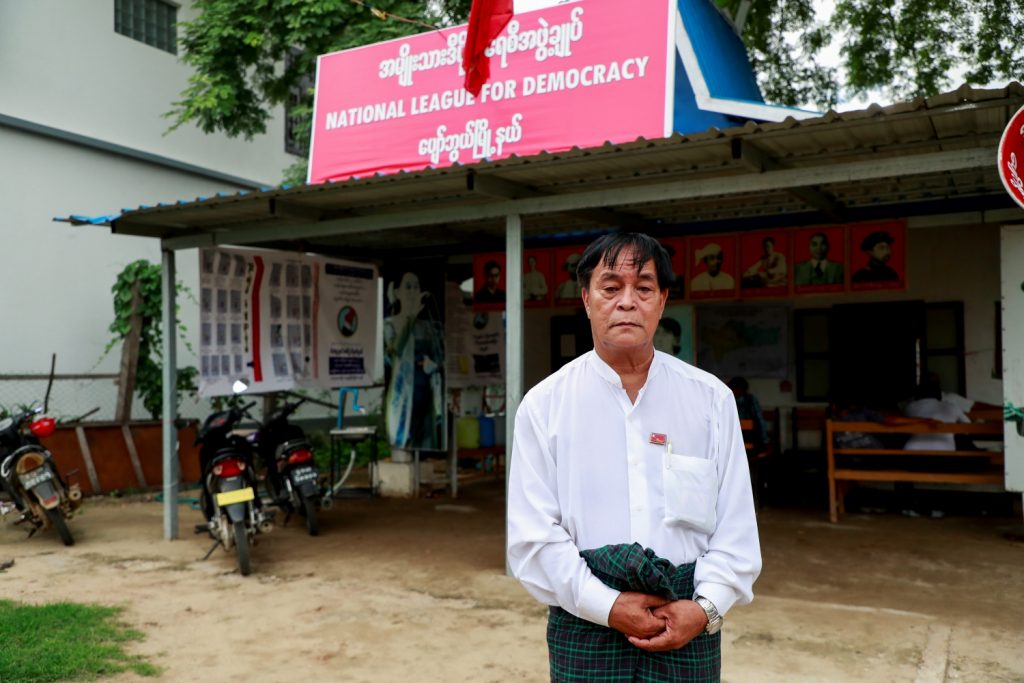 The USDP denies its supporters are resorting to violence in the villages. Supporters are told to accept differing views as a part of a multi-party democracy, party officials insisted to Frontier.
Still, not everyone listens. USDP regional MP U Myint Soe, who is seeking re-election to the seat of Pyawbwe-2, admitted that some supporters have ignored these instructions. But he claimed that most of these people were in fact responding to the provocations of NLD supporters.
"We have also been harassed. While we were giving speeches, they [NLD supporters] took videos and photos without permission," he told Frontier, adding,"When I was addressing constituents they turned up the volume on their loudspeakers."
Despite Myint Soe's protestations, it is generally legal to take photographs or videos in public places regardless of whether the subject gives permission, with some limited exceptions.
Aye Cho, who lost to Myint Soe in 2015, said the USDP has been harassing NLD in about two out of every 10 villages. The party is gathering evidence for a case it may file with a post-election tribunal, he said. These tribunals are presided over by the Union Election Commission and can annul the result of a disputed race. Myint Soe said if that if the NLD were to try this, it should expect a countersuit from the USDP making similar allegations.
Elsewhere in southern Mandalay Region, tensions between NLD and USDP supporters have already descended into violence, such as on September 20 in the Meiktila Township village of Nyaung Kaing, which sits close to Pyawbwe's northern border. Rocks were thrown at the home of an NLD affiliate during a brawl in the village, resulting in the arrest of six USDP supporters. USDP members have since alleged that NLD supporters started the fight by interrupting their campaign event.
The clashes have not been confined to Mandalay Region. On October 3, a similar incident occurred in Kanni village, in Magway Region's Myaing Township. However, both the USDP's Myint Soe and the NLD's Aye Cho said disagreements would not boil over into mass brawling in Pyawbwe.
Aye Cho said that, despite provocation from USDP supporters, "We have instructed our supporters to be patient and to control their anger until election day." He said they would have little trouble staying patient because "it is certain that we will win in November".
Myint Soe said it was important to put recent difficulties in perspective. "We faced disruptions at only three or four villages out of 150 I've visited," he said.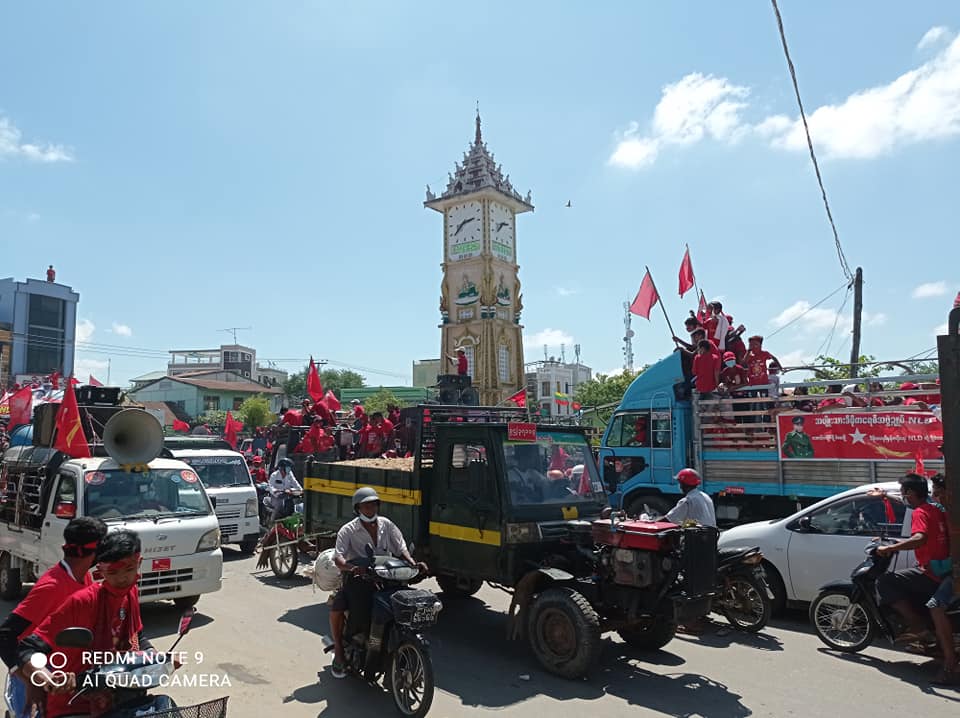 But though the two major parties have largely finished their first sweep of the township's villages, a second round of campaigning may pose fresh challenges for keeping the peace.
Aye Cho said NLD candidates had visited all 317 villages but would return to them before the election "with a sticker campaign", during which they will also "educate villagers on how to vote". Meanwhile, in urban wards of Pyawbwe where "we know they will vote for the NLD", candidates will mainly give speeches to small crowds, he said.
Despite the NLD's energetic campaigning, the USDP candidates are confident of victory. Besides the Amyotha Hluttaw candidate, all are incumbent MPs who think their record of dutiful service to their constituencies will speak for itself.
Former Tatmadaw lieutenant-colonel U Thaung Aye, who is seeking re-election to the Pyithu Hluttaw, believes he's earned voters' loyalty because of his active role in parliament, raising the concerns of his constituents and submitting development proposals for the township.
"I am just an MP and I had no power to deliver development to the township, because our party is not the government, but I spoke up and raised questions about my township in the hluttaw as much as possible," he told Frontier.
Myint Soe claimed a similar record but added that because the regional government is controlled by the NLD, even when it has acted on some of his development requests it has tended to coordinate projects through the NLD's township office rather than work with USDP lawmakers.
"The regional government acted on about half of the proposals I made in the hluttaw," he said – mostly health centres and upgrades to country roads.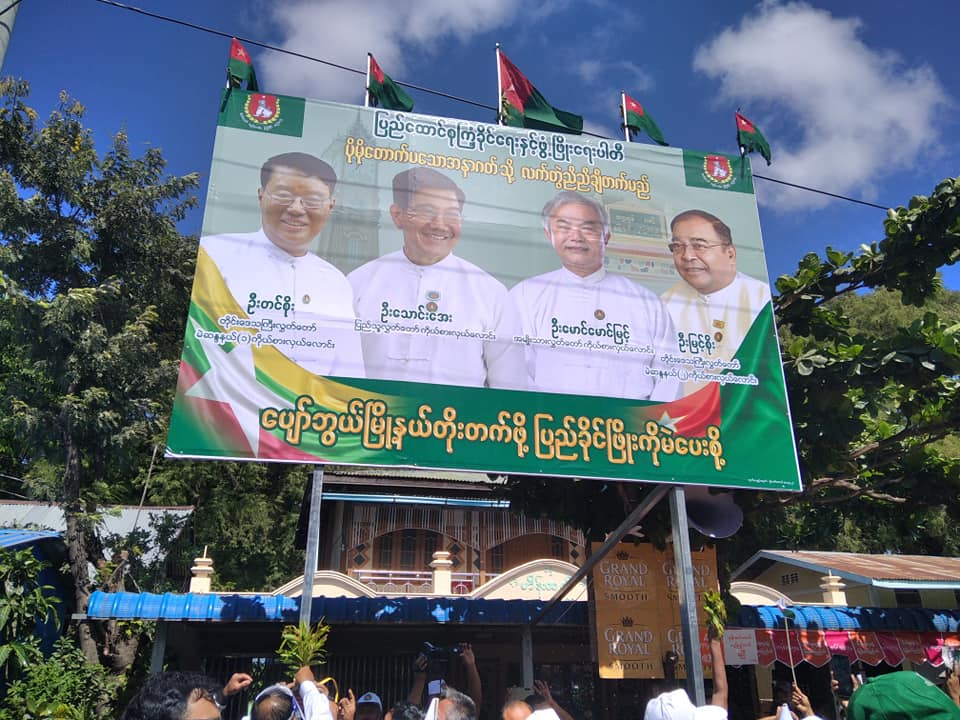 The NLD candidates seem equally confident of their chances, predicting their party will take all four seats from the USDP, and its supporters seem to share this confidence. Peace activist Thi Thi Mar said that after five years of NLD rule at the national and regional level, local voters had seen more development – including internet and electricity coming to their homes – than in the previous years of USDP rule.
Thi Thi Mar said rural voters who supported the USDP in previous elections have also come to understand they had been the targets of propaganda.
"In the past, almost all villagers were brainwashed by Buddhist nationalism, but now most of them know the difference between right and wrong," she said. "That nationalist sentiment has not completely disappeared – but much has changed."