With use of solar systems growing in Myanmar, knowing how to maintain and use equipment effectively is a major challenge ­– one that a retired solar contractor is tackling in some of the country's most remote areas.
By RON EMMONS | FRONTIER
ONE OF the greatest challenges facing Myanmar in coming years will be to provide electrical power to villages in remote regions of the country.
With the national grid reaching barely one-third of homes, advocates of renewable energy believe that solar power is one of the best solutions, especially given the many hours of sunlight that the country is blessed with.
Mr Bruce Gardiner is one such advocate. A retired electrician and solar contractor, in 2010 he established a foundation called Solar Roots to improve the lives of people living in remote areas through photovoltaic (PV) systems.
"The difficulties posed by distance and terrain in Myanmar make solar an automatic choice for remote communities," Gardiner said. "Also, small solar home systems are perfect for first-time electrical consumers, even if it's just for lights and phone-charging."
Over the past 10 years Gardiner has provided free training in the installation and management of PV systems in a range of countries, including Thailand, Myanmar, Haiti and Madagascar. The aim is to ensure communities are getting the most out of their solar systems and show them new ways in which they can be used.
Frontier travelled with Gardiner in March and April to a remote community farm in Tachileik Township, eastern Shan State, where he gave a six-day training in solar energy and the use of biochar to improve crop yields.
Most of the 20 participants had some experience with solar power systems but all had encountered problems due to inferior equipment and lack of knowledge. "Early on," said Gardiner, "Solar Roots identified end-user knowledge as a key component in rolling out solar in Myanmar, and we have concentrated on that ever since."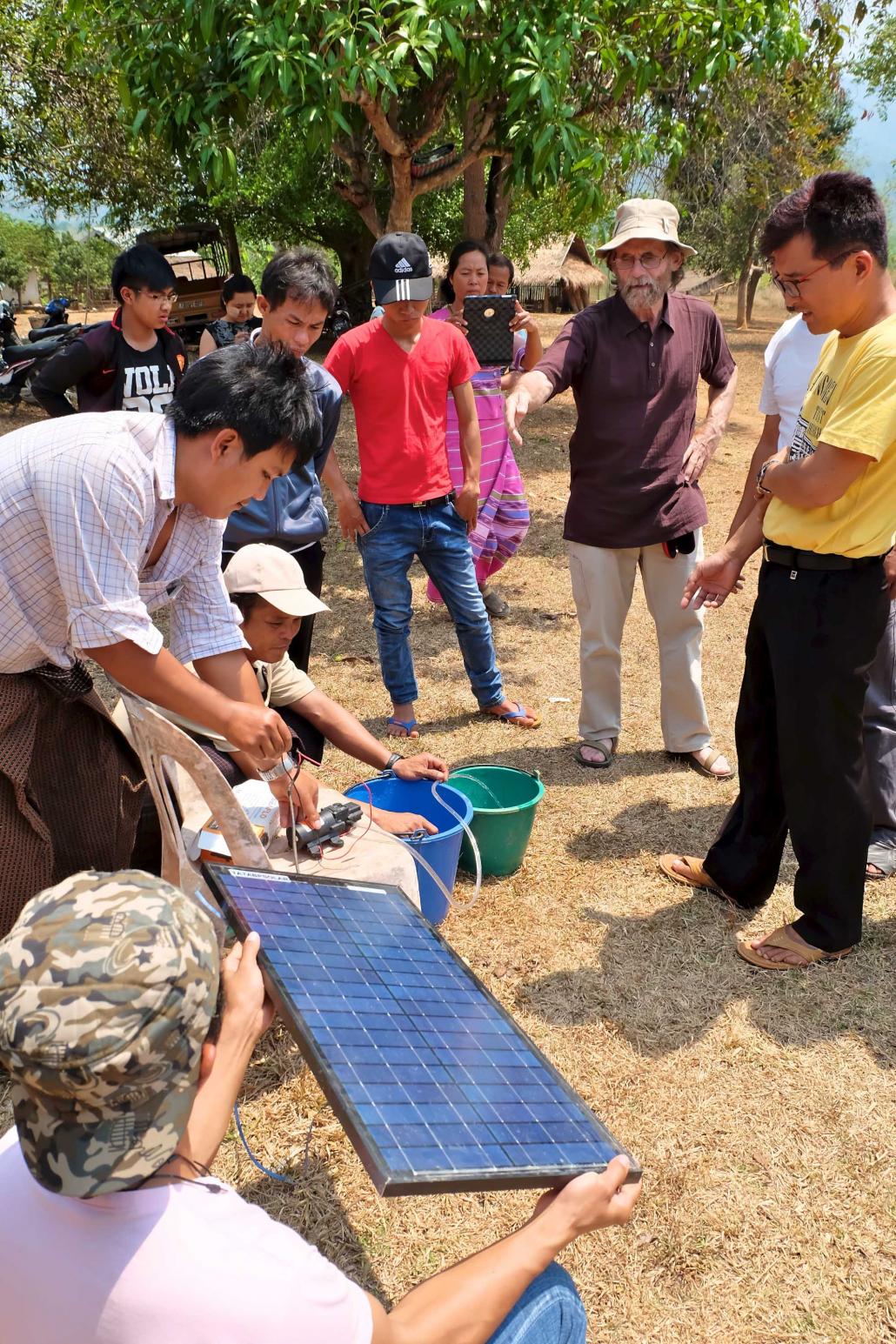 There was no electricity at the farm and the course did not involve PowerPoint presentations or fancy teaching techniques. Instead, Gardiner gave sessions on photovoltaic theory using a whiteboard and these were followed by hands-on practice.
Topics included how PV systems work, installing simple solar systems, series and parallel circuits, using multimeters and troubleshooting.
Much of the troubleshooting focused on the battery, which Gardiner identified as being the weak link in many solar power systems. As he put it, "A full battery is a happy battery and an empty battery will meet an early end."
Yet he also noted that in Myanmar, batteries are often only charged up to 25 percent through the day and then completely discharged at night.
Another problem is that most solar power systems in Myanmar use car batteries, which are designed for a short, strong discharge – the kind needed to start a car – rather than a long, extended discharge, which is what solar batteries are made for.
The "catch-22" in this situation is that most people cannot afford the better, longer-lasting equipment, so have to make do with whatever they can get hold of.
Nevertheless, by learning about things like sulfation – the build-up of sulfur on the plates in a battery so that it cannot be fully charged – the participants have the opportunity to apply this knowledge and thus make their solar power systems more effective and long-lived.
While the participants were attentive during the sessions of technical theory, they were particularly engaged during the hands-on sessions. Many of them had never seen a water pump powered by solar energy, so were fascinated by an experiment that linked a small pump with solar panels of varying size to produce a flow of water of different strengths.
Despite the seriousness of the topic, the training was peppered with humour, which was much appreciated by all.
Towards the end of the week, Gardiner dispelled several "solar myths" that have acquired credibility in Myanmar and were familiar to many of the participants. These included "never put a battery directly on a concrete floor", "always disconnect the battery at night", "lay the solar panel flat on the ground with no attention to shade", and "the battery should be completely discharged before re-charging again". None of these, apparently, is true.
Knowing that many of the participants faced equipment limitations – both in terms of what was available to them and what they could afford – Gardiner also gave some tips on how to conserve energy use. One useful habit is to unplug "phantom loads" – appliances that have remote controls and clocks on them – when they are not in use.
Another is to use the most efficient light bulbs that you can afford; as he explained, LED light bulbs may be more expensive than incandescent bulbs, but they are much more energy-efficient, so they lead to savings in the long run. He also emphasised the need to understand how much energy a system is producing and how much of that energy can be used without compromising the battery.
Gardiner's trainings are not limited to solar power. He also advocates the use of fuel-efficient stoves, in order to cut energy consumption, and biochar, which he says mitigates the effects of climate change.
Since all of the participants live in rural areas and most of them make their living from the land, the Tachileik training included an introduction to biochar.
It's basically the same as charcoal but instead of being used as a fuel, it is used as a soil component that is rich in carbon. Because of its porous nature, biochar provides an ideal habitat for microorganisms that improve the fertility of soil, as well as increasing water retention.
After a brief introduction to the benefits of biochar, Gardiner took the participants outside to dig a pit and burn some sticks of wood and bamboo that had been chopped into small pieces.
Once the biochar was prepared, he had them prepare layers of sticks, dried leaves, green weeds, manure and urine, to which the biochar was added to form a rich compost. He mentioned that results are not always noticed in the first year after mixing the biochar compost with earth, but from the second year the soil's increased fertility is evident. It is also particularly effective in dry soils, which are found in many parts of Myanmar.
As the training drew to a close, participants were vociferous in their appreciation of Gardiner's efforts to share his knowledge. U Ah Htuo, a farmer from Kengtung Township, said the training was "so useful".
"I have used solar power for five years, but didn't know how to use the charge controller properly," he said. "Now I do, and I'm also keen to install a solar pump to move water around my farm."
After receiving a resounding round of applause from the participants, Gardiner concluded by saying how successful he felt the training had been. In watching them link up elements of the photovoltaic systems correctly, and take accurate readings of electrical power generated and used by appliances, he was confident that their experience with solar energy had a bright future.
This article originally appeared in Frontier's special report on Myanmar's energy sector. TOP PHOTO: Gardiner established Solar Roots in 2010 after his retirement and has conducted trainings in a range of countries, including Myanmar, Thailand, Haiti and Madagascar. (Ron Emmons | Frontier)