Faced with a shortage of intensive care beds, the Yangon Region government is transforming a training complex for civil servants on the city's outskirts into a massive facility for treating COVID-19, while hospitals nationwide are also being upgraded.
By YE MON, HEIN THAR and THOMAS KEAN | FRONTIER
ON THE far northern outskirts of Yangon Region, a training complex that until recently echoed with the sound of lectures and workshops is being transformed into a massive COVID-19 facility that could soon hold up to 2,000 patients.
The Yangon Region government has been working since late March to remodel the Central Institute of Civil Service (Lower Myanmar) at Phaunggyi in Hlegu Township into a health facility equipped to handle the rising number of confirmed COVID-19 patients in Yangon.
The Myanmar Construction Entrepreneurs Federation and the Myanmar Private Hospitals' Association have assisted with the project, while the Tatmadaw has also provided medical staff following an April 3 request from Yangon Region Chief Minister U Phyo Min Thein.
The first phase of what is now known as the COVID-19 Medical Centre opened on April 21, and Frontier joined other media for a tour and press conference the following day, before it begins accepting patients.
Four buildings on the spacious grounds at Phaunggyi have already been turned into isolation wards, and there were many more buildings that could be used when the facility is expanded. There are presently 600 beds, including reportedly around 40 for Intensive Care Unit patients.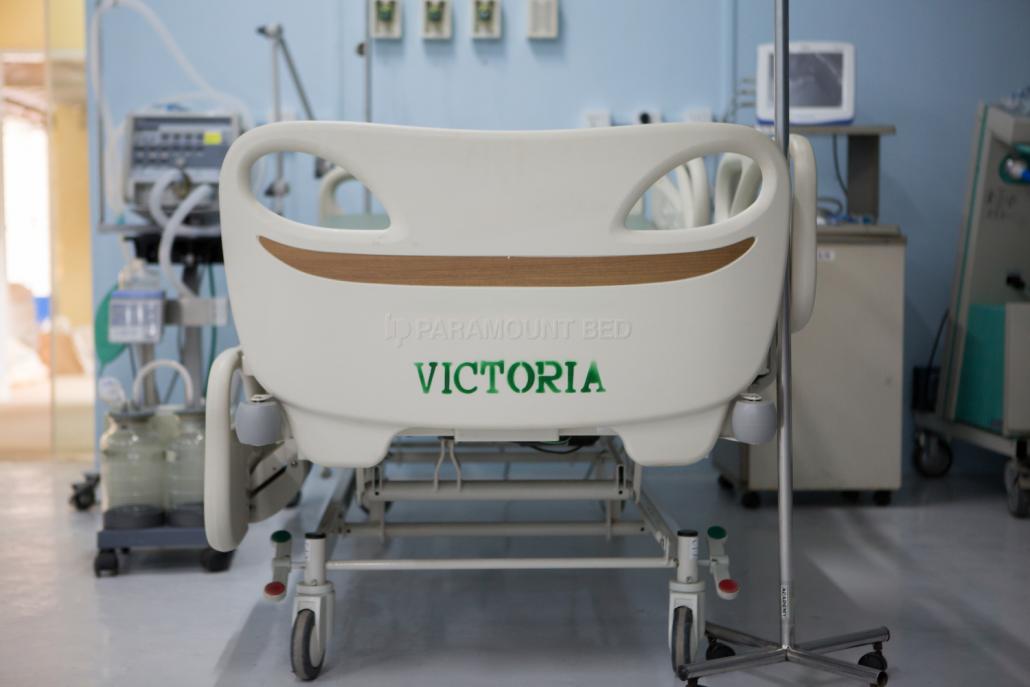 Much of the equipment has come from private hospitals – some of it still bears the name of the hospital from where it was sourced. The facility also includes a medical store and two incinerators for medical waste.
The Yangon Region government plans to expand the COVID-19 Medical Centre to first 1,000 and then later 2,000 beds. Officials gave no details on the timeline for expansion or how it was being funded.
"The COVID-19 Medical Centre will be fully operational soon. We have already finished upgrading five buildings," said U Kyaw Win Han, the rector of CICS (Lower Myanmar).
Accommodation that was formerly used by civil servants studying at the institute has been allocated for medical workers. So far 182 have been assigned, including 72 from the Ministry of Health and Sports, 40 from the Tatmadaw Medical Corps and a 68-member volunteer team from the SSC and Pinlon private hospitals, which are operated by the same company, the Pinlon Group of Hospitals.
The facility will only be used for patients from Yangon, suggesting that the authorities are anticipating a significant increase in COVID-19 cases in the coming months.
Officials said the Yangon Region Transport Authority will help to transfer confirmed COVID-19 patients from hospital isolation wards to Phaunggyi, which is about 80 kilometres' drive (50 miles) from downtown Yangon.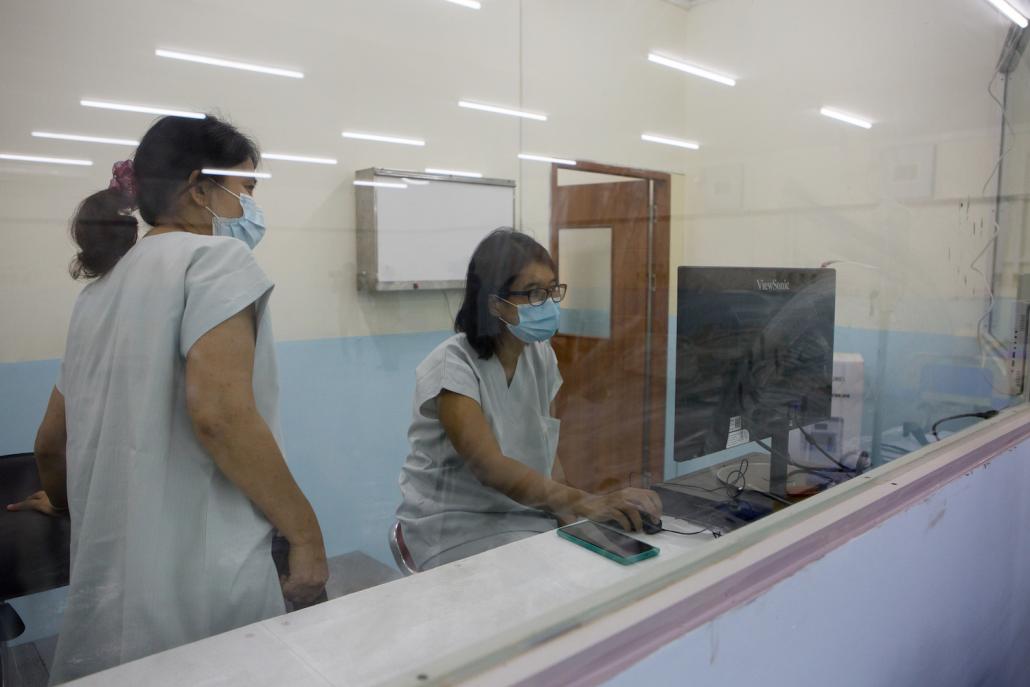 Running out of room
The COVID-19 Medical Centre was developed in response to the shortage of COVID-19 treatment facilities elsewhere in Yangon.
As Frontier revealed on March 31 ­– the day work reportedly got underway at Phaunggyi – hospitals in Yangon and elsewhere were already close to capacity and lacked enough ventilators or intensive care beds in isolation wards to deal with even a moderate outbreak of the coronavirus.
At the time, Myanmar had confirmed just 14 cases of COVID-19. That figure has since risen to 127 – including five patients who have died and seven who have recovered – and Yangon hospitals are treating the vast majority of Myanmar's active COVID-19 cases.
As of April 23, there were 93 people receiving treatment at two Yangon hospitals. Waibargi Infectious Diseases Hospital in North Okkalapa Township had 68 patients, while the South Okkalapa Maternal and Child Hospital had 25.
Both hospitals have a capacity for about 80 COVID-19 patients each, according to the ministry.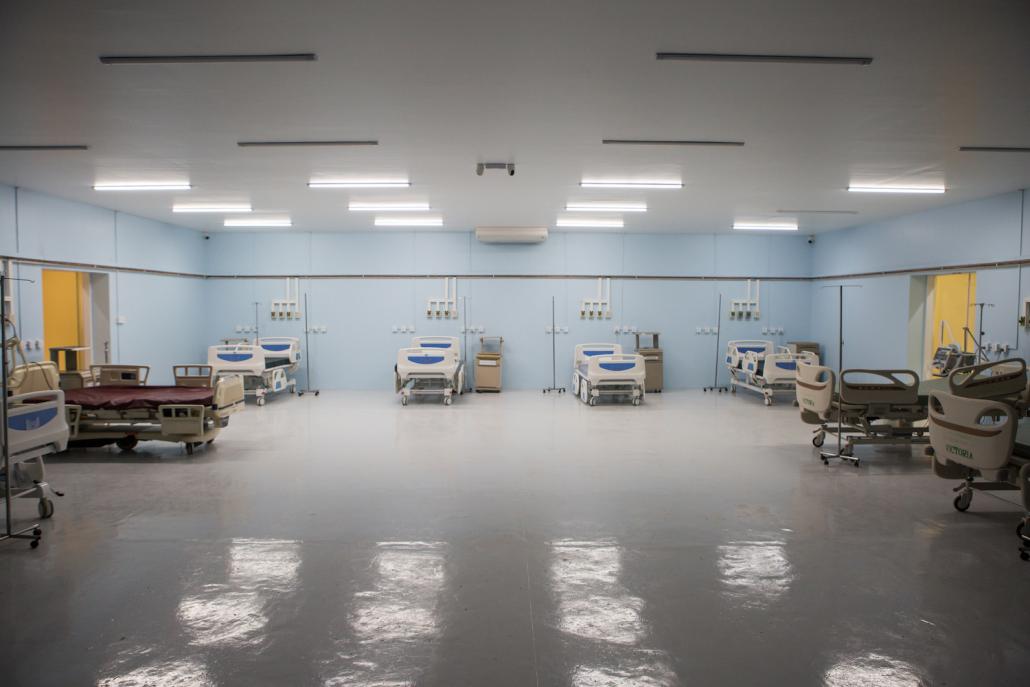 Yangon also has a far larger number of cases under investigation than any other state or region, with 997 as of April 20 – almost four times more than Mandalay Region, which has the next highest. A further 1,346 people are being kept in facility quarantine.
As it became clear that more facilities were needed, the Yangon Region government identified the sprawling Phaunggyi complex, which covers nearly 4,000 acres, and enlisted help from the Union government, private sector and Tatmadaw to transform it.
Ministry of Health and Sports spokesperson Dr Thar Tun Kyaw said it would be better for health workers and patients to treat COVID-19 in a new facility.
"The medical workers can focus just on treating COVID-19 cases and the facilities will be better for patients than at other hospitals," he said. "We have learned from international experience that a separate medical centre would be best."
Yangon Region Minister for Social Affairs U Naing Ngan Lin added, "Worldwide, transforming public buildings into medical centres has been a successful model."
He said Phaunggyi was a more comfortable and less crowded location, and did not have the "scary atmosphere" of other hospitals.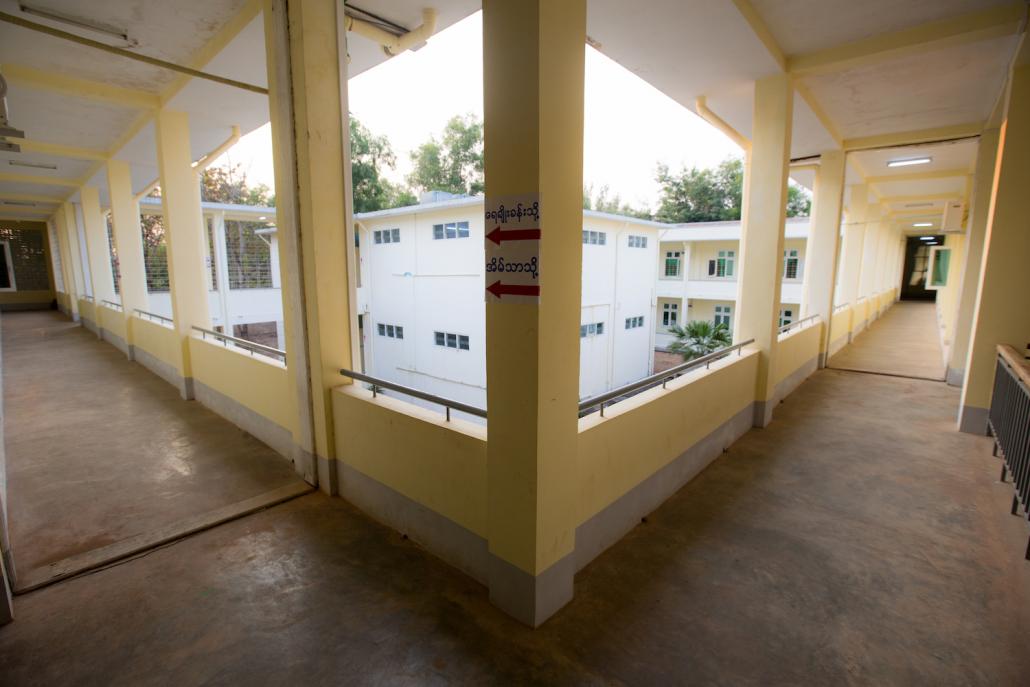 Rush to expand ICU capacity
But Phaunggyi is not the only facility that the Ministry of Health and Sports is investing in. Officials said the ministry is working to upgrade and expand capacity at state and region-level hospitals around the country so they are ready to handle an anticipated increase in COVID-19 cases in the weeks and months ahead.
Under Myanmar's Comprehensive Health Sector Contingency Plan for COVID-19, these hospitals have been assigned to provide acute care services for COVID-19 patients, according to the World Bank. The plan, which cover all aspects of the COVID-19 response through to December 2021, does not appear to have been publicly released.
Thar Tun Kyaw said on April 21 that the ministry was working as fast as it could to upgrade all hospitals of 200 beds and above so they could receive COVID-19 patients.
Hospitals in some townships have already been upgraded, he said, including Magway, Mandalay, Kalay in Sagaing Region, Mawlamyine in Mon State, Tedim in Chin State, and Kengtung, Tachileik, Lashio and Taunggyi in Shan State.
He didn't say how many would be upgraded, what facilities had been improved or how the upgrade had been funded, and he could not be reached for comment later.
But at least some of the funding for hospital upgrades will come from a loan from the World Bank. On April 20, the bank announced that it had approved US$50 million in credit for Myanmar's COVID-19 emergency response, and that nearly all of the money would go towards adding new ICU beds and refurbishing existing ones.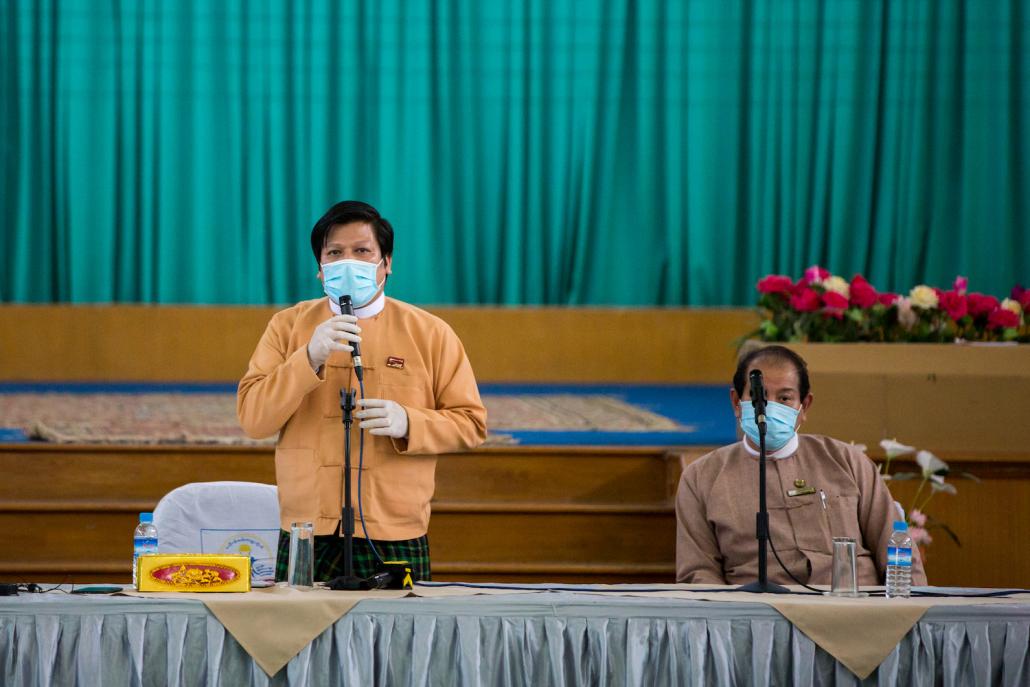 In a project information document for the loan, the World Bank said Myanmar had just 383 ICU beds ­– 0.71 beds per 100,000 people – and a total of 249 ventilators as of March 20.
The number of ventilators, which are often needed to treat those with severe COVID-19 symptoms, has since increased. On April 22, China donated 20 ventilators and ambassador to Myanmar Mr Chen Hai said his country would provide another 15 soon.
The World Bank loan will be used to nearly double Myanmar's ICU capacity, adding around 80 beds at eight larger "central" hospitals and 258 at 43 state and region-level hospitals. All will have ventilators and other essential equipment.
Meanwhile, existing ICU beds at both central and state and region hospitals will be "refurbished and fully equipped", the project information document says.
"Given the rapidly evolving situation of COVID-19 in Myanmar, there is an urgent need to equip and refurbish ICU facilities as quickly as possible while maintaining the good quality standards," it said.
About $48.5 million of the loan will be spent upgrading ICU capacity, while the rest will go towards capacity building of health staff and officials, and community engagement activities.
A spokesperson for the World Bank said that Phaunggyi is not currently on the list of health facilities covered under the project but could be added later. "It doesn't mean this is completely off the table … this is an emergency fund and resources will be prioritised and mobilised in a fast fashion," they said.
TOP PHOTO: Health workers sit during a press conference at the newly opened COVID-19 Medical Centre at Phaunggyi in Yangon Region on April 22. (Thuya Zaw | Frontier)